NOTE: This product has been discontinued.
Over the years, many cable-disablers have asked me to recommend a DVR (digital video recorder) that can be used to record free broadcast TV from an antenna. My pick is the Channel Master Stream+, which combines Android TV features with an antenna receiver and DVR. It is my recommended device for recording TV from an antenna when you have one TV. (For a whole-home recording solution, check out the Tablo.)
The Basics
The Stream+ records live broadcast TV from an antenna to an external USB hard drive or a micro SD card. It has a channel guide with no monthly fee that allows you to see up to two weeks in the future, and schedule recordings during that time.
It allows you to pause live TV and fast forward or rewind to the point where you started watching that channel. It has two tuners so you can watch one program while recording another. Oh, it also supports 4K HDR video, in case you have a TV that supports it.
The Stream+ has HDMI output only. It will NOT work with an older tube TV without an adapter.
What You Get
The Stream+ unit costs $149 direct from Channel Master. I purchased mine from them and received it in about a week or so.
In the package, you get the Stream+ unit, a compact plastic unit about the size of one of those extra-wide coffee mugs, a power adapter, remote control, and a quick start guide. The small size is beneficial to me because I can put it on my mantle (unlike the previous-generation DVR+).
The rear panel has digital audio out, coax antenna in, HDMI out, Ethernet, USB port, and 12V power. The side has a micro-SD card port.
Total Cost of Ownership
The Stream+ requires external storage, which is not included, to record video. It is compatible with standard USB computer hard drives. You might have one of these lying around, or you can buy these pretty cheaply these days.
You can also record to micro SD card, but that's a much more expensive media for a given size. I would stay away from that unless you really want a compact self-contained unit.
To get its channel guide data as well as access its Android TV features, the Stream+ has to be connected to the Internet. You can either plug it into your router using an Ethernet cable or configure it to use Wi-Fi. 
Finally, you'll need an HDMI cable to connect from your Stream+ to your TV. So, the total cost of ownership if you don't already have a USB hard drive lying around is:
$149 (Stream+) + $60 (hard drive) + $10 (HDMI) = $219
Not bad, and a lot better than the previous generation which cost close to $400 total! And again, there is no subscription fee for the Stream+, unlike many other DVR competitors!
Setup
There is some setup involved, but it's not too hard. You'll need to connect your antenna to the Stream+, then connect your Stream+ to your TV. Finally, plug in the power adapter. You can plug in the hard drive later.
Configuration for the Stream+ was easy. I powered it on using the remote and went through the wizard-style steps. I selected the language and entered my zip code, then entered my Wi-Fi password and set up the remote to work with my TV (more on that below). When I did the channel scan, my Stream+ found a whopping 120 channels in the Los Angeles area with my Cable Cutter Aerowave antenna!
Watching Live TV
The picture quality on the Stream+ was excellent. There was basically no difference in HD picture quality when I watched it through the Stream+ vs. watching it using my Sony's tuner (i.e., with the antenna plugged directly into my TV instead of the Stream+).
The only exception was that when I watched some SD channels like the H&I channel, the picture was squished, narrower than it was supposed to be. I emailed Channel Master and they gave me a fix: press OK, then down arrow to go into the Google TV settings and change the size from "Normal" to "Wide".  That fixed it for all SD channels without affecting the HD ones!
Regarding the tuner, some channels that had occasional picture breakups on the Stream+ were solid on my Sony. It did a good job at finding channels though and found even more channels than my Sony did.
Pressing the "Guide" button on the remote brought up the channel guide, which was gorgeous. Scrolling up and down in the guide was snappy! Note that the guide does not require a subscription, unlike some other DVRs!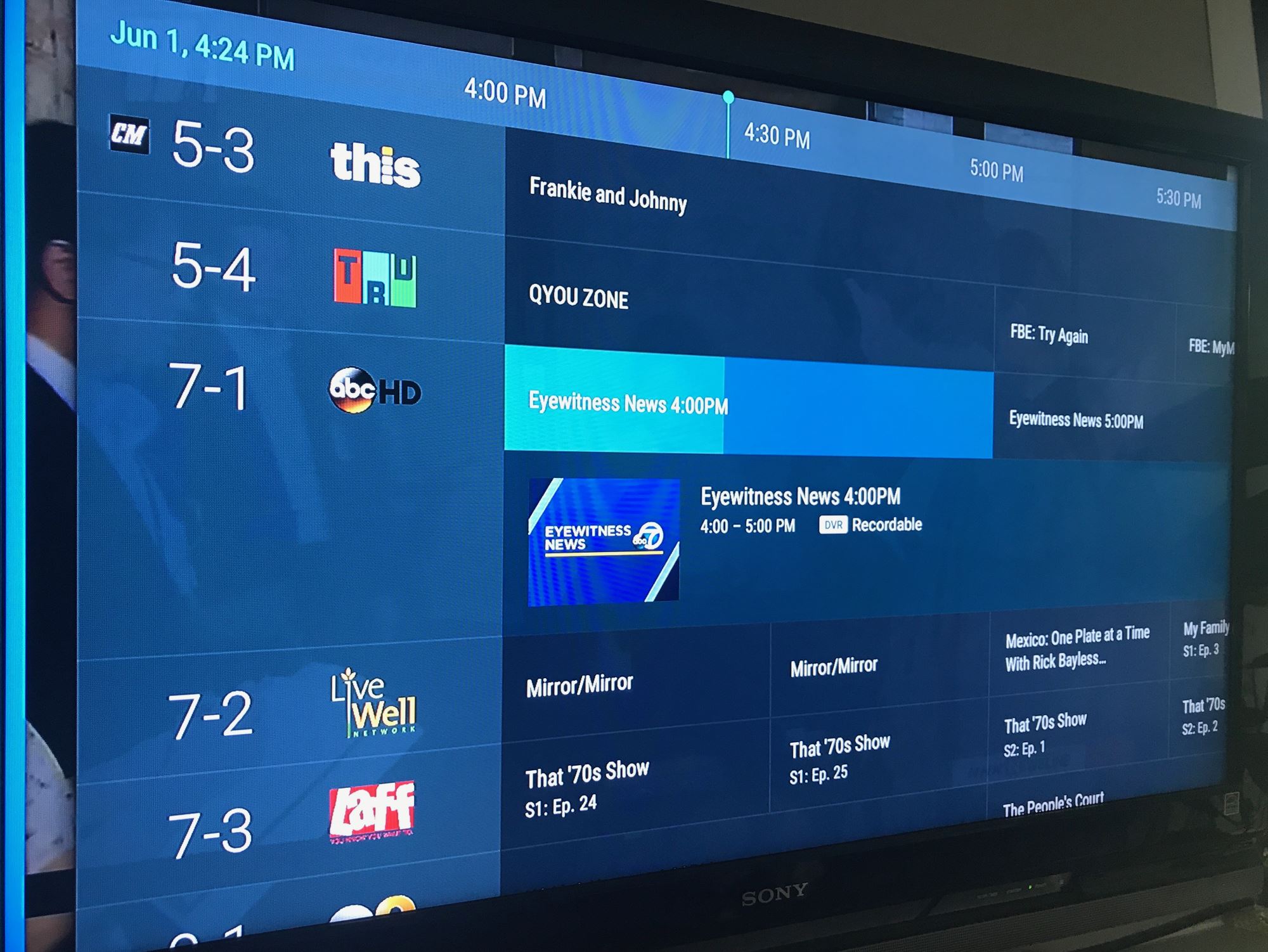 I verified that I was able to pause live TV, fast forward, and rewind to the point at which I had started watching that channel. These functions were very responsive. No hiccups or crashes. You can see the video speed up as you fast forward, which is good (unlike the Tablo, where you just see the time increment faster when viewing live TV, making it hard to know when to stop).
TiVo does have a small killer feature that I wish Stream+ had. When you fast forward to skip over commercials, and then you resume play, the TiVo will start playback of the video a few seconds BEFORE the point at which you pressed the play button. This is because you always overshoot by a bit. This would have been great to have on the Stream+.
The Stream+ powers on very fast, allowing you to start watching TV in under ten seconds, not bad!
Recording
Next, it was time to plug in the hard drive to do some recording. I plugged in my old (10+-year-old) USB drive. The Stream+ asked if I wanted to format it, and I proceeded:
After this setup, you can go to any show in the channel guide and select it to record.  If it's a TV series, you have the option of recording the whole series or just one episode. This is fine, but the Tablo recording interface is nicer because it lets you search for TV shows and movies to record alphabetically instead of having to search for it chronologically in the channel guide. With the Stream+, you kind of have to know when the show will be airing, then you have to find it in the guide to select it to record. That could take a lot of scrolling forward.
The Tablo DVR has a much nicer "Netflix-style" grid showing the shows that you can record in the future, although there is a fee for that service.
Because the Stream+ remote does not have a record button, it's not immediately obvious is how to record the show you're currently watching. To do that, press the pause button, then cursor over to the red dot on the screen, which is the on-screen record button.
The Stream+ has two tuners so you can watch one show while recording another.
Some Recording Limitations
One thing that sports fans like to do to record a game, then start watching it part of the way through so they can fast-forward through the commercials. You can do that with the Stream+ if you manually start the recording, but you cannot watch a pre-programmed recording from the beginning while it is recording. This might be a show-stopper for some!
Note that the hard drive format is different from what your computer or laptop uses, so, unfortunately, you can't just plug it into your computer and copy the video files to your computer.
Also, note that the Stream+ will only record from your broadcast TV antenna.  It won't record from its apps like Pluto TV.
The Remote
The remote control is intuitively and clearly laid out, with things generally where you expect them to be. The rubber buttons give a nice click when pressed.
It also controls your TV's power and volume. So, you turn on your TV and the Stream+ by pressing one button! The result is that you feel like you're just using a TV, not a TV plus a device attached to it.
The only thing I wish the remote had is a mute button. But, that's not a show-stopper for me.
Voice Search
Another cool feature of the Stream+ is voice search.  Hold the mic button down on the remote and you can speak into it and search for shows or movies. I found the accuracy of the speech recognition to be excellent. It did a great job of understanding what I was saying.
It searches through its Android apps for the show you've given it. That is fine, but it doesn't seem to search through the channel guide. For example, I know that Star Trek plays almost every day on broadcast TV in my area. When I tried to search for it, I got results from the Google Play store and YouTube for Star Trek, but no broadcast TV results. Kind of a bummer but still a very useful feature.
Other Features
The Stream+ offers Android TV functionality, so you can install other apps. It comes with YouTube (which I watch a lot). Some of the other apps that you can install include Sling TV, HBO Now and HBO Go, Pluto TV, Vimeo, and many of the networks' apps.
Glaringly absent are Netflix and Amazon Instant Video. For many, that will mean still having to use a Roku or other streamer (unless you side-load those apps; see the forums on how to do that - no promises on that working though).
Some people consider the lack of Netflix and Amazon to be showstoppers. But, you can easily get those with an inexpensive Roku.  The Stream+ is still worth the money for the recording capability alone!
The Stream+ also has Chromecast Built-In, so you can stream from some apps on your phone or from a Chrome browser in your computer to your TV. A nice touch!
The Bottom Line
The Channel Master Stream+ offers an integrated solution for viewing broadcast TV together with Internet-streamed TV from apps. The remote turns on your TV and controls its volume, and also has voice search.
The Stream+ has streaming apps but is missing Netflix and Hulu. You'll need a separate box like a Roku if you want those apps. Another downside is that you cannot watch a pre-programmed recorded show until the recording is done. That could be a bummer for sports fans who want to skip commercials. The way around that is to start the recording manually.
The Stream+ is a good solution if your household has one TV. You can get the Stream+ directly from Channel Master.
If you need a whole-home recording solution for multiple TVs, I recommend Tablo. It requires a Roku box for each TV, but you only need one Tablo for all the TVs in your home. As an added bonus, it's wireless, so no need to string up an antenna cable to your TVs!
I hope this article was helpful to you. Leave your questions or comments below! - Brian
Disclosure: Some of the links on this page are affiliate links. This means if you click on the link and purchase the item, I will receive an affiliate commission at no extra cost to you. I test or research each product or service before endorsing. This site is not owned by any retailer or manufacturer. I own this site and the opinions expressed here are mine. As an Amazon Associate, I earn from qualifying purchases.