If you are looking for an indoor antenna, or if your existing antenna is not pulling in all of the channels that you want, check out the  HD Frequency Cable Cutter antennas.
I recently got to test out the HD Frequency Cable Cutter and Cable Cutter Metro (formerly called the "Mini") antennas.
These are flat metal antennas that have performance on par with the Mohu Leaf (and in some cases, better), but can be used indoors or outdoors to get even better performance. Because they are flat, they can be easily attached to the side of a building or on a balcony with no mounting pole, or you can simply hang them on an indoor wall.
I did thorough testing against the Mohu Leaf indoors, and found that the performance was comparable. In particular, my Leaf was having trouble getting CBS (a Hi-VHF channel). The Cable Cutters got CBS with no problem and seemed to be better at getting the lower-numbered channels.
If used outdoors, the Cable Cutter performance should be even better.
Amazingly, the tiny Cable Cutter Metro "Mini" performed just as good as its big brother in my testing, proving that "size matters not". So, if you want to save some money and want a less obtrusive antenna, check out the Metro.
Each antenna includes a detachable 14-foot coax cable.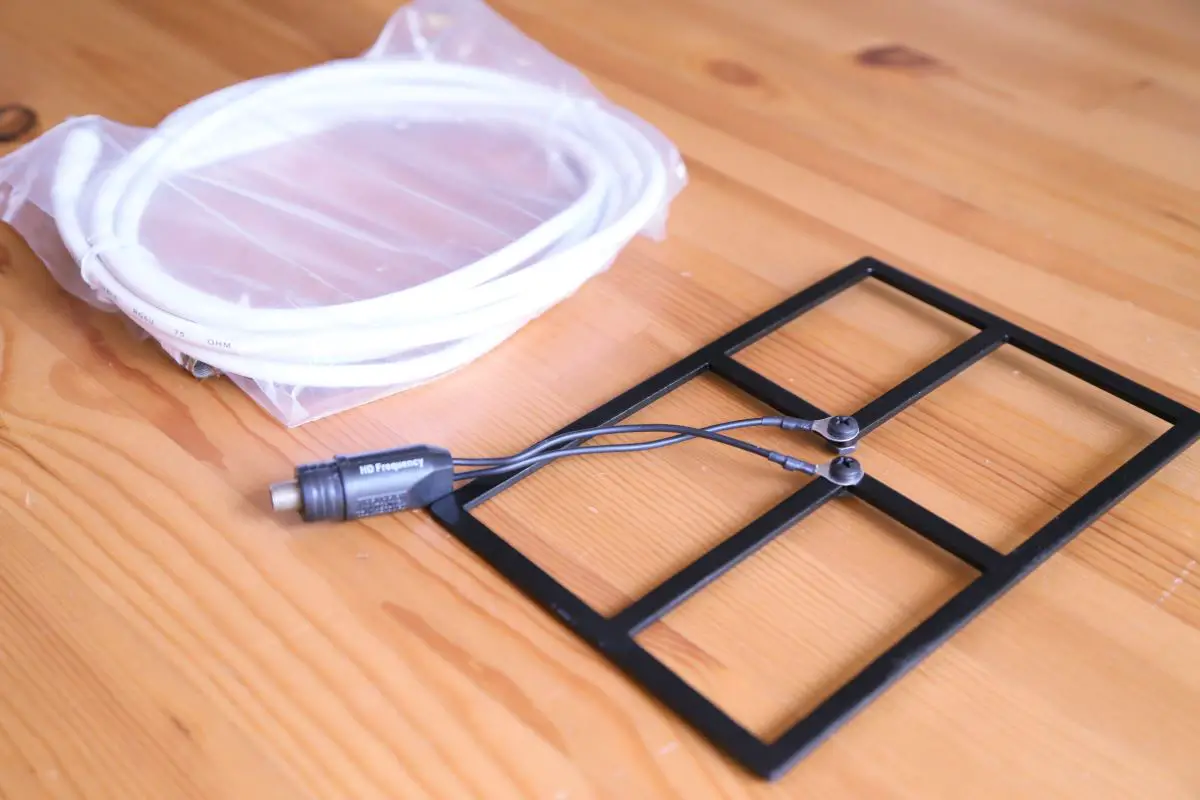 If you don't have an antenna yet and your stations are less than 25 miles away, I would recommend the Cable Cutter Mini for $39 on Amazon.  If you have some flaky channels with the Mohu Leaf, it also might be worth giving the Cable Cutter Mini a try.
Disclosure: Some of the links on this page are affiliate links. This means if you click on the link and purchase the item, I will receive an affiliate commission at no extra cost to you. I test or research each product or service before endorsing. This site is not owned by any retailer or manufacturer. I own this site and the opinions expressed here are mine. As an Amazon Associate, I earn from qualifying purchases.
For stations up to 50 miles away, check out the full-size Cable Cutter. I have not personally tested it with stations over 25 miles away, but the reviews on Amazon are excellent.
Like the Leaf, these are made in the U.S!
Note that if you do mount any antenna outdoors, you should be learn how to properly ground it to protect your equipment and yourself from lightning.
What was your experience like with the HD Frequency Cable Cutter antennas? Please comment below! - Brian