This tool is the easiest way that I've found to find the nearest LTE or 5G cell towers operated by Verizon, T-Mobile, AT&T, or other carriers in the United States.
You may want to find the closest cell towers operated by a particular carrier if you are looking to switch cell phone service, or if you're considering wireless home Internet service, or if you already have wireless home Internet and you want to optimize the placement of your gateway.
About Cellmapper
Cellmapper.net is the tool that I recommend to find cell towers near you. It uses crowd-sourced data to generate a map showing cell signal strength and tower locations. Anyone with an Android phone can get the Cellmapper app to help gather data.
The site is completely free to use, but since it is crowdsourced, there is no guarantee of 100% accuracy. It might be, say only 80% accurate, but that may be enough for you to get an idea of the signal strength in your area.
Using Cellmapper
To find the cell towers in your area, simply visit Cellmapper.net on a computer. You could us a phone but honestly, it's best to use something with a big screen for this.
It's easiest to allow it to use your location by confirming that choice in the popup. If you prefer not to do that, go to Menu -> Search and enter your city or address in the Location Search field. You should see a map of your area:
Entering Your Carrier and Technology
The next step is to choose your carrier. First, close the Search window (if you had it open), then in the menu go to Provider. That is where you'll enter your carrier, but you'll find multiple results for any carrier you enter. Here are the search terms to enter for the big three:
"Verizon 311"
"T-Mobile 310"
"AT&T 310"
These search terms will get you the correct carriers.
Enter the one you want and press Enter/Return. The map will immediately populate with signal-strength dots and 4G towers like this:
If you're looking for 4G towers, you're basically done. If you click on a tower, you can see the area covered by its cells: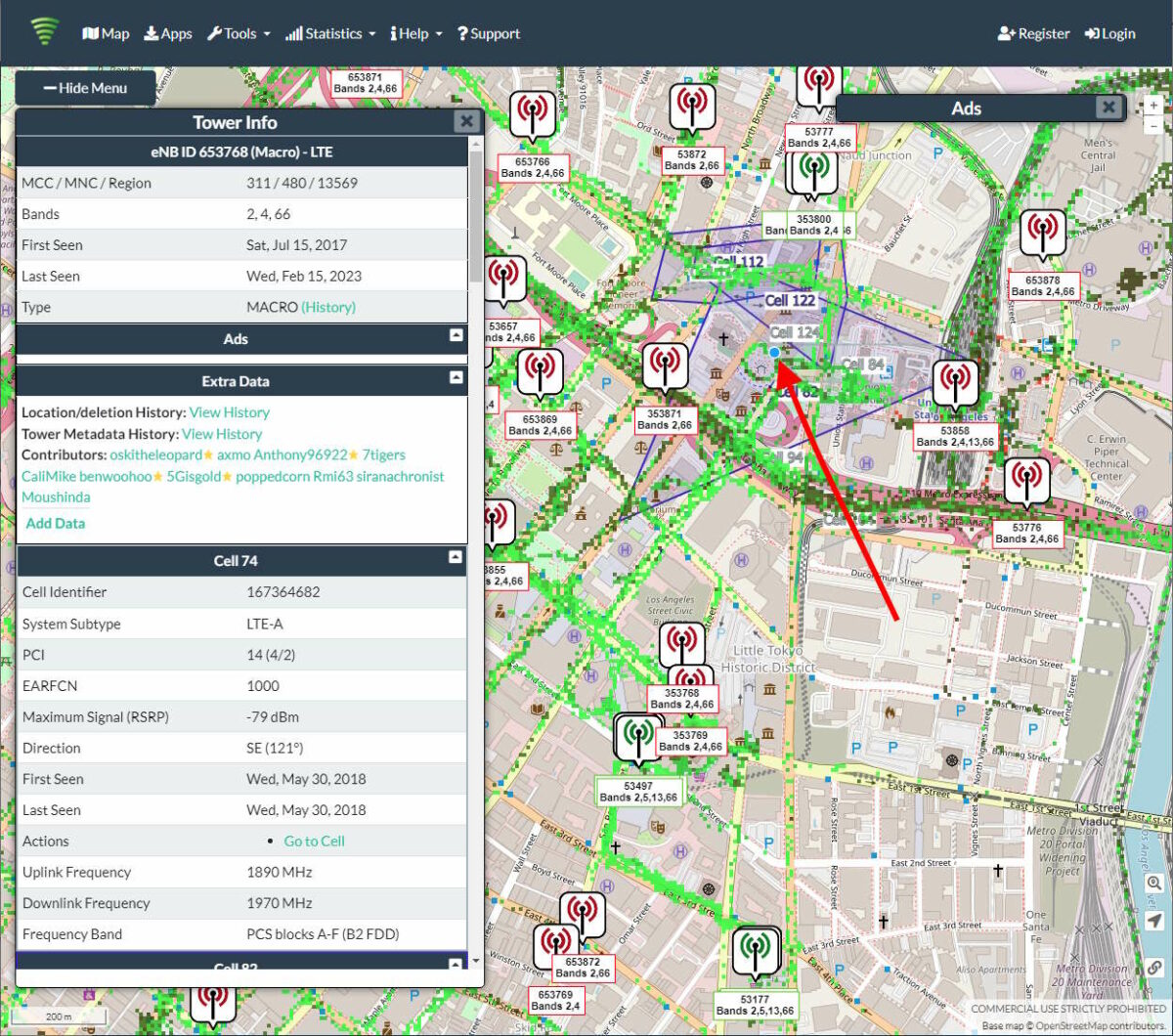 Finding 5G Towers
If you're looking for 5G towers, there are a few more steps.
Close the popup and go back to the Provider menu popup. You'll notice there is a pulldown labeled "Network" where the choices include "4G – LTE" or "5G NR".
If you choose "5G NR" for T-Mobile, you'll see their 5G towers. However, Verizon and AT&T currently do not have a lot of dedicated 5G towers, so you might not see any at all.
But that doesn't mean they don't have 5G. At this time, all of the carriers are piggybacking 5G ENDC equipment on top of their 4G infrastructure. ENDC is a transitional technology that makes it possible for mobile devices to access both 5G and 4G LTE networks at the same time.
To see 4G towers that have 5G transmitters, select "4G – NR" and close the menu item. Then go to "Filters" in the menu and check "Only Show 5G ENDC capable towers":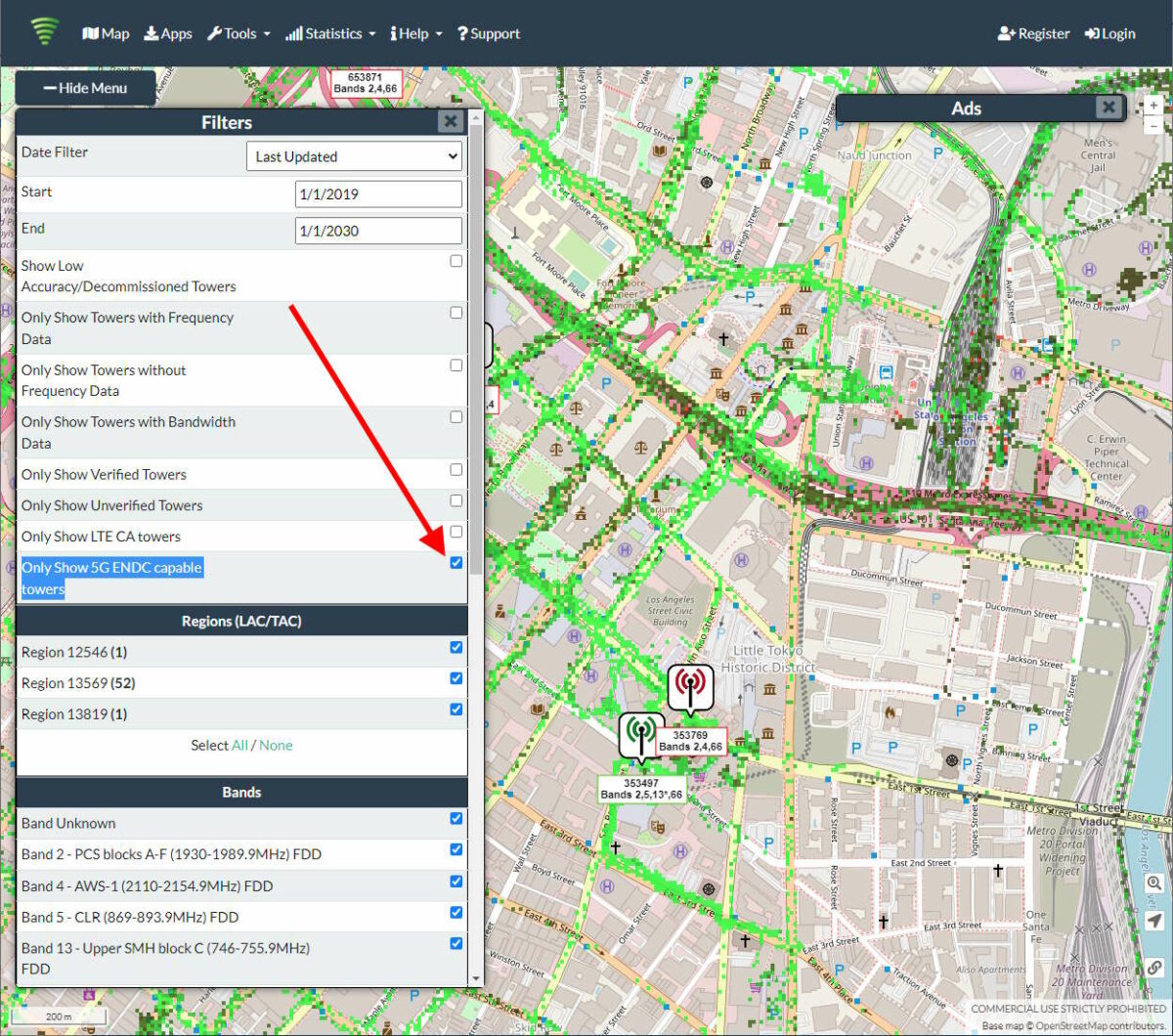 You should see a bunch of towers disappear; those are the ones that only have 4G on them.
Now, not all of the cells on the remaining towers are 5G. To find which ones are 5G, click on the tower and look through the popup list on the left. Try to find "5G ENDC Available / Yes" in the list. If that is there, that cell is 5G. Note the cell number and find it on the map: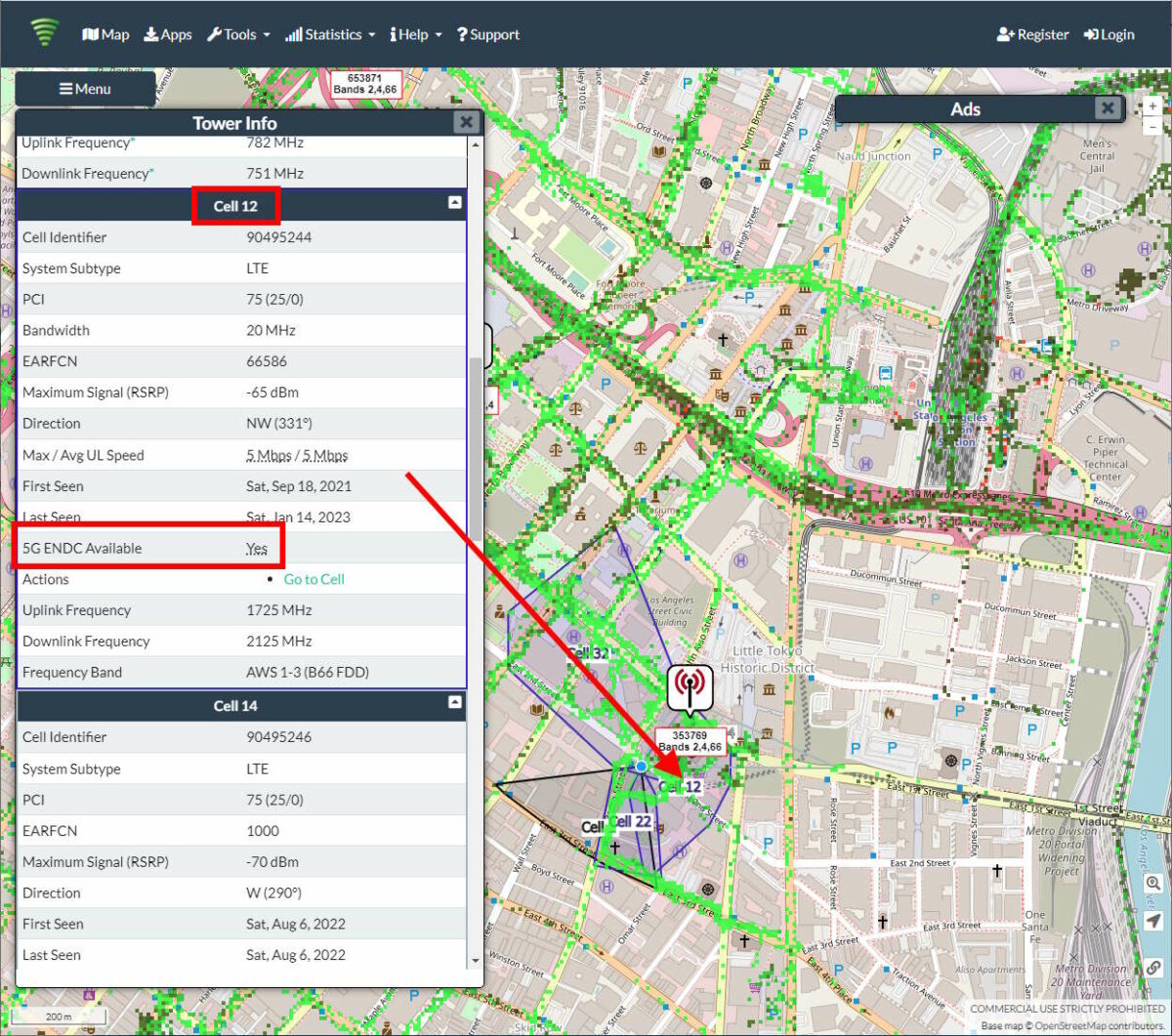 Or, you can do the reverse and click on a cell and see if it has 5G ENDC in the popup list.
Note that although T-Mobile has dedicated 5G towers, it also has 4G towers with 5G ENDC equipment, so if you're looking for T-Mobile cells, you'll have to check both cases.
Conclusion
How did this work out for you? Again, keep in mind that this data is crowdsourced and definitely not 100% accurate, but it's often good enough to get an idea of the signal strength in your area. Please leave any questions or comments below! – Brian