If you are using an antenna to watch TV, I highly recommend picking up a broadcast TV DVR (digital video recorder) to record entire seasons of your favorite shows so you can watch them anytime. It makes the broadcast TV experience much more like a streaming service!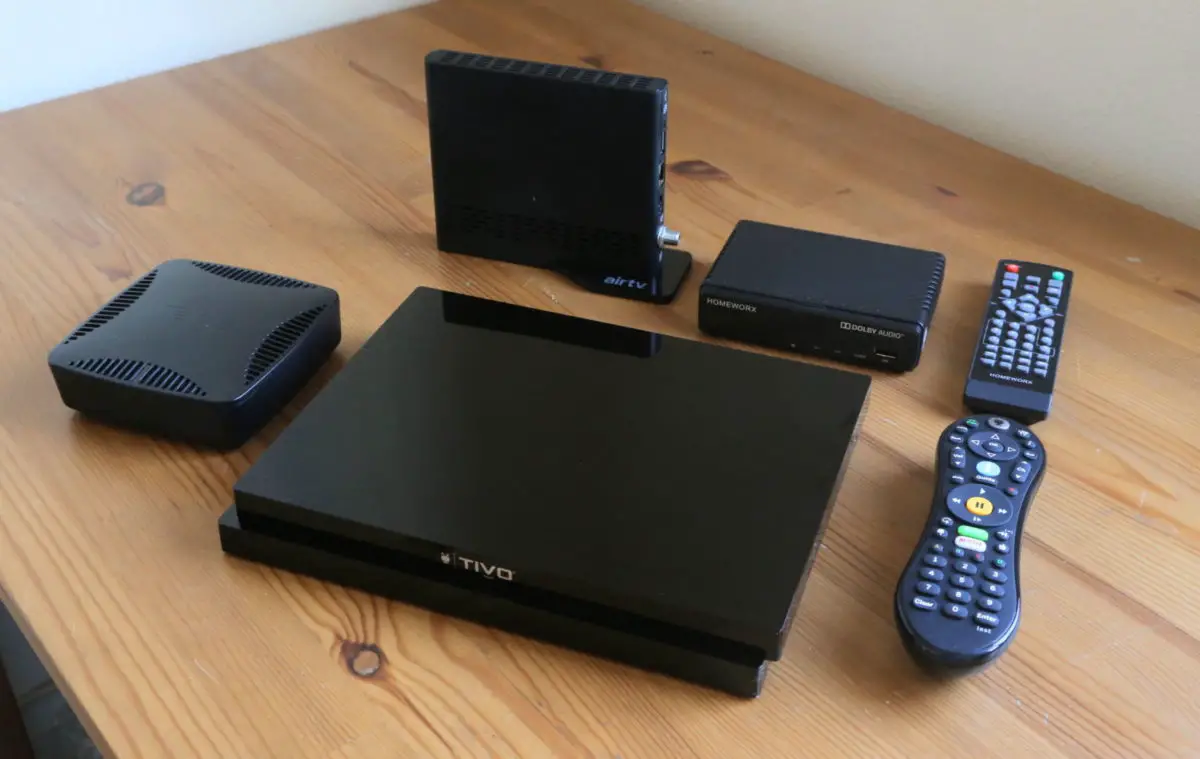 Considerations
Here are some questions you should ask yourself when looking for an over-the-air DVR:
Does it have a recurring fee for the channel guide?
Does it show upcoming TV shows and movies, not mixed in with paid content?
How many channels does the tuner pick up?
Does it come with internal storage, or do I need to supply my own USB drive?
Does it need to be connected directly to your TV, or can you watch through apps?
Can you watch on multiple TVs?
Can you watch live TV and recordings away from home?
Can it connect to your network through Wi-Fi, or does it need wired Ethernet cable from your router?
There is no one DVR that is best in every situation. Here are the broadcast DVRs that I recommend depending on your setup and needs.
1. Tablo Generation 4 DVR – My #1 Pick for Most People!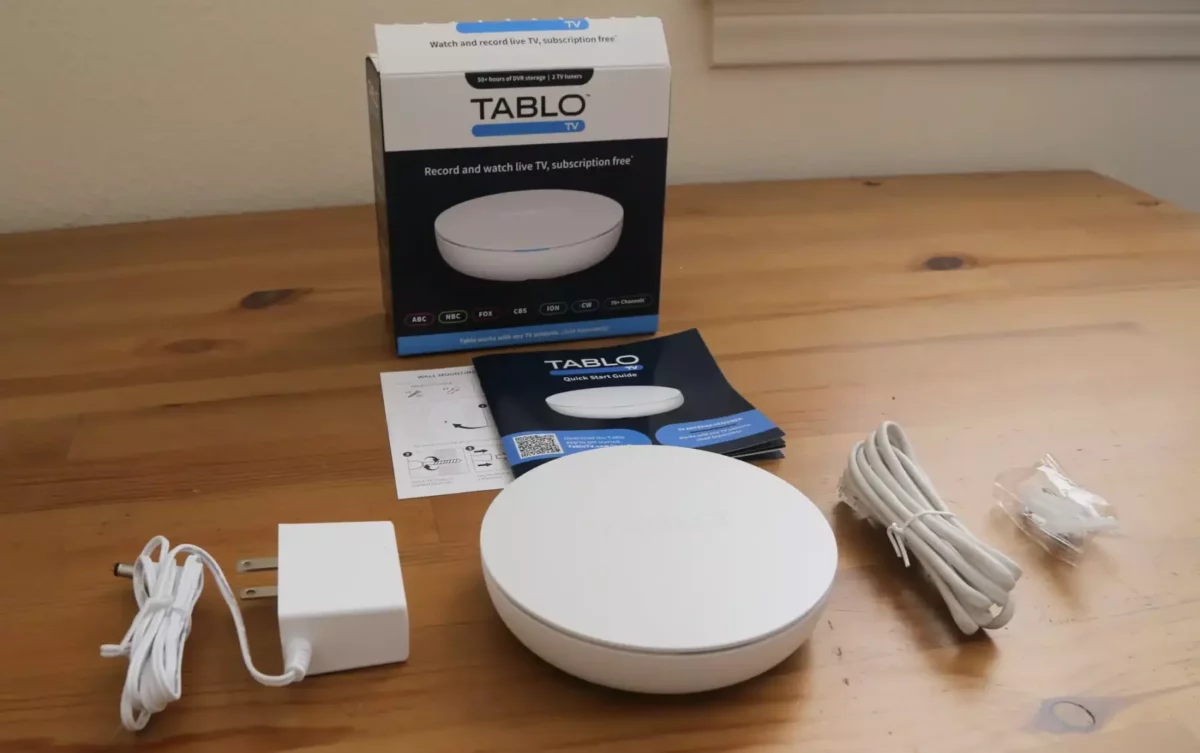 Tablo has a brand new two-tuner DVR that solves my biggest gripe with DVRs: the subscription fee. This unit has zero recurring fees for the channel guide! On top of that, it's got Wi-Fi, 50 hours of internal storage, and a really cool Netflix-style filterable grid of upcoming movies and TV shows that makes it a joy to find new content. On top of that, it's easy to set up and use, and it's backed by great customer service – you can actually get a human being on the phone.
Right now, there's only a two-tuner version, and only ATSC1.0 is offered. You'll have to wait if you want 4 tuners or ATSC 3.0. But aside from those caveats, Tablo Gen 4 is my pick as the best DVR for most people!
Pros
No subscription fees for the 14-day channel guide – finally!
50 hours of internal flash memory storage included.
Can connect to your network via Ethernet or Wi-Fi.
Pretty painless setup process. Easy to use.
Much better customer support than most other DVR companies; you can actually talk to a human being if you call them.
Roku app has filterable Netflix-style grid of upcoming movies and TV shows making it fun to find new content to record.
Better picture quality if you record to external storage.
Has the ability to record shows from the included free ad-supported streaming services!
Low $99 cost! Cheaper than the old Tablo Dual Lite, which is $149.99.
Four-channel version is available for pre-order for $139.99.
Cons
No remote viewing or commercial skip offered.
No ATSC 3.0.
Can't view recordings from a browser (at least not yet).
No Apple TV app yet (but coming soon).
Only works in the United States. Does not work in Canada (due to streaming licensing issues).
Can't watch live TV or recordings away from your home network.
No manual recording (by entering date and time); you only can record by clicking on a TV show.
Can't watch live or recorded TV when your Internet is down.
2. HDHomeRun Flex and Scribe DVRs – Some Models Support ATSC 3.0
The HDHomeRun DVRs by Silicon Dust have lots of satisfied enthusiasts on various cord-cutting Facebook groups, with people praising the tuner quality as being the best out of the major DVRs. This is definitely the most "geeky" DVR, as it can be used with third-party software like PLEX and NextPVR, but that takes some independent research and effort.
Certain models by Silicon Dust support ATSC 3.0 (Next Generation TV). The Flex Duo does not, while the Flex 4K and Scribe 4K do (on two out of four tuners). These are the only models among the ones I've reviewed that support ATSC 3.0.
The big caveat with these DVRs is that they require a direct Ethernet connection to your home network. There is no option for Wi-Fi. For some people, this is a show-stopper because they don't want to run CAT-5 cable through their homes. If you're OK with this requirement, then keep reading!
You can watch live TV and your recordings using the HDHomeRun app, available for Windows, Mac, and most streaming TV platforms and mobile devices. However, you are not able to watch live TV or your recordings outside of your home network using the HDHomeRun app. So, this unit is not a good choice if you want to watch away from home.
The Scribe 4K has 1TB of built-in internal storage with four tuners. The Flex models do not have internal storage, but you can plug in an external USB hard drive. The Flex Duo has two tuners, while the Flex 4K has four.
There is no HDMI output, so you won't be connecting these directly to your TV.
The 24-hour channel guide is free, but there is a $35/year charge for the two-week channel guide and DVR functionality. The app features a grid showing upcoming shows, movies, and sports, similar to the grid that I love on Tablo (which is now available without subscription). This is a great way to discover new content that every DVR should have.
Setup of the tuner is plug-and-play. However, in my unit, there were no instructions on how to set up the DVR functionality. I eventually found some instructions online and got it set up, but overall the included documentation is lacking.
If you don't mind connecting your router directly to your DVR via Ethernet cable (as opposed to using Wi-Fi), and you are not looking to watch your recordings outside of your home, then the HDHomeRun DVRs are well worth your consideration due to its excellent tuner and easy-to-use software, with the DVR functionality requiring some research online to get working.
HD HomeRun Pros
Tuner picks up a lot of channels.
HDHomeRun app is intuitive and easy to use once set up.
The "Discover" tab in the app shows upcoming shows, movies, and sporting events without paid content; great for discovering things to record.
Compatible with third-party DVR software for the video geeks out there.
Some models support ATSC 3.0 on two of four tuners.
Very small size.
HD HomeRun Cons
No Wi-Fi is a show-stopper for those who don't want to run cable from their router.
$35 annual fee is required for DVR functionality and two-week channel guide, although you can use free third-party apps to do this.
The HDHomeRun app does not work when you are away from your home network; can't view live TV or recordings when you travel, though there are third-party apps that can do this.
No documentation on how to set up the DVR is included.
Disclosure: Some of the links on this page are affiliate links. This means if you click on the link and purchase the item, I will receive an affiliate commission at no extra cost to you. I test or research each product or service before endorsing. This site is not owned by any retailer or manufacturer. I own this site and the opinions expressed here are mine. As an Amazon Associate, I earn from qualifying purchases.
3. AirTV 2 / AirTV Anywhere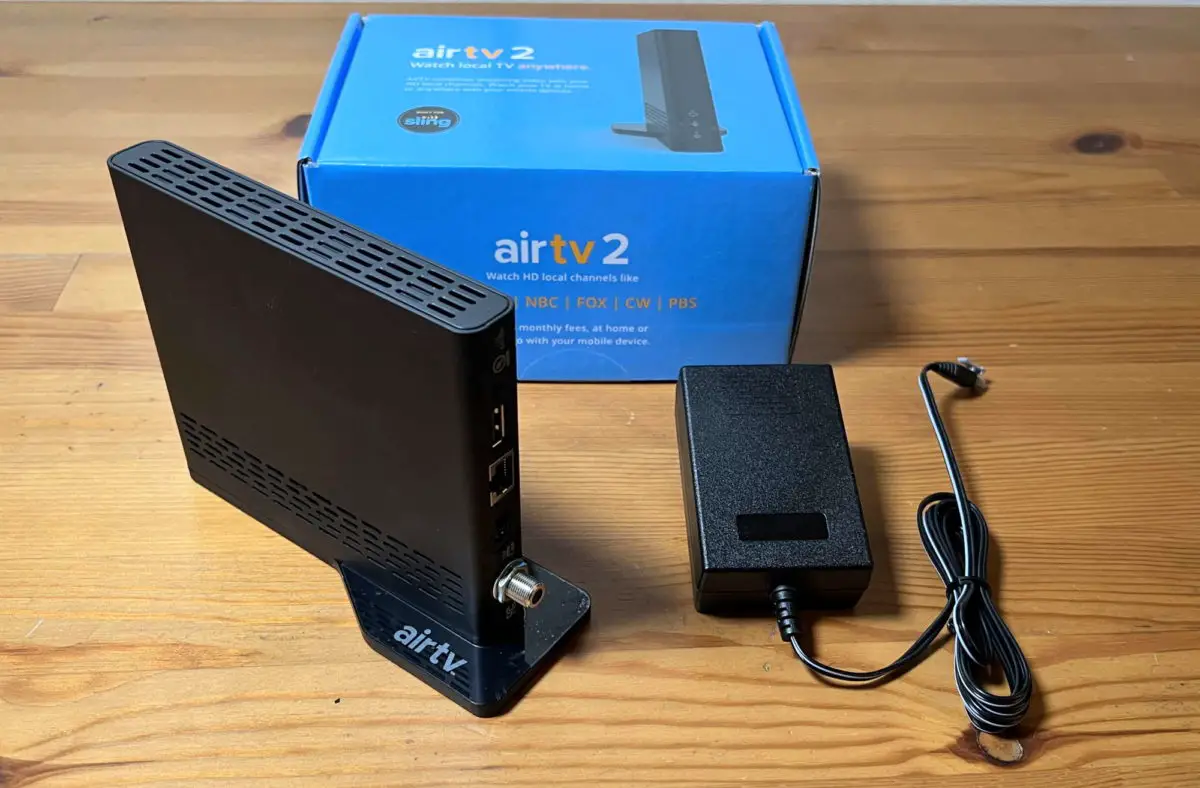 The AirTV DVRs from Sling (which is owned by DISH) have good tuners, are completely wireless, and have no channel guide subscription fees.
The AirTV 2 has two tuners to allow viewing or recording of two broadcast TV show at a time. It requires an external USB hard drive for recording. Note that it only uses the first 2TB of drive space, so don't buy a bigger drive for it.
The AirTV Anywhere has four tuners and 1TB internal hard drive.
They can connect to your home network via Wi-Fi or Ethernet. There are apps that allow viewing from many different devices including web, Roku, Amazon Fire TV, iOS, or Android.
No paid subscription is required, making the AirTV products worthy of consideration. You just need to sign up for a free Sling TV account.
However, the Tablo has a superior channel guide that presents all of the shows or movies available in a Netflix-style grid which makes it easy to find shows you want to record in the future. I would only consider AirTV if you want to be able to view your recordings remotely when away from home. Read my full review:
AirTV Pros
No fees for the channel guide!
Great tuner (brings in the most channels).
Has Wi-Fi.
Can watch live TV and recordings away from home.
Easy to set up and use.
Air TV Cons
Paid streaming services are mixed in with upcoming broadcast TV shows in the user interface, making it harder to find free content.
Doesn't work with all USB drives (or any SSDs). Might need to purchase a recommended USB drive rather than use one you already have.
Only uses the first 2TB of drive space.
Can only set up recordings through the guide. No manual recording setup.
Lots of users online have complained about virtually non-existent tech support.
No ATSC3.0.
Other DVRs
These DVRs are not my top choices, but they may be appropriate in some circumstances.
TiVo Edge for Antenna DVR with All-In Service – Requires Direct HDMI Connection to Your TV
The TiVo Edge for Antenna has two tuners and an internal 500GB hard drive for recording. I got mine with the All-In Service where you pay a flat fee for lifetime channel guide access, which makes the total cost of ownership less than that of the Tablo with channel guide.
Setting up the Tivo Edge for Antenna requires that it be connected to a TV via HDMI and some settings are only available through that connected TV. Therefore, if you get this unit, you'll probably want to keep it near your primary TV even though you can watch recorded shows on the TiVo Online website using a non-Chrome browser. You can also purchase a TiVo Mini Lux ($199) to watch live TV and recordings on other TVs.
The TiVo Edge also supports external USB drives, so you can add almost unlimited storage capacity by swapping drives.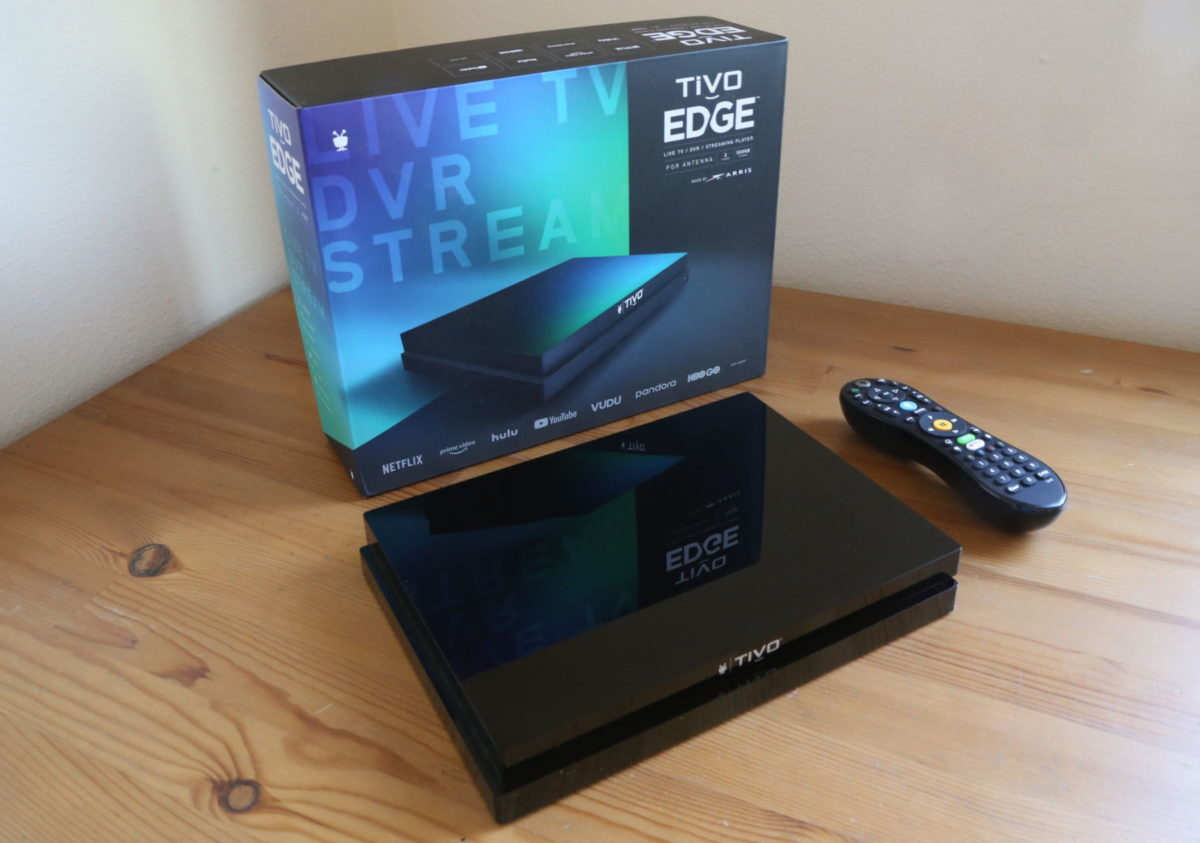 The TiVo Edge for Antenna might be a good option if you want to avoid paying recurring fees for a channel guide, AND if you are OK with connecting your DVR directly to your TV. Just make sure you get the version with "All-In Service", which means you're paying for a lifetime subscription with no recurring fees.
The TiVo app definitely has some quirks that could be show-stoppers for you. For example, not all of your recorded shows are available for viewing when you are away from home. Read my detailed review:
TiVo Edge Pros
Great tuner (brings in the most channels).
Once set up, user interface is easy to use.
Greate remote control.
Commercial skip works well, when available.
Voice search works well.
Has Wi-Fi.
Superior picture quality.
Good customer support. I was easily able to reach a human being on their phone line.
Tivo Edge Cons
Must be connected directly to your TV via HDMI.
Can't watch on other TVs without purchasing an additional box for $199.
Can't watch some recordings outside of your home.
Only offered with two tuners.
No Roku or Fire TV apps. Not good for watching on multiple TVs (can watch through non-Chrome browser).
There is a fee for the channel guide (lifetime deal is offered though).
Paid streaming services are mixed in with broadcast TV shows in "What to Watch" section.
Big and bulky size.
Expensive compared to other DVRs.
No ATSC3.0.
Converter Boxes that Record – Extreme Budget Option
Many outboard TV converter boxes (or "tuner boxes") also record to outboard USB storage devices. These usually run for only about $40!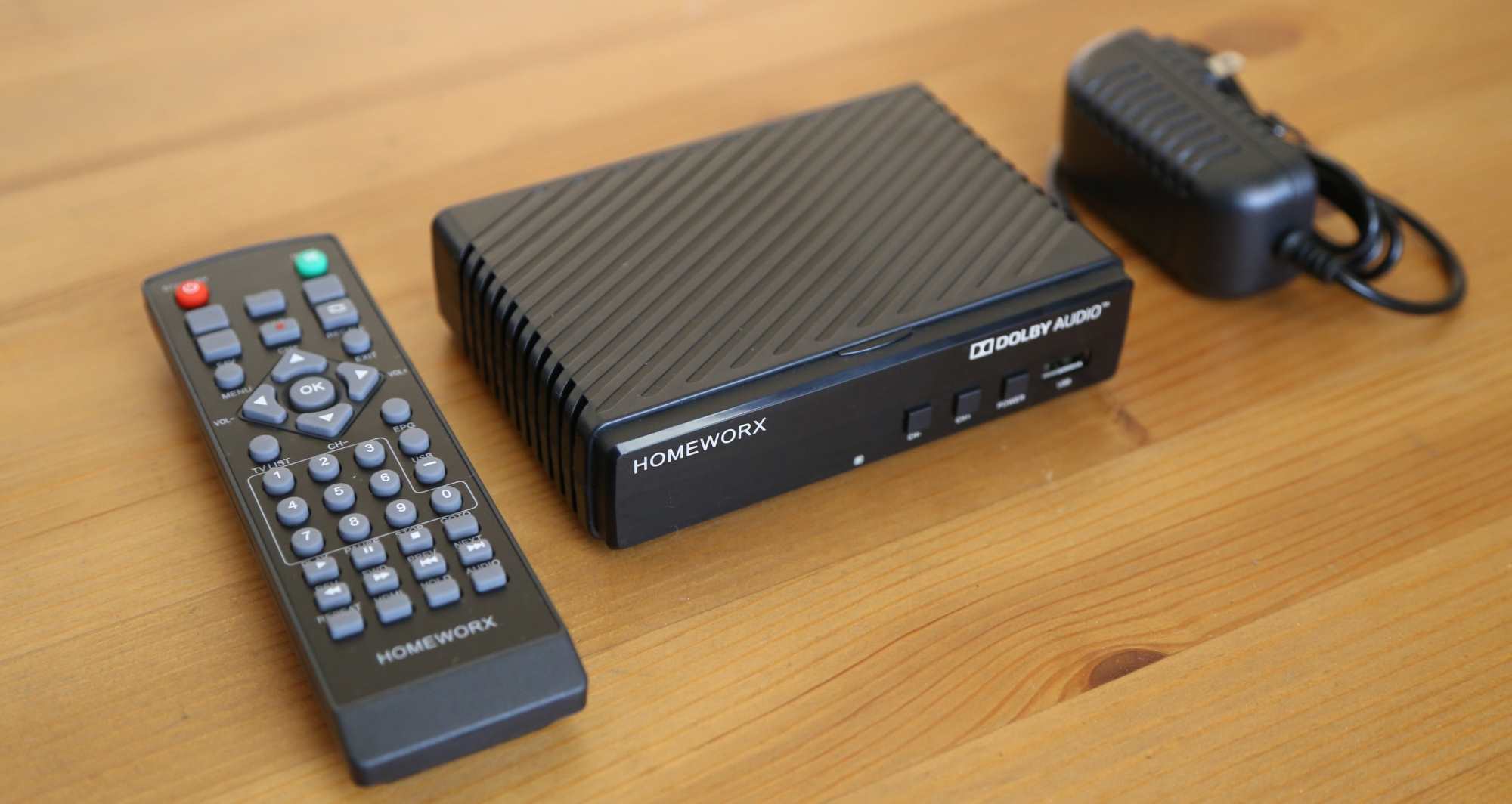 So, what's the catch? Well, these boxes don't connect to the Internet, so the channel guide is not as slick as with the other units I've mentioned. Also, the user interfaces are not as refined. You can't watch one channel while recording another. But, these are SO much cheaper than the other options, it may be worth looking at if you're willing to tolerate these shortcomings. We tolerated much worse when we were using VHS VCRs!
On the upside, you can take the hard drive from this unit and plug it into your computer and watch the recordings that way. You can't easily do that with the Tablo since the recording format is proprietary.
Among the many cheap tuner boxes with recording, I recommend the Homeworx DVR Digital Converter:
Homeworx Pros
Super low cost!
No Internet or Wi-Fi required.
Can plug the hard drive into your computer and it will recognize your recordings.
Homeworx Cons
User interface is primitive.
Channel guide goes less than 24 hours into the future.
Remote control is pretty bad.
Has to hook directly to your TV via HDMI.
Only one tuner so you can't watch one show while recording another.
Can only view live TV on the TV it is currently hooked up to.
PlayOn – Requires Subscription, Records Internet Video, Not Live TV
This service (not a hardware box) lets you movies and shows from Internet streaming services, as opposed to broadcast TV. For example, say you want to record a TV episode from Hulu, or a movie from Netflix or Disney+. PlayOn lets you do this. Cost starts at $39.99 for 350 cloud recordings or unlimited recordings to your computer.
You install the software on your computer and choose from channels to record from. Current channels include Netflix, Hulu, YouTube, HBO, Disney+, and many network and cable TV websites, but not all (it doesn't work with Sling TV for example). I personally have not tried it, but several readers recommended it. Let me know what you think!
The Bottom Line: Which DVR Should I Get?
My number one pick for most users is Tablo Gen 4 because of its free channel guide and ease of use. Most existing Tablo users should probably not upgrade though unless they are paying channel guide fees.
If you don't mind connecting your DVR to your router via Ethernet cable (as opposed to Wi-Fi), and you want to get the most channels possible with a lower-cost channel guide, check out the HDHomeRun DVRs.
If you want to be able to watch live TV and recordings away from home, check out AirTV.
If you refuse to pay a recurring fee for a channel guide and are OK with connecting your DVR directly to your TV via HDMI, and you love the TiVo interface, then you can consider the TiVo Edge for Antenna with All-In Service.
If you want the absolute cheapest DVR solution, and you know exactly what you want to record and when it airs, then a generic solution like the Mediasonic Homeworx DVR might be best for you.
What Happened to the Amazon Fire TV Recast?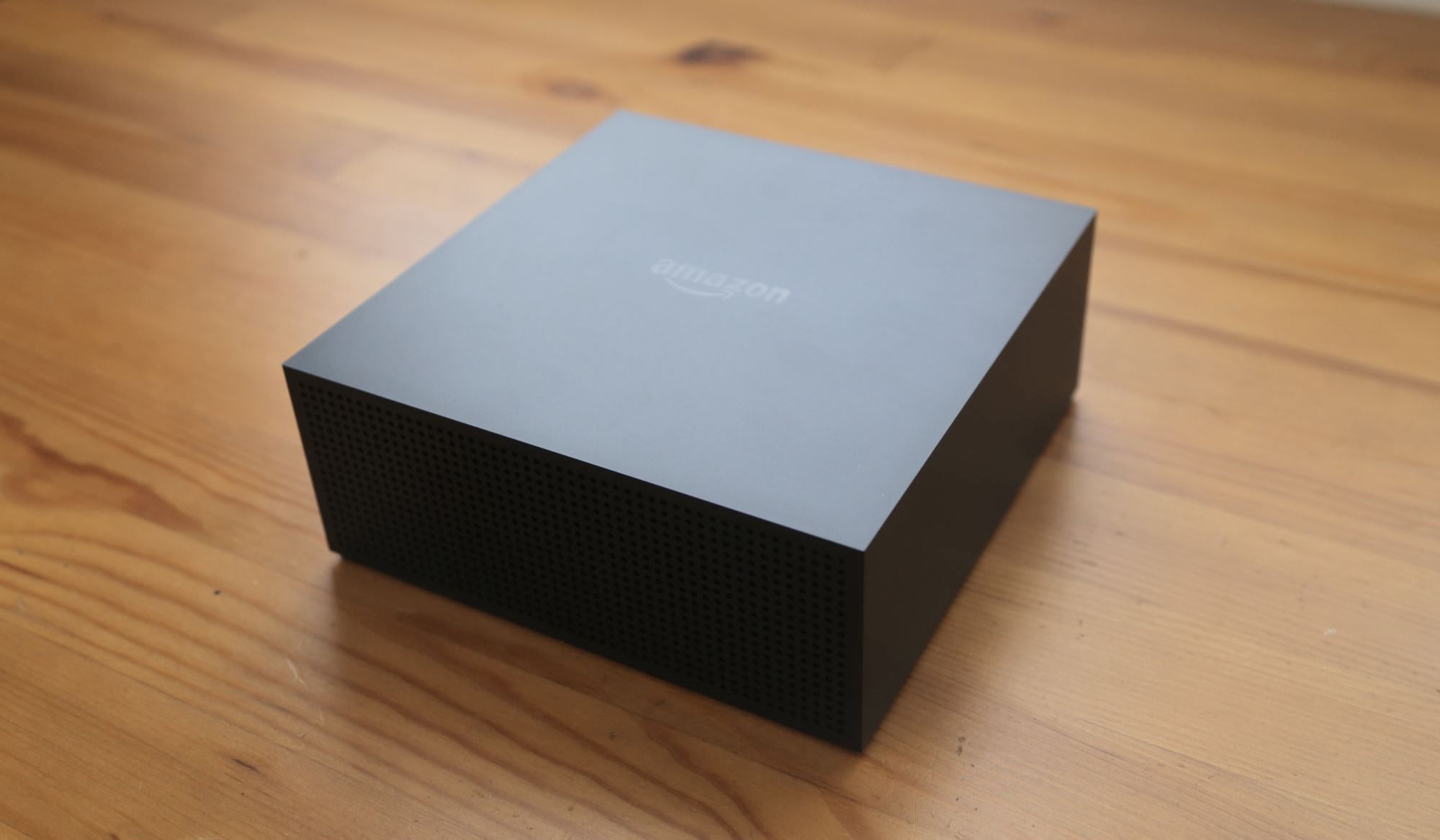 Amazon's DVR, the Fire TV Recast, was discontinued in August 2022 unfortunately. It's too bad because it had a polished user interface and was easy to set up with its internal drive. You might still be able to find one on eBay, but it's unclear how long Amazon will continue to support it, so I would not recommend buying one used at this point.