It used to be that any streaming TV service was a no-brainer better deal than cable or satellite TV. Unfortunately, some streaming services are now just as expensive as cable! Yuck!
But, it's still possible to pay way less than cable if you pick your streaming services wisely (see below) and use an antenna if you need local channels.
You can watch these on your computer or phone with an Internet connection or on your smart TV or streaming player like Roku or Amazon Fire TV.
If you want a personalized recommendation of what streaming TV services are best for you based on the channels you want, check out my Streaming Service Finder:
Or, if you prefer to read about the most popular ones, continue on below!
My Top Free Streaming Services:
---
My philosophy is to first try to pay zero dollars for TV! Here are some of my favorite free streaming services that everyone should check out. Note, all of these services have commercials. But then again, so does cable TV, and you have to pay for that!
1. Pluto TV – Top Pick!
Pluto TV is one of the best free streaming TV services around, offering both an on-demand and a live TV-like viewing experience. You can watch on their website or on a streaming device. The movies are older, of course, but they're better quality than what most other free streaming services offer. There are commercials of course.
2. YouTube (the free version) Don't forget about plain old free YouTube.com! It's a great source of free older TV shows, concerts, documentaries, and quality original content. My Mom keeps it on all day.
For free movies, click the "FREE WITH ADS" link. I was able to watch a good number of older episodes from the Discovery Channel just by searching. All of the episodes of the vintage sci-fi series, "Space:1999" are on YouTube. For product reviews and "how-to" videos, I turn to YouTube.
For more hints on what to find on YouTube, check out this article.
3. FreeVee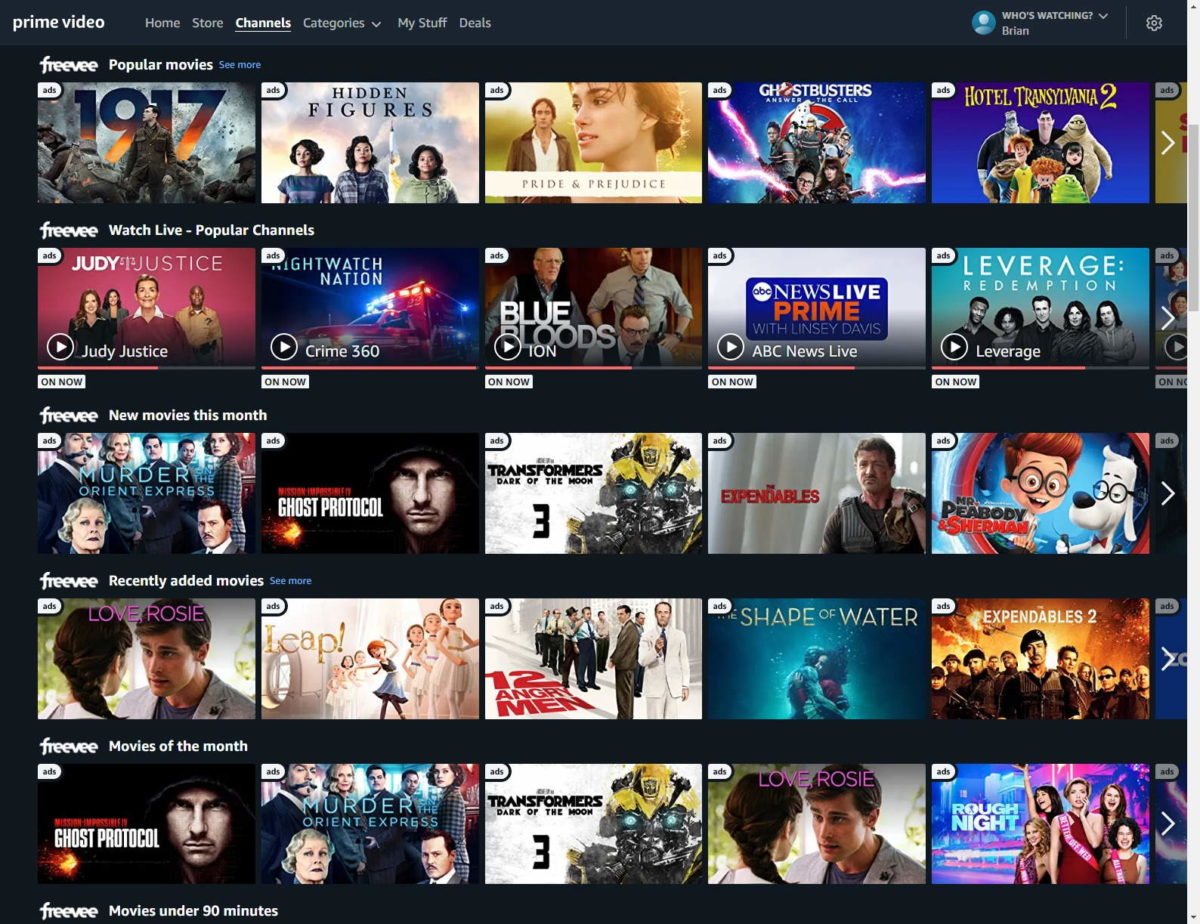 A new entry on my list is FreeVee (formerly IMDB TV). Now owned by Amazon, it has a pretty impressive list of free movies and TV shows! Definitely worth checking out! Scroll to the bottom of the page and click "Stream Now" for the free movies.
4. Sling Free TV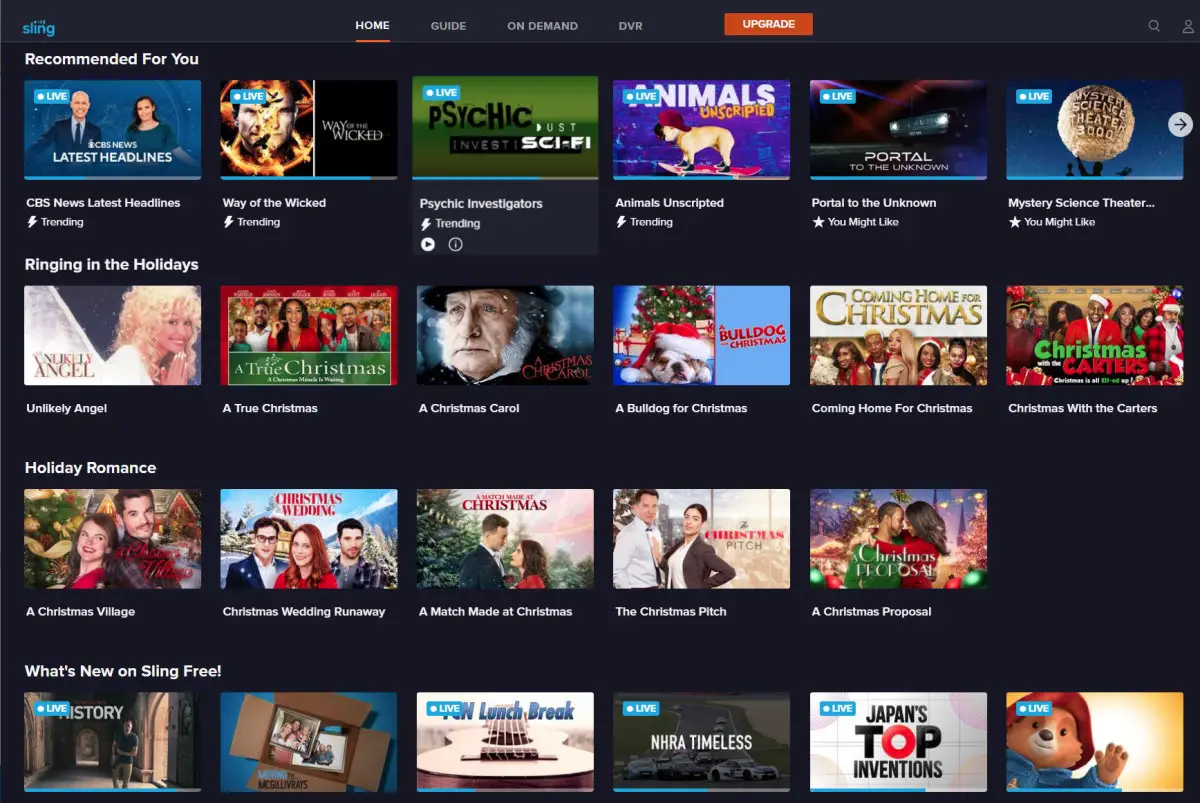 Sling has a great low-cost streaming service but I recently discovered that it has a free TV streaming service as well! No credit card or sign in needed! I immediately started watching "The Walking Dead". Well worth checking out!
5. Plex
Plex really upped their game and now offers some great movies and TV shows. Check out the "Plex Picks" and you'll see what I'm talking about.
Another cool feature is that if you use their search bar, it will show you where to find that movie or show – even if it is not on their site! Really useful!
6. tubi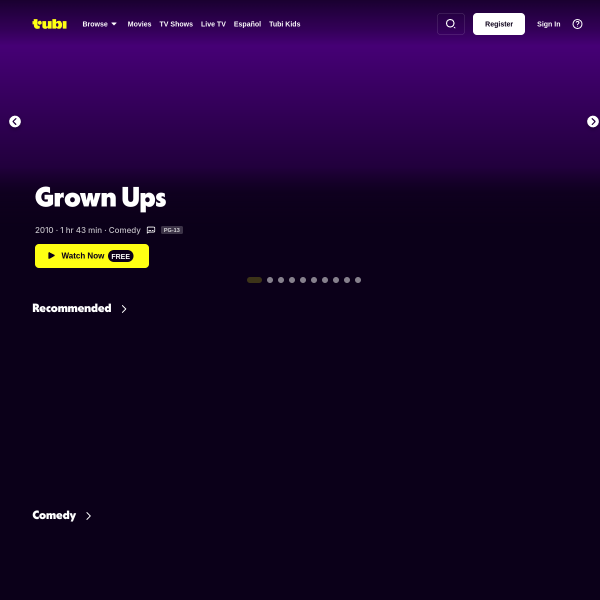 tubi is another free streaming service to check regularly, with some good movies and TV shows. They have a large selection of kids programming too.
For more free streaming services, check out my page with links to free online TV and movies:
Disclosure: Some of the links on this page are affiliate links. This means if you click on the link and purchase the item, I will receive an affiliate commission at no extra cost to you. I test or research each product or service before endorsing. This site is not owned by any retailer or manufacturer. I own this site and the opinions expressed here are mine. As an Amazon Associate, I earn from qualifying purchases.
If You Need Cable TV Channels, Check Out These Affordable Streaming Services:
---
If you need to watch the latest cable TV channels in real-time, check out these low-cost streaming services. Note, these services don't include local channels. If you need local channels, use an antenna or skip below for services that offer them.
1. Philo TV – Great if you don't watch sports
Philo TV is a great streaming service for those who are not into sports. Sports channels cost disproportionately more than other channels, so this can save you a lot of money!
Cost is $25 per month for over sixty channels, which is a great deal. Includes unlimited DVR to save shows for up to a year. There is a 7-day free trial.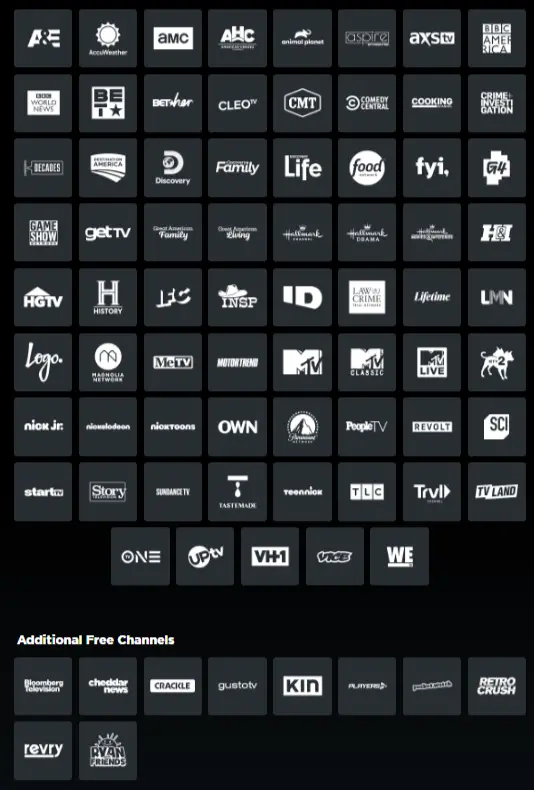 Bottom line, if you don't need sports channels but want other cable TV channels, Philo is my recommended streaming service for you!
hide
2. Sling TV – Great if you have an antenna for the major networks
Sling TV is an ideal low-cost solution if you already get the major network stations (CBS, NBC, ABC, etc.) using a broadcast TV antenna, or if you just don't want those channels. Unlike Philo, Sling TV does have ESPN and other cable sports channels!
The "orange" plan is geared toward sports fans and families. It is $40/month.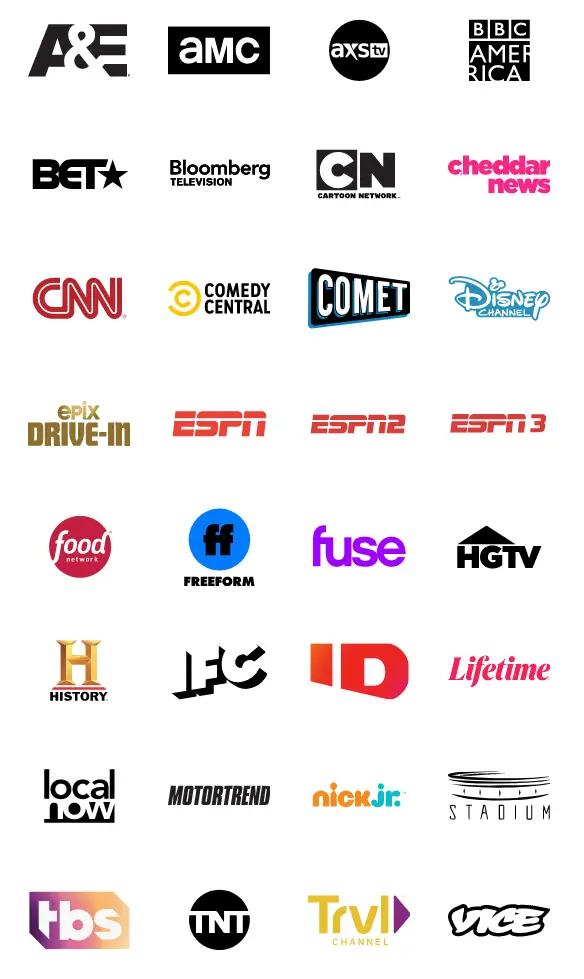 The "blue" plan is geared toward news and entertainment. It is also $40/month.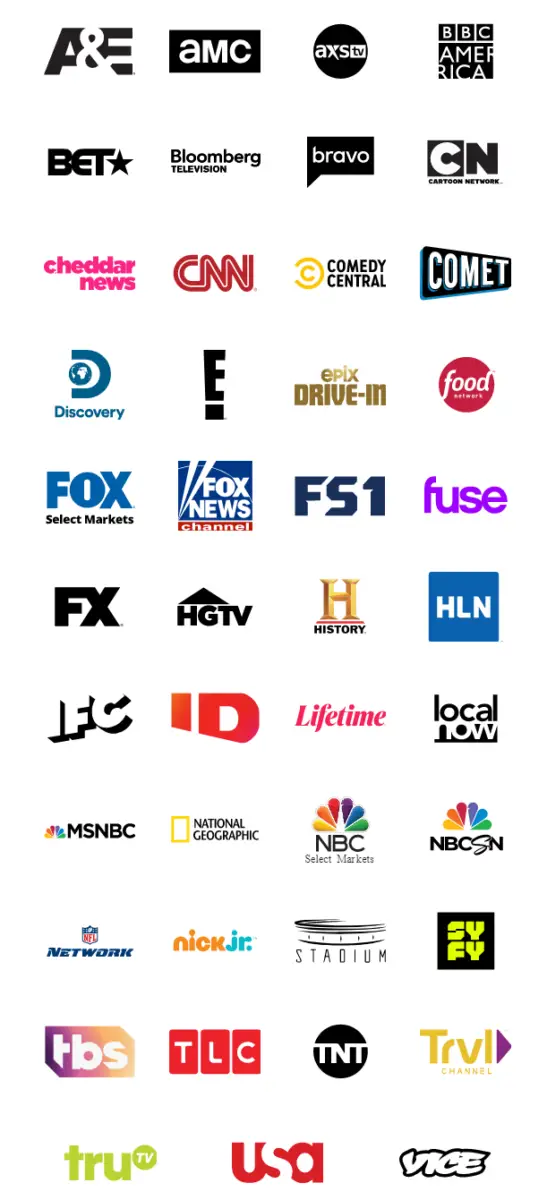 You can get both plans together for $50/month.
Each plan offers 50 hours of DVR included, expandable to 200 for $5/month. Overall, Sling TV is a good deal and many cord-cutters use it. It's available for all of the major set-top boxes and mobile platforms. Click the button below for more information:
hide
3. frndly – Good for family-friendly content like the Hallmark Channel
If you love the Hallmark Channel, then frndly is for you. They also offer A&E, History, Lifetime and other family-friendly channels live and on-demand. Unlimited DVR included. All for $6.99/month. It's a great service that's not weighed down by expensive sports channels. Try for seven days free.
hide
4. Paramount Plus – Great for CBS and some cable channels
Paramount Plus has some Viacom cable channels including MTV, Smithsonian, Nickelodeon, BET, and Comedy Central, so it's not a CBS-only streaming service!
Cost starts at $4.99/month with limited commercials or $9.99/month for no commercials. If you subscribe for a year at a time, you get a 15% discount.
There are some shows, like "Star Trek: Discovery", and "Star Trek: Picard" which you can only watch on Paramount Plus and not on broadcast TV.
Avoid Unless You Need Local Channels and Can't Use an Antenna
---
These services include live local channels, for a true cable TV-like experience. Unfortunately, the cost is also a cable TV-like experience: expensive! I would steer away from these unless you absolutely need these channels and cannot use an antenna. Check to see if you can use an antenna here.
Fubo TV – For sports lovers
Fubo TV started in 2015 as a streaming service specializing in soccer channels but they've added mainstream channels to become a legit all-around streaming service. They're still heavy on sports with the recent addition of ESPN.
Starting cost is $69.99 per month for 118 channels and $79.99 for 173 channels, which is in the same ballpark as cable TV, so you should really think about whether you need all of these channels. If you're into sports and need local channels (i.e., you can't use an antenna in your area), it may be worth it. But if you can use an antenna to get your local channels, do that and get a cheaper streaming service.

hide
Hulu with Live TV
Hulu with Live TV is the traditional Hulu streaming service plus a selection of over 50 live TV channels including the major networks and cable channels  It's only available in "select markets", which probably means major cities but not rural areas.  Cost is expensive, starting at $69.99 per month. If you can, use an antenna to get your local channels and then get a cheaper streaming service. There is a one-week free trial period.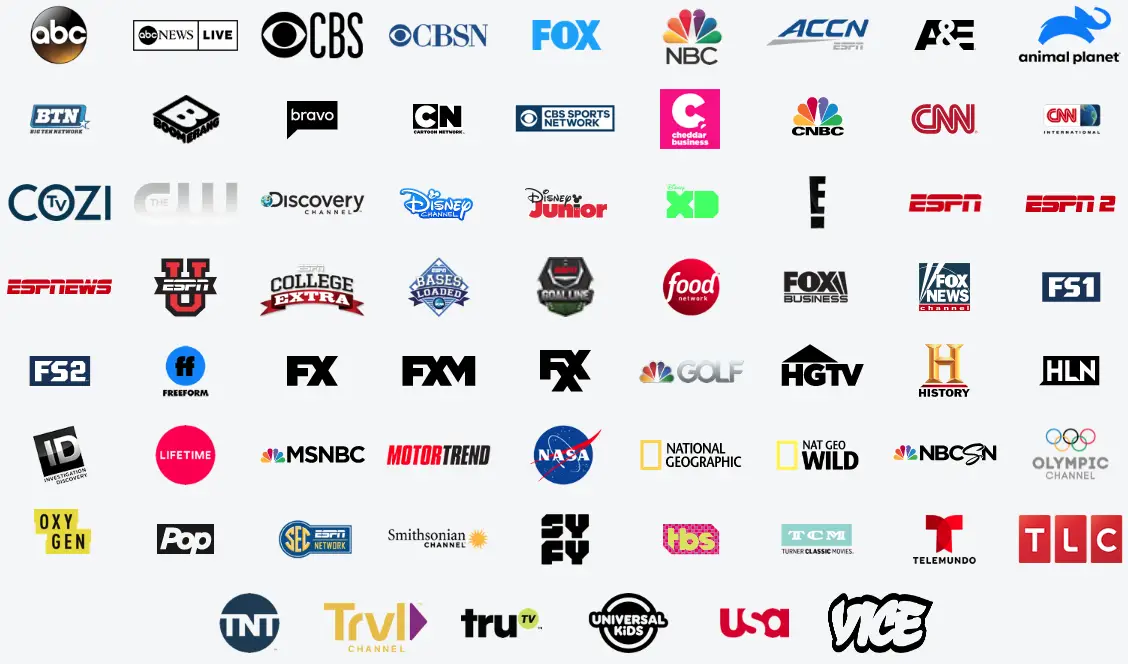 You also get Hulu's inventory of streaming TV shows like "The Handmaid's Tale" and movies.
hide
YouTube TV
YouTubeTV offers a ton of channels, but the cost is almost as expensive as cable TV! Use an antenna to get your local channels plus one of the lower-cost streaming services above. Only use YouTubeTV if you can't get your local channels using an antenna.

hide
On-Demand Subscription Services – Watch, then Cancel
---
These are not live-streaming services like cable or broadcast TV. Rather, these have libraries of movies and TV shows that you can watch any time as a subscriber. These have monthly fees but you can cancel at any time. I use these occasionally and always cancel after I'm done watching what I want to watch. If you want to save money, do not stay permanently subscribed to more than one of these services at a time.
Netflix
Good for Original Content and Movies
Netflix offers a great selection of movies and hit TV shows like the global movie hit, "Squid Game". Unlimited streamed programming starts at $9.99 per month for SD quality (only get this for viewing on a phone), $15.49 for HD on two screens at the same time, and $19.99 for 4K (Ultra HD) content and four screens at the same time.
To save cost, I subscribe for a month or two max, watch all of the good stuff, then cancel. Netflix does not have a free trial.
Disney+
Great for Disney classics, Pixar, Marvel, and Star Wars
If you're a fan of Disney, Pixar, Marvel, or Star Wars, the Disney+ streaming service is a no-brainer, at least until you've watched all of the movies from these studios on your list. It also offers all seasons of The Simpsons and Muppets Content.
Disney+ is only $7.99 per month or $79.99 per year, an amazing price point. If you want to throw in Hulu and ESPN+, the price is $13.99 per month with ads or $19.99 with no ads.
Of course, Disney+ is available on all of the major streaming devices. Unfortunately, there is no free trial.
HBO Max
Movies on the Same Day as Theatrical Release
HBO Max made waves by offering Wonder Woman '84 and all of the 2021 Warner Bros. movies on the same day as the theatrical release, at no additional cost! You can now watch HBO Max on all of the standard streaming devices, including Roku for $9.99 with ads or $14.99 per month without (I recommend paying a bit more to avoid ads). There is no free trial, but that's not a big surprise given the number of new movies coming.
Hulu
Good for TV Shows, Movies
Hulu is increasingly investing in original programming like "The Handmade's Tale". I also enjoyed the story of one-time James Bond actor George Lazenby in "Becoming Bond". They have a one-month free trial so there's nothing to lose to try it.
Hulu (the regular non-live TV version) is a very popular streaming service featuring a catalog of TV shows and movies for $7.99 per month with limited commercials and $14.99 per month with no commercials.
Starz
Lower Cost, Good for Movies
Starz is a really good value at $8.99 per month. They offer a seven-day free trial. Starz is owned by Lionsgate films but offers movies by other major studios as well. This is a good service to work into your rotation if you're burned out on the others.
Paramount+ with SHOWTIME
Movies and Paramount+
You can bundle Paramount+ with Showtime for just a dollar more than what Showtime costs alone. For $12/month this is a good deal.
Amazon Prime
Original Series and Movies
Amazon Prime is extremely popular for giving you free 2-day shipping on Amazon, but it also gives you access to thousands of movies and TV shows on Amazon. Cost is $14.99/month or $139/year. If you're a student, you can be a member for $69 per year or $7.49 per month, a good deal! Standout original Amazon TV series include "The Marvelous Mrs. Maisel", "The Man in the High Castle", and "Tom Clancy's Jack Ryan". There are also some moves, but they tend to be older ones than you'd find on Netflix.
It's a good deal if you use what it has to offer. Many people I know swear by this service.
If you just want the video service and not all of the other Amazon perks like free 2-day shipping, you can pay $8.99 per month for that only.
There's a 30-day free trial, so you can watch a lot of content in that time and cancel!
Discovery+
Stream Shows From HGTV, A&E, TLC, Food, Lifetime
Lots of people have been asking about how to get HGTV lately. Discovery+ might be a bargain if you don't mind watching episodes after the end of the season (with some exceptions that are available at the same time they air on live TV). Discovery+ does not offer live TV channels; it offers a library of shows from these channels on demand. Price starts at just $4.99 per month with commercials or $6.99 without. There's a student rate of $2.99/month with verified enrollment.

Apple TV+
Original series and movies
Apple TV+ has the Emmy-award-winning hit TV series, "Ted Lasso", which we really enjoyed. We also like "The Morning Show". Definitely worth utilizing your free three-month subscription when you buy an iPhone, or even buying a one-month subscription at only $4.99. I would only keep it for a month or two, then move on and return maybe in a year when the content is completely new again, especially since there are not a lot of shows on Apple TV+ compared to other streaming services.
My Recommendation: Watch, then Cancel!
If you subscribed to a more than few of these services all the time, your costs would start to approach or exceed that of cable TV. Instead, I recommend subscribing for only short periods of time to watch specific shows. When you're done, cancel your subscription and try a different service. All have free trials so you can save some money, at least initially, by rotating through all of the services (and there are many!)
Video Rental/Purchase – Use Sparingly
---
These are my favorite online stores where you can rent or purchase moves and TV shows a la carte. There's no subscription fee but the per-title cost can be expensive. On the other hand, it's still cheaper than going to a movie theater. We used Amazon to watch "Top Gun: Maverick" when it was only available in theaters, saving us $$.
Amazon Prime Video Rental/Purchase
Amazon Prime Video offers tons of movies and TV shows for rent or purchase as opposed to a subscription. Most movies range from 99 cents to $4.99 to rent. Some blockbusters, like "Top Gun: Maverick" are only available for purchase; these can be $20 or so. I personally use Amazon Video and like being able to occasionally watch paid content without a monthly subscription fee.
Apple iTunes Video Rental/Purchase
If you own an Apple device, you know about iTunes. Most TV shows are $2.99 to buy and movies are $4.99 to rent, with the most popular blockbusters $20 or more. Selection of recent movies and shows is good. You can watch them using your Apple TV, iPad, iPhone, or computer.
Either of these options is good if you only watch movies occasionally and don't want to subscribe to a service.
What to Do Next
As you can see, there are tons of streaming services available, both free and paid. If you want to save money but still watch the latest releases, I recommend utilizing the free trials of as many of the paid services as you can, and jumping around to maximize your viewing content while not being permanently subscribed to any of them.
For a personalized recommendation on which streaming TV service is best for you, check out the Streaming Service Finder, where you enter the channels you want, and it tells you which services offer it for the lowest cost:
Please leave your questions or comments below! I hope this was helpful. – Brian