One of the most common questions people ask me is "which TV antenna should I get?" There are so many on the market, it can get pretty overwhelming. In this article, I'll discuss my recommended TV antennas.
Before You Buy an Antenna
But before buying an antenna, you need to find out how many channels are available in your area.  To do this, enter your zip code (or full address) into the Station Finder:
If you got a lot of green channels, congratulations! You should be able to use a simple non-amplified indoor antenna and get most of those channels, if not more! Check out my recommended indoor antennas below.
If you didn't get any green channels, and just got yellow or orange ones, you probably need an outdoor antenna (in your roof or attic), possibly with an amplifier.  Skip ahead to my recommended outdoor antennas.
If you didn't get any channels at all, or just got orange ones, you are probably too far away from the transmitter towers to get good reception. Try some of these streaming TV services.
An Even Better Resource
Online antenna guides are great, but it's impossible for them to be 100% accurate given the variables of location, antenna type, antenna height, local obstructions, local interference, and so on.
You'll get the most accurate information on what broadcast channels are available in your area using particular antennas from your NEIGHBORS.
So, check with your neighbors! Walk around your home and look for homes and apartments with TV antennas on the roof. Post on Facebook or Nextdoor asking people in your immediate area how many channels they are getting and what kind of antennas they are using.
That will get you the most accurate information on what channels YOU can get!
Older TVs
If you have an old tube-type of TV, you'll need a converter box in order to use an antenna. Read about my suggested converter boxes here.
Rooftop Antennas Are Ideal
You will get the most channels and best reception by using an outdoor antenna or attic antenna, simply because these are higher up and have fewer obstructions than indoor antennas have. Skip down below if you are looking for an outdoor antenna.
However, many people can't set up a rooftop antenna because they live in apartments, are renting, etc. If that is your situation, keep reading.
The Indoor Antenna that I Recommend: The Mohu Leaf
If you have a lot of strong stations in your area and are not able to install an outdoor antenna, I would recommend the Mohu Leaf flat indoor antenna.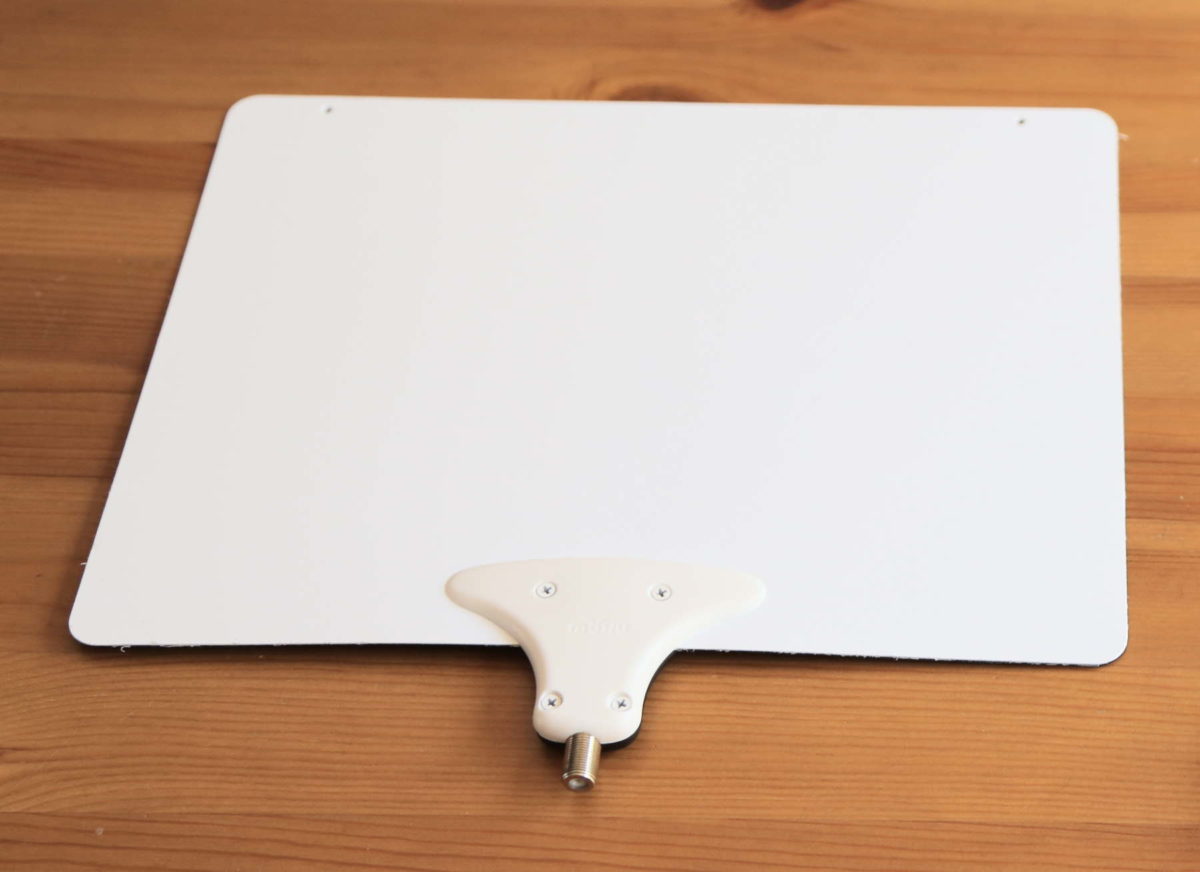 The Mohu Leaf is an indoor TV antenna that you can hang on a wall or window, as shown below. It is made in the U.S. and has performance on par with or better than much bulkier metal antennas. You can simply hang it on a wall, and it doesn't look bad! (See my comparison between the Mohu Leaf and a bulky metal antenna).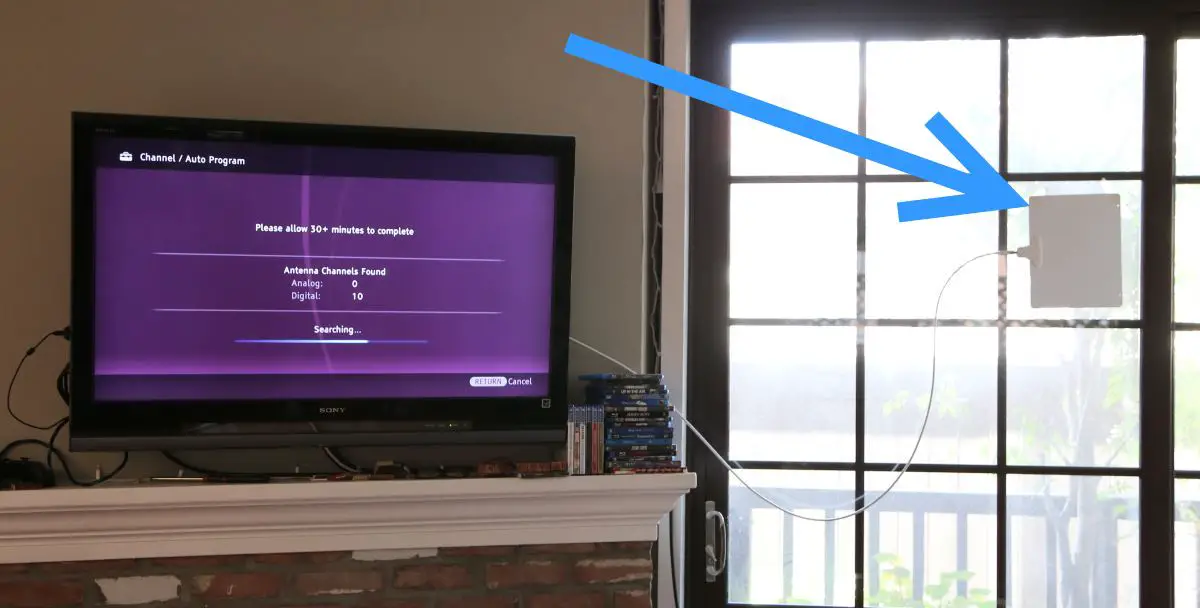 Mohu has a variety of Leaf models, but the one I recommend is the Mohu Leaf 30. This is the original non-amplified version:
In my testing, this model hits the sweet spot of price and performance if you can't use an outdoor antenna.
Disclosure: Some of the links on this page are affiliate links. This means if you click on the link and purchase the item, I will receive an affiliate commission at no extra cost to you. I test or research each product or service before endorsing. This site is not owned by any retailer or manufacturer. I own this site and the opinions expressed here are mine. As an Amazon Associate, I earn from qualifying purchases.
Use Higher-Quality RG6 Cable!
My only beef about the Leaf is that it comes with an under-performing RG59 coax cable.  I highly recommend swapping that cable out for a higher-quality RG6 coax cable which will give you more stations and better reception. Many readers have confirmed this, and I've seen it firsthand myself. (See this third-party article on why RG6 is so much better than RG59 coax cable). Happily, the cable on the Mohu Leaf antenna is removable so you can attach any cable you want. Here are some RG6 cables that should work well:
Indoor TV Antennas to Avoid
The main thing to avoid in an antenna is one with the cable permanently attached to the antenna.  All of the antennas I recommend have a removable cable.  That will allow you to upgrade it to a better RG6 cable if necessary, or use a longer cable to reach that window.
I would also avoid the super-cheap $10 antennas that you see on TV infomercials. Those will not give you as many channels as the Leaf unless you have really strong TV signals in your area. Take a look at the reviews on Amazon to see what I'm talking about. So, save money and get a quality antenna to start with.
A VHF TV Antenna You Can Mount Indoors
The Station Finder will tell you if the channels in your area are VHF (It will say "Lo-V" or "Hi-V") or UHF. VHF channels are more difficult to receive. Even "green" (strong) VHF channels might be hard to pick up with your indoor antenna.
If mounting an antenna outside is not an option for you, check out the indoor/outdoor Antop HD Smart Bar antenna. It can stand up anywhere in a room, or you can mount it on a wall.
See my detailed review of the Antop HD Smart Bar Antenna.
Good Non-Amplified Outdoor/Attic TV Antennas for VHF Channels
If your TV stations are far away, or if you have weak VHF channels, you probably need to use an outdoor or attic antenna.
But before going to the trouble of getting one though, I highly recommend asking one of your neighbors how many channels they are getting with their rooftop antenna. Consider hiring a professional antenna installer as well.
Antennas Direct and Channel Master are two respected antenna companies with high-quality outdoor antennas. I have purchased from them before and recommend them. Check out their sites, which have guides to help you pick an outdoor antenna:
Winegard also makes some great antennas that pick up VHF channels:
For more information on the Winegard HD7698, check out this video from the Antenna Man.
Note, if you have a long cable run from your antenna to your TV, or if you have multiple TVs, you'll need to get a distribution amplifier. Check out this article for more information.
If You Need the Ultimate in VHF Performance, Use One of These…
Televes is a respected European company that has continued to innovate its antenna designs. Their outdoor antennas are amplified, optimized for VHF, and include LTE filtering. They're expensive but will probably get you the most channels. Unlike almost any other antennas I've seen, then get five stars on Amazon.
The Televes 148383 is best if you are trying to receive Lo-VHF signals.
These antennas have the preamp right at the antenna for maximum gain. Also, no distribution amplifier is needed with these antennas.
Antenna Regulations
Do you live in an apartment or condo? Worried that your landlord or HOA won't let you mount an outdoor antenna? By Federal law, a landlord or HOA cannot prohibit you from setting up a broadcast TV antenna or satellite dish on a part of the building that you own or are renting. While you might not be able to mount an antenna on the roof, you should be able to mount one in your balcony. For more information, see the FCC website on Over-the-Air Reception Devices Rule.
Next Step: Setting Up Your Antenna
When you get your antenna, go to the next section where I give you tips on setting it up. You'll also want to read my article on how to get the best reception.