One of the coolest features of Apple TV is the ability to "mirror" the display from your iPad or iPhone onto your TV screen.  This enables you to watch almost anything that you can watch on your iPad or iPhone on your TV, including video from an iOS app or a live stream on a website.
For example, you can use the CBS.com iPad app to find a show on your iPad, then use your Apple TV to "project" a show to your TV screen. Or, you can bring up a live stream on a website on your phone, then project that on to your TV. This gives your Apple TV access to a whole other world of content.
So, how can you watch your iOS device's display on your TV?  As you might have guessed, you'll need an Apple TV (at least second generation).  If you don't know what that is, you can read my detailed review here.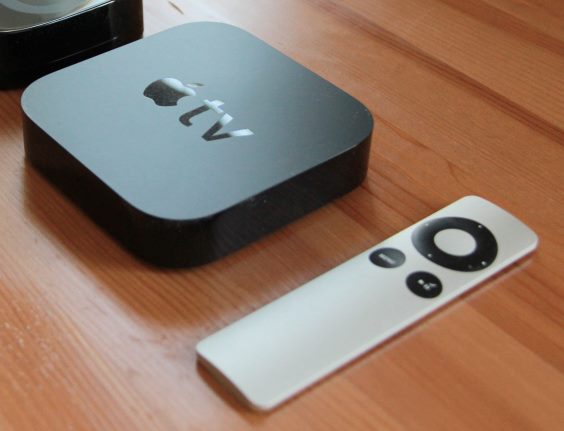 If you have an Apple TV and iOS device, getting the AirPlay "mirroring", as Apple calls it, to work is not hard. Here's how to do it:
Apple TV Setup
First, you'll need to make sure that your Apple TV and your iOS device are on the same Wi-Fi network. If you're at home, and your devices are set up to use Wi-Fi, you're probably good to go.
If you're in a hotel room or somewhere besides your home, you'll have to go into the setup of both the Apple TV and your device to set them to use the same Wi-Fi network.
Next, if you've never used the Airplay feature on your Apple TV before, and you didn't see the Airplay notification when you turned it on, you might have to enable it.
On your Apple TV, go to Settings -> Airplay and make sure Airplay is turned on.
iPhone Instructions
On your iPhone, swipe up from the bottom of your iPhone screen to reveal the Control Center: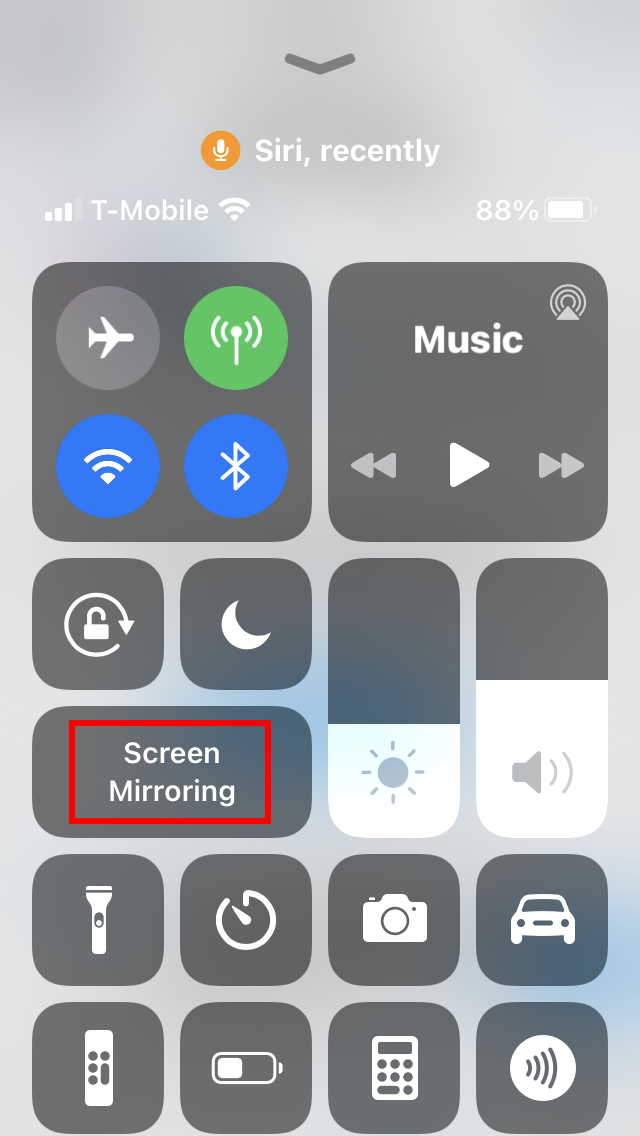 Tap the Screen Mirroring button. If you don't see it, check the troubleshooting section at the end of this article.  If it worked, you should be able to select "Apple TV", or whatever your Apple TV device has been named.
iPad Instructions
Apple has changed how you access the Control Center (unfortunately). It used to be the same as on the iPhone, where you swipe up from the bottom. If you haven't updated your iPad's software in a while, that might work for you.
If you do keep your iPad operating system up to date, then you'll swipe down from the upper right corner.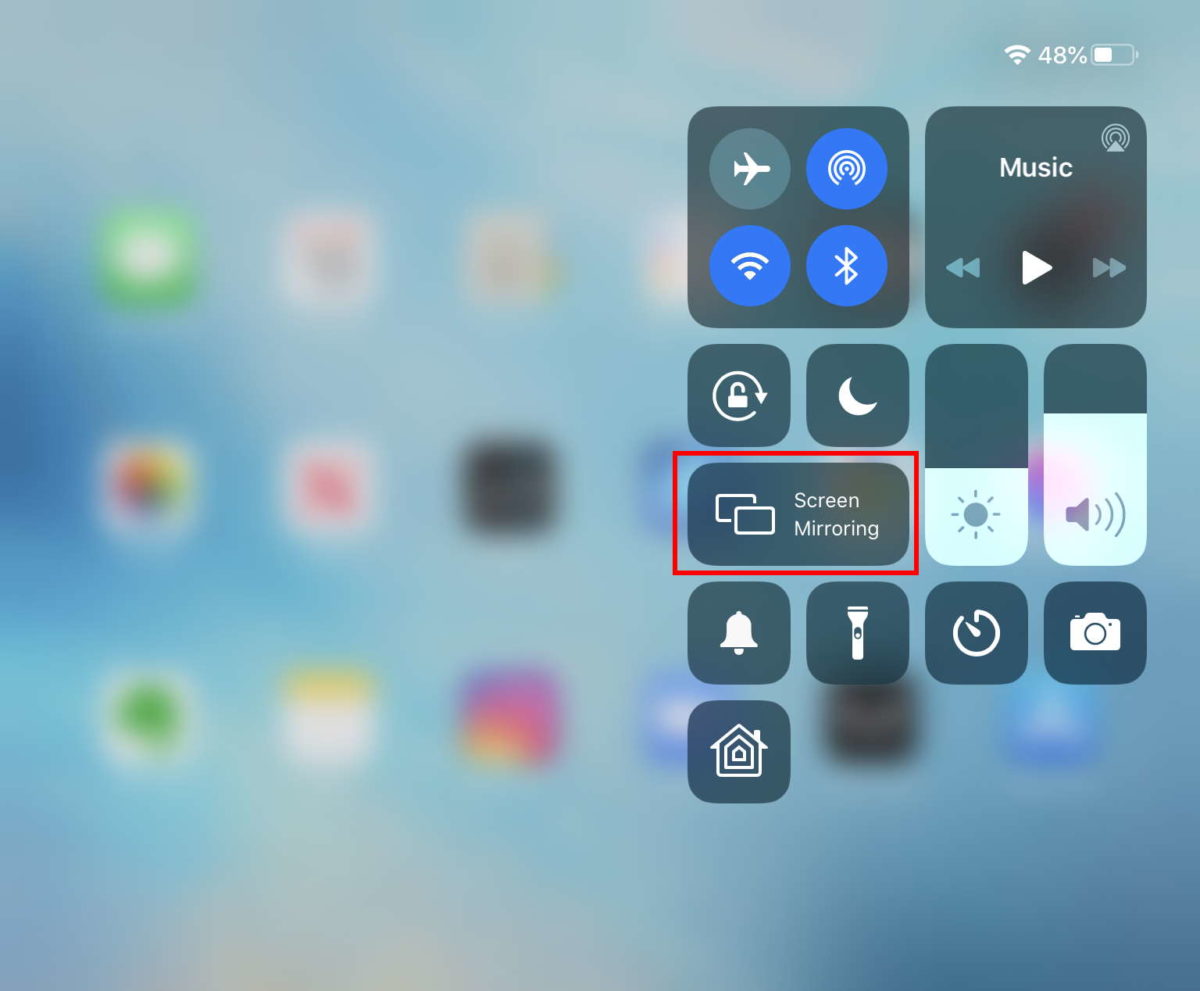 Once you see the Control Center, tap the Screen Mirroring button and then select your Apple TV.
If you don't see your Apple TV in the Control Center, try power cycling your Apple TV.  If still nothing, check the troubleshooting guide at the end of this article.
Note that you will might have to adjust the zoom setting of your TV if you want it to fill the whole screen.  This sacrifices some resolution, but it's not that bad at all on most sites I checked (much better than old SD-quality TV still).  On my Sony remote control, this button is labeled "WIDE".  Here is the end result: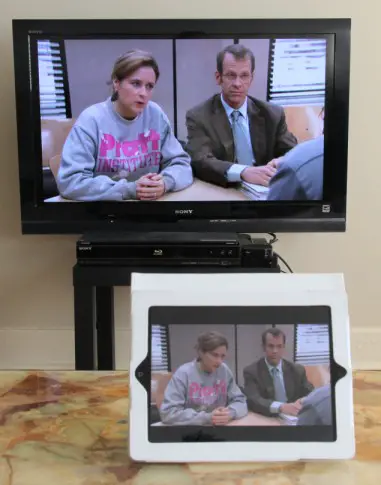 Troubleshooting
If the Airplay icon is not showing up on your iPad, check the following things:
Make sure you have an iPad 2 or later, iPhone 4S or later, or an iPad Mini.
Make sure that your Apple TV is 2nd generation or later (most are).
Make sure that both your Apple TV and iPad can access the Internet and that they are on the same Wi-Fi network (the Wi-Fi network name should be the same).
Make sure Airplay is turned "on" on your Apple TV.  Go to Settings -> Airplay.
Try rebooting your wireless router, iPad/iPhone, and Apple TV.
Wait a few minutes with your iPad and Apple TV on.  I've seen cases where it takes a while before the Airplay icon shows up.
If all of these fail, try Googling "Airplay router settings" for your router. Some routers need special settings for Airplay to work.  Here is one example:
https://discussions.apple.com/thread/3846783?start=0&tstart=0
How is this working for you? Please leave a comment below with your experiences. – Brian