Last night I was surfing through channels on my TV and encountered a bizarre problem. My trusty 26-inch Sony flat-screen Bravia KDL-46V4100 TV froze and would not respond to any controls. The picture and sound still worked, but the controls were frozen. I tried both the remote and on-unit buttons. Even the unit's volume buttons didn't work.
I went online and found that other Sony Bravia users had experienced this, but I didn't see any confirmed solutions. I tried everything, including different kinds of resets and unplugging my HDMI devices. Nothing worked.
I thought maybe it was time for a new TV; after all, mine was over ten years old. But, I was hesitant about dumping my Sony because so much of it was still working: the screen, the audio, the signal processing, the tuner. Only the control section seemed to be blown.
The Amazingly Simple Solution
The next day, I called Santa Monica TV Repair to get an estimate on the fix. I described the problem to them, and the technician asked me, "is it stuck on channel 5.1?" I was astonished that he could know this without me mentioning it!!
He said he had five other calls about this. All I needed to do was unplug the antenna, then turn on the TV. I tried it and "voila!" it was fixed!! I was able to change the channel, then re-connect my antenna, avoiding channel 5.1 this time. I had control over my TV again!
Of course, he said I'd have to delete channel 5.1 from my channels, or else the problem would happen again. But, that was a small price to pay to get my TV working!!
I figure what happened is that there is some firmware bug in the TV that is triggered by the digital signal coming from channel 5.1, which is KTLA in my city. (Since first writing this article, KTLA fixed the problem for a while, but it's back to misbehaving now. I'm leaving channel 5.1 out of my selected channels permanently).
If your TV remote is still not working, try replacing the batteries.
How to Remove (Hide) a Channel on the Sony Bravia TV
To remove channel 5.1, or any channel on your Sony Bravia TV, press the Home button on your remote, then the left arrow key to go to the Settings menu.
Go down to Show/Hide channels and select it: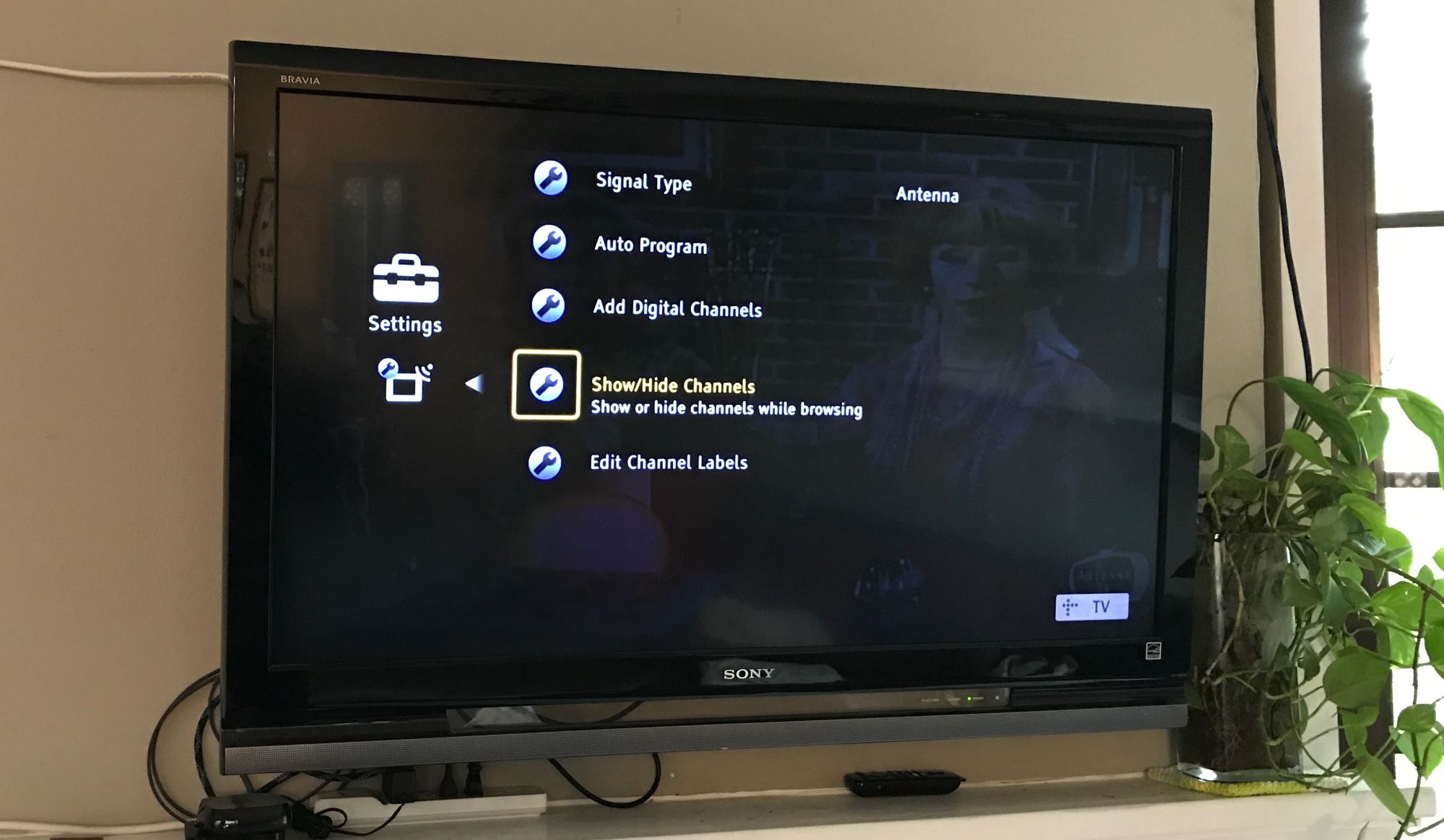 Next, scroll to the offending channel (5.1 in this case) and click "Shown" in order to change it to "Hidden".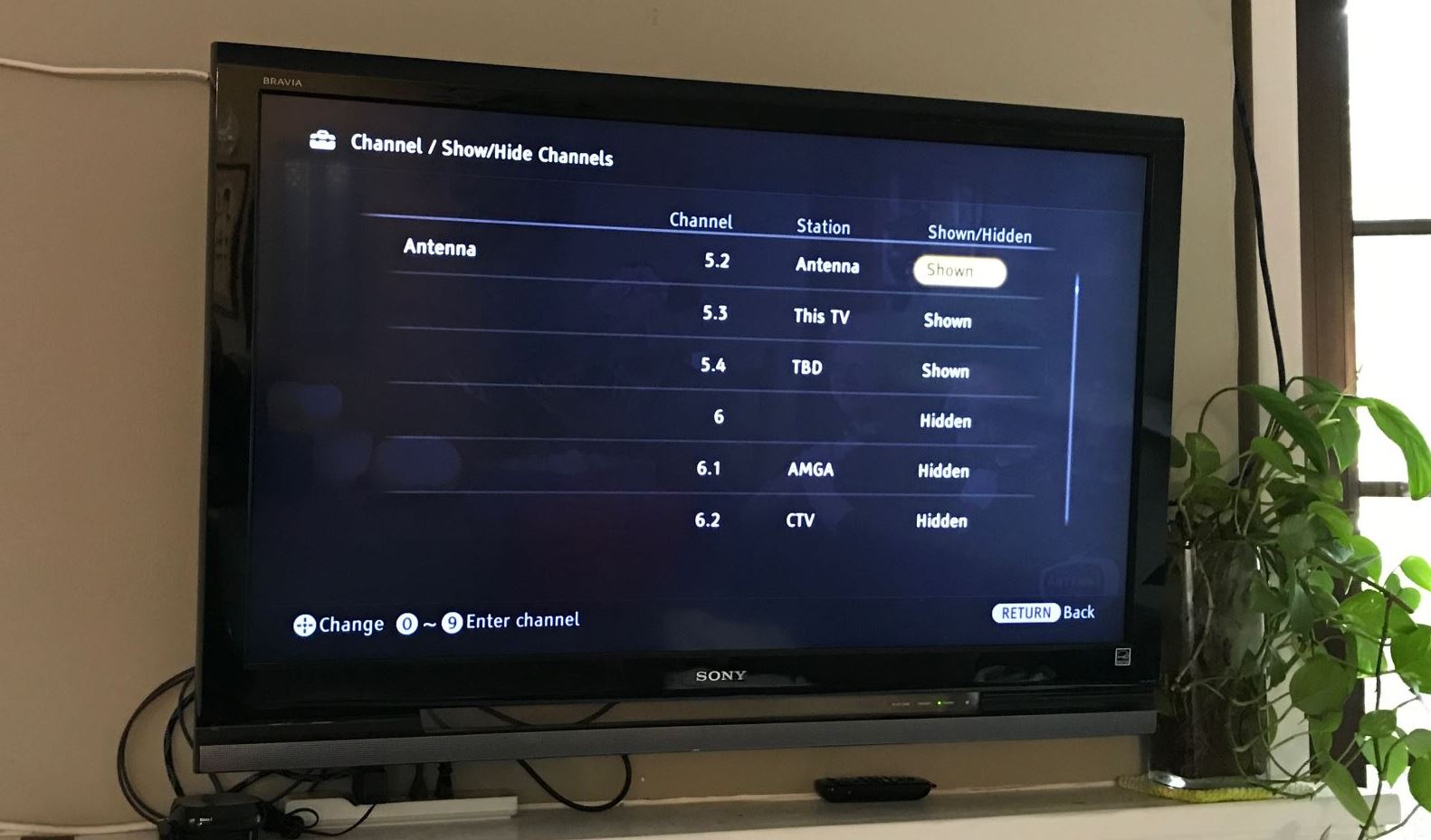 Remember to do all of this while the antenna is unplugged or else your TV will freeze up again! After this, you'll lose that channel, but at least the rest of the channels will work!
The Channel Might Fix Itself
A few weeks or months later, I did a re-scan and the problem with channel 5.1 went away. So wait a while and do a re-scan to see if the problem solves itself. If not, unplug and remove that channel again.
Something to Remember
What this means for you is, if your Sony Bravia TV ever freezes up, try unplugging the antenna and powering it on again, especially if you live in the Los Angeles area.
Also, I want to make a shout-out to Santa Monica TV Repair for their knowledge and honesty. They could have charged me $100 to come out and "fix" my TV! – Brian