If the built-in Wi-Fi router on your Verizon 5G Home Internet gateway is not reaching all of the devices in your home, you may need to use your own Wi-Fi router to get better range.
Generally, the built-in Wi-Fi router on the Verizon gateway is pretty good. If you live in an apartment or small home, it might work fine for you.
In my case, it was sufficient for both floors of my condo, but it didn't reach my outdoor Ring cameras. So, I found it necessary to plug in my trusty Netgear Wi-Fi router into my Verizon 5G Home Internet gateway. That solved my Wi-Fi coverage issues.
The best way to use your own router with the Verizon 5G gateway is to put the gateway into Passthrough mode because it offers maximum compatibility with various ways to use your router (due to avoiding the "double NAT" problem).
Here's how to do it.
Log Into Your Gateway
It's best to do this setup using Ethernet, not Wi-Fi, because as soon as you switch to Passthrough mode, Wi-Fi on your Verizon gateway will be shut off. So, use a laptop or desktop computer for these steps, not a phone (preferably).
Plug your computer into the LAN1 port of the gateway, then access the web portal at 192.168.0.1:
Log in using the password printed on your unit.
Setting IP Passthrough on the ASK Model
Go to Network -> LAN -> IP passthrough then click Configure.
Note, the screenshots below refer to the ASK-NCQ1338FA model, firmware version 222656. If you have the ARC-XCI55AX, or an ASK model with different firmware version, the location of the settings might be slightly different. Just look for IP Passthrough.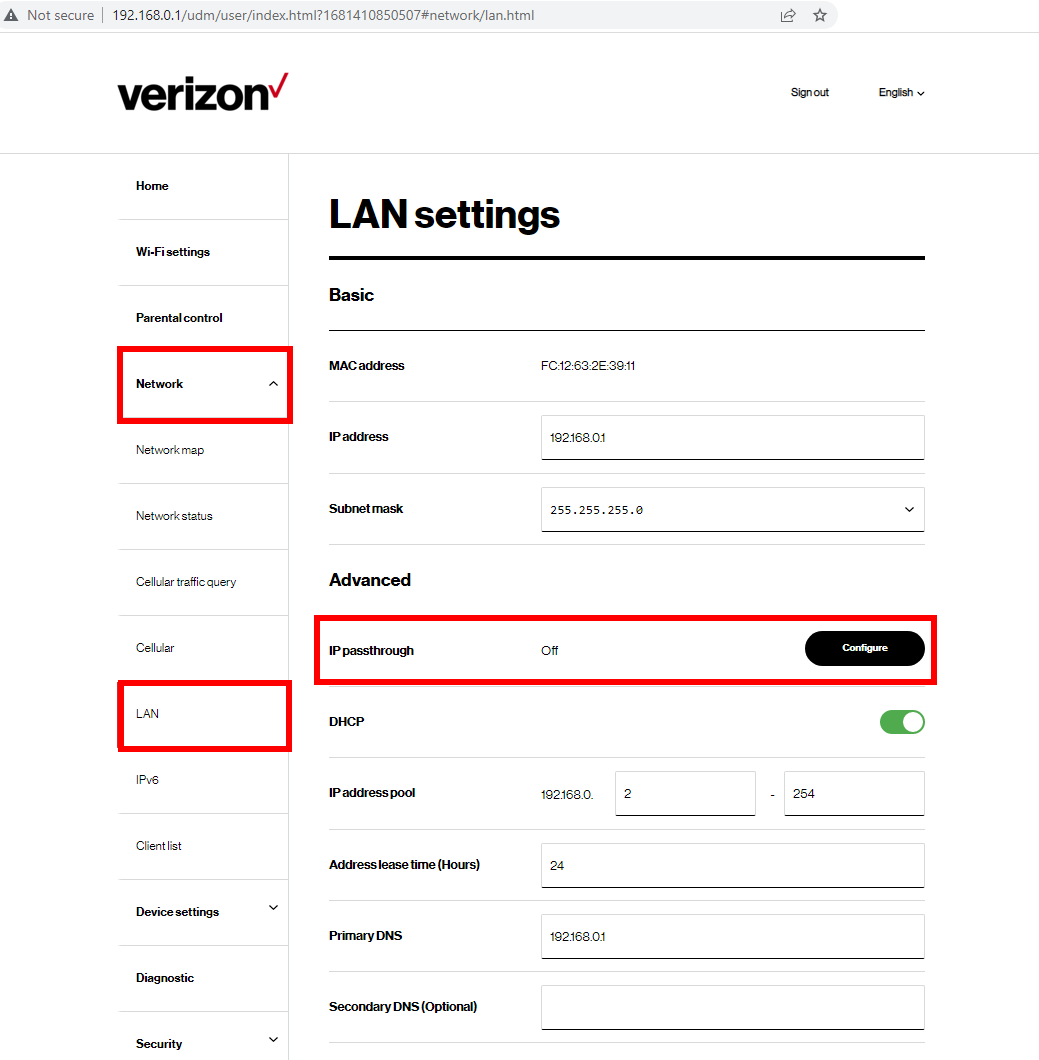 Slide the toggle to the "on" position and click Save: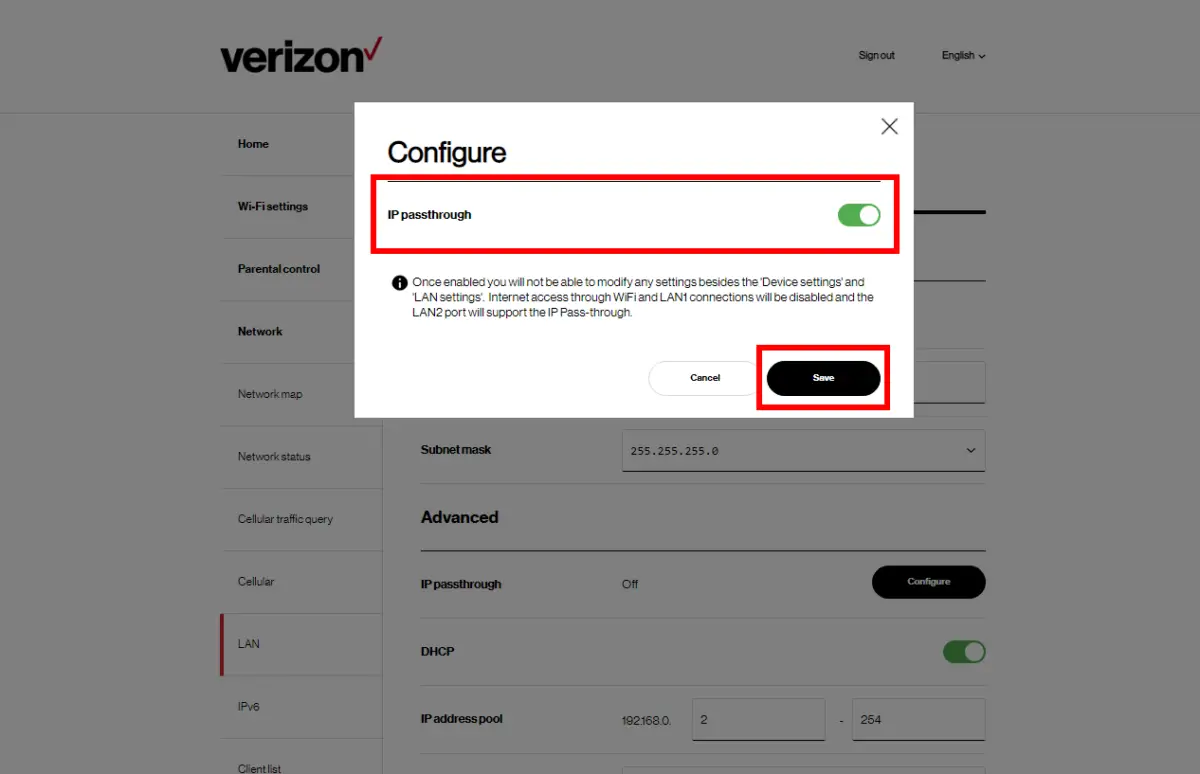 After this point, you'll have to wait a disturbingly long period of time, like a few minutes for the screen to refresh. Don't worry, just chill and grab a coffee.
After a while the screen should refresh and most of the settings will be hidden. However, you'll still be able to turn off Passthrough mode.
Connecting Your Router
That was pretty much the hard part.
Next, just plug in your Wi-Fi router into the LAN2 port, and it should just start working!
You won't be able to get Internet access through the gateway's LAN1 port, although you can still use it to access the gateway's web interface. So, unplug your computer from LAN1 and plug it into your router.
You should be off to the races now!
A side benefit of offloading Wi-Fi from your gateway to a separate router is that you are decreasing the processing power needed by the gateway, and therefore decreasing generated heat. Heat can be a problem, so doing this could prolong the life of your gateway or even increase speed in extreme cases.
Passthrough Problems?
Some folks online have complained that with IP Passthrough mode enabled on the ASK cube, the gateway disconnects frequently (like daily or every few hours). When disabling Passthrough, the problem goes away.
Others have said that their download speed gets cut in half when they use Passthrough.
I have not experienced these issues. Passthrough mode on the ASK router has been rock solid for me and other users. Speed is the same as when Passthrough is off.
Some of these issues did occur in the past but were fixed with later firmware updates.
Worst case, you could turn off Passthrough and then manually turn off 2.4 and 5.0GHz Wi-Fi on the cube and plug your router in after that. You'll still have the double NAT issue, but for normal web browsing, it will work fine. I used it for months like this. The only thing that didn't work for me was viewing my Tablo DVR recordings remotely. Putting your Wi-Fi router in AP mode might fix some things for you (it didn't for me, but I still did it to avoid other issues).
One person online who was experiencing this problem said that when Verizon replaced their ASK cube with the new ARC model, the disconnection problem went away. So that may be another solution!
If you're an advanced user, check out this alternate solution on the Verizon gateway which does not use Passthrough mode. Turning off DHCP on one of your devices or changing the IP range may help both the disconnection issue and the speed getting cut in half. But only try this if you know what you're doing!
Conclusion
I hope this was helpful to you! Please leave your questions or comments below! Is Passthrough working for you? – Brian