Google Chromecast allows you to mirror your Chrome browser on a computer to your TV.
It doesn't work for showing Power Point presentations or watching video stored on your computer's hard drive on your TV though (without special workarounds). It works with the Chrome browser and certain compatible apps like the YouTube player.
Chromecast is significantly cheaper than Roku or Apple TV, at only $30!  That's because it uses your existing laptop to do much of the work.  Chromecast is only concerned with mirroring what is in your computer's browser through Wi-Fi (you can purchase a wired Ethernet adapter separately for $15 from the Google Play Store).  There is no remote control because your laptop is the "remote".
Setup
Setting up a Chromecast is a bit more challenging to set up than, say, a Roku.
Chromecast plugs directly into an HDMI port on your TV, so you will need a modern TV to use it (i.e., it won't work with an old tube-type of TV without an expensive converter).
You can power it using the included AC adapter, or plug the power cable into a USB port on your TV. Although slightly less convenient, you might get better results when using the AC adapter, since the power coming out of many TV's is poor quality. For my testing, I used the AC adapter.
Plug in the Chromecast, then open a Chrome browser on your computer and go to the URL specified in the instructions. On iOS, you'll need to download the Google Home app.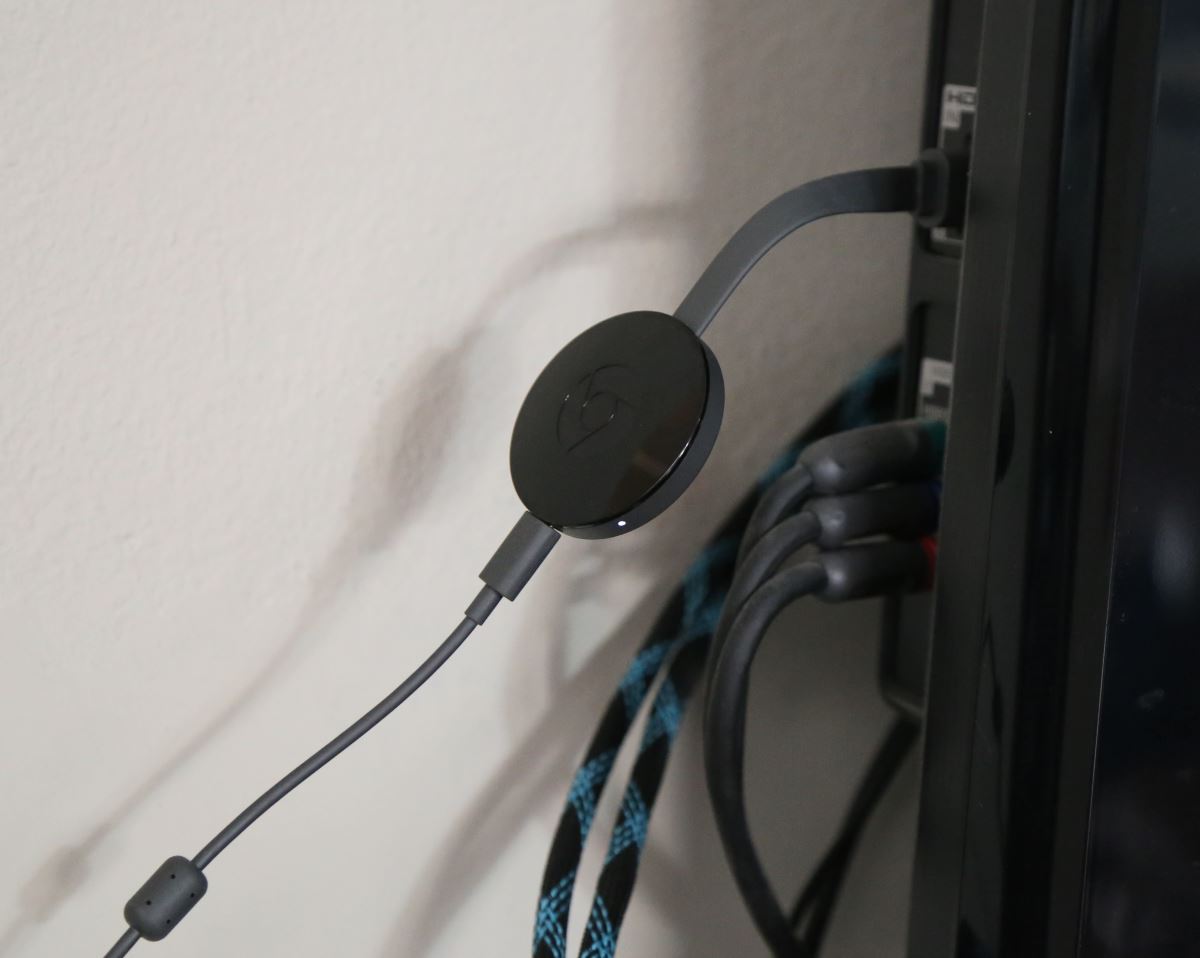 During setup, the Chromecast acts as its own Wi-Fi network. As part of the setup process, you'll have to connect to it from your computer or mobile device and to enter your Wi-Fi password.
After setup, my Chromecast required a firmware update, which took a few minutes, but was not difficult.
Next, install the Chromecast plugin in your desktop Chrome browser and you'll be ready to go. For mobile, see below.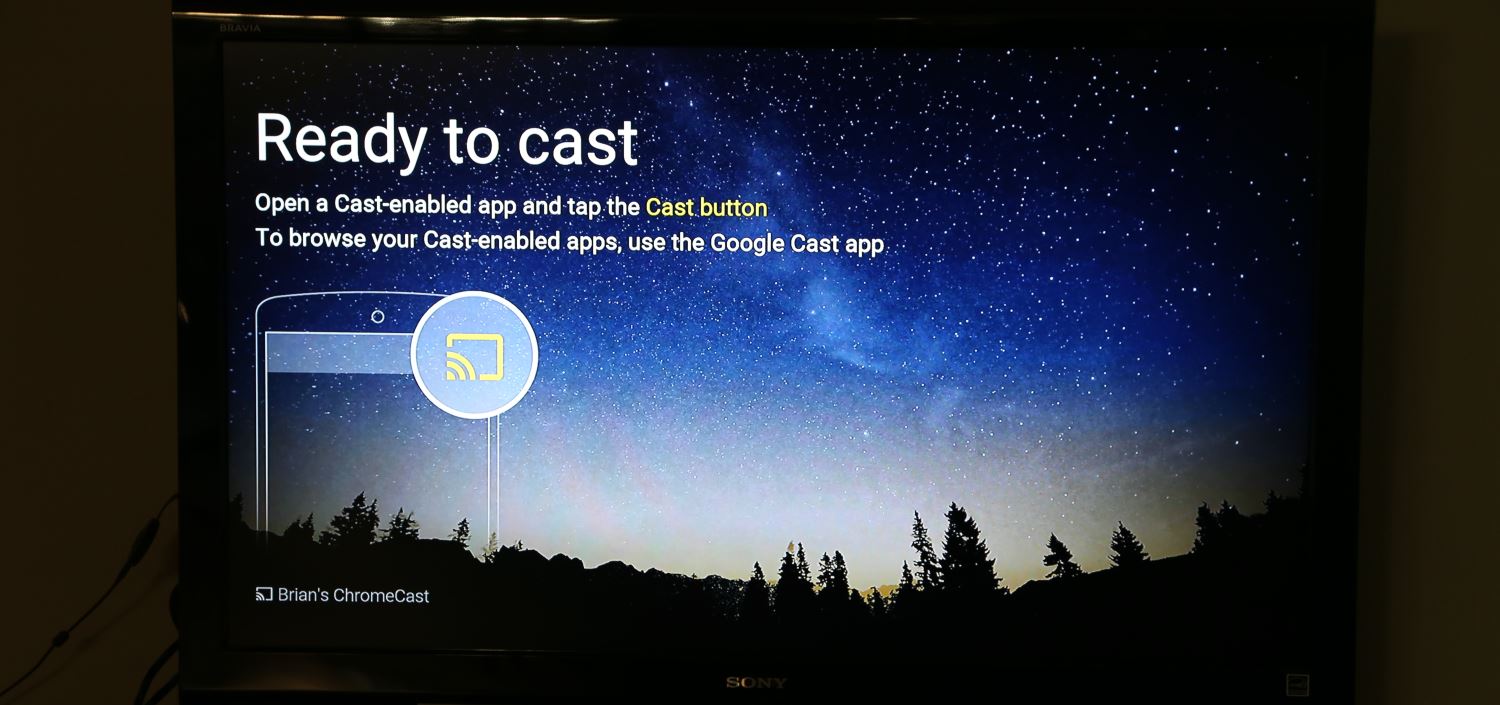 Performance
The first thing I tried was to watch video from the CBS.com website.  Once I got there, I pressed the "Chromecast" icon in my Chrome browser, and the video appeared on my TV screen!  I was watching "The Big Bang Theory" in no time! Picture quality was excellent, in full HD.
Next, I tried YouTube with no problems.  After that, I watched some Amazon Instant Videos I had purchased previously.  It worked great!
That is why I like Chromecast so much.  It lets you watch almost anything that you can see in a computer's browser window (but not a phone or tablet, more later).  You don't have to worry about whether there is an app provided by Roku or Apple.  You can watch almost anything from the Internet on your TV, if you are using a laptop or desktop computer.  A lot of video content (for example, the network sites and the free Hulu Plus site) are blocked for phones and tablets, so if you mirror your iPad to your TV using Apple TV, you don't get that content.
Oh, and I should mention that while you are using Chromecast with your laptop, you can still use your laptop to do other things. You can open other browser windows, surf the Internet, or do whatever you would normally do on your laptop.  You just sacrifice one browser window for Chromecast.
iPad/iPhone Compatibility
While you'll get access to the most content using a laptop or desktop with Chromecast, I also wanted to make sure it worked with and Apple iPad.
For an iPad or iPhone, you have to install the Google Home app and the Chromecast app.  After I did that, I was able to watch YouTube video using Chromecast, but not much else.  I was not able to watch stuff from my Chrome browser on my TV.  It seems that only apps specifically designed for Chromecast will work (such as Netflix and Google Play).
But there's a workaround. Check out an app called TV Cast for Chromecast for iOS and Android that lets you cast other content from your phone to the Chromecast.
Android Phone/Tablet Compatibility
Certain Android devices will let you "cast" the device's screen to your Chromecast. Check out this list to see if your device qualifies. I verified that this works on my HTC One M7 phone. It casts both in portrait and landscape mode. Pretty cool!
Reliability
My original Chromecast had some flaky behavior, and some friends and readers reported that as well. But so far, the new Chromecast has been flawless for me! I really think the hardware and software have improved.
Should You Upgrade?
If you have the original Chromecast, and it's working well for you, no need to upgrade if you don't want to. If, however, your Chromecast is flaky, loses connection occasionally, etc., it is worth upgrading. The new Chromecast offers better Wi-Fi antenna for more reliable streaming, faster processor for faster load times, and some other cosmetic features like more color choices.
Summary
Chromecast is good at doing one thing: mirroring content from a computer's browser to your TV. You have almost unlimited access to the Internet on your TV and you're not limited to "apps" (unless you're using a mobile device).
But, Chromecast requires that you use your computer or mobile device to watch TV, which might be inconvenient.  If you want a more classic TV viewing experience (i.e., with a real remote control instead of a laptop), I would recommend Roku, Apple TV, or Amazon Fire TV.
If you are more "techy" and don't mind using your laptop to watch TV, Chromecast is great.
Chromecast won't work with an old tube TV; you need HDMI.
I don't really recommend Chromecast if you want to use it exclusively with your phone or tablet (instead of a computer), because you are limited to apps.
You can buy the Google Chromecast on Amazon.
What was your experience with Google Chromecast like?  Any questions?  Please leave a comment below! – Brian
Disclosure: Some of the links on this page are affiliate links. This means if you click on the link and purchase the item, I will receive an affiliate commission at no extra cost to you. I test or research each product or service before endorsing. This site is not owned by any retailer or manufacturer. I own this site and the opinions expressed here are mine. As an Amazon Associate, I earn from qualifying purchases.