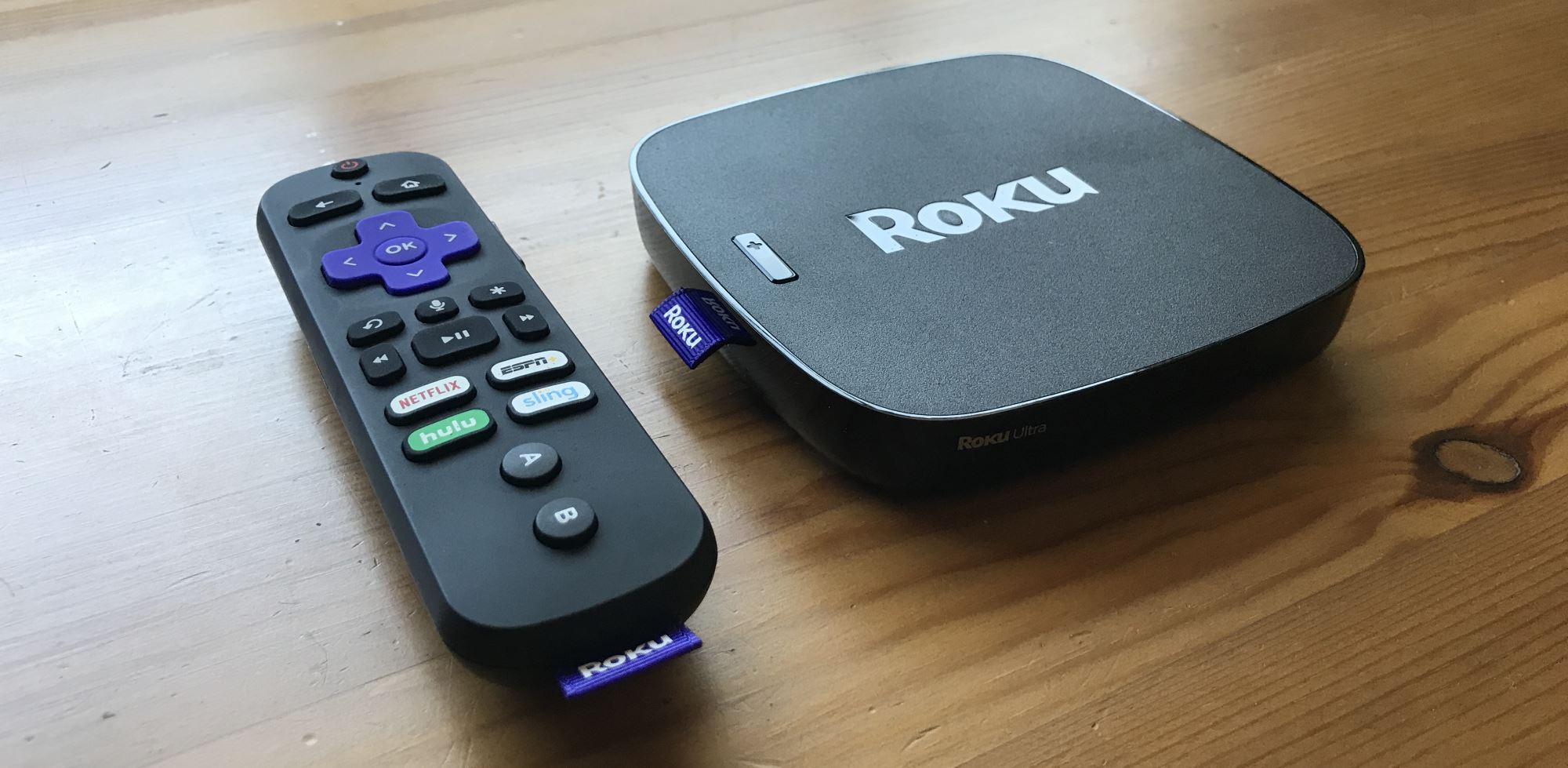 Roku is my #1 streaming player recommendation for cable-cutters looking for an easy way to watch content from the Internet on their TVs. While Amazon Fire TV is also great, Roku is probably the best choice for most people.
What is a Roku?
Roku comes in several versions but basically it is a small black box or stick that comes with a remote control and power adapter. Roku connects to the Internet through your home's Wi-Fi network (some models also have Ethernet connector), so you need an Internet connection to use it.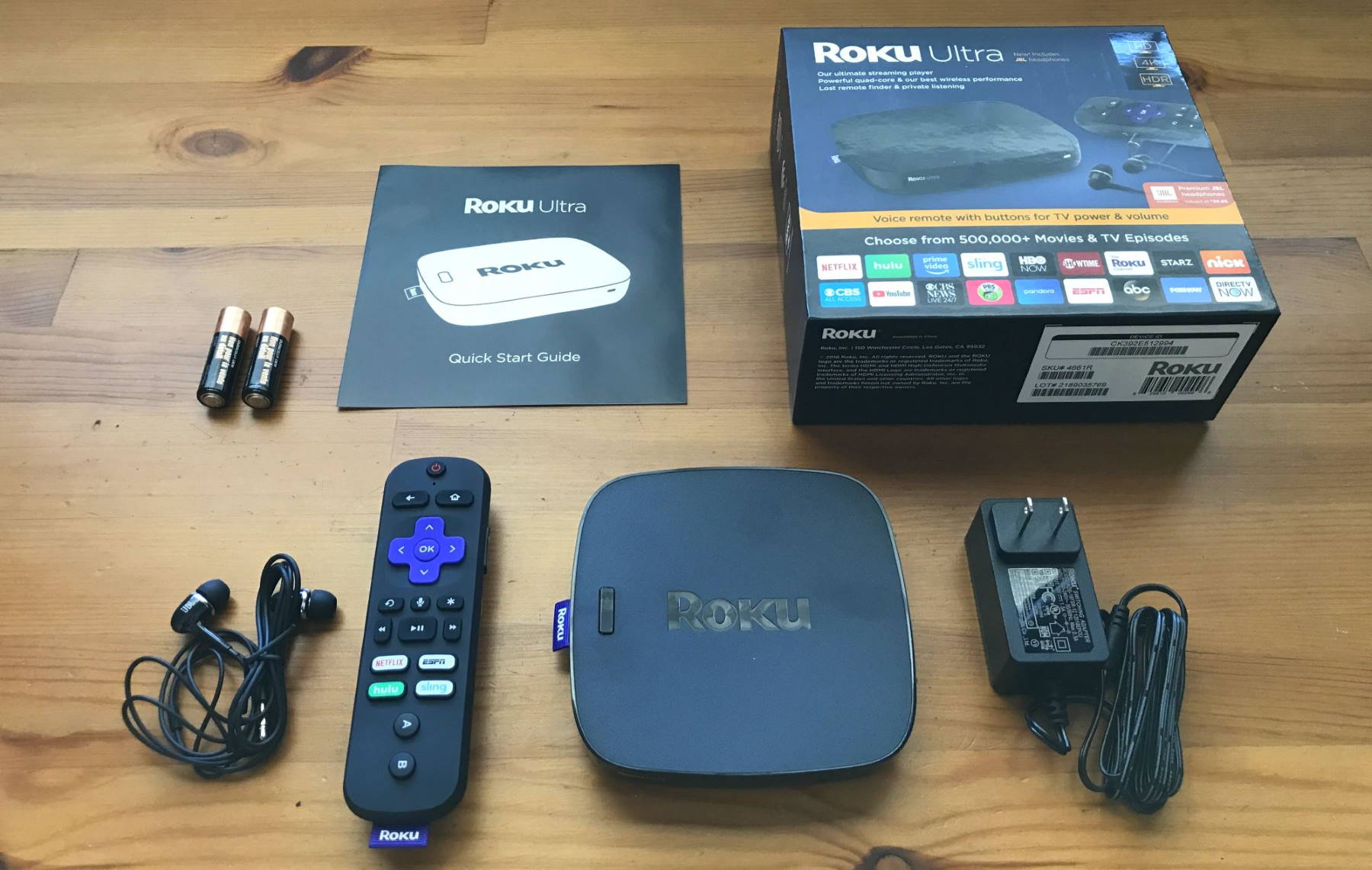 Roku allows you to watch paid and free content from the Internet such as Netflix, Amazon Instant Video, Hulu, YouTube, and many other streaming services, on your TV.
When Roku first came out, there was a lot of misunderstanding as to what it was, with many folks think it was a free replacement for traditional cable TV. It is not an exact replacement for cable. It allows you to watch some free content from the Internet (like YouTube) on your TV, as well as subscription content such as HBO Max, Netflix, and Hulu. Much of this paid content is cheaper than a cable TV contract and usually requires no long-term commitment.
Also understand that the Roku itself is not a DVR; it doesn't record video, although there are some services that do offer recording capability.
If you already have a "smart TV", you might not need a Roku. Your smart TV already does a lot of what the Roku does.
Most current Roku models only have HDMI output, so they won't work with an old tube-type TV. The exception is the Roku Express+ 2018 edition, which has composite video outputs in addition to HDMI. So, if you have an old tube TV, get a Roku Express+ 2018 (confusingly, the latest Roku Express+ does not have analog outputs, so be sure to get the 2018 edition!)
Setup
Physically hooking up your Roku is pretty easy. Plug in the power adapter to the wall, and connect the other end to your Roku. Then, plug in an HDMI cable (not included!) to your Roku and your TV.
Setting up your passwords is more of a pain. You will need to choose your Wi-Fi network and enter your password using the dreaded letter-picker and remote control: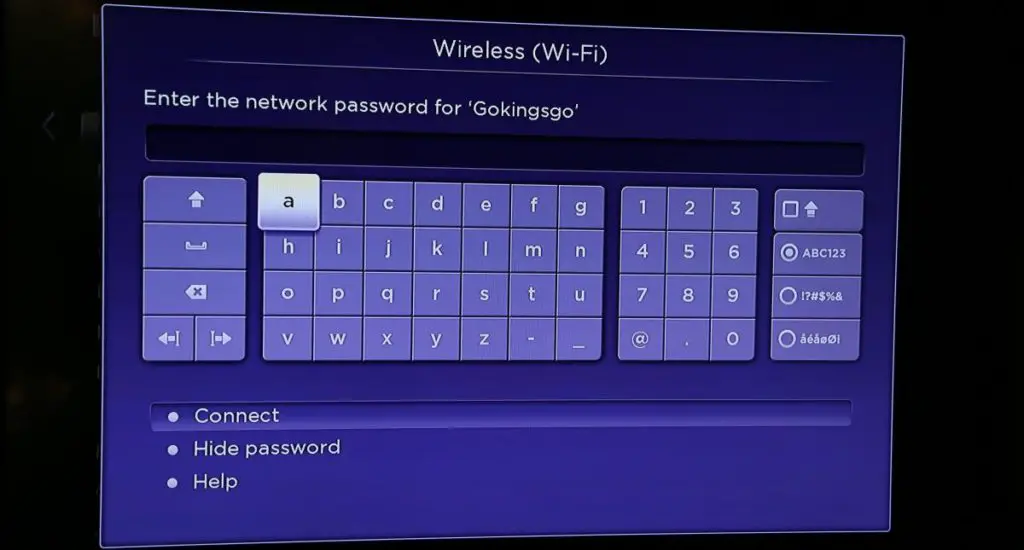 Then you'll have to create a Roku account, if you don't already have one. One annoying thing is that it asks for your credit card information, even if you never plan to purchase any paid programming.
Note: Carefully follow the step-by-step setup instructions. Do not Google "Roku setup" on your computer or phone and start registering at the first website that shows up. There are scammers out there collecting "registration" fees when it should be totally free!
For every streaming service that you have (such as Amazon Prime, Netflix, Hulu, and so forth), you'll have to go through the drill of authorizing your account, usually by getting a code from the Roku and entering it on your computer. If your TV and computer are far apart, you'll be doing a lot of running back and forth (like I was). But, it's a one-time deal. You won't have to do it again.
Content
Roku has the largest number of "channels" to choose from among all of the mainstream set-top boxes. Some offer free content, many offer content that you have to pay for. These are not the same as cable TV channels. Some of the content is on-demand rather than live, so it's like renting from a video rental store.
Roku has really improved the amount of free content that is available right out of the box. In no time I was watching free videos on YouTube, the History Channel, Pluto TV, and Roku's own free channel.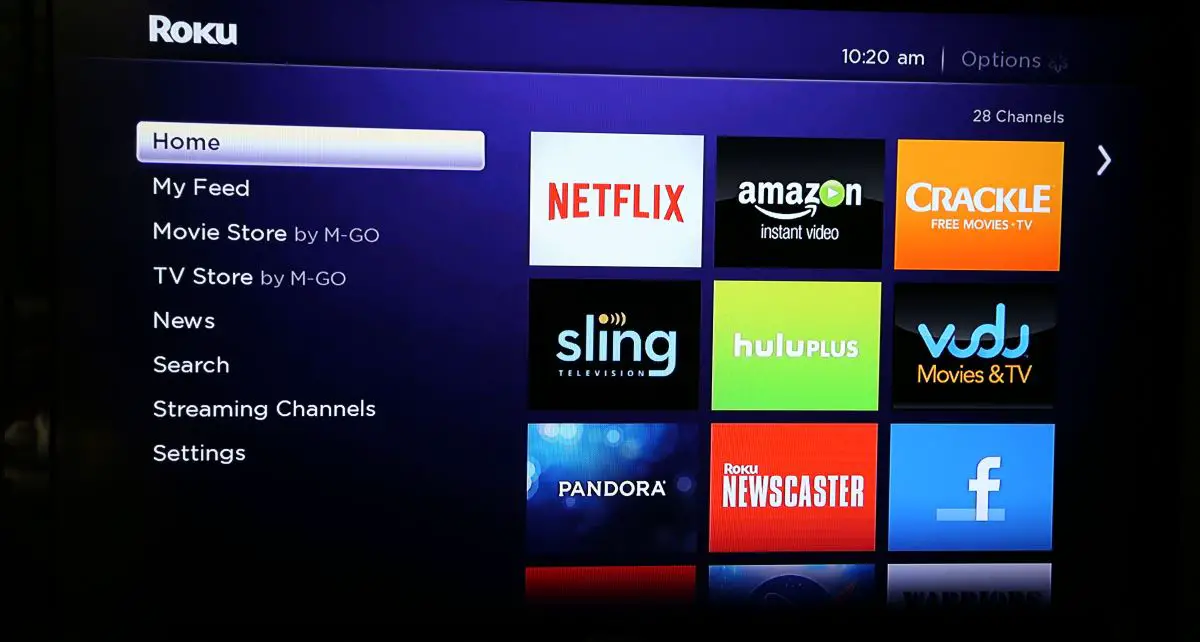 But there are a ton of other channels to choose from. There are the paid services you would expect like Netflix and Hulu. Here are some free channels that I would recommend:
So, out of the box, you can watch tons of free content without paying a dime, as long as you know which channels to look for.
Voice Search
If you've ever had to use the cumbersome letter-picker to spell out the name of a movie you're looking for, you know why voice search is so helpful. It lets you simply say what you're looking for instead of having to select each letter with the remote control and the Roku will find out which streaming services it is on, i.e., Netflix, Hulu, Amazon, etc. Amazon Fire TV also has this feature.
Note, the Roku Express and Premiere models do not have built-in voice search. Voice search comes with Roku Premiere+, the Roku Streaming Sticks and the Roku Ultra. But, if you don't have a model with voice search, you might be able to use the Roku app on your phone to get the feature.
Roku gives search results without playing favorites to particular streaming services, while Amazon heavily emphasizes Amazon sources in its search results of course.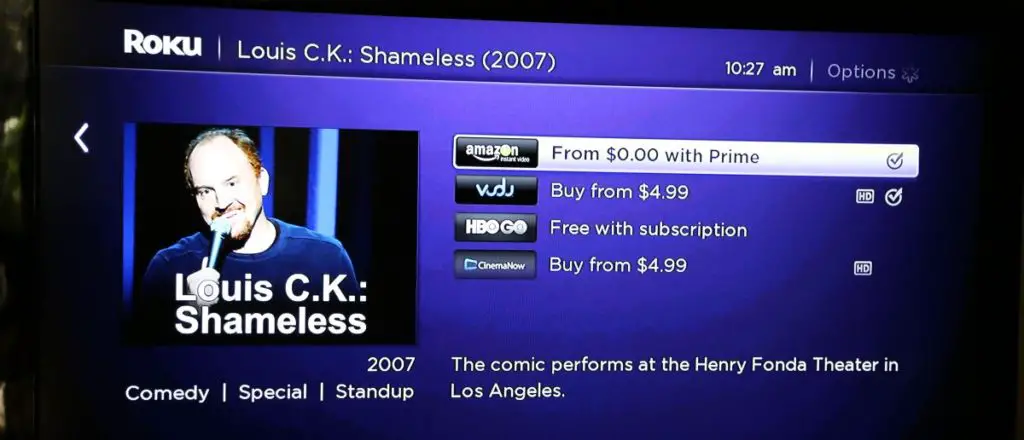 Remote Control Headphone Output
One feature unique to some Roku models (Roku 3 and Roku Ultra) is headphone output in the remote control. This allows you to listen to the TV using headphones so you don't disturb other people in the room, neighbors, etc. If you need this feature, it works well, and none of the other boxes have it! It does cause your remote to eat up batteries if you use it a lot though.
Apple AirPlay Support on 4K Rokus
In late 2020, Roku released a software update that enabled Apple AirPlay to work in select 4K Roku models such as the Roku Ultra. This feature allows you to mirror your iOS device's screen to your TV, enabling you to watch almost any content from the internet on your TV. It works great! These are the Roku models that support AirPlay:
Roku Ultra (I have tested the 2018 Ultra)
Roku Streambar
Roku Smart Soundbar
Roku Streaming Stick+
Roku Premiere
Roku TV (select models only)
Previously, AirPlay was the pretty much the only reason I owned an Apple TV box. With this Roku software release, I'm packing up my Apple TV into my closet and solely using my Roku!
Streaming from Your Computer
Another feature I like is the ability to watch video on my computer's hard drive on my TV. To do that, I had to add a channel called "Plex" and install the Plex server software on my computer. Once I did that and got them synced up (not too difficult), I could watch almost all of the video that I had on my computer's hard drive – much more so than with my Apple TV, which has severe limitations to what file types it will play. So, Roku beats Apple TV here. If you have lots of video files on your computer that you want to watch on your TV, get a Roku.
Roku can mirror the screen of Android devices, but it can't natively mirror Apple iOS devices. More info on mirroring to Roku here.
Several readers have mentioned a service called PlayOn, which allows you to stream from your computer to your Roku. The premium version gives you access to more channels, mostly the network websites. Cost is currently about $35 for a lifetime license.
Streaming from USB
Roku devices with a standard USB ports, such as the Roku 3 and Roku Ultra, have the ability to play video, music and photos from USB storage devices such as hard drives or flash sticks. Simply plug in the USB storage device and the Roku Media Player app should appear (if not, you can download it).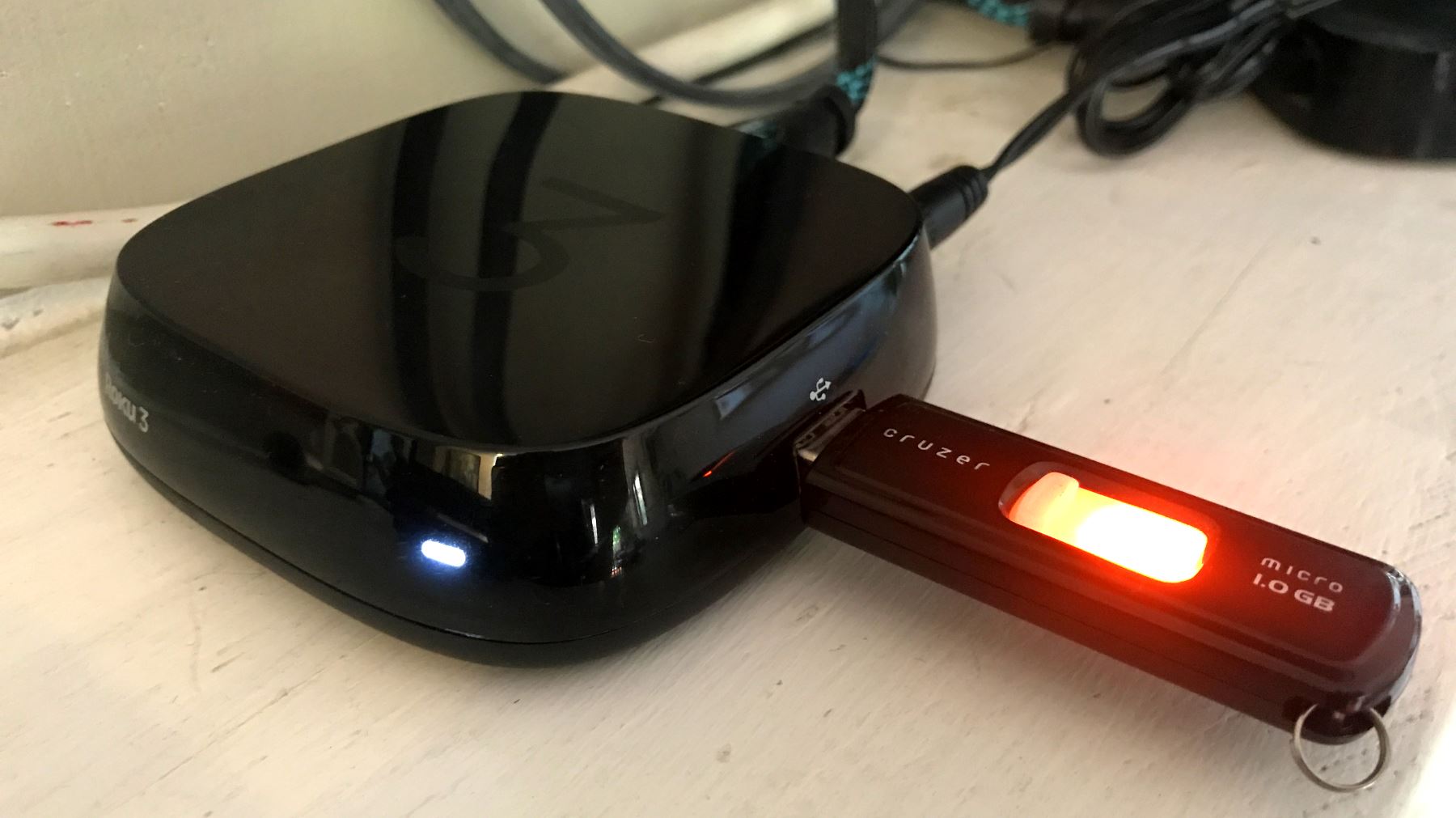 This is great for viewing videos you already own. Or, you can use it to show photos from your last vacation!
The one caveat is that the video file types that this will work are limited to .MKV, .M4V, .MP4, and .MOV. While many videos on the web are of these formats, many videos that you might have may not be (such as .MPG, DV-RMS video files from the old Windows Media Center and so on).
So, if your files are in the right format, this could be a really cool and dead simple way to watch video that you already own on your Roku!
Streaming Recorded Video from Your Phone
It's actually really easy to stream recorded videos from your iOS or Android phone/tablet to your Roku! Simply get the Roku app on your device, then choose what kind of media you want to play/display on your TV, video, photos, or music. Just make sure your phone is on the same Wi-Fi network as your Roku (if you're at home, it probably will be).
Note this lets you stream videos stored on your phone (like videos you've made), but not videos streaming in real time from the Internet. So, you can't watch a video from a website on your Roku using this technique.
Another note, the Roku won't play your iPhone videos if you plug your iPhone directly into the USB port. Use the wireless method above.
Using Roku as a Spare Cable / Satellite Box
Several readers with pay satellite or cable services have asked me if they can use a Roku to watch DirecTV, Xfinity, etc. on a second TV without having to rent another expensive decoder box from the provider.
As far as I can tell, for DirecTV, the answer is "no". There is a DIRECTVNOW service with Roku app, but that is separate from DirecTV, and DirecTV customers can't use the app without subscribing.
Xfinity does have a beta Roku app which lacks some features but is still usable.
Spectrum TV does have a Roku app that allows you to watch your content using a Roku, but only when connected to your home's Internet (i.e., you can't use it in a hotel, for example). So in this case you could use it as a substitute for a cable box.
Since this site is about cutting cable and satellite, I don't subscribe to any paid satellite or cable TV services, so anyone who does, please chime in on the comments below to correct or clarify anything I've said about this!
Roku vs. Other Streaming Boxes
Roku advantages
Has the most channels out of all of the mainstream set-top boxes.
Roku Ultra has headphone output in remote control
Easy to use
Roku Express+ 2018 edition (note the "plus" and the 2018) will work with old tube TVs with composite video input
Select 4K Roku devices (like the Roku Ultra) have Apple AirPlay built in, allowing you to mirror your iOS device's screen to your TV
Roku disadvantages
For most people, Roku is my recommended streaming player. It has the most apps and is the easiest to use. If you like using Alexa or need a web browser on your TV, then Amazon Fire TV might be best.
Which Roku Should I Get?
If you think Roku is right for you, you might be wondering, "which one should I get?" It's one of the most common questions people ask me, especially since Roku exploded their product lineup into a confusing mix of boxes and streaming sticks. Here are some guidelines:
If you have an old tube TV, the only Roku that will work for you is the Roku Express+ 2018 (note the plus at the end, and it MUST be the classic 2018 version! The newer version does not have analog outputs!) Your TV will need to have composite video inputs (round and usually colored yellow, white, and red).
I would avoid the regular Roku Express and Premiere, since those don't have voice remote.
I would avoid the regular Roku Streaming Stick, because it can't do 4K. Even if your TV doesn't do 4K now, you could just get the Roku Premiere+ for the same cost, and that does support 4K. So, that eliminates the Streaming Stick.
If you need headphones in the remote for private listening, go with the Roku Ultra.
If you need an Ethernet port (i.e., you don't have WiFi), go with the Roku Ultra.
To summarize, my recommended Roku models are:
Express+ 2018 (not the latest version) if you have a tube TV. Look for the red, white, and yellow cables on the box.
Streaming Stick+ if you want a good mid-level solution and can't afford an Ultra.
Roku Ultra if you can afford it.
Note, you will need a separate Roku box for each TV in your home.
If you're ready to take the plunge, you can buy a Roku on Amazon:
Only the Roku Express+ 2018 edition will work with older TV's because it has composite video output (look for the red, white, and yellow cables on the box):
Note, you'll have to look under "other sellers" on Amazon since this is an older model.
What do you think of your Roku? Questions? Please leave a comment below. – Brian