If you love watching sports but don't want to pay the exorbitant cost of cable TV, there are some great solutions now for watching ESPN, major league baseball, basketball, hockey, soccer, and other sports for much less than the cost of cable!
Scaled-down TV subscription services like Sling TV give you a few channels for a fraction of the cost of full cable TV and with much less hassle!
So, here's the rundown of how to watch sports without spending an arm and a leg for full-blown cable TV!

Watch Local and Network Sports on Free Broadcast TV
I always start with the free solutions, and free broadcast TV works great for a lot of people.  If you live in a big city, then you can probably get all of the major networks plus local channels with a simple indoor antenna.  This will enable you to get many home games and all of the major sporting events like the Superbowl, World Series, and professional basketball playoffs, as well as some college basketball and football games.
Enter your zip code into the Station Finder to see if there are channels in your area.  If you have a modern TV, then you just need to get a good antenna and plug it directly into your TV to get those channels.  If you have an old tube TV, you'll need a converter box.
Note, It has come to my attention that Dodgers games are blacked out in Southern California to everyone except for Time-Warner Cable subscribers. So, unfortunately, using a broadcast TV antenna won't get Southern California fans Dodgers games. More info in this Mashable article.
Watch ESPN on Sling TV for $20/month
This is huge!! If you love ESPN, Sling TV is a real game-changer (pardon the pun).  For only $25 per month, you can get ESPN and ESPN2, plus other channels like AMC, A&E, and the History Channel.  You'll need an Internet connection and a computer or iOS device, or a set-top box like a Roku, Amazon Fire TV, or Xbox One to watch it.  Once you're set up, you get full access to ESPN, just like when you had cable TV, but for a fraction of the cost!
For an extra $5/month, you can get the Sports Extra package with additional ESPN channels and college games.
Note, Sling TV only works on one device at a time, so it won't work if you have a family with folks watching different Sling channels on different TVs (unless you purchase multiple Sling TV subscriptions).  Also, there is no way to record shows on Sling TV.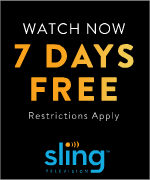 This is a professional review site that receives compensation from the retailer or manufacturer when you purchase through the affiliate links such as the ones on this page. As an Amazon Associate I earn from qualifying purchases. I test and/or research each product or service thoroughly before endorsing it. This site is independently owned and the opinions expressed here are my own.
Check Out Fubo TV If You Don't Need ESPN
Fubo TV originally launched as a streaming service for soccer, but now it offers a wide variety of channels. The base cost is $45 per month, and the sports channels include Fox, Fox Sports, Fox Prime Ticket, Fox College Sports, NFL Netowrk, NFL Red Zone, Big Ten Network, FS1, CBS, NBC, TNT, and more.
You can add extra sports packages for cycling, international sports, outdoor adventure sports, Spanish soccer, and more. These range in cost from $6 to $15 per month more. There is native cloud DVR capability with additional recording time available at extra charge.
The big caveat, however, is that Fubo TV does not offer ESPN, or any other Disney-owned channels at the moment. But, if the other channels work for you, check it out!
Sony Playstation Vue gives you access to lots of cable channels including ESPN, ESPN2, and some local stations, depending on where you live. You don't need a Playstation to use Vue.  It also works with Amazon Fire, iOS, and Chromecast. Cost is $40/month an up. For additional cost, you can get Fox Soccer Plus.
CBS offers a service called College Sports Live where they stream live sporting events including college football and basketball from over 100 schools. If you can't get CBS using an antenna, or just want to watch games on other devices, this could be a good option!
If you're into international sports like soccer or cricket, check out Sling TV International's Sports TV package!  For only $10/month you can watch great international games on beIN Sports, Willow Cricket, One World Sports, Universal Sports, and a few others.  This is huge for soccer fans!  (Note: this service is only available in the U.S.)
Check out some of the features of Sports TV from World Soccer Talk:
And of course, check out
Fubo TV
as previously mentioned, if you love soccer.
Watch Major League Sports on Their Subscription Services
The major sports leagues have subscription services that allow you to watch some or all games live online using your computer or many Internet-connected devices (such as your phone, Roku, etc.)  If you are into multiple sports, this is an expensive option, but if you are only into one, say hockey, the cost is much less than cable!
MLB.TV (Major League Baseball) lets you watch every out-of-market Major League Baseball game for $19.99 per month, as of this writing. "Out-of-market" means that you can't see your local team.  There are a few workarounds for this, including using a Roku account for someone from out of state, or using a service that spoofs your computer's location like Unblock-Us. This service makes your computer look like it's in some other city (not in Southern California), where your local team is "out-of-market", allowing you to watch those games.
NBA League Pass allows you to watch live NBA basketball games starting at $32 per month. As of this writing, you can watch your five favorite teams for one payment of $32 or all 30 teams for one payment of $49.
NHL.tv allows you to watch out-of-market regular season NHL hockey games live for $24.99 per month or $139.99 per year. Local and nationally-televised games are not available.
Check the websites for the latest prices, as these may change over time.
Football (American football, that is) fans can watch NFL games online at NFL Game Pass.  However, there are two huge caveats:  they only show games that are NOT in your local market (use an antenna for those), AND, the games are NOT live – Sunday games are shown after all of the Sunday games are played.
Watch Tennis at TennisTV Online
TennisTV offers a variety of streaming packages. As of this writing, you can pay $9.99 for one day, or $19.99 per month, or $129.95 for the whole year. TennisTV is the official live video streaming service of the ATP World Tour and WTA. The Grand Slams are not available on TennisTV though.
Watch Special Sporting Events Online
For special events like the U.S. Open or the Olympics, check the prospective event's website for streaming options. In the past, these particular events have had free live streams online!
Watch Games at Sports Bars
If you only watch a few games a month, then watching them at a sports bar is still cheaper than cable TV! And, it's usually more fun watching with a lot of fans.
Watch with Friends
If a friend has cable or satellite TV who is also a sports fan, see if you can watch games with them at their place.  If you bring a six-pack or snacks, I bet you'll be welcome.
Watch NCAA Basketball on CBS All Access for $5.99/month
If you can't get broadcast TV (i.e., you live far from the transmitters), then, depending on where you live, you might be able to get CBS' live content online via CBS All Access for $5.99/month! This includes live streaming of the NCAA Men's Basketball Tournament. There are a few caveats though. Live TV is not available in all cities. Also, NFL coverage is NOT available at all on CBS All Access (which makes the "All" a bit of a misnomer, doesn't it?).  But hey, if you can't get CBS using an antenna, and you love NCAA basketball, this could be a solution, and you can always cancel after the tournament is over.
Summary
Well, I hope some of these ideas are useful to you! Obviously, if you subscribe to all of them, it would cost a lot, but if you only get one or two, it's a lot cheaper than cable.
Let me know in the comment section below if you find any other ways to watch sports on TV without paying an arm and a leg! If you found this article useful, please share it with your friends and family! Thanks, Brian.
Did You Like This Article?
If you did, please share it and sign up for my email updates. I'll send you my new articles, no more than once a month.
Also, check out my main site for more information on free TV, www.disablemycable.com and find me on Facebook. Spread the word about free and cheap TV with your family and friends!
Questions?
If you have a question about this article, leave a comment below. If you want advice on TV reception, leave your zip code. I try to reply to all comments. I hope this article was helpful to you. - Brian
Related Articles