I was a huge fan of the Tablo broadcast TV DVRs for a long time. But then, in 2022, they eliminated their lifetime channel guide subscription option and required a monthly fee. To me, that defeated the whole point of free broadcast TV!
So, I was super excited when I heard about the brand new generation 4 Tablo with NO subscription fee! Tablo has completely re-branded with a completely new logo and website, and white color instead of black. I rushed out and ordered it immediately!
If you want the short version of my review – the Tablo 4th Gen is my new #1 pick for the best DVR for most people. Owners of the previous generation Tablo probably shouldn't upgrade though, and those looking for 4 tuners or ATSC3.0 will have to wait.
Note – this is NOT a paid endorsement for Tablo. I purchased my Tablo myself and am not beholden to anyone to give a positive review!
What Is It?
Tablo is a broadcast TV DVR, or "digital video recorder". It records TV that you get using an antenna. You plug in an antenna and watch live TV or your recordings using an app on your iOS or Android device, or Roku or Fire TV, with support for other devices coming soon.
Tablo 4th Gen has 128GB of internal flash memory storage which can save about 50 hours of TV shows. You can also attach an external USB hard drive for additional storage capacity.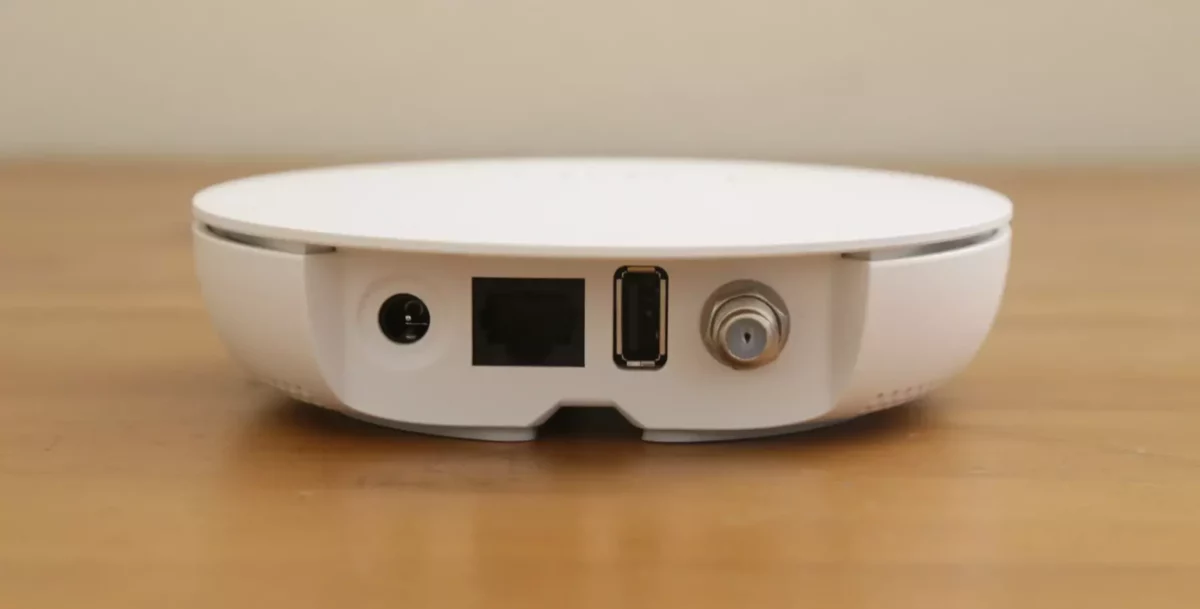 It has two tuners, so you can watch one show while recording another. A four-tuner version is expected in the near future.
This Tablo supports the current ATSC1.0 TV standard of hi-def TV. It does not support "next generation" ATSC3.0 TV, though support is expected in the future in a new model. Broadcasters will support ATSC1.0 TV at least through 2026 and perhaps a few years later.
The Tablo 4th Gen comes in a small box with Apple-like elegant packaging. It comes with instructions, power supply, Ethernet cable, and wall-mounting screws. See my unboxing video for details.
Setup Using iPhone
An Internet connection is required to use Tablo. You can set it up either using an Ethernet cable connected to your router, or Wi-Fi. I chose Wi-Fi setup using my iPhone.
Note, there are now two Tablo apps in the Apple App Store: "Legacy Tablo" and "Tablo". Tablo Gen 4 uses the regular "Tablo" app.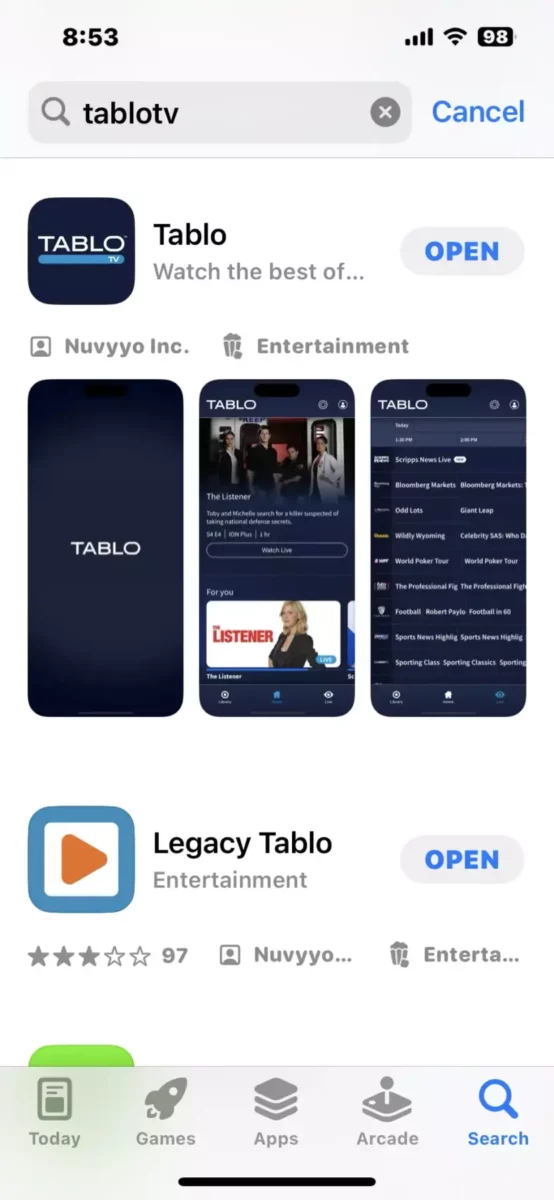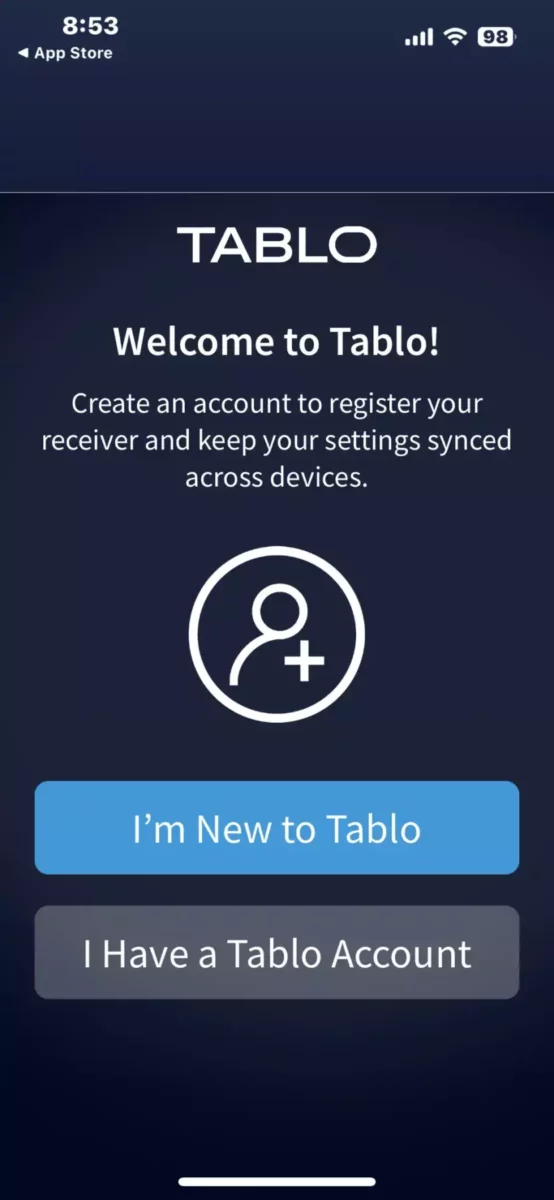 After I downloaded the app, I tried to log in using my old Tablo account information, but it didn't recognize my credentials. I created a new account using the same email address and it didn't balk, meaning that the old and new Tablo accounts are completely separate and independent. Even if you have an old Tablo account, you'll have to create a new one.
I chose to have the app guide me through the antenna setup process, and it has a nice feature where it tells you which direction to point your antenna, and has an included compass to help you do that properly. I used my trusty Mohu Leaf as my antenna.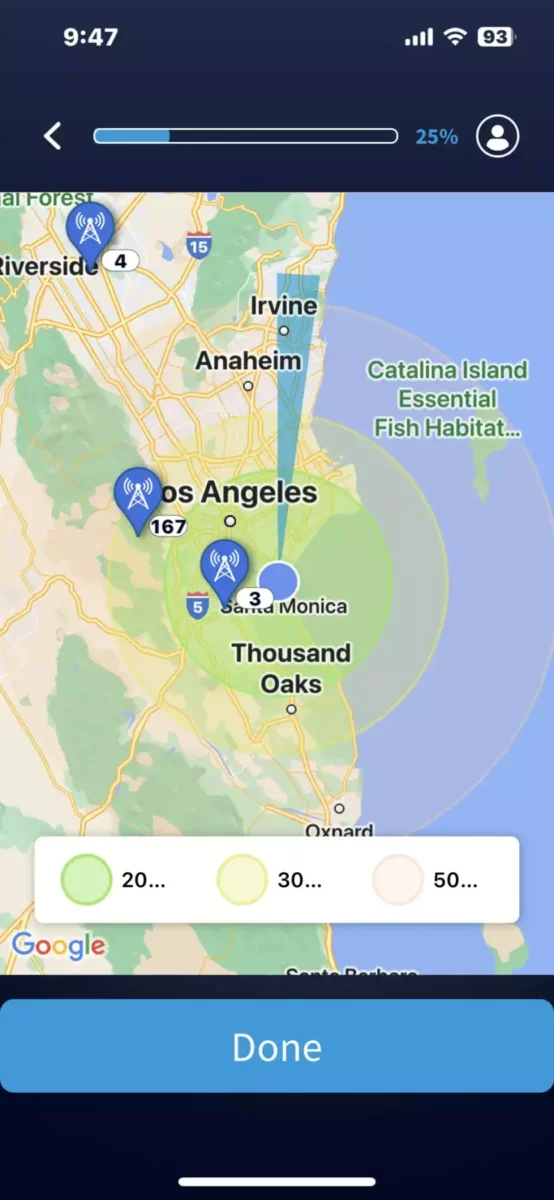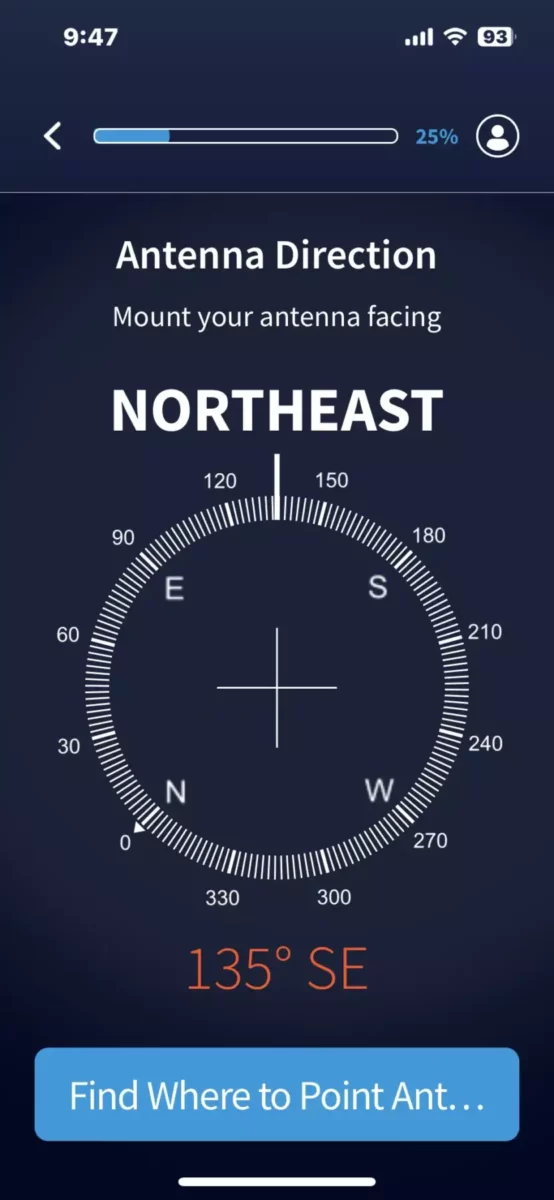 Next was the Wi-Fi setup process, which is similar to setting up other products like Ring doorbells where you have to temporarily set your phone to use the device's Wi-Fi network in order to enter your Wi-Fi network name and password. That worked flawlessly for me.
After that, I had to update firmware which took a while. It took more than a few minutes so I left to do something else and came back later.
Next was the channel scan process, and then the channel guide download process. Again – these take a while.
After that, I was up and running watching live TV! Overall, it was a very painless setup process, on iPhone, at least!
Watching and Recording TV on iPhone/iPad
I really like the simplicity of the new Tablo app. It has three modes: Library, which shows your recorded shows, Home, which shows suggested shows, and Live, which shows the channel guide.
The 14-day channel guide is simple and well-designed. I like how it shows both the station logo and channel number on the left (unlike the Air TV app, Sling TV, which only shows the station logo). Click any show to watch it or to record one or all episodes of that show. Simple!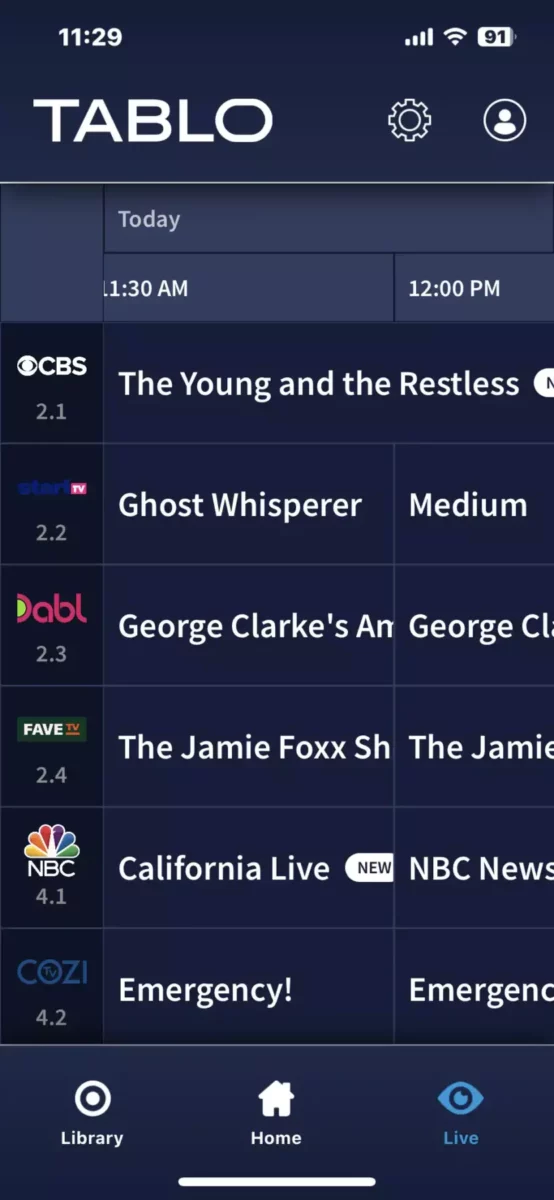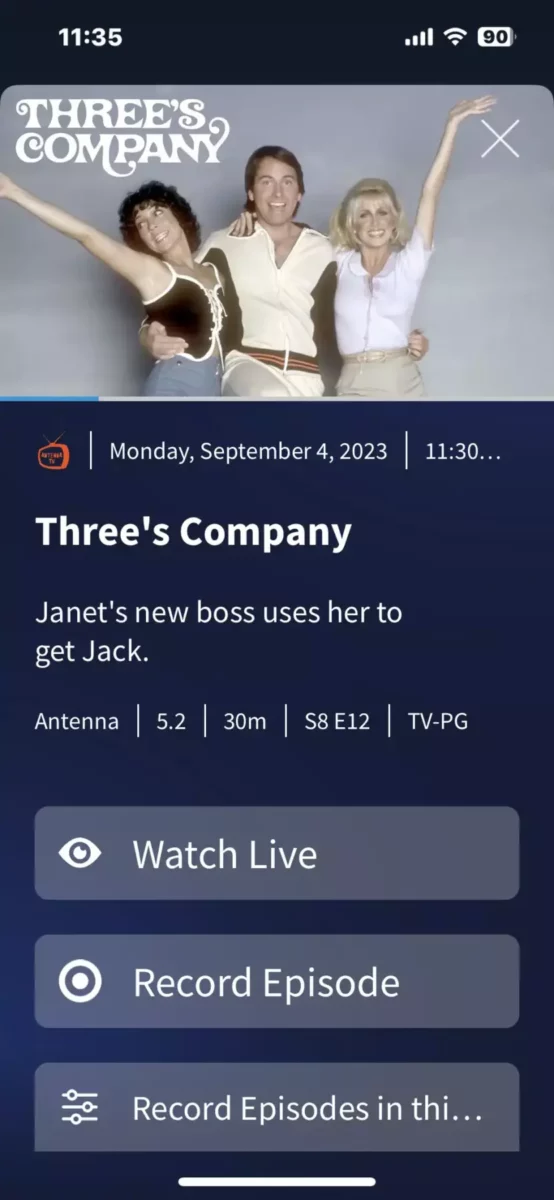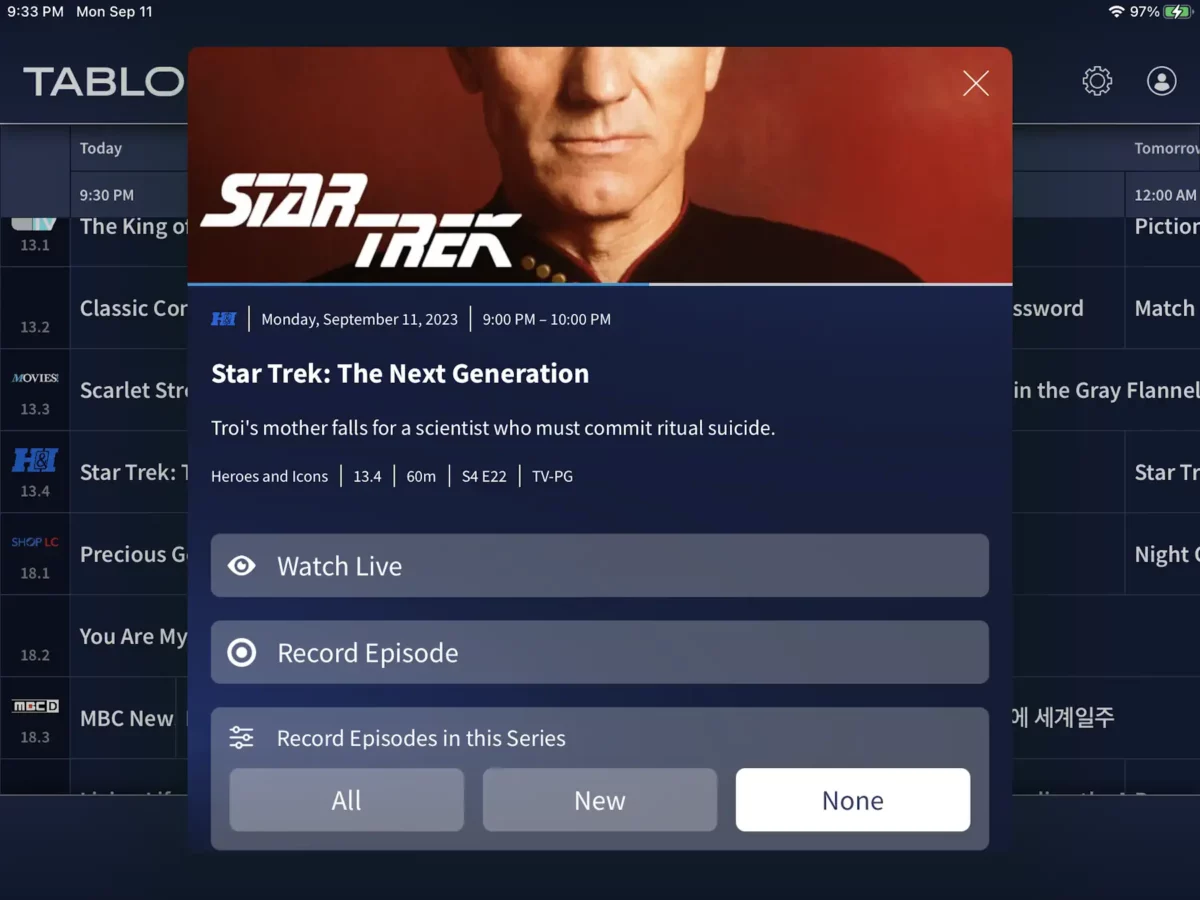 If you watch a show on iPhone, it is always displayed in landscape mode. On iPad you can watch in landscape or portrait modes.
Picture quality looked excellent to me, at least as good as any other DVR apps I've tried (more on this below).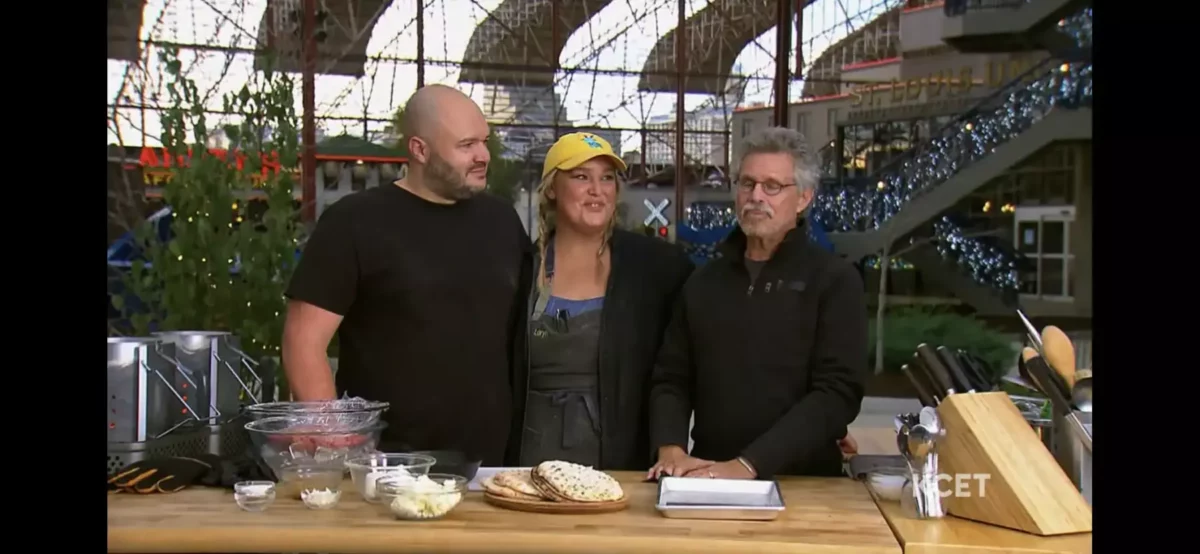 When playing recordings, skipping backward and forwards is instantaneous using the -20 and +30 second buttons, or you can drag the dot on the timeline with your finger. It all works great.
If you scroll past the live TV channels, you'll see the streaming channels. I'm not a huge fan of having broadcast channels mixed with streaming channels, but I don't mind the way it's done on Tablo.
I encountered only one glitch while testing: the picture and sound went out of sync on one show. I had to switch to a different show and return a few times to clear it.
Overall, viewing and recording TV was very easy with the Tablo iPhone/iPad app!
No Manual Recording
While recording by clicking a show is super convenient, some users actually like the ability to manually set a recording time and date. This might be because the channel guide is inaccurate in their area, i.e., if they live between two TV markets and are receiving different channels than what the guide says.
As of now, there is no way to manually set the recording time and date in the Gen 4 Tablo. Perhaps this will be added in a future firmware update.
No Viewing Away from Home ("Tablo Connect")
Having said all of this, one big minus of the Gen 4 Tablo is that you can't watch your recordings or live TV when away from home, something that I could do with my Tablo Dual Lite. For some folks, this could be a showstopper for the Gen 4 Tablo!
Here's Tablo's explanation of why the Gen 4 doesn't support out-of-home streaming. Basically, they said it's because of the bandwidth needed for the non-transcoded video stream, meaning they sacrificed this feature for better picture quality. However, they said they are "exploring options" to make this possible in the future. So, it's not impossible but I'm not going to hold my breath for this feature.
The Tablo Roku App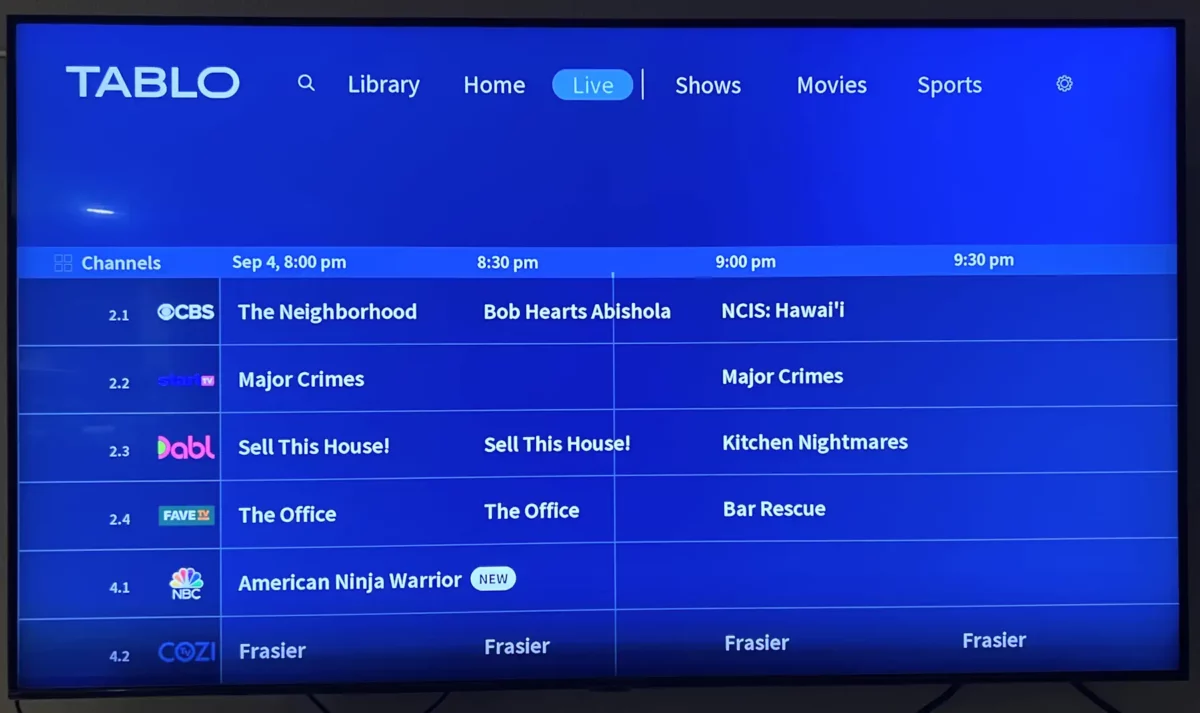 The Tablo Roku App works similarly to the iPhone app but has some important added features.
First, rewind and fast-forward work on live TV, which is awesome!
Second, it has the wonderful Netflix-style grid of movies and TV shows filterable by category so you can easily find new content to record! This was a killer feature on the old Tablo and I'm so glad it's on the new Tablo Roku app (even if it isn't on the iPhone app)!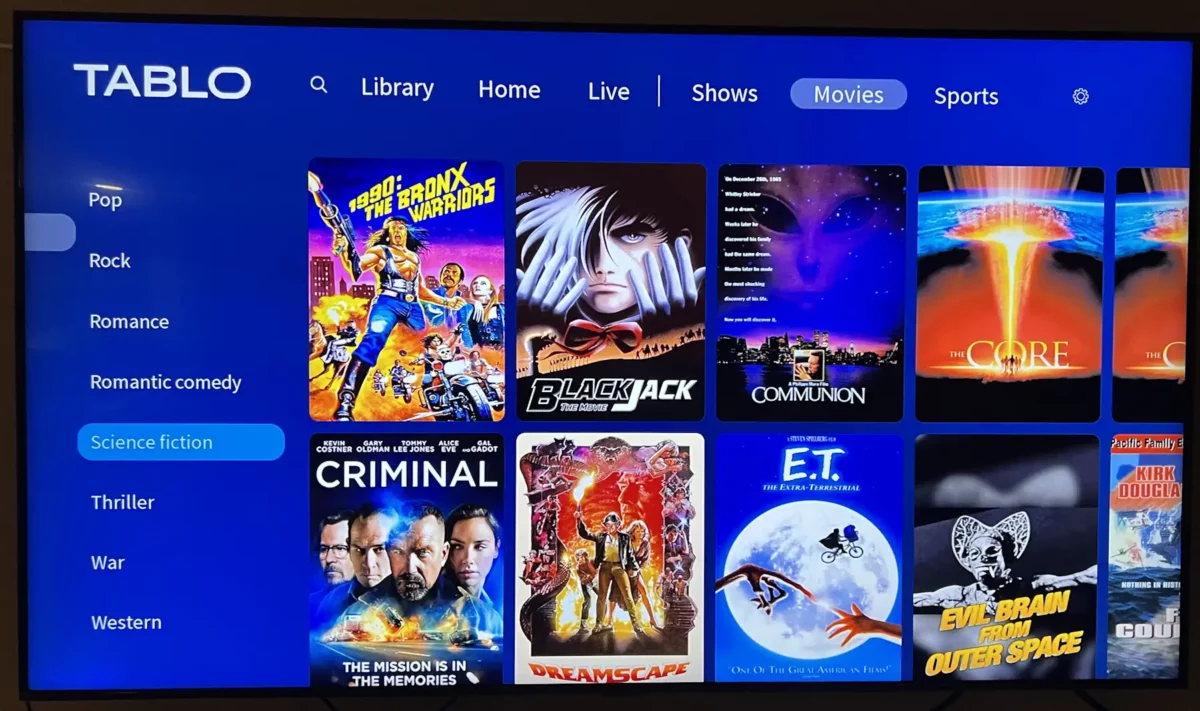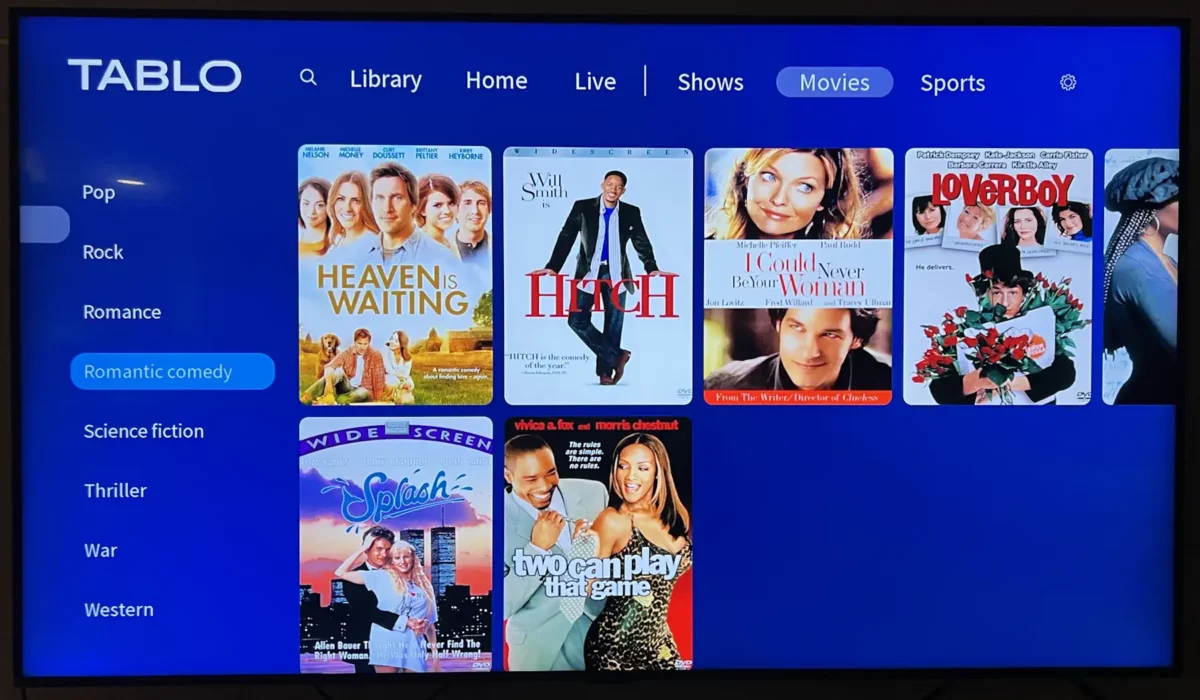 Other Apps
Currently, there is no web app for Tablo Gen 4. That means you can't watch live TV or recordings from your Tablo Gen 4 in a browser on your computer. Hopefully this is coming in the future.
Also coming soon are apps for Apple TV, Samsung, LG, and Vizio TVs.
Currently, there are Gen 4 Tablo apps for Roku, Fire TV, Android TV, google TV, and iOS.
Tuner Quality
I tested the new Tablo Gen 4 against the old Tablo Dual Light by doing channel scans on each using the exact same antenna and coax cable. Each unit picked up exactly 145 channels.
Next, I did a channel scan on my AirTV 2, which previously was able to find more channels than my Tablo Dual Light, but this time the AirTV 2 was only able to lock onto 105 channels. Notably, it wasn't able to find the local ABC station while both Tablos were.
It's hard to draw firm conclusions from these somewhat contradictory results other than to say "your results may vary" and that all of these units were able to pick up a ton of channels. Or perhaps Tablo has made a firmware fix that improved its tuners?
For what it's worth, the Tablo Gen 4 includes a built-in antenna signal amplifier that can be toggled on or off from the app.
Storage
The Tablo Gen 4 has 128GB of onboard flash memory storage, which comes out to about 50 hours of video recording time. This is great because you can start using it right away without needing a USB hard drive.
Of course, when you need more storage you can plug in that USB hard drive, up to 8TB in size (or about 1000 hours of HD storage according to the manufacturer).
As a Hail Mary, I tried plugging in my Gen 3 Tablo hard drive into my Gen 4 Tablo. It recognized the drive, but not the recordings. It would have been super cool if I could view recordings made on my old Tablo on my new one, but I figured that was a long shot.
Just to make sure it was working though, I plugged in a USB flash stick. On the Settings page of the iPhone app, it asked me if I wanted to format it. After formatting, I was able to record to it with no problem! This is pretty cool because a lot of the other DVRs can't record to USB flash sticks.
As another Hail Mary, I tried plugging that flash drive into my PC to see if my computer would recognize the files. Alas, it could not, but that was a long shot; I didn't really expect it to (but it would have been super cool if it did).
Better Picture Quality When Using External Storage
The previous generation Tablos transcoded the video to lower quality for greater recording time and less bandwidth requirements.
The Gen 4 Tablo has the ability to play and record full-quality video – the same quality you would see with your antenna connected directly to your TV. This happens if your Wi-Fi network has enough bandwidth (or if you are using Ethernet) AND if you are streaming to an external USB hard drive. If you are streaming to the built-in flash memory storage, it will compress the video to get the full 50-hour recording time.
Overall, this is a pretty cool feature – those who care about picture quality can simply use external storage.
Free Ad-Supported Channels (FAST)
The Tablo app includes some free Internet-streamed channels including Bloomberg TV+, World Poker Tour, ion Plus, Court TV, Grit, HSN, and QVC. Several DVR brands do this now. What sets Tablo apart, though, is the ability to record shows from these channels, just like you would record broadcast TV shows. Very cool!!!
Unfortunately, during my testing, I did find the recording of FAST channels to be buggy. Often the recording would stop before the show was over. I never had this happen when recording broadcast TV channels, only the streaming ones. Hopefully, this will be fixed in a future software update.
A less important bug was that when I recorded a FAST show, recording would also be enabled for the next episode instead of just the one I selected. This is easily remedied by selecting a future recording and disabling that.
No ATSC 3.0
Some TV enthusiasts are disappointed that the new Tablo Gen 4 does not have support for "Next Generation TV" ATSC 3.0 which would offer 4K picture quality, among other things. Adoption of that new standard has been slow among DVR manufacturers, with only certain Silicon Dust's DVRs supporting it (although as of now they don't support the new DRM standard, as far as I know).
ATSC 1.0 will be around at least until 2027, and probably 2028 and beyond, so don't be worried about it becoming obsolete soon. As of this writing, the ATSC 3.0 standard is somewhat still in flux.
Internet Access Required to Watch
Most of the time, this isn't an issue but some people care about this. The Gen 4 Tablo requires that it be connected to the Internet in order to watch live or recorded TV.
When I first heard about this limitation I did this experiment: I tuned to a live TV channel, then unplugged my Internet gateway. At first, the picture remained and I could still watch, but when I exited out of the app and tried to watch a different channel, it just hung.
The same thing happened when watching a recorded show. When I unplugged my Internet gateway, I could still watch it, but when I tried to watch a different recording, it hung.
So, if your Internet goes out while watching a show, you can probably finish the show, but you won't be able to tune other channels or watch other recordings.
This is a minor bummer because one of the great things about broadcast TV is the ability to watch TV even when your Internet is down. Also, with the old Tablo, you could still watch TV and your recordings with no Internet. Because of this, the need for Internet seems like an artificial requirement, perhaps to gather data on our viewing habits, or due to contractual obligations with the streaming service providers.
In the comments below, reader Wade points out that you could add a splitter to your antenna cable and feed the other antenna signal directly to your TV for viewing when there is no Internet.
Thermal Management
Some users had heat issues with the previous generation Tablos, causing some to even place a PC cooling fan below their units.
The new Tablo bottom case is warm to the touch, but not as hot as the old Tablo. It has cooling holes on the bottom, but I wish it had some on the top. I haven't had any overheating problems, but I'll keep an eye out on the forums and we'll see if any thermal issues arise for other users.
Customer Support
If you go online and look at the forums for other DVRs, you'll find people complaining about a glaring lack of customer support from those companies, where it's virtually impossible to speak to a human being.
Not so with Tablo. Their phone number with support hours is listed right on their support page: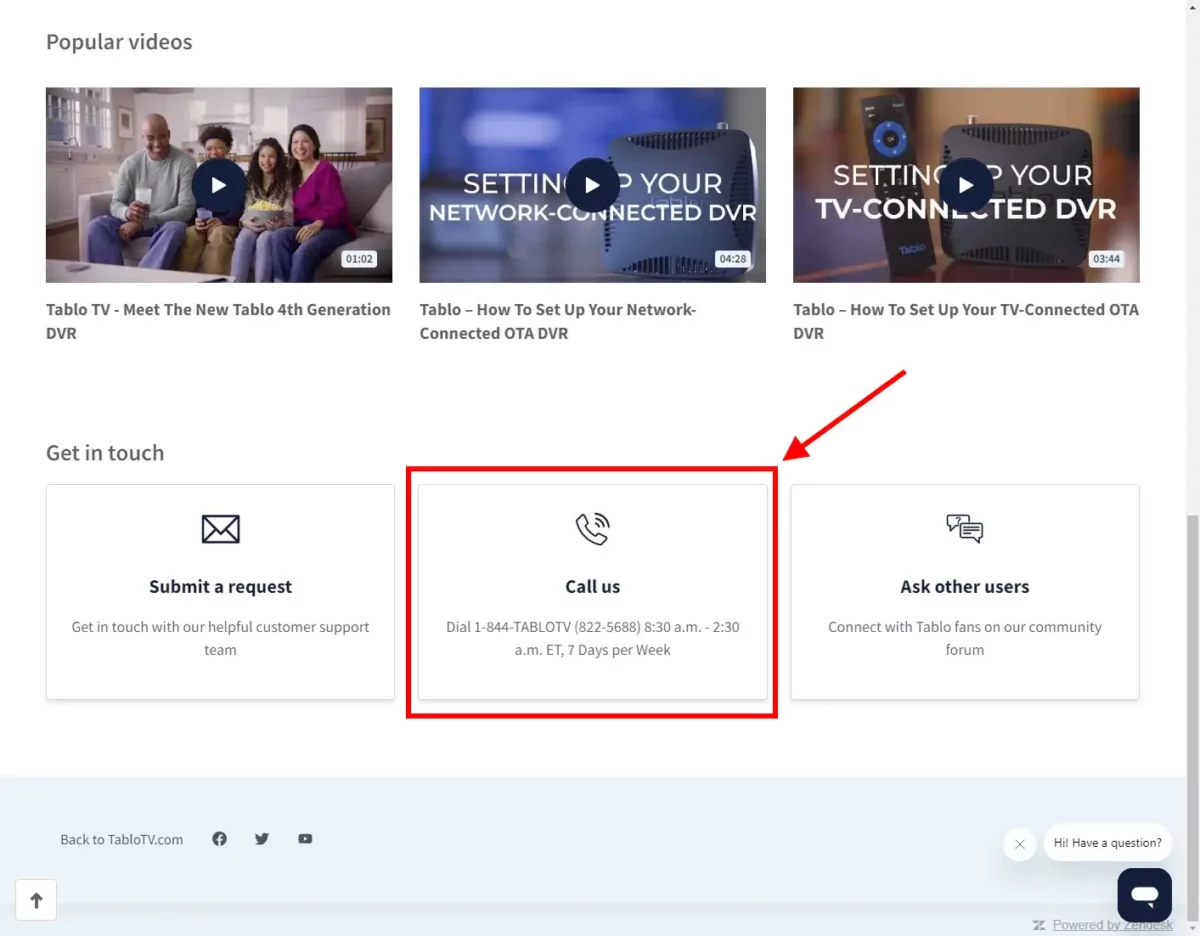 To research this article, I called their customer support and got a human being in about two minutes. That is actually a huge deal.
Furthermore, I reported a bug where I couldn't rewind or fast forward live TV (after pausing). Less than a week later, there was a firmware update that fixed the problem. Now, I don't know if they did that based on my bug report, but it at least shows that development is continuing.
Should You Upgrade from Your Old Tablo?
Even though I do like the new Tablo Gen 4, there are quite a few cases where it would be disadvantageous to "upgrade" from a previous Tablo:
If you have the lifetime deal for the old channel guide, you probably shouldn't upgrade.
If you are using features like commercial skip or watching your recordings and live TV away from home, don't upgrade. The new Tablo can't do either of those.
If you are using a four-tuner Tablo, you'll have to wait for a four-tuner Gen 4 Tablo to come out. There isn't one now.
If you are expecting the recordings on your old hard drive to be viewable on the Gen 4 Tablo, you will be disappointed; they aren't compatible.
So, there are many existing Tablo owners who probably shouldn't "upgrade" to this version.
If you are currently paying a fee for your Tablo channel guide, it's a bit more murky. The new Tablo will eliminate that fee. However, the makers of Tablo said they are working to make the no-fee guide work with the old Tablos, but it's unclear when that will come out.
Conclusion: Tablo Gen 4 is My Pick for Best Broadcast DVR for Most People
It's great to have a Tablo DVR with no subscription fees for the channel guide. Granted, it's missing some features of its predecessors such as remote viewing, channel skip, and four tuners. But, if you don't need those features, the Tablo Gen 4 DVR might be the best bet for you. It's easy to set up and use, and it has the awesome Netflix-style grid of upcoming shows. On top of that, it has great customer support compared to the competition. If you're looking for an easy-to-use box to record broadcast TV shows, check out Tablo Gen 4!
Pros
No subscription fees for the 14-day channel guide – finally!
50 hours of internal flash memory storage included.
Can connect to your network via Ethernet or Wi-Fi.
Pretty painless setup process. Easy to use.
Much better customer support than most other DVR companies; you can actually talk to a human being if you call them.
Roku app has filterable Netflix-style grid of upcoming movies and TV shows making it fun to find new content to record.
Better picture quality if you record to external storage.
Has the ability to record shows from the included free ad-supported streaming services!
Low $99 cost! Cheaper than the old Tablo Dual Lite, which is $149.99.
Cons
No remote viewing or commercial skip offered.
Only two tuners (four-tuner model in the works).
No ATSC 3.0.
Can't view recordings from a browser (at least not yet).
No Apple TV app yet (but coming soon).
Only works in the United States. Does not work in Canada (due to streaming licensing issues).
Can't watch live TV or recordings away from your home network.
No manual recording (by entering date and time); you only can record by clicking on a TV show.
Can't watch live or recorded TV when your Internet is down.