When the makers of the Tablo DVR got rid of their lifetime channel guide fee, leaving the monthly (or yearly) fee as the only option to get their great channel guide, I decided to take a new look at the competition because I hate recurring fees. At the top of my list was AirTV 2, because it has no fees for the channel guide! Could this be the new best DVR for the masses?
The AirTV 2 is a two-tuner broadcast TV tuner that connects to your home network by Wi-Fi or Ethernet. The addition of an external USB hard drive (not included) allows viewing of live TV or recorded shows on a website or on the Sling app for Roku, Fire TV, Android, iOS, and other platforms. The Air TV's sister product, AirTV Anywhere has an internal 1TB drive.
AirTV works in conjunction with the Sling app, but you don't need a paid Sling subscription to use it; you can sign in for free. Note that SLING TV L.L.C. and AirTV L.L.C. are wholly owned subsidiaries of DISH Network Corporation.
In this article, I'll delve into the AirTV 2 and how it compares with the popular Tablo DVR to see which one is the better DVR for you!
Disclosure: Some of the links on this page are affiliate links. This means if you click on the link and purchase the item, I will receive an affiliate commission at no extra cost to you. I test or research each product or service before endorsing. This site is not owned by any retailer or manufacturer. I own this site and the opinions expressed here are mine. As an Amazon Associate, I earn from qualifying purchases.
Physical Design: AirTV Wins!
The AirTV 2 is a small plastic box that stands vertically. The box includes a wall-wart power supply and quick start guide. As I mentioned, you need to supply a USB hard drive to do any recording.
The AirTV 2 box has ventilation holes near the bottom and at the top of the unit. I like this design because it allows cool air to flow in from the bottom and exit out the top. The Tablo, on the other hand, sits horizontally and has been known to have overheating problems. I also like the smaller footprint of the AirTV 2.
Because of the smaller footprint and better thermal design, I'd say the AirTV 2 wins in this category.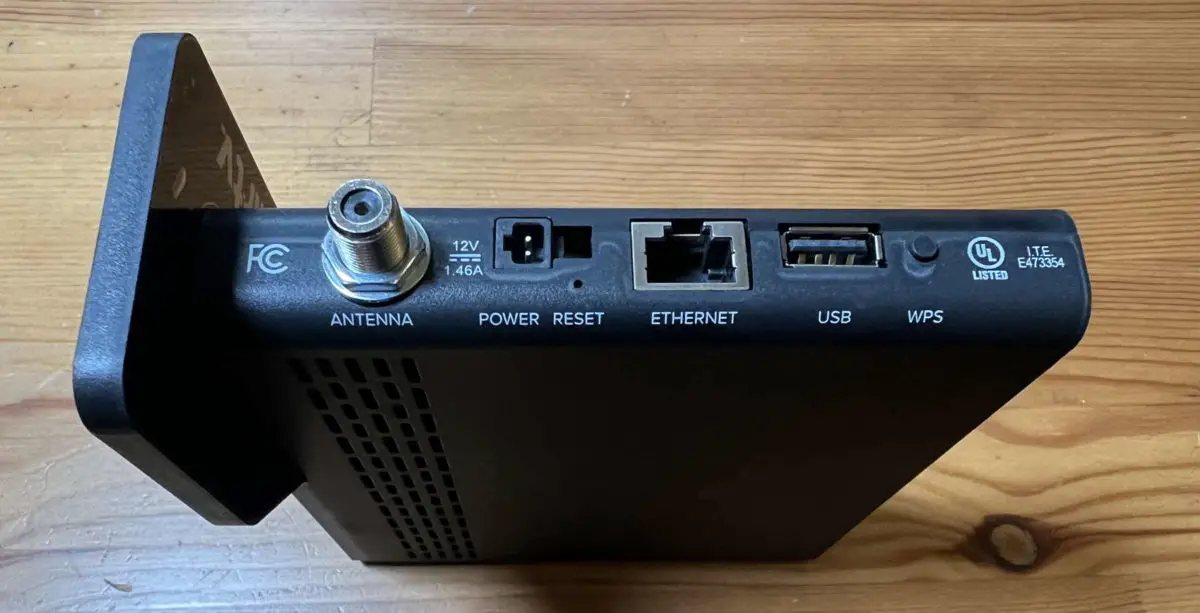 Ease of Setup: Tie
If you've ever set up a Ring doorbell on Wi-Fi, the process is very similar to setting up the Air TV 2 on Wi-Fi. First, you need to install the Sling app on your phone and create a free account. Next, you'll have to get onto the Air TV 2's Wi-Fi network and enter your Wi-Fi network's password (the app will guide you through this).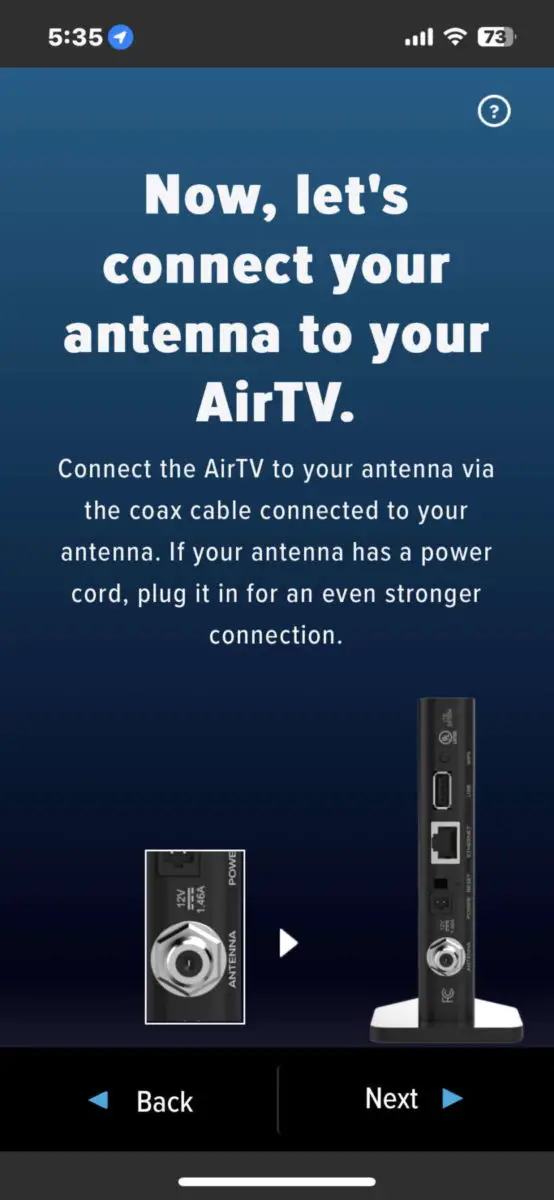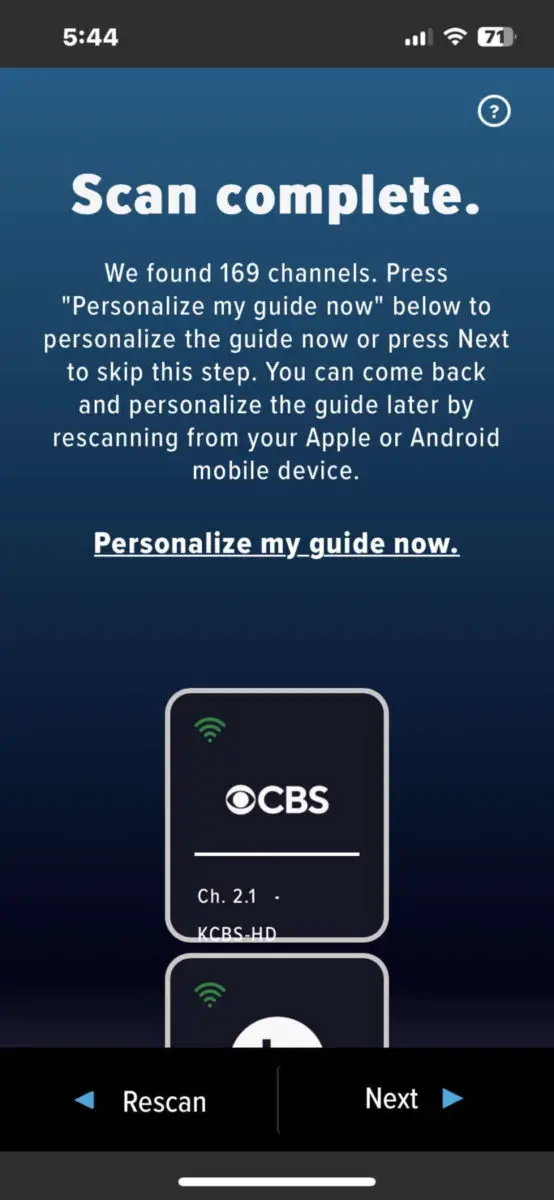 Or, you could set up the AirTV 2 using wired Ethernet, but I prefer Wi-Fi to avoid having to run long cables around my home, and to allow me to put it close to my antenna, not next to my router.
Set up went smoothly for me, except for when I entered the wrong Wi-Fi password. The app just hung. When I re-started it and entered the correct password, it worked fine.
After you do a channel scan, you're ready to start watching live TV assuming you've connected an antenna.
Overall, the setup process was similar to the process of setting up a Tablo, so I say this category is a tie.
One note, if you reset your AirTV, you'll have to delete it from your app in order to restart the pairing process.
Tuner Quality: AirTV Wins!
The AirTV's tuner is excellent. My AirTV 2 picked up a whopping 169 channels in Los Angeles. More importantly, it was able to find VHF channel 13 and its sub-channels (where I watch Star Trek on Heroes and Icons), which my Tablo wasn't. So, that is a big win for AirTV! The tuner brings in more channels than the Tablo when connected to the exact same antenna in the exact same location!
Ease of Watching Live TV: Tie
The Sling app offers some good free streaming content in addition to your broadcast TV channels. I found their free channels similar to Pluto TV's. I was stoked to be able to watch The Walking Dead on one of these channels.
The channel guide is what you would expect with each row being a different channel and the columns being times. If you view all channels, the streaming channels are mixed in with your broadcast channels in the channel guide, making them hard to distinguish. Luckily, there is a "Locals" tab that allows you to see only your broadcast TV channels. The TV station's logo is shown to identify the channel, which is great, but I wish it also displayed the actual channel number as well.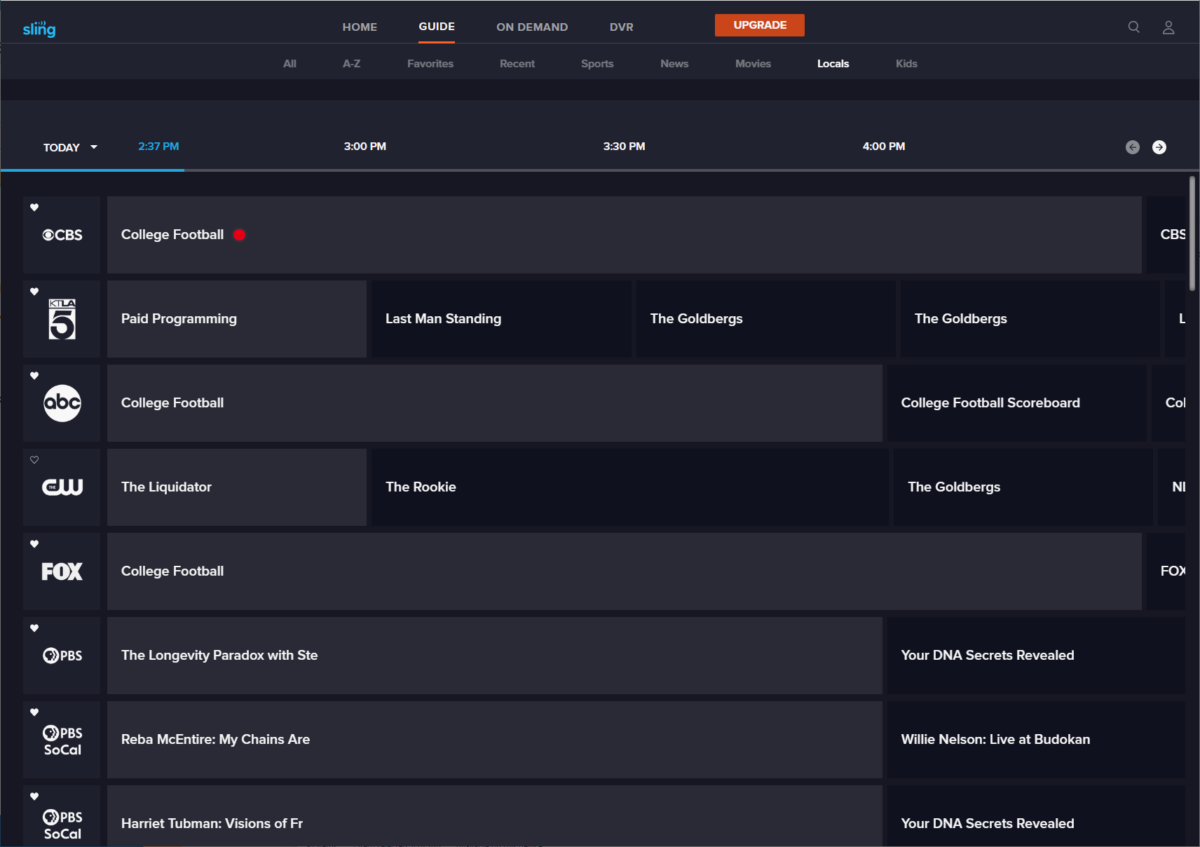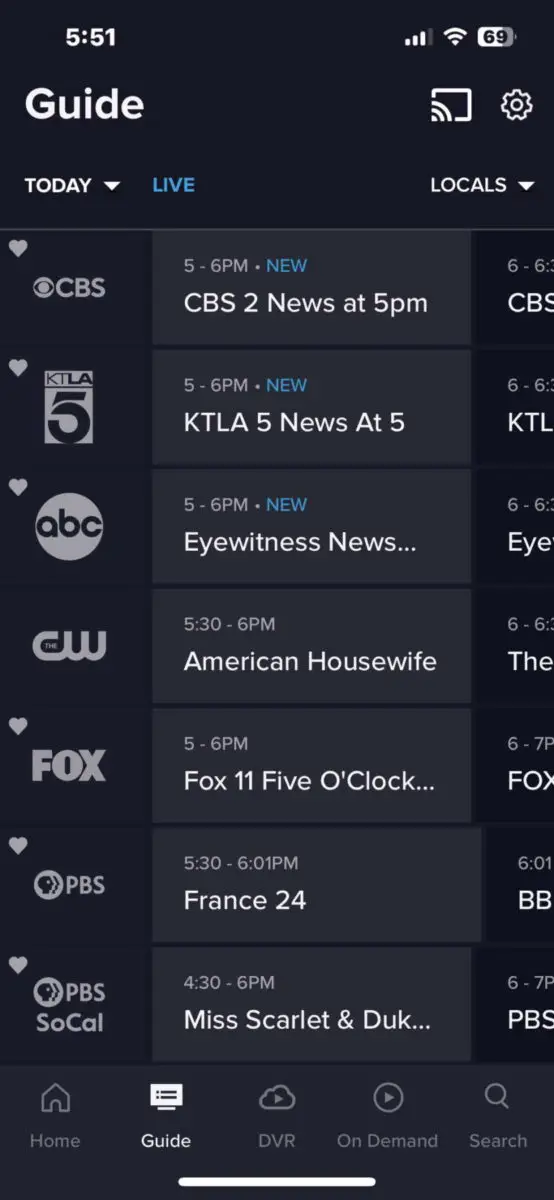 As with the Tablo, it takes a long time (over 5-6 seconds) to switch from viewing one channel to another. With these devices, it's best to just look at the channel guide to decide what to watch rather than to surf.
If you have a hard drive connected to your unit, you are able to pause live TV (contrary to what is said in some other reviews of AirTV; they're probably using it without the hard drive).
I'm going to call this one a tie with Tablo, even though Tablo does not offer free streaming channels, since you can get free streaming channels using other services like Pluto TV. AirTV loses points for not displaying the channel number in the guide.
Picture Quality: Tie
This is a somewhat tough category to judge, because the AirTV picture quality is pretty good.
When comparing the AirTV picture to the picture on my Samsung TV connected directly to an antenna, the AirTV picture seems more blurry with the artifacts (which I believe are in the original broadcast signal, not from the viewing device) more noticeable. Granted, this could be simply due to the Samsung doing more visual tricks like adjusting contrast. I'm calling this a tie with Tablo.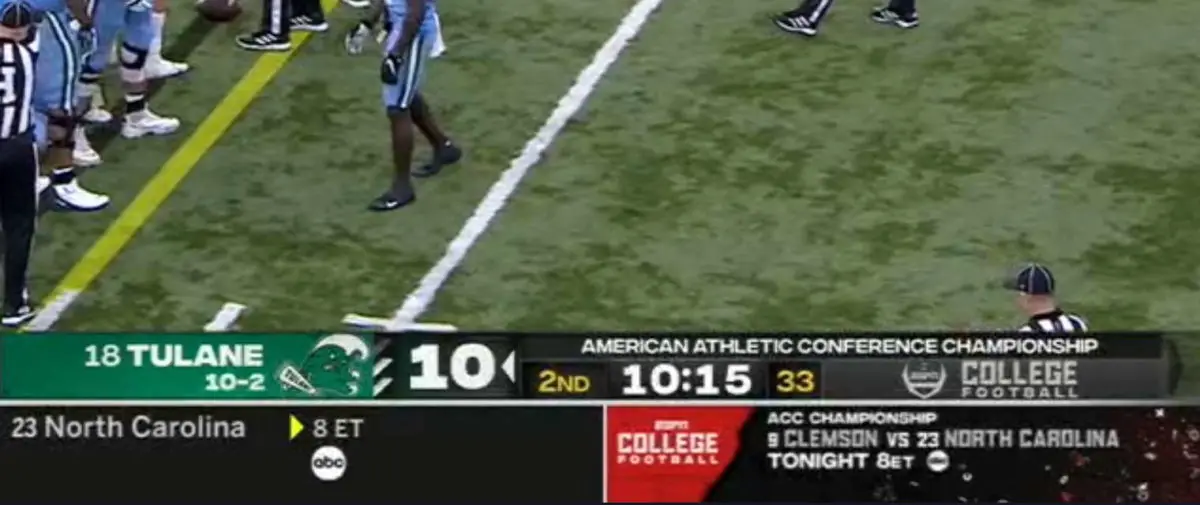 Hard Drive Compatibility: Tablo Wins!
To record, you need to attach a USB hard drive. That's where I had my first problem. I'd been using a 160GB Maxtor USB hard drive with my Tablo for years with no problems. Unfortunately, when I connected this drive to the AirTV 2, it said the drive did not meet the minimum read and write speeds required.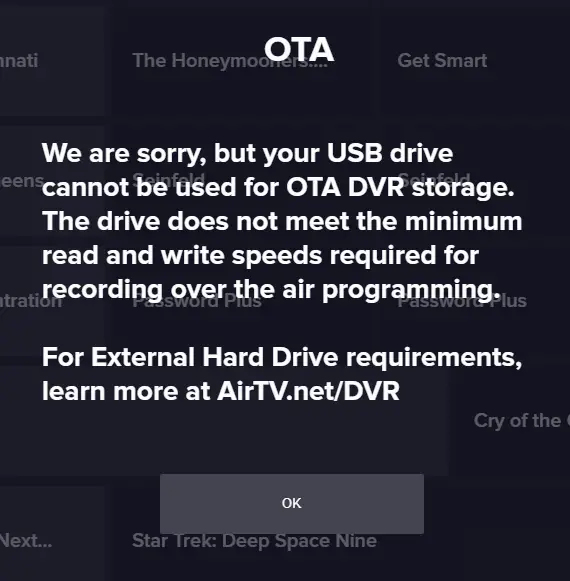 Next, I tried using the 500GB Western Digital hard drive that I got from my Fire TV Recast, and that worked fine. Note that when plugging in new drives, you may get a message that no USB drive is attached; just let it sit connected. Sometimes it takes a while to recognize new drives.
The Air TV website DVR page provides a short list of drives that were verified to work with the Air TV, which are as follows at the time of writing:
Western Digital My Passport
Western Digital Easy Store
Western Digital Elements
Western Digital My Book
Seagate Expansion
It seems that the AirTV 2 is fussier about drives than other DVRs are. If you want to use an old USB hard drive, it's more likely to work with a Tablo or HDHomeRun DVR than with an AirTV 2.
Also, the AirTV 2 will only use the first 2TB of drive space of your hard drive. In other words, if you plug in a 5GB drive, it will only use 2TB of it. Tablo will work with drives up to 8TB in size and will use all of that space.
So, Tablo is the winner here.
Ease of Recording and Discovering New Content: Tablo Wins!
Let's talk about how to record shows. On AirTV, you go to the channel guide and hover over the round record button. If the show is a series, then you'll have the option to that episode only, new episodes, or new episodes and reruns.
That's fine and works as it should. But, Tablo has a killer feature where you can see a Netflix-style grid of all of the TV shows or movies coming in the next two weeks. This is invaluable for finding new shows or movies to record and it reminds me of browsing Blockbuster Video in the old days: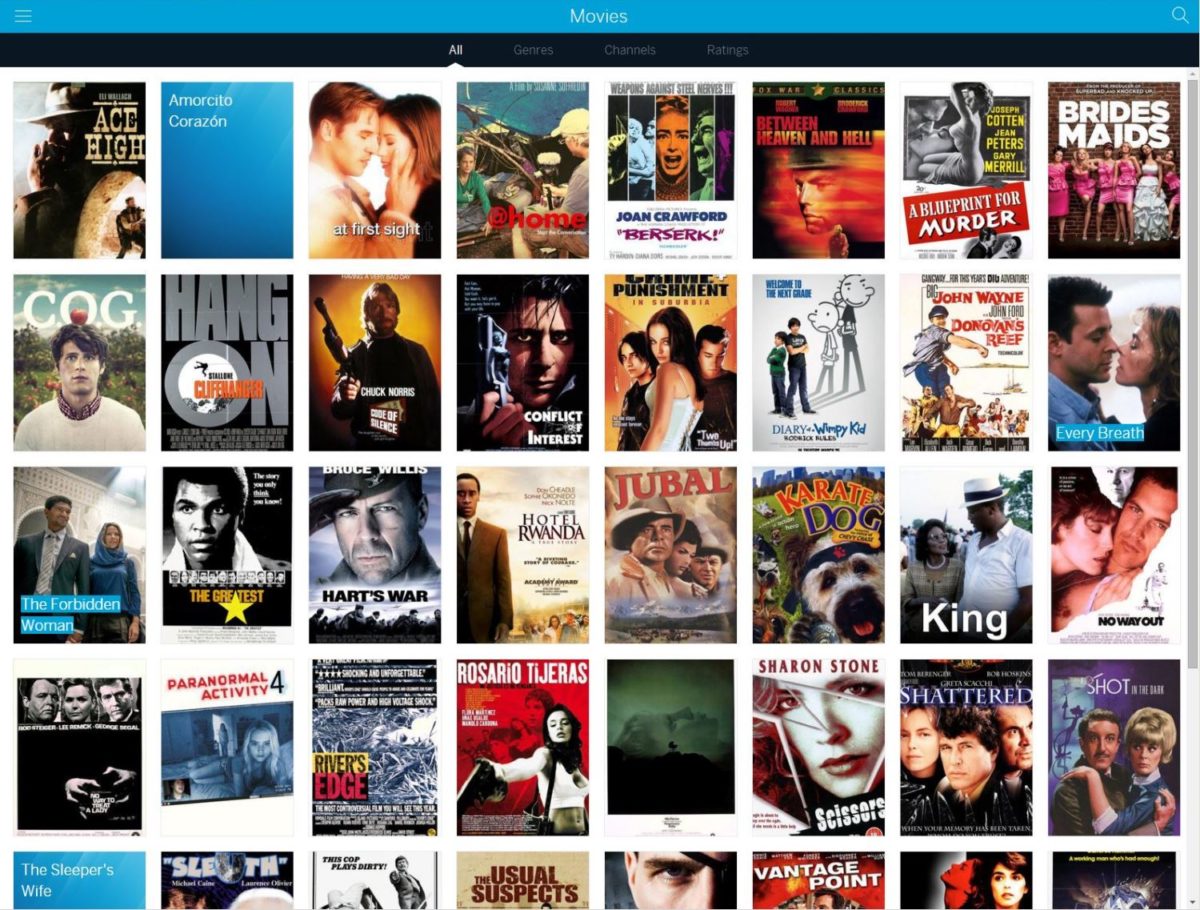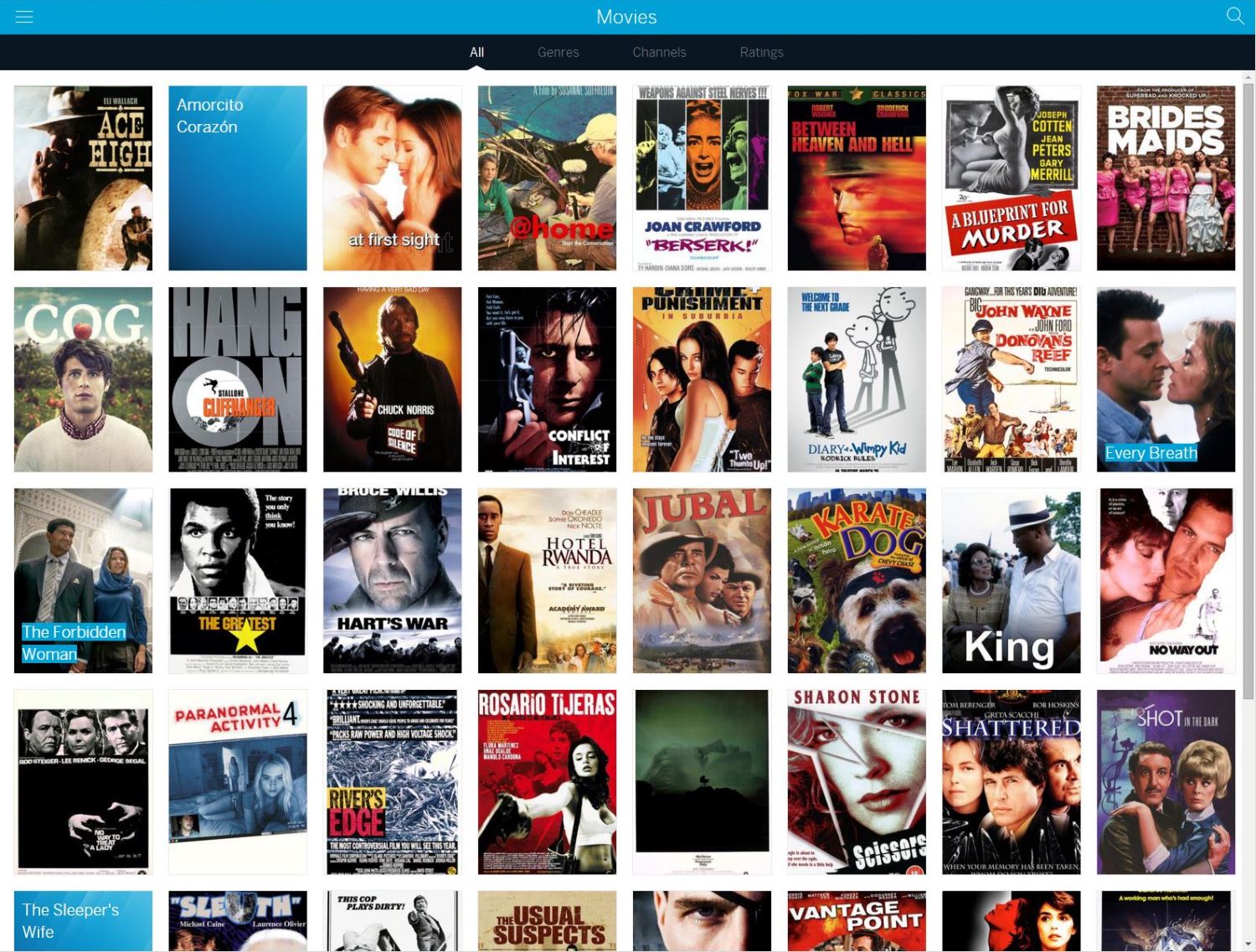 On AirTV, you have to scroll through the channel guide, or type in the name of the show you want to record in the search form. That works, but you're probably not going to discover something new to record that way.
On the Sling app home page, there is a grid of recommended shows, but unfortunately, those are mostly from streaming services. There's no way to see just the upcoming free broadcast TV content in this format.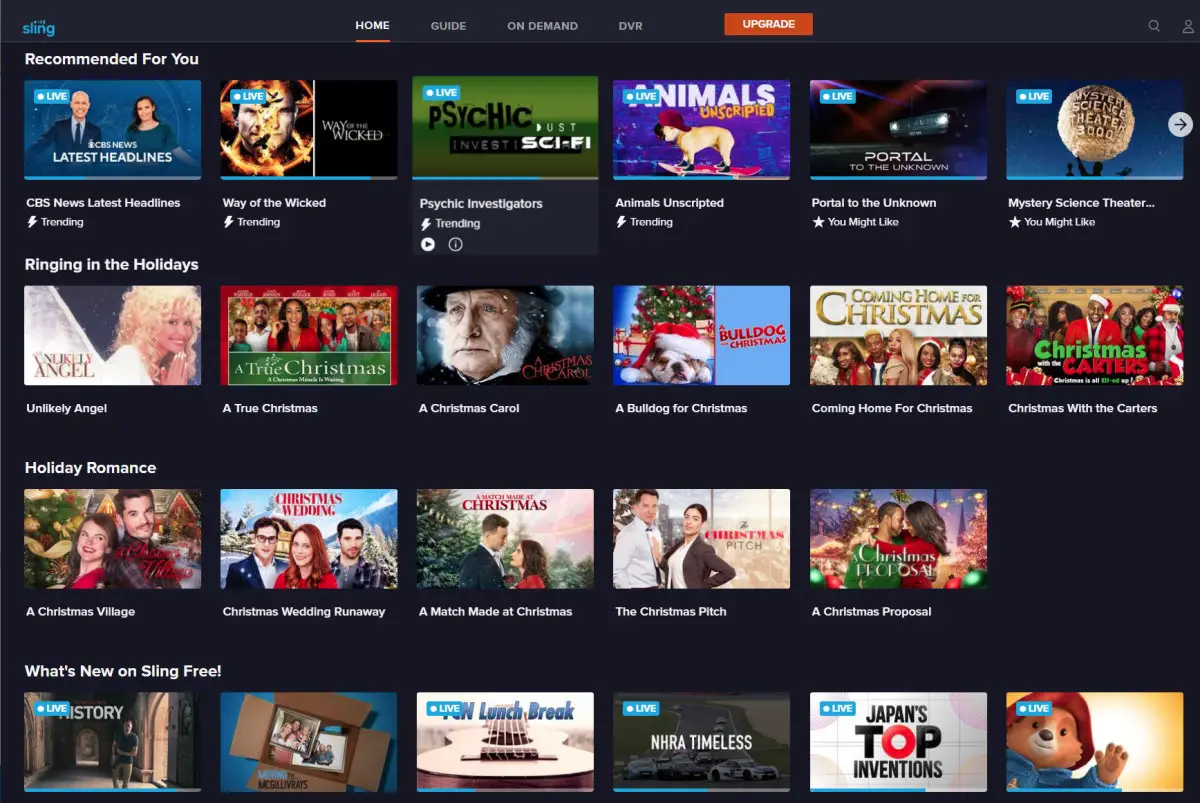 For these reasons, the Tablo is superior for making it easy to find new shows and movies to record from broadcast TV.
Manual Recording: Tablo Wins!
In the comments, reader Ron pointed out that the AirTV has no way to do manual recordings, i.e., to set a recording time like a VCR, as opposed to using the guide.
Most people would never do that, but he lives in a part of the country that is between TV markets, so the AirTV guide that comes up does not encompass all of the channels he is able to get. As a result, he can't watch or record all of the channels that are available with the AirTV.
With the Tablo, he is able to manually record any shows he wants. With AirTV, you can only record shows that show up in the guide.
Most people who live in major metropolitan areas won't have this problem. But, if you live between broadcast TV markets, a Tablo might be a better choice for you.
Related to this is the issue of recording a live show that you're watching right now. On Tablo, it's pretty obvious how to do this – by pressing the Record button.
The Sling TV website also has an obvious Record button. On the Sling TV app for iOS, there is no "record" button available while you're watching live TV. Instead, you need to go back to the channel guide, press and hold on the show in the guide, then select Recording Options -> This Episode only.
Watching Recorded Shows: Tablo Wins!
Both the AirTV 2 and Tablo make it easy to play back recorded shows. Neither have commercial skip. However, the Tablo seems more responsive when I manually skip ahead. On AirTV 2, when I press the "30" button to skip ahead by 30 seconds, it takes about 4 seconds to respond. Not ideal for rapidly skipping commercials.
Reliability: Tie
In my testing, the AirTV was pretty solid. The main bug I encountered was that sometimes the sound would go out after selecting a new channel. This could be easily fixed by closing the channel and selecting it again.
On the other hand, some users have reported overheating problems with Tablo (I personally have not had these issues). But, I'm going to call this category a tie.
Cost: AirTV Wins!
The AirTV 2 sells from anywhere between $79 to $100 while the AirTV Anywhere sells for $149.
The corresponding Tablo model, the Tablo Dual Lite, sells for $90 to $100. The Tablo Dual 128GB (with 128GB internal storage) sells for $170. On top of this, in order to get the 2-week channel guide (which in my opinion, is a "must", and gives you the Netflix-style channel guide), you have to pay a subscription fee of $4.99/month or $49.99/year (USD).
So the total cost of ownership for Tablo is much higher. Obviously, AirTV is the winner here.
Summary
Here's a summary of all of the aspects that I compared between the AirTV and Tablo:
| | | |
| --- | --- | --- |
| Feature | AirTV 2 | Tablo Dual Lite |
| Physical Design | Winner! Stands vertically (may result in better airflow) | Horizontal, takes up more shelf space, and some users have reported heat problems |
| Network Connectivity | Tie. Ethernet and Wi-Fi | Tie. Ethernet and Wi-Fi |
| Ease of Setup | Tie. Good | Tie. Good |
| Internal Storage | Tie. Available with or without internal storage | Tie. Available with or without internal storage |
| Number of Tuners | 2 | Winner! 2 or 4 tuner versions are available |
| Tuner Quality | Winner! Air TV brought in more channels in my testing | |
| Watching on Multiple TVs | Tie. Sling app is available on many devices. | Tie. Tablo app is available on many devices. (HDMI version requires subscription to watch on apps though). |
| Picture Quality | Tie. | Tie. |
| Hard Drive Compatibility | Wouldn't work with a Maxtor USB drive that worked with Tablo. | Winner! Works with even very old USB drives. |
| Hard Drive Storage | Maxes out at 2TB | Winner! Maxes out at 8TB |
| Recording and Discovering New Content | The Sling app shows paid content mixed with broadcast content, making it hard to find free stuff to record. | Winner! Tablo's Netflix-style grid lets you see all broadcast TV shows and movies coming in the next two weeks |
| Automatic Commercial Skip | Tie. No | Tie. Had it before on Premium Service but discontinued now |
| Watching Recorded TV | Skipping ahead is slow. | Winner! Skipping ahead past commercials is more responsive. |
| Manual Recording | Nope. | Winner! Offers manual recording if you need it. |
| Reliability | Tie: I've encountered some bugs while navigating. | Tie: Some users report heat-related problems. I haven't experienced this. |
| Cost | Winner! Air TV is cheaper and does not require subscription! | Tablo is expensive if you get the premium channel guide. |
| Countries It Works In | U.S. | U.S. and Canada |
AirTV Pros
No fees for the channel guide!
Great tuner (brings in the most channels).
Has Wi-Fi.
Can watch live TV and recordings away from home.
Easy to set up and use.
Air TV Cons
Paid streaming services are mixed in with upcoming broadcast TV shows in the user interface, making it harder to find free content.
Doesn't work with all USB drives (or any SSDs). Might need to purchase a recommended USB drive rather than use one you already have.
Only uses the first 2TB of drive space.
Can only set up recordings through the guide. No manual recording setup.
Conclusion
As you can see, each DVR has its pros and cons.
If you hate paying recurring fees and want a channel guide, then you probably want to go with AirTV 2 because it has no charge for the channel guide! On the other hand, Tablo's Netflix-style content grid is superior for discovering classic broadcast TV shows and movies to record, but there is a monthly fee.
With AirTV 2, you might have to buy a particular hard drive for DVR functionality; it might not work with any hard drive you have lying around.
Tablo is compatible with more drives and is a solid choice if you have old hard drives lying around that you want to use. Also, if you want the ability to manually record (by inputting time and date like you did with a VCR), then you'll need to get a Tablo, as AirTV doesn't offer this.
What do you think of your AirTV or Tablo? Any questions? Please leave a comment below. For a walkthrough of using the AirTV on the Sling app, check out my demo of the user interface on YouTube:
Demo of AirTV on the Sling App