2022 Update: Unfortunately, the Amazon Fire TV Recast was discontinued in August of 2022. It's too bad, because it had a slick user interface and was easy to set up, with its internal drive. You may be able to find one on eBay, but it's unclear how long Amazon will support it. I'll leave my review up in case you're looking for a used model.
---
Original Article
The Amazon Fire TV Recast is Amazon's broadcast TV DVR solution which lets you record live TV using your TV antenna.
Unlike the Tablo, the Recast has its mass storage included inside the box, making for a cleaner setup – no USB external hard drive to mess with! Recordings can be made or viewed from any TV in your home that is attached to an Amazon Fire TV stick or box, or your smartphone (but not a web browser, unfortunately). It's a good choice if you already own Amazon Fire TV players, or if you're really into Alexa.
The Package
Since the storage is included inside the box, the package is pretty simple. You get the Fire TV Recast box, which measures about 7″ by 7″ by 3″ thick, a quick start guide, and a power adapter, that's it.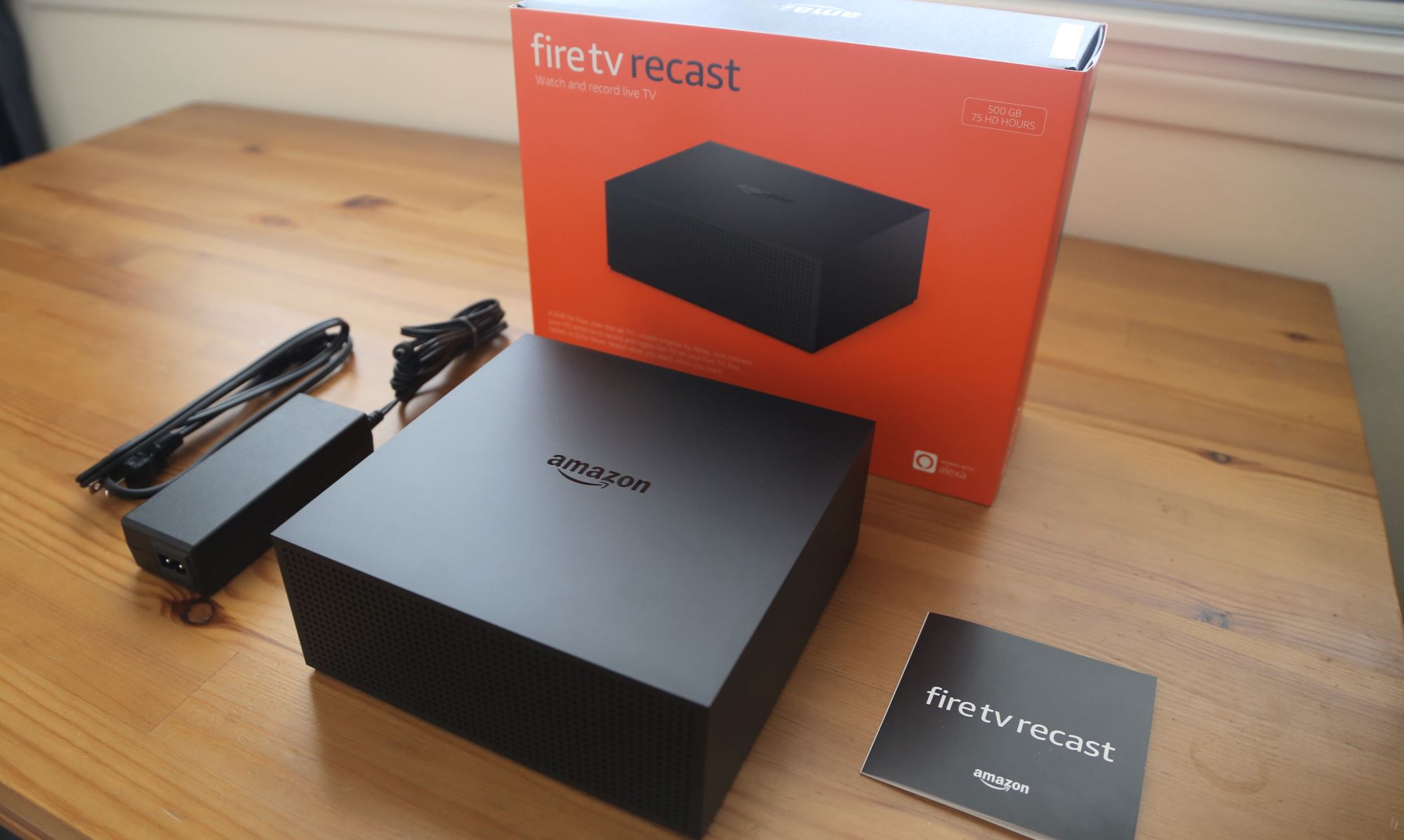 Setup
Setup requires an iOS, Android, or Kindle device. You'll have to download the Amazon Fire TV app to set up the Recast.
Because the hard drive is internal, there's very little physical hookup required, other than plugging in power and connecting the antenna.
Because the Recast doesn't connect to your TV directly, you can put it anywhere in your home, ideally somewhere where your antenna strength is greatest, like upstairs, or even an attic!
The Fire TV app will guide you through the configuration process step by step. You'll have to temporarily switch to the Recast's Wi-Fi network on your device during the process, but the app does a good job of holding your hand as you go. It will even tell you which direction to point your antenna!
Tuner Quality
One thing I always look at in a DVR is the quality of the tuner. So, I did a scan using my very good Sony TV tuner and got 117 channels here in Los Angeles.
I scanned with the Recast and got 116 channels! That's pretty much within the margin of error of being the same as my Sony. So, the Recast tuner is good!
The picture quality of the Recast is excellent. Hard to distinguish it from the picture when I run the antenna straight into my TV.
The User Interface
The Recast requires an Amazon Fire TV device to watch recordings on your TV. So, I started up my Amazon Fire TV Stick 4K.
At the top row, there was a "DVR" option, so I selected that and got this screen: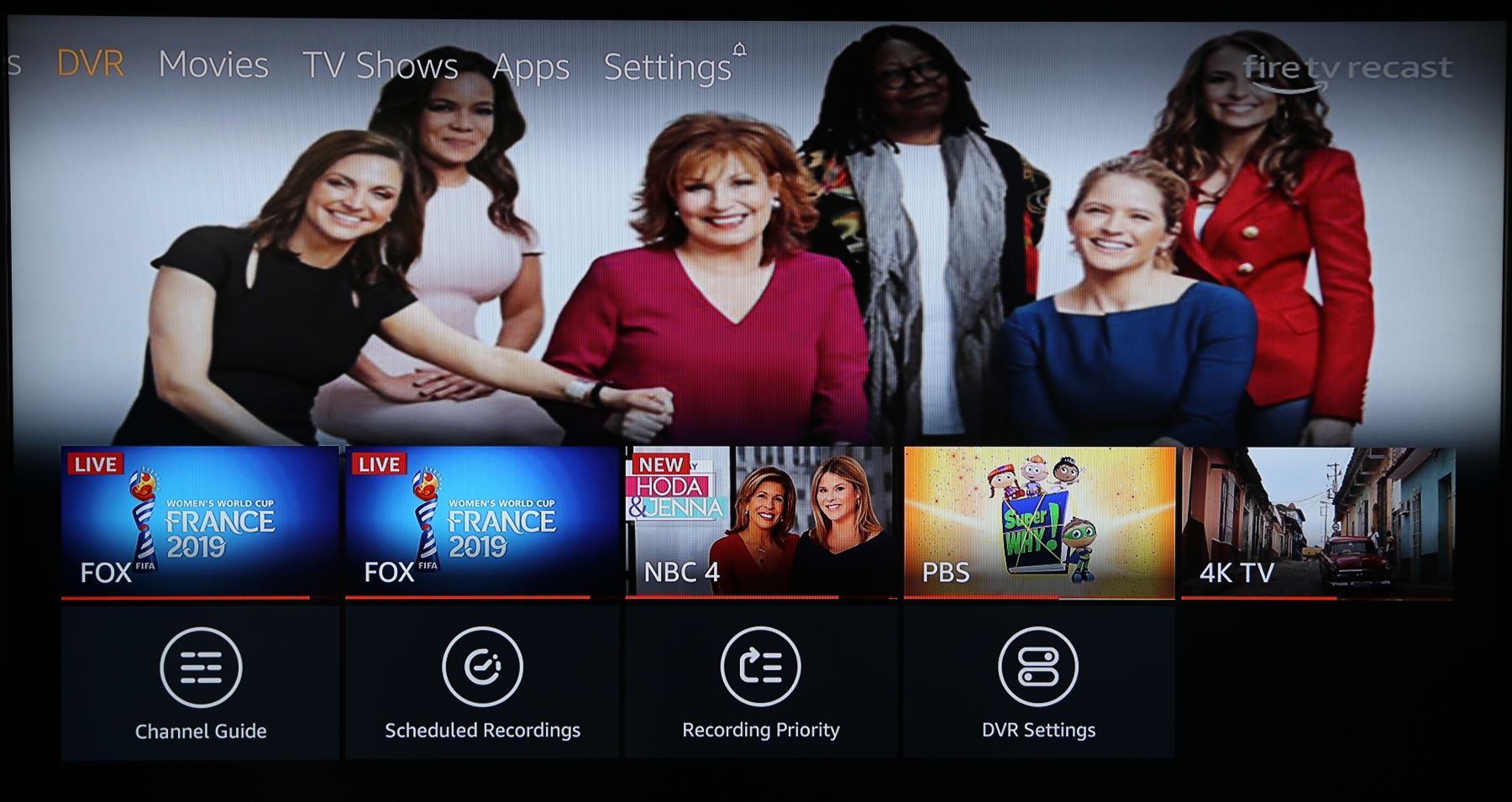 This is where I got confused. I clicked down and immediately started seeing live TV. OK. But I couldn't find a way to change channels, so I clicked the Back button to return, and clicked down one more level to take me to the line of channel previews below.
But strangely, there seemed to be some non-broadcast TV channels there. I explored the channel guide below that, and found Pluto TV channels. Where were my broadcast TV channels?
After doing a lot more scrolling, I finally found the section of the guide that had broadcast TV channels: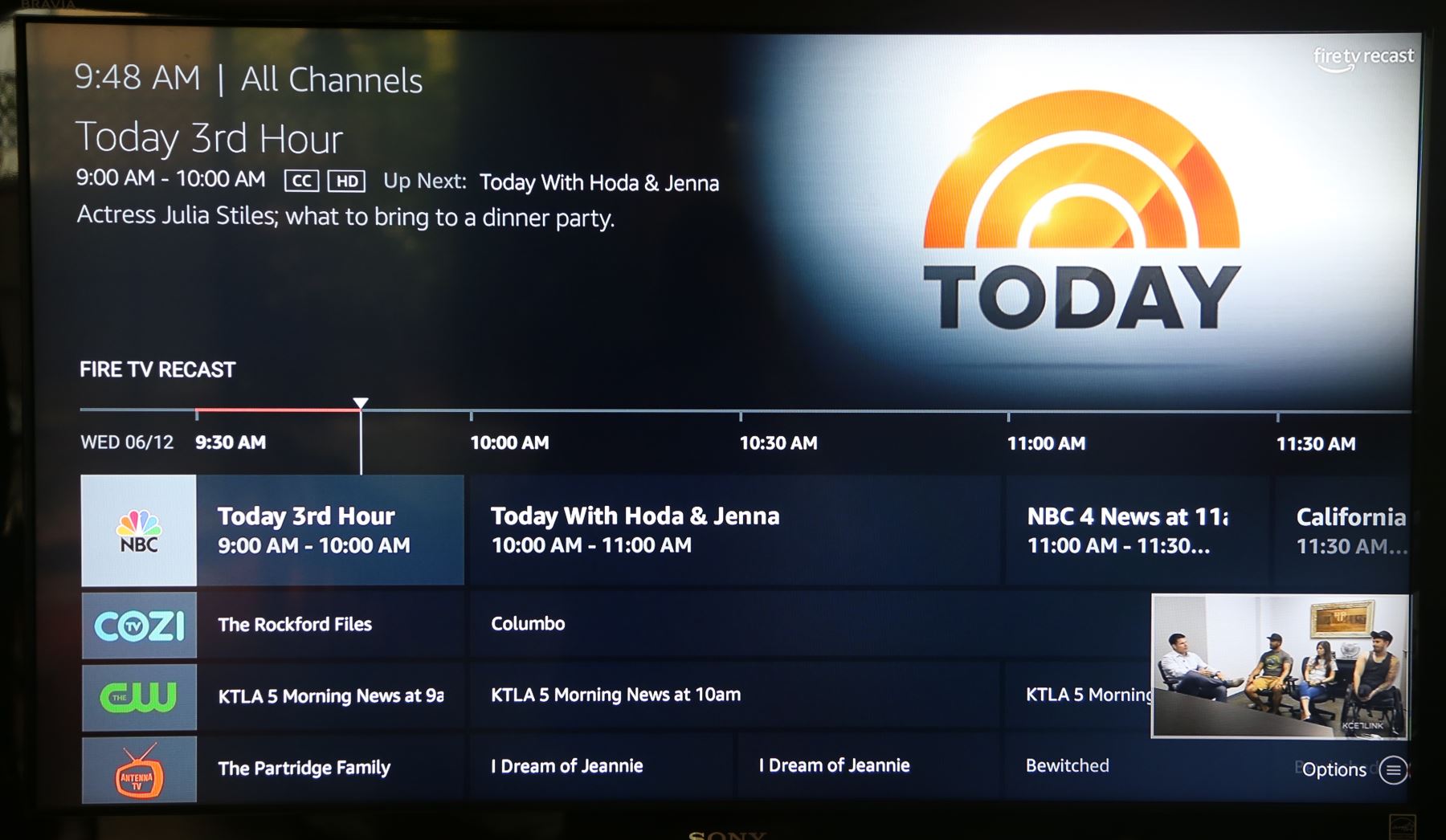 I question the decision to include live streaming channels from apps like Pluto TV in the Recast channel guide. I guess some people might like it, but felt a bit lost, like "what am I watching?" The feature would have been totally cool if you could actually record streaming shows, but when I tried to set up a Pluto TV show for recording, it wouldn't let me.
Adding to the confusion is the fact that no channel numbers are displayed. Only the station's logo is displayed, so it's hard to tell at a glance whether you're watching broadcast TV or an app. But, I guess some people won't care, as long as they are watching something they like.
The Recast works with your Fire TV player to respond to Alexa commands. I was able to push the microphone button on my Fire TV Stick remote and tell Alexa to watch NBC, and voila! The Recast tuned to my NBC broadcast TV channel (4.1 in my area). You can also ask Alexa to show your recordings, to delete recordings, to show the channel guide, and much more.
Fast Forward and Rewind
Another thing I look at when I evaluate DVRs is how rewind and fast forward work. As with the other DVRs I've reviewed, you can rewind and fast-forward live TV (within the limits of when you started watching that show and the current time).
On the Recast, you can jump head in 30-second increments or back in 10-second increments using the directional buttons.
If you use the FF and Rewind buttons, you can seek. You'll see a small preview window that updates every second or so, along with a time counter showing the time stamp of where you're seeking to. So, you won't see the main image speed up or go in reverse when seeking, but the little preview window helps you figure out where you're jumping to.
Channel Surfing
One of the gripes of the Tablo recorders is that it takes 5-7 seconds to change channels, which makes channel surfing a chore. On the Recast, it took me between 4 and 5 seconds to change channels, which might seem like a small difference, but it was noticeable.
Recording
Recording on the Recast was a breeze. I simply selected a show in the guide to record and the Recast displayed options for recording just that show or all episodes.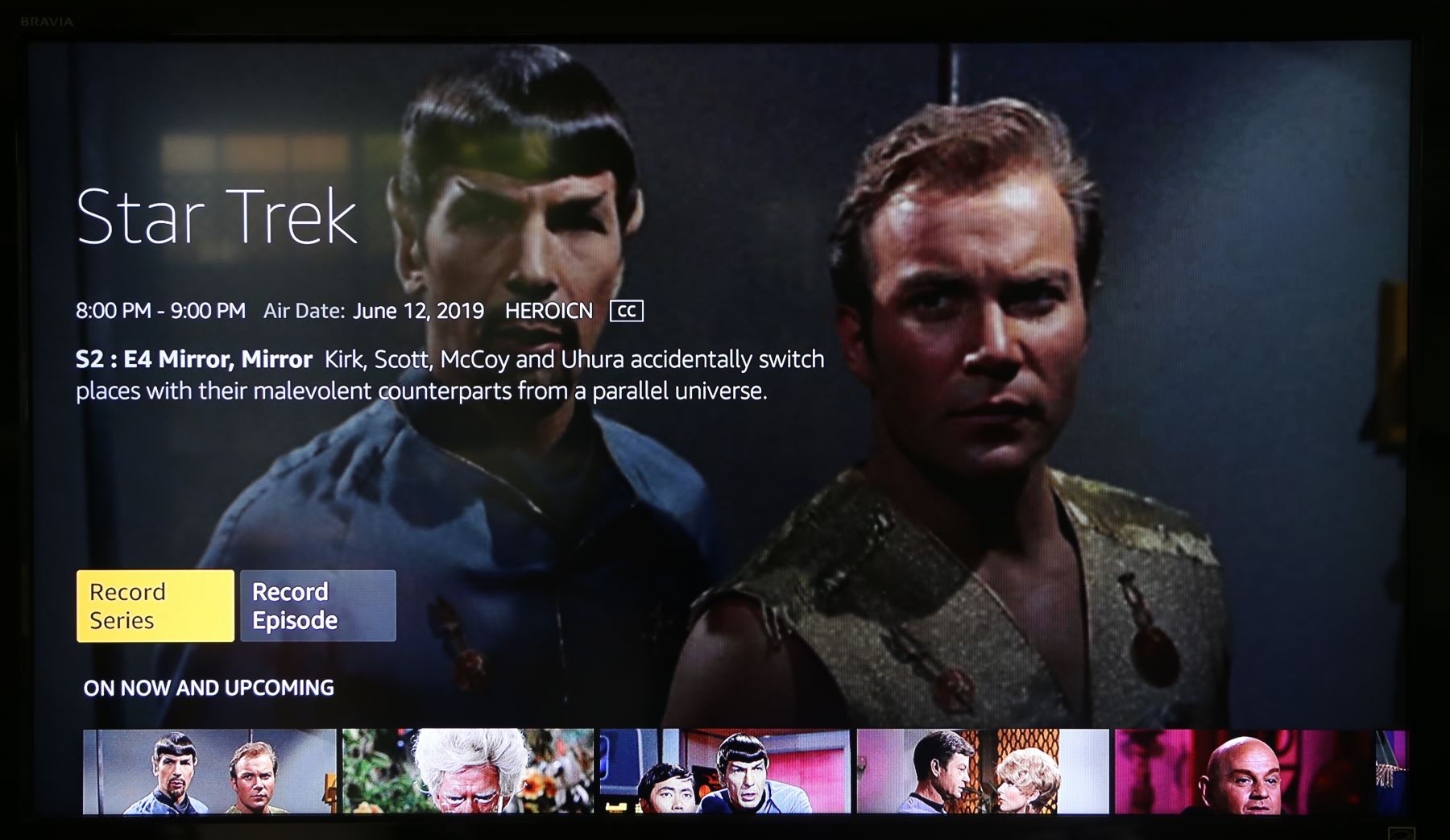 With the Alexa integration, I was also able to just say "record Star Trek Deep Space Nine", and the Recast was set up to record the series. Great!!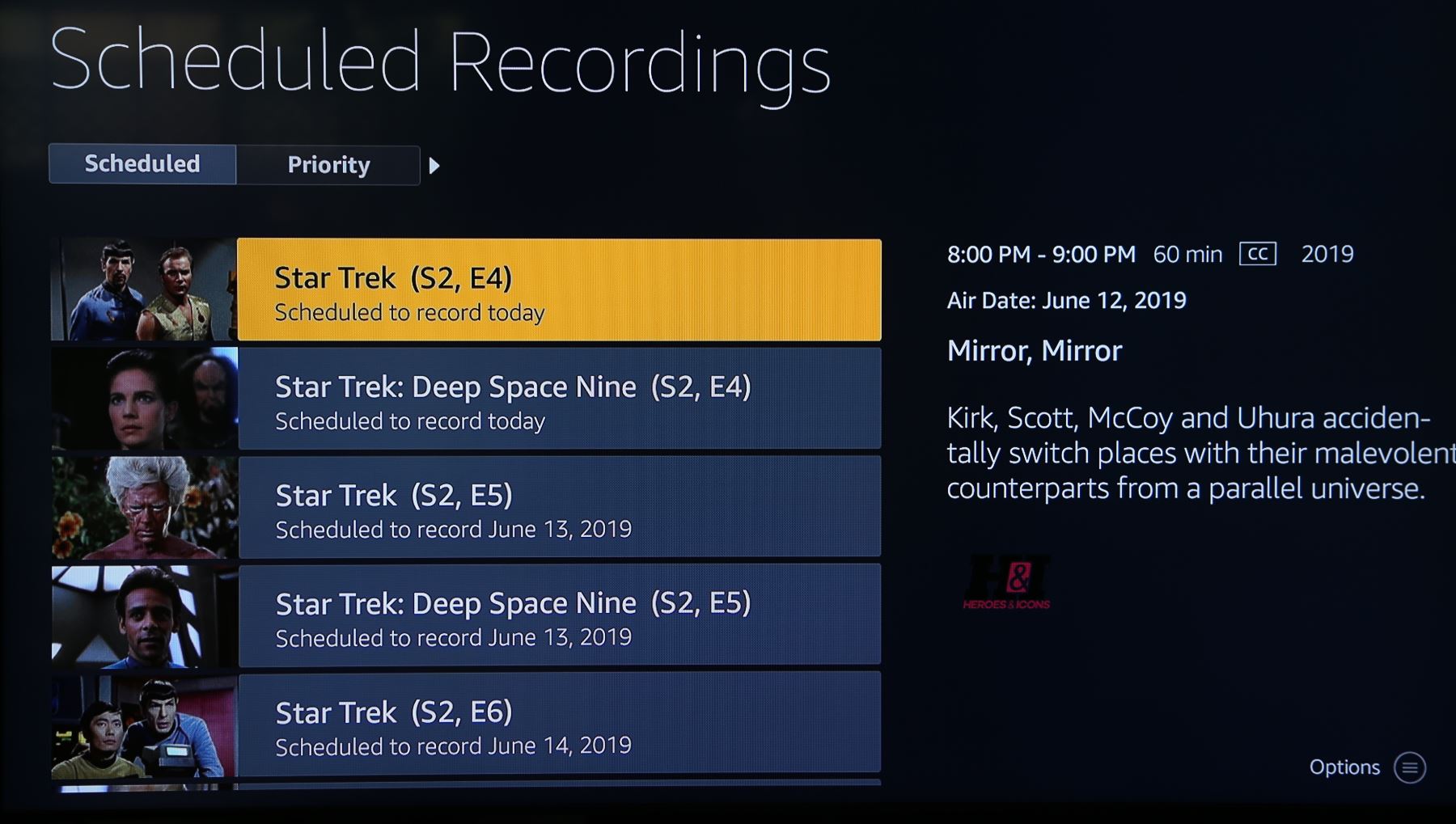 So, setting up recordings on the Recast couldn't be easier!
No Subscription Required for the Channel Guide!
The Tablo requires a small monthly fee or one lifetime fee of $150 for the channel guide. The TiVo has a fee as well.
The great news here is that there's no fee for the channel guide. I was able to scroll out twelve days into the future in the guide before I stopped seeing results!
Two Tuner vs. Four Tuner
I bought the two-tuner version of the Fire TV Recast. That means I can record two programs at once, or watch one live channel while recording another. Or, two people in my home can be watching different live channels on separate TVs or devices.
The four-tuner Recast allows you to record up to four programs at once, but it still only allows you to watch two live programs at the same time. Be aware! This has bitten some folks who have more than two TVs in their homes.
Fire TV Devices Are Required
The Recast has a lot going for it. But, probably the biggest downside for some people will be the fact that it only works with the Amazon Fire TV streaming players. If you have Roku, Apple TV, or other streaming box, you'll have to purchase Fire TV Sticks for all of the TVs you want to watch recordings on. If you're already into the Amazon device ecosystem (as many folks are), this isn't a problem for you.
Note that you can also watch and record shows on your iOS, Android, or Kindle device. However, on my iPhone 7 it took about 12 seconds to buffer up a live TV show before I could view it.
Also, there's no way to watch your recordings in a web browser, unfortunately. If you want to do that, check out Tablo. For me, this is kind of a big deal because sometimes I like to watch TV in a small window on my computer.
Conclusion
After reading some mixed reviews on the Recast, I was actually pretty impressed after I used it myself. Having the hard drive included made setup easy. Sure, the user interface was not so intuitive to me at first, but I quickly got over that. The Alexa integration was super slick!
If you love using Alexa, you'll love the ability to change channels, schedule recordings, skip ahead, and so forth, using voice commands.
Amazon Fire TV Recast Pros:
No fee for the channel guide
Can watch on multiple TV's with Amazon Fire TVs
Native Amazon Silk web browser
Integrated with Alexa
Good picture quality
Cons:
Requires an Amazon Fire TV or smartphone to watch recordings. Won't work with Roku.
Can't watch recorded shows on a computer web browser like you can with Tablo.
I would recommend the Recast as a whole-home broadcast TV DVR solution if you already own Fire TV sticks or boxes!
Questions? What do you think of the Recast? Please comment below. – Brian