UPDATE: My recommendation for the best "whole home" broadcast TV recording solution used to be the Tablo line of DVRs by Nuvyyo (Nu-vee-o). They work great, but unfortunately, they have eliminated the lifetime channel guide subscription option, and the channel guide now requires a monthly or annual fee. I will be reviewing the latest crop of DVRs on the market to see if one with a lifetime subscription works as well as the Tablo, so stay tuned and subscribe to this blog to see when I publish the results.
Note, the Tablo works with a TV antenna; it won't record cable TV or streaming apps. For most Tablo models, you'll need a Roku or other streaming player to watch your recordings. The newer models also have HDMI output so you can plug them directly into a TV.
What is Tablo?
Tablo is a small black box that you plug your antenna into. The original Tablo models required an external USB hard drive (which you had to supply) to store recordings (unless you use their cloud recording feature, which will have a fee so I didn't review it). Some of the newer Tablo models have mass storage built-in.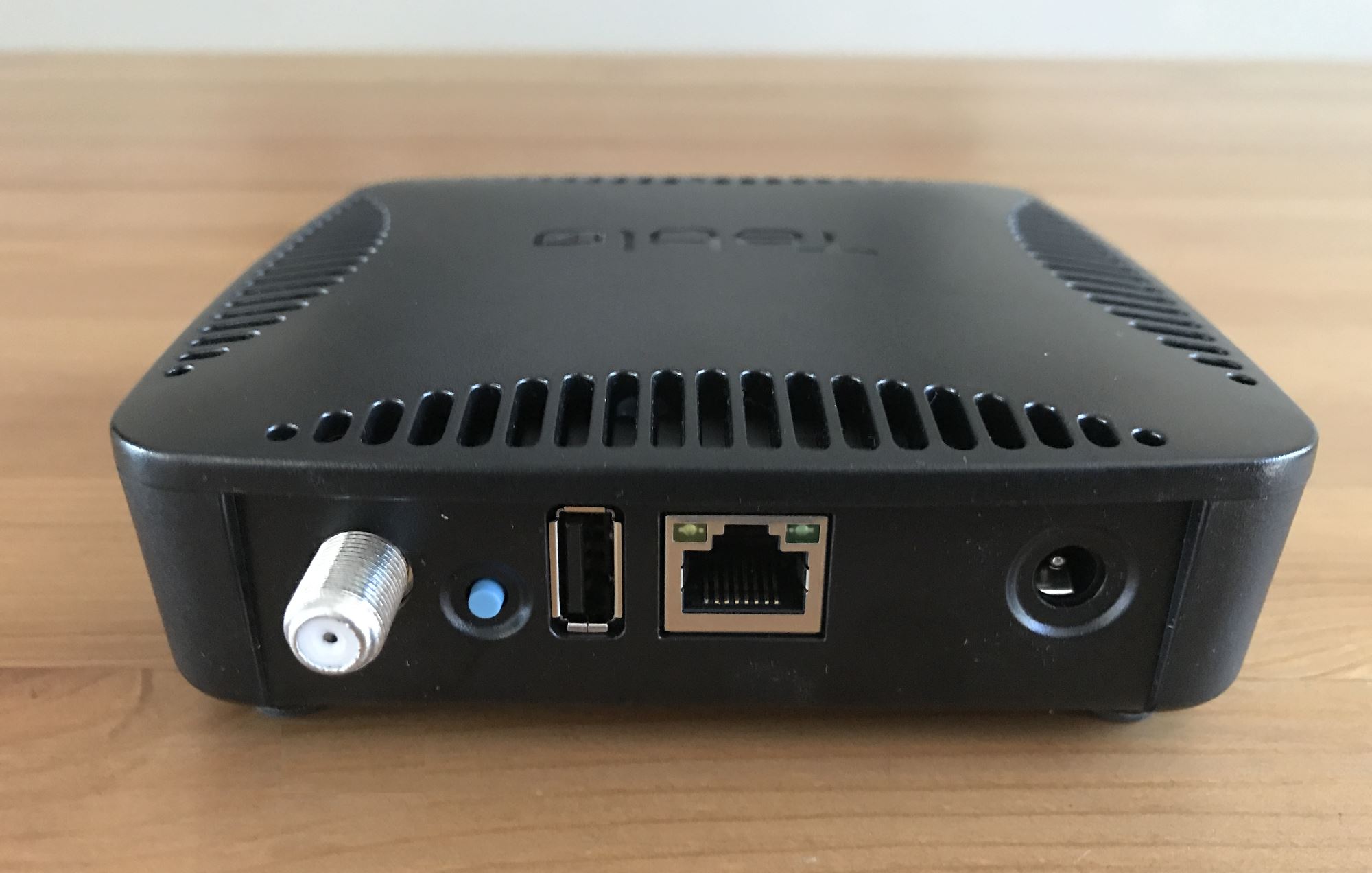 Tablo connects to your home Wi-Fi or wired network. Tablo transmits live TV and your recordings to other devices on the network such as computers, tablets, smartphones, Roku, Apple TV, Amazon Fire, Chromecast, and now, Xbox. With one Tablo, you can play live TV and your recordings back on any of these devices.
Thus, you can use one antenna to stream live TV (or recorded TV) to all of the TVs in your home, or even to your phone while you're traveling! Or, you can watch your recordings at someone else's home if you log into the Tablo app on their device.
The Tablo Dual has two tuners, so you can play or record two channels at the same time. There is also the Tablo Quad which can stream or record four shows at the same time.
Where's the Tablo Remote Control?
Many folks have asked me what kind of remote control Tablo uses. The answer is, there is no Tablo remote control for the regular (non-HDMI) units. You'd use the remote for whatever device you're using to control your Tablo. The Tablo with HDMI does come with a remote control.
To clarify, in order to make and view Tablo recordings, you can control it through the Tablo app running on a streaming box or smart TV, or a browser on a computer.
So, if you're using a Roku to view your Tablo recordings, you'd be using Roku's remote to control the Tablo app. If you're using a smart TV, you'd be using your TV's remote. If you're watching on a computer, you'd use your computer's keyboard and mouse. If you're using a Tablo with HDMI, it comes with a remote.
Which Version Should You Get and Why?
For most people, I would recommend the Tablo Dual HDMI. That has two tuners (so you can watch one show while recording another), and HDMI output so you can connect it directly to a TV if you choose. Plus, it comes with a remote.
If you want to be able to record multiple shows simultaneously, you can get the Tablo Quad Dual HDMI.
If you don't plan to connect your Tablo directly to your TV, (for example, if you want to put your antenna in your attic or skylight), you can save some money and get a Tablo without HDMI. But, you don't get a remote control with these, and the savings is not that large.
The specific model I test in this article is the Tablo Dual Lite for $136 (without HDMI). This is the lowest-cost Tablo model, but it requires an external USB hard drive sold separately. These are not hard to come by; you can purchase one at almost any computer/electronics store, or you might already have an old USB hard drive lying around (as I did).
If you want to get up and running without an external hard drive, I would recommend the Tablo Quad 1TB.
Benefits
The most obvious benefit is that you can make and playback recordings on any TV in your home that is attached to one of the compatible set-top boxes. It's a whole-home recording solution!
But, I was surprised to find that I also enjoyed watching TV on my computer's browser and on my iPad. That was something I did not expect! In effect, it turned my computer screen into another TV. This could be great if you have people fighting over TVs in your home. Very cool!
Another benefit is that if you have multiple TVs, you only need one antenna with Tablo, and you don't need to buy separate antennas or run coax cable all throughout your house to get broadcast TV. Tablo does it all wirelessly with one antenna!
Finally, you can put your Tablo and your antenna anywhere in your home, as long as it's in Wi-Fi range. It doesn't have to be next to your TV. You can put it in your attic, where it can get better reception, or in a closet, just as long as the antenna is somewhere with a good line-of-site to the stations.
Setup
Tablo was easy to set up. I plugged in power, an antenna, and a hard drive and then started the Wi-Fi setup process. I used an iPad to connect to Tablo's Wi-Fi network, then entered my home Wi-Fi name and password (note I had to use my non-5GHz network). I also had to do two firmware updates, but that wasn't difficult. After that, I let the Tablo scan for broadcast TV signals.
I used a ten-year-old USB hard drive I had lying around, and Tablo worked just fine with it. So for me, the hard drive was virtually "free". If you don't have a spare external USB hard drive though, you'll have to purchase one, which does add to the overall cost of ownership.
Tablo did a pretty good job of finding TV signals, finding about the same number of channels as my Sony TV.
User Interface
Next, I checked out the Tablo user interface in a browser on my computer. From the get-go it was gorgeous, presenting TV shows, movies, and sporting events in a nice Netflix-style grid (if you have a subscription – more later). All of the movie and TV show artwork was there. I actually felt like I had Netflix at times!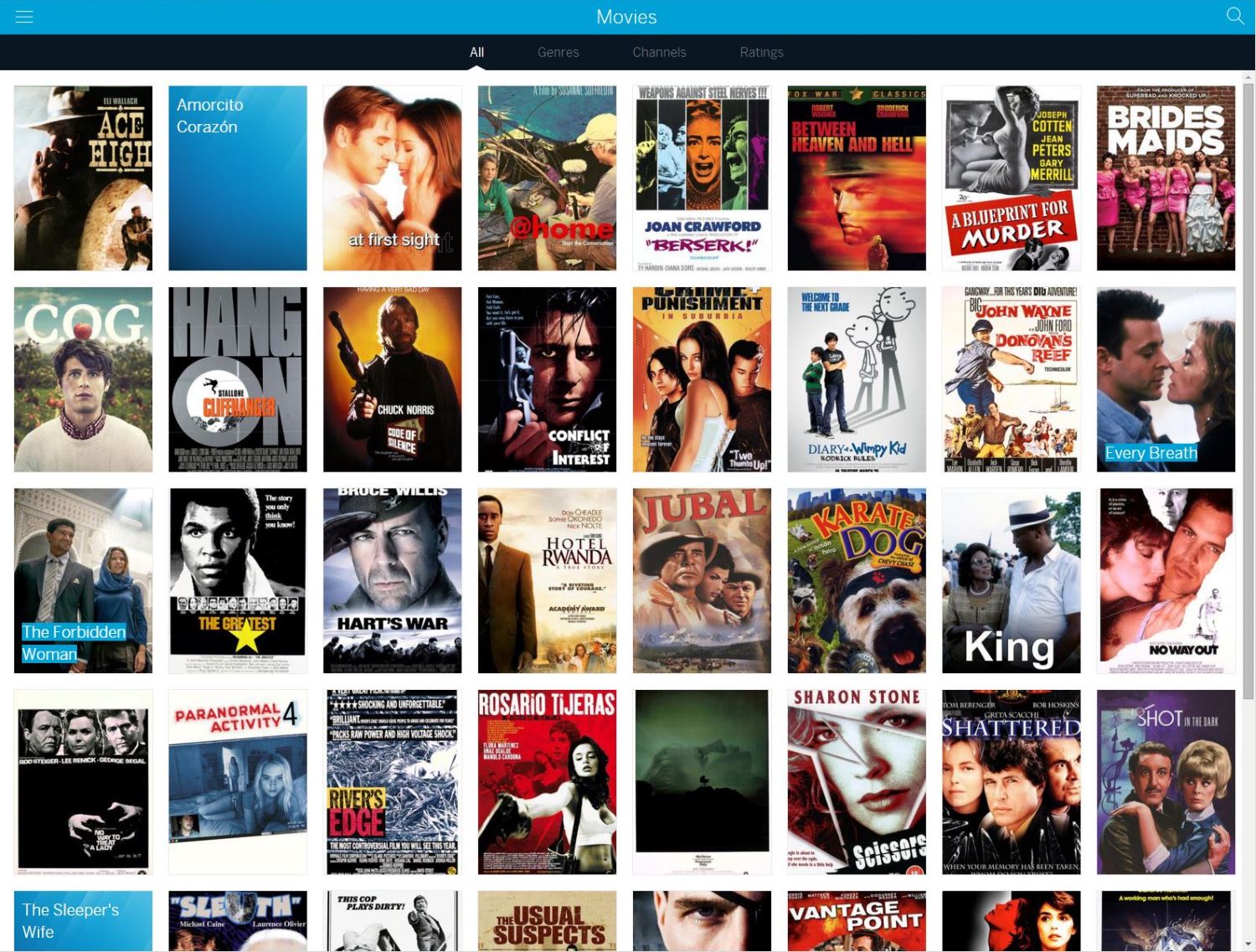 Note, this is based on using the Tablo channel guide subscription which expires after a month and is $4.99/month. More on this later.
Live TV
To watch live TV, select that in the menu and you'll see a program guide. Simple select the channel you want to view.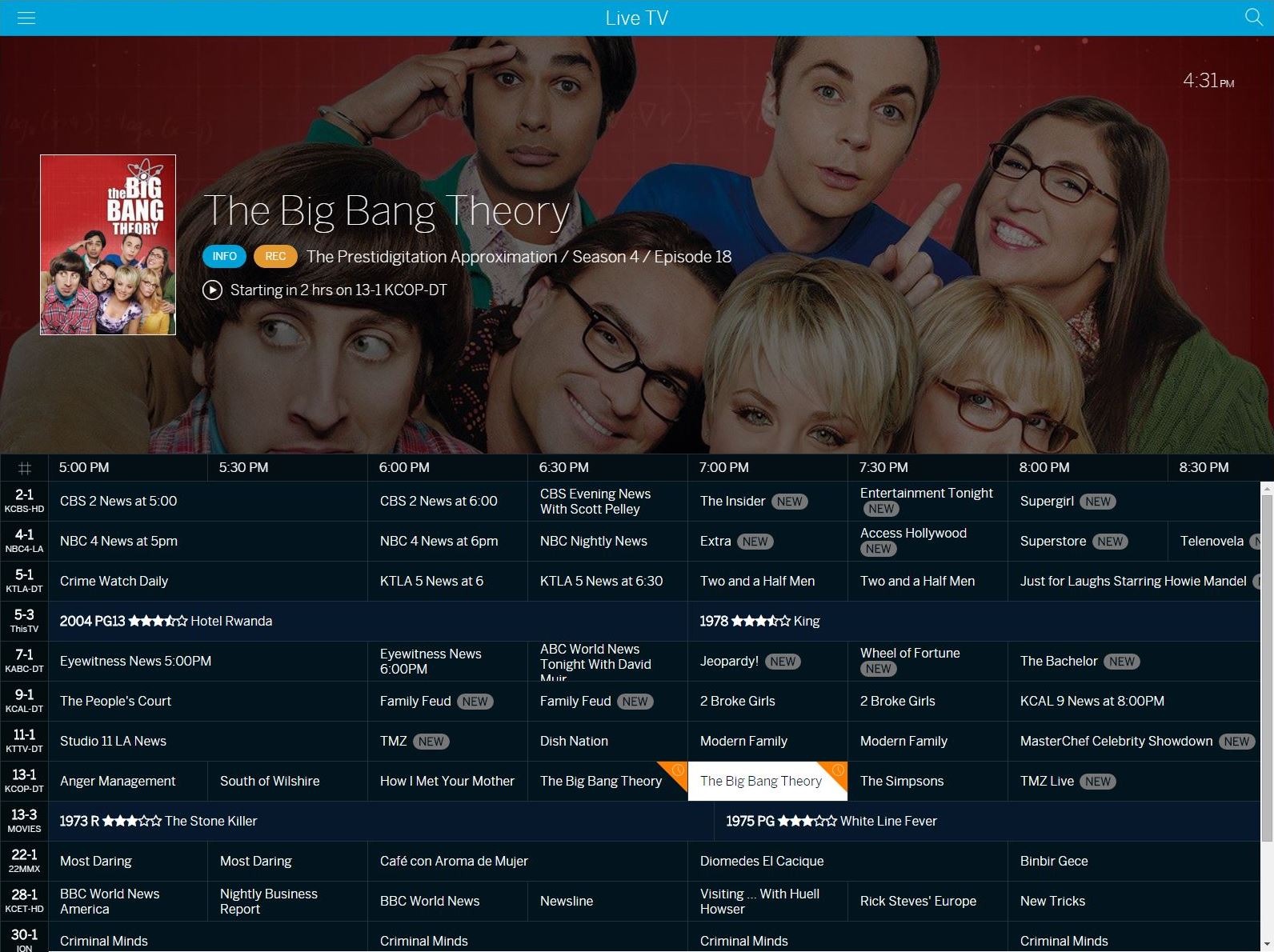 You can adjust the quality based on your network speed. I used the recommended HD 720 5Mbps and I was happy with that. You can go up to HD 1080 10Mbps though. Picture quality won't be quite as good as raw broadcast TV, but the difference didn't bother me, and it's still better than satellite or cable TV picture quality.
You can pause and rewind live TV (back to the time you started watching that channel).  For live TV and in-progress recordings, you will not see the video while recording, so you have to kind of guess if you're trying to skip over a commercial.
However, on recorded programs, you will see a sped-up preview image as you fast forward.
In older versions of Tablo software, it took up to 17 seconds to change channels, which was a real bummer! This has improved with subsequent software revisions, and now it takes about 6 seconds to switch channels for me. Still not ideal for surfing, but much better!
You also have the channel guide. Most of the time, I don't channel surf by going from one channel to the next but rather I step through the guide and only watch things that look interesting.
Recording
Scheduling a recording is super easy. Just click on a show, movie, or sporting event in any of the grids, then choose which episodes (if there are several) to record.
If you are subscribing to their directory service, you can easily record the entire season of a show (also known as a "season pass" feature), so that you don't have to set up the recording every week.
Recording quality was great. No dropouts (other than due to reception problems) or crashes during playback. I like the fact that if you pause playback, watch other shows, and come back to your recording, it will remember where you left off. That is key!
If you want to download your recordings for viewing offline, there is an Android app called ota2GO. I have not tested it but it's pretty highly rated in the Android store.
Unfortunately, Tablo has eliminated the channel skip feature, which actually was popular among users. Read more about it here.
The Subscription
One big caveat here is that my review is based on using the one-month free trial of the Tablo channel guide. This is what delivers the beautiful Netflix-style grid and cover art. After the first month, the subscription costs $4.99 per month, or $49.99 per year (unfortunately the $150 lifetime deal is no longer offered)
If you don't want to pay, you can still get a "manual mode" which enables "access to basic recording and Live TV functionality" with one day's worth of channel guide data but no cover art or recording by series.
After my 30-day free subscription expired, I tried out manual mode and boy did I miss the subscription! It's easy to record one of those shows. If you want to record a show more than 24 hours out, you have to do it manually, which is a non-starter for most people.
So, even though I hate paying monthly fees, I would say subscribing is almost a "must" if you want to do any recording. The grid is so nice that it makes me feel like I have Netflix even though I don't!
Customer Service
After owning my first (previous-generation) Tablo for over a month, I powered it down to do some tests and when I powered back up, I was unable to connect to it by Wi-Fi.
I emailed Tablo support and got a response within 24 hours, but still was not able to connect. They suggested that I call their support line, 1-844-TABLOTV (822-5688). After two rings, a support person picked up.  The call went right to someone who could help me – no menus, no waiting – amazing!!
He was able to walk me through the setup process on my iPad and I was up and running again in a few minutes!  A couple of tricks:
Always start the connection process connected to your home network, not the Tablo's network.  That was one of the mistakes I had made.
It might also have helped to delete the existing Tablo from the Tablo iPad app by tapping the "Edit" button in the upper right corner of the app.
So, although I had a little hiccup in functionality, nothing was wrong with my Tablo, and I found out that their customer service is excellent!
Where to Get It
You can get find the Tablo on Amazon: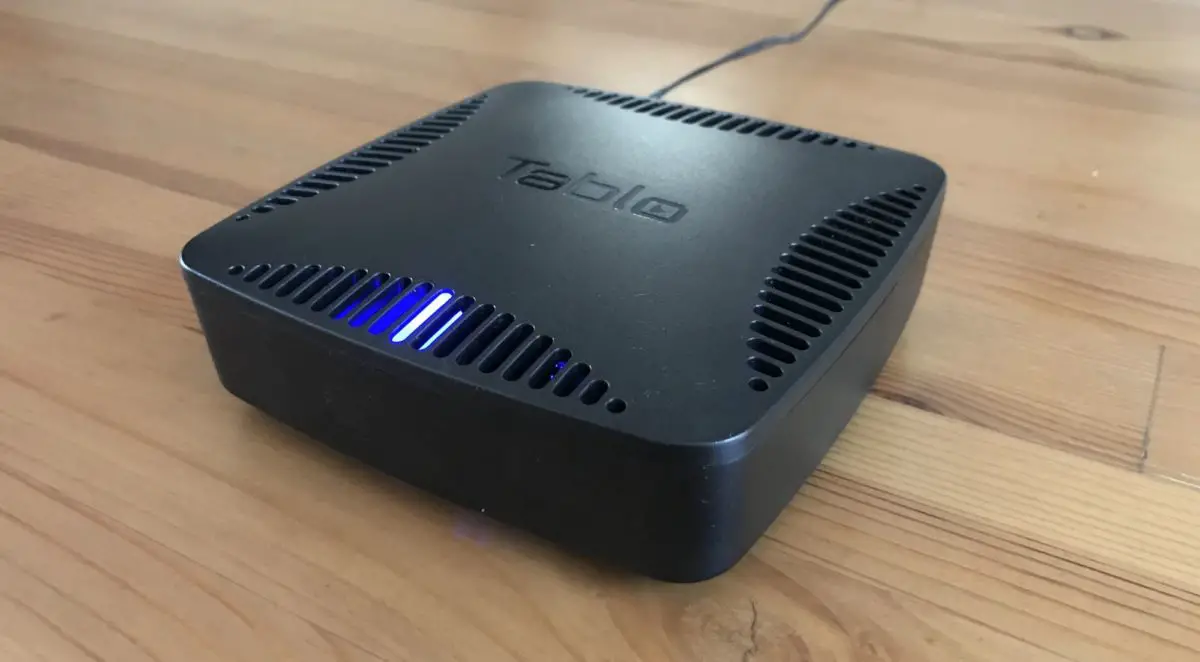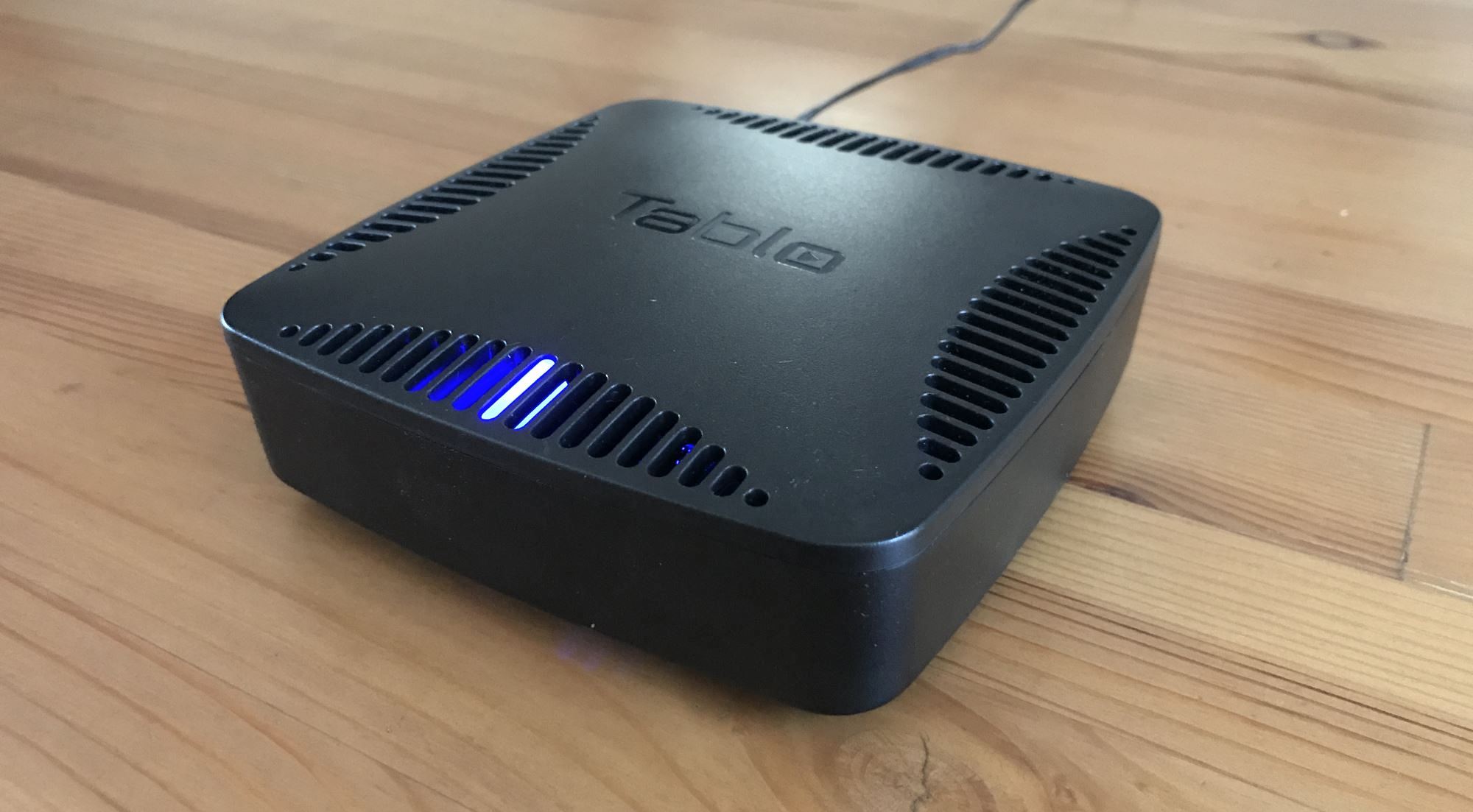 Disclosure: Some of the links on this page are affiliate links. This means if you click on the link and purchase the item, I will receive an affiliate commission at no extra cost to you. I test or research each product or service before endorsing. This site is not owned by any retailer or manufacturer. I own this site and the opinions expressed here are mine. As an Amazon Associate, I earn from qualifying purchases.
Conclusions
Tablo is a great solution for recording broadcast TV when you have multiple TVs, or if you want to watch on multiple devices like computers and tablets. It's much more convenient to set up compared to running coax through your home (unless your home already has it). It's extremely easy to use and reliable.
My two major complaints have been vastly improved in the software.  Changing channels is much better now. You can now see video while fast-forwarding recordings, but still not live TV.
But, I don't like paying monthly fees for the guide. Unfortunately, Tablo has eliminated the lifetime subscription option. Now, you have to pay monthly or annually for the channel guide, which is almost a "must" when using the unit.
Tablo Advantages:
Can record and play back on multiple TVs, computers, tablets, and phones
Does not need to be near a TV; can put in your attic next to your antenna while your TV is in your basement
Easy-to-use interface and channel guide with movie poster artwork
Can use Tablo as an alternative to wiring coax cable throughout your home
Tablo Disadvantages:
You don't see video while rewinding or fast-forwarding live TV (but you do for recorded shows)
Channel tuning speed is much improved but still takes 5-7 seconds
The "nice" channel guide (which is virtually a requirement for recording) requires a $5/month or $50/year subscription. There is no lifetime subscription option anymore.
The channel skip feature has been eliminated.