UPDATE: See this article for a review of the latest Tablo Generation 4 DVR. I'm keeping this older article up for those who have the previous generation Tablo.
Original Article
The Tablo records broadcast TV from your TV antenna; it won't record cable TV or streaming apps. For most Tablo models, you'll need a Roku or other streaming player to watch your recordings. The newer models have HDMI output so you can plug them directly into a TV.
Tablo works in the United States and Canada.
What is Tablo?
Tablo is a digital video recorder (DVR) for broadcast TV. You plug your TV antenna directly into it and it records TV shows and movies. Some Tablo models have internal storage while others require an external USB hard drive to do any kind of serious recording.
The Tablo Dual has two tuners, so you can play or record two channels at the same time. There is also the Tablo Quad which can stream or record four shows at the same time.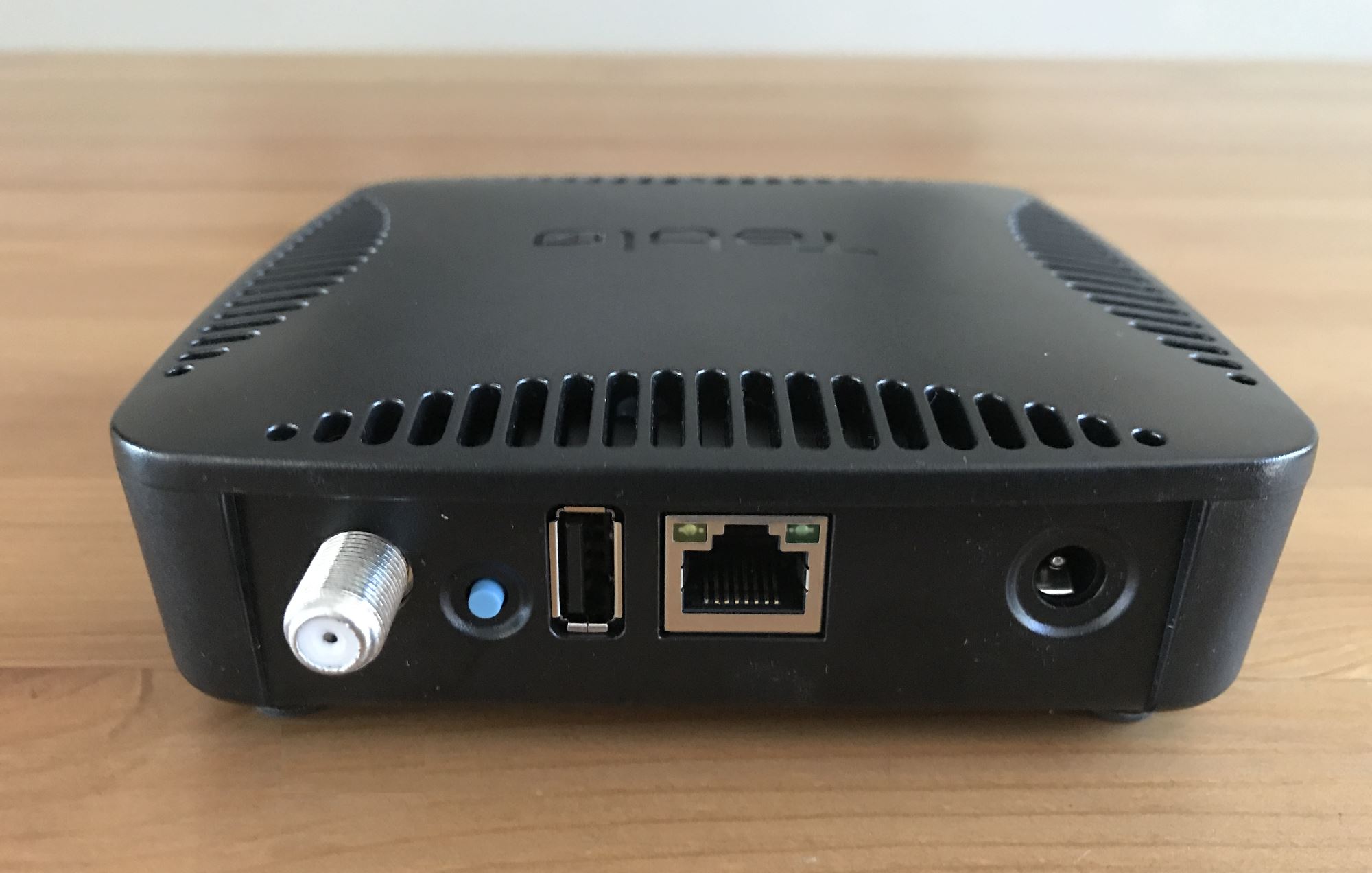 Network-Connected vs. TV-Connected Tablos
Tablo comes in two major flavors: Network-Connected and TV-Connected. Many people (including me, initially), thought that the TV-Connected Tablo was just a regular Tablo with an HDMI output slapped on. But actually, there are some other important differences and limitations of the HDMI model that are immediately apparent!
The original Tablo (not called Network-Connected) lets you watch recordings on streaming boxes Roku, Amazon Fire TV, Apple TV, and others, plus on a browser or Android or iOS mobile device in your home. If you subscribe to the Tablo TV Guide Data Service, you can also watch your recordings anywhere using your phone or other Internet-connected device, which is pretty cool.
The TV-connected Tablo connects directly to your TV via its HDMI output comes with a remote control. You can only watch recordings from other TVs in your home with a subscription to the Tablo TV Guide Data Service! You cannot watch your recordings in a browser or mobile device or Apple TV, even with the Tablo TV Guide Data Service!
To sum up, a TV-Connected Tablo is NOT just a regular Tablo plus HDMI!!!!
Which Version Should You Get and Why?
The differences I've pointed out make it more tricky to decide which kind of Tablo to get.
If you want the absolute best picture quality on one TV in your home at least, then the TV-Connected Tablo's HDMI output will give you better picture quality than watching through an app. But, with this type of Tablo, you won't be able to watch your recordings when you're away from home, even if you subscribe to the Tablo TV Guide Data Service.
A Network-Connected Tablo gives you the flexibility to put your Tablo anywhere in your home, not just right next to your TV. This might be really appealing if you have your antenna in your attic, and you don't want to run coax all the way to your TV. Instead, you can just put your Tablo in your attic, the watch it using Rokus (or other devices) on your TVs!
A Network-Connected Tablo also lets you watch your recordings on your mobile device from anywhere, as long as you subscribe to the Tablo TV Guide Data Service.
For these reasons, I would recommend a Network-Connected Tablo for most people. Personally, I like watching TV from my computer browser and on my phone, and I like putting my Tablo near my antenna rather than near my TV.
Network-Connected Tablo Setup
My Network-Connected Tablo was easy to set up. I plugged in power, an antenna, and a hard drive and then started the Wi-Fi setup process. I used an iPad to connect to Tablo's Wi-Fi network, then entered my home Wi-Fi name and password (note I had to use my non-5GHz network). I also had to do two firmware updates, but that wasn't difficult. After that, I let the Tablo scan for broadcast TV signals.
I used a ten-year-old USB hard drive I had lying around, and Tablo worked just fine with it. So for me, the hard drive was virtually "free". If you don't have a spare external USB hard drive though, you'll have to purchase one, which does add to the overall cost of ownership.
Tablo did a pretty good job of finding TV signals, finding about the same number of channels as my Sony TV, although it didn't find as many channels as my more modern Samsung TV.
User Interface: Tablo's Killer Feature
Next, I checked out the Tablo user interface in a browser on my computer. From the get-go it was gorgeous, presenting TV shows, movies, and sporting events in a nice Netflix-style grid (if you have a subscription – more later). All of the movie and TV show artwork was there. I actually felt like I had Netflix at times!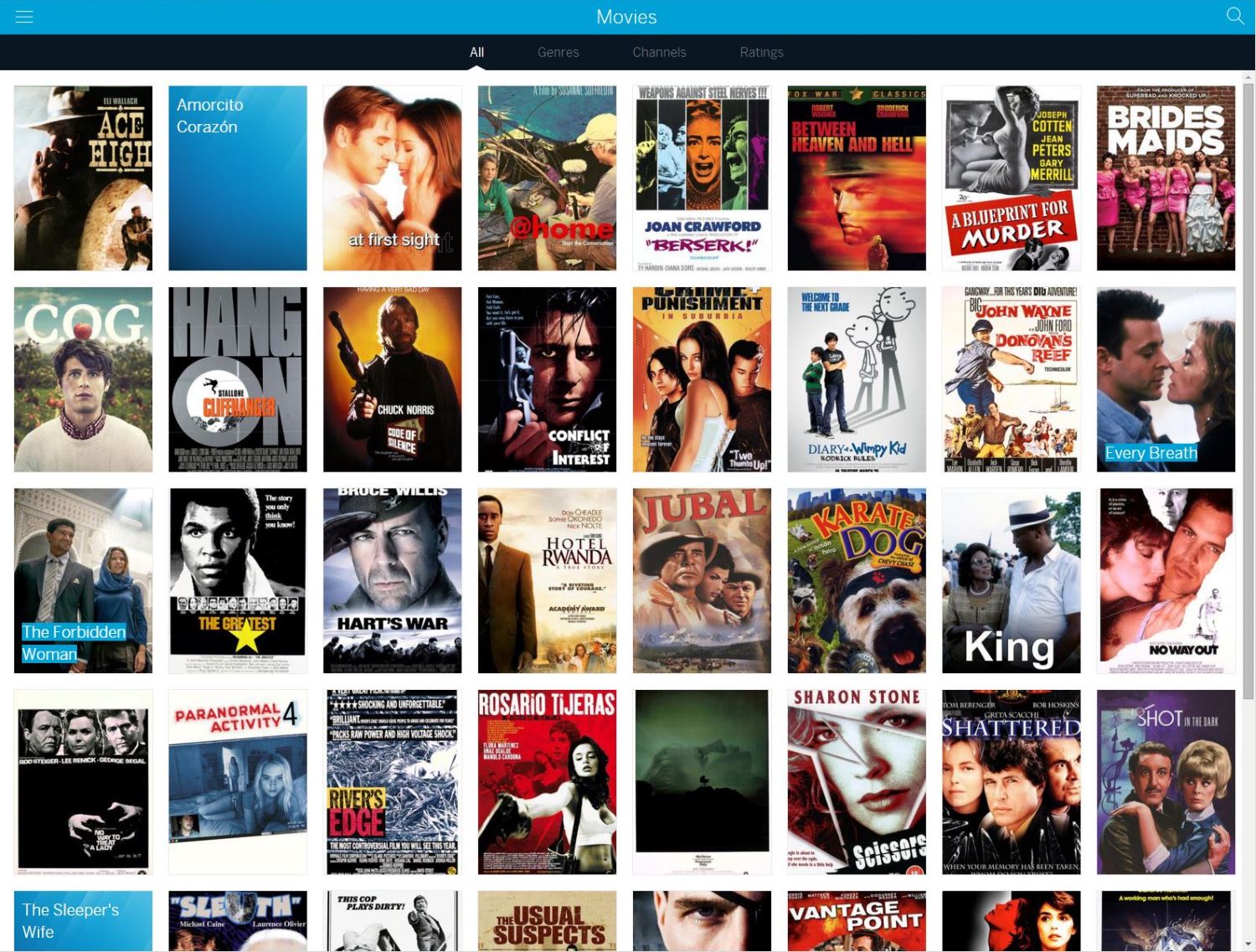 This is Tablo's killer feature. It makes finding new content to record really fun and easy. Just check it ever so often and pick stuff to record! I haven't found this on other DVRs that I've tested so far.
Note, grid requires the Tablo TV Guide Data Service, which expires after a month and is $4.99/month or $49.99 per year after that.
Live TV
To watch live TV, select that in the menu and you'll see a program guide. Simply select the channel you want to view.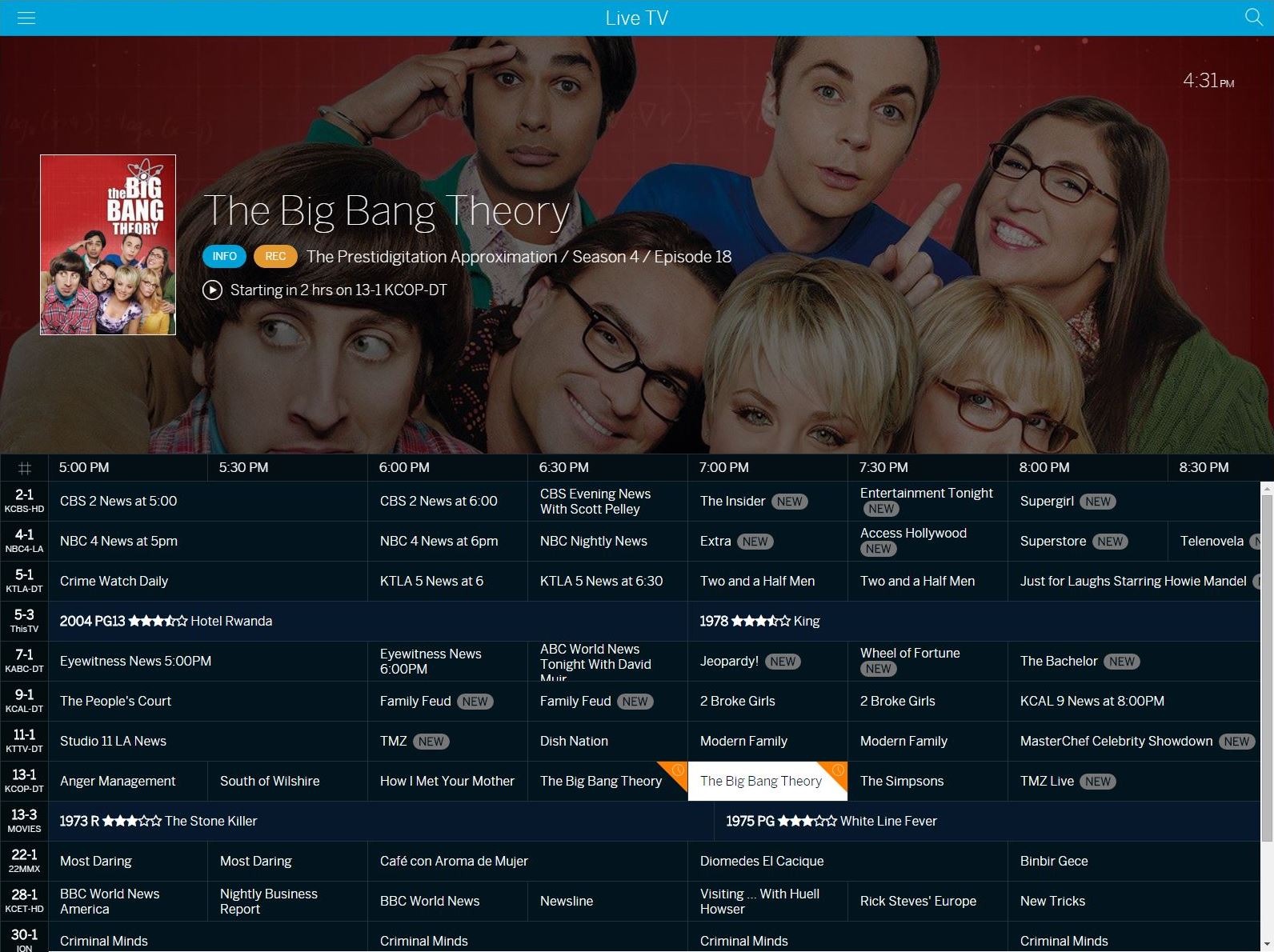 You can adjust the quality based on your network speed. I used the recommended HD 720 5Mbps and I was happy with that. You can go up to HD 1080 10Mbps though. Picture quality won't be quite as good as raw broadcast TV, but the difference didn't bother me. Of course, the picture quality is best on a Tablo with HDMI output connected directly to your TV.
You can pause and rewind live TV (back to the time you started watching that channel).  For live TV and in-progress recordings, you will not see the video while recording, so you have to kind of guess if you're trying to skip over a commercial.
However, on recorded programs, you will see a sped-up preview image as you fast forward.
In older versions of Tablo software, it took up to 17 seconds to change channels, which was a real bummer! This has improved with subsequent software revisions, and now it takes about 6 seconds to switch channels for me. Still not ideal for surfing, but much better!
You also have the channel guide. Most of the time, I don't channel surf by going from one channel to the next but rather I step through the guide and only watch things that look interesting.
Recording
Scheduling a recording is super easy. Just click on a show, movie, or sporting event in any of the grids, then choose which episodes (if there are several) to record.
If you are subscribing to their channel guide service, you can easily record the entire season of a show (also known as a "season pass" feature), so that you don't have to set up the recording every week.
Recording quality was great. No dropouts (other than due to reception problems) or crashes during playback. I like the fact that if you pause playback, watch other shows, and come back to your recording, it will remember where you left off. That is key!
If you want to download your recordings for viewing offline, there is an Android app called ota2GO. I have not tested it but it's pretty highly rated in the Android store.
Unfortunately, Tablo has eliminated the channel skip feature, which actually was popular among users. Read more about it here.
The Tablo TV Guide Data Service Subscription
One big caveat here is that my review is based on using the Tablo TV Guide Data Service. This is what delivers the beautiful Netflix-style grid and cover art. After the first month, the subscription costs $4.99 per month, or $49.99 per year (unfortunately the $150 lifetime deal is no longer offered).
If you don't want to pay, you can still get "access to basic recording and Live TV functionality" with one day's worth of channel guide data but no cover art or recording by series.
After my 30-day free subscription expired, I tried out manual mode and boy did I miss the subscription. If you want to record a show more than 24 hours out, you have to do it manually, which requires you to know exactly when the show will air.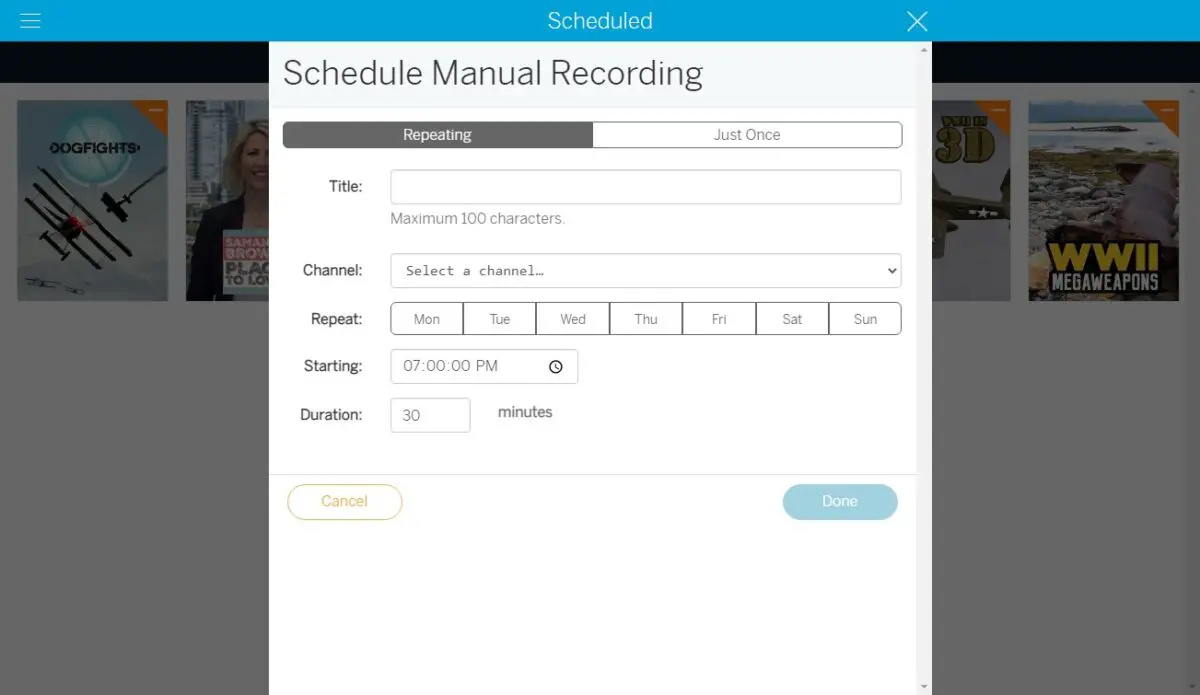 So, even though I hate paying monthly fees, I would say subscribing is highly recommended if you're serious about watching OTA TV. The grid is so nice that it makes me feel like I have Netflix even though I don't!
Tuner Quality
An important part of any broadcast TV DVR is the tuner, because it helps determine how many channels you can get. While the tuner in my Tablo got about the same number of channels that my old Sony TV did, it did not get as many channels as my newer Samsung TV, my AirTV DVR, or my Tivo Edge for Antenna DVR were able to get.
Specifically, it wasn't able to pick up channel 13.4 KCOP Heroes and Icons, a Hi-VHF channel in my market (Los Angeles), while the other tuners had no problem with this channel.
Now, it is possible that Tablo has improved its tuner, as I purchased mine in 2018.
Customer Service
After owning my first (previous-generation) Tablo for over a month, I powered it down to do some tests and when I powered back up, I was unable to connect to it by Wi-Fi.
I emailed Tablo support and got a response within 24 hours, but still was not able to connect. They suggested that I call their support line, 1-844-TABLOTV (822-5688). After two rings, a support person picked up.  The call went right to someone who could help me – no menus, no waiting – amazing!!
He was able to walk me through the setup process on my iPad and I was up and running again in a few minutes!  A couple of tricks:
Always start the connection process connected to your home network, not the Tablo's network.  That was one of the mistakes I had made.
It might also have helped to delete the existing Tablo from the Tablo iPad app by tapping the "Edit" button in the upper right corner of the app.
So, although I had a little hiccup in functionality, nothing was wrong with my Tablo, and I found out that their customer service is excellent!
Conclusions
Tablo is a great solution for recording broadcast TV when you have multiple TVs, or if you want to watch on multiple devices like computers and tablets. It's much more convenient to set up compared to running coax through your home (unless your home already has it). It's extremely easy to use and reliable.
But, I don't like paying monthly fees for the guide. Unfortunately, Tablo has eliminated the lifetime subscription option. Now, you have to pay monthly or annually for the channel guide, which is almost a "must" when using the unit.
Tablo Pros
User interface has a wonderful grid showing upcoming sporting events, movies, and TV shows that allows you to discover new content to record.
Has Wi-Fi.
Can watch live TV and recordings away from home (Network versions only, not HDMI versions).
Easy to set up and use.
Apps for Roku, Amazon Fire TV, iOS and many other platforms.
Tech support is better than that of other DVR companies (I've actually talked to them on the phone).
Tablo Cons
Recurring fee for the two-week channel guide makes this an expensive option ($5/month or $50/year). Lifetime deal is no longer offered.
Tuner may not bring in as many channels as competitors.
Where to Get It
You can get find the Tablo on Amazon: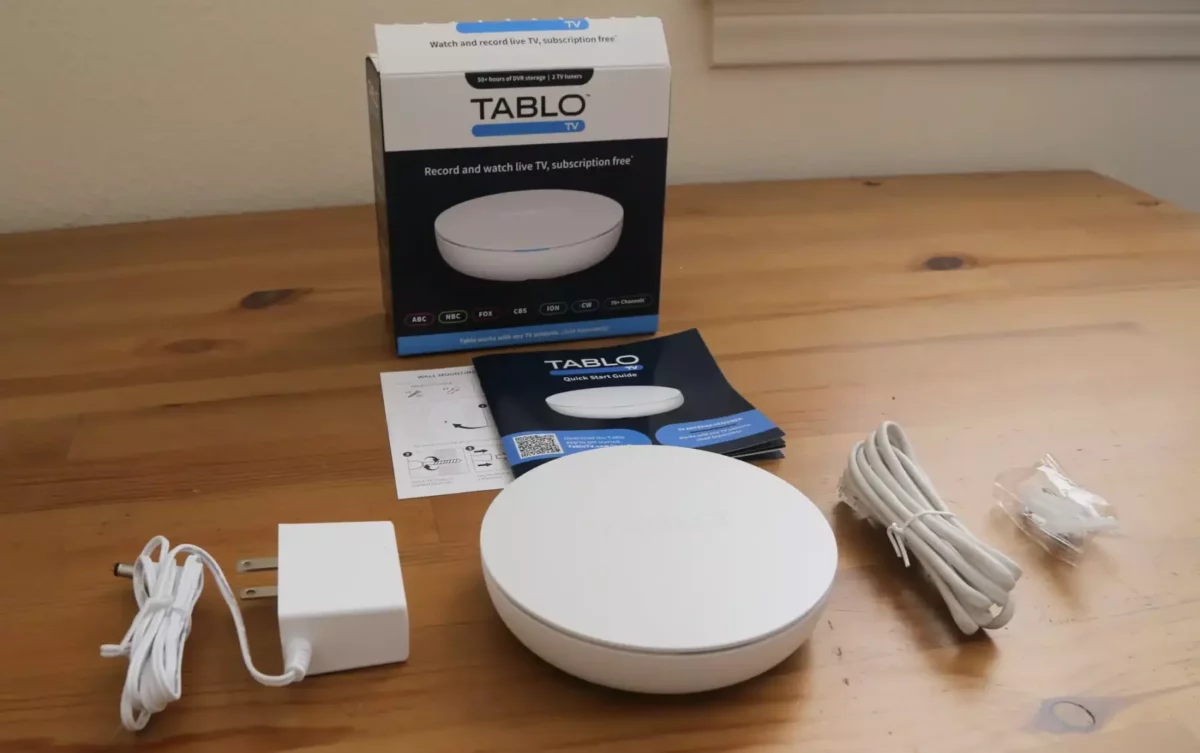 Disclosure: Some of the links on this page are affiliate links. This means if you click on the link and purchase the item, I will receive an affiliate commission at no extra cost to you. I test or research each product or service before endorsing. This site is not owned by any retailer or manufacturer. I own this site and the opinions expressed here are mine. As an Amazon Associate, I earn from qualifying purchases.
For reviews of other DVRs, some of which do not have recurring fees for the channel guide, check out my DVR page.