Back when streaming TV services first came out, they were a great value compared to cable TV. But, just like cable, many streaming TV services started raising their prices. Over the years, some have become just as expensive as cable TV, especially ones that offer live TV.
Nowadays, you can still put together a great package of shows to watch but you have to be smart about which services you pick if you want to save.
Here are my top tips on how to save on the cost of streaming TV.
1. Use the Streaming Service Finder to find the cheapest service
There are so many streaming services out there that it can take a ton of work to figure out which one has the channels you want, and out of those, which is the cheapest. Luckily, I've worked with a service called Suppose TV to bring you a tool that lets you find the best service based on the channels you want.
To use it, click the link below (it works best on a desktop monitor rather than on a small phone screen). In the left column click or type in the channels you want. For example, you might type in "History" or "AMC" or "ESPN". On the right, you'll see all of the services that carry some or all of those channels.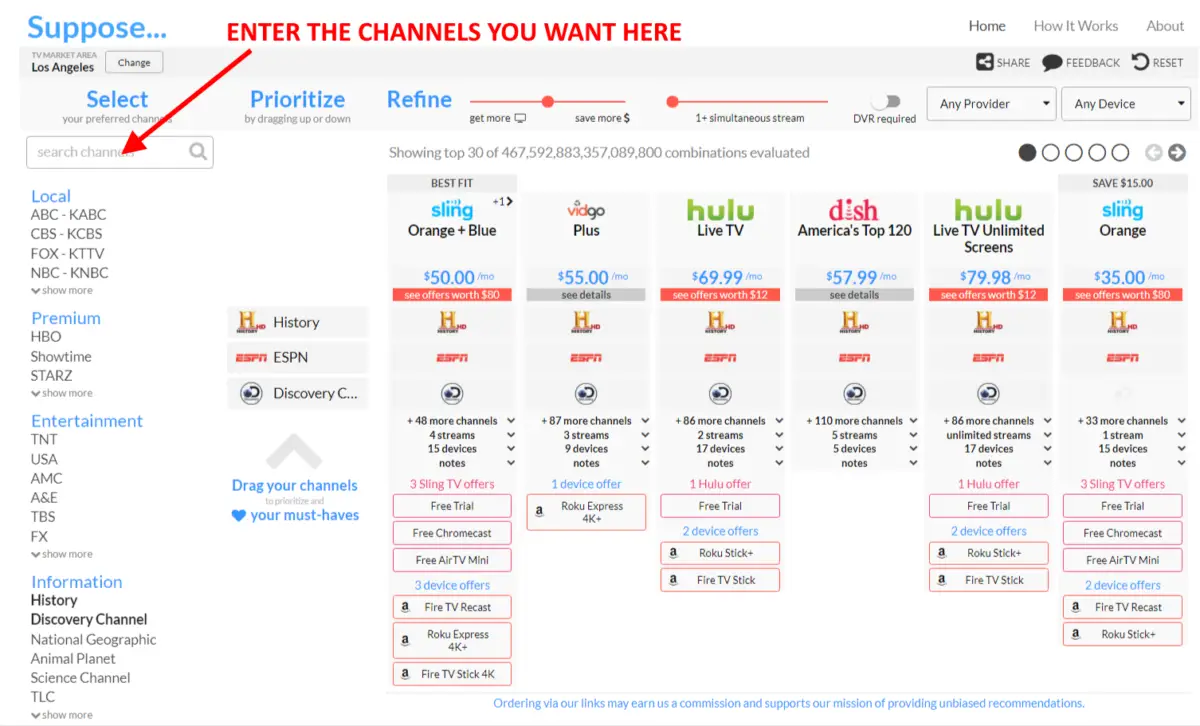 Make to check each result for the logos of the channels you want. Some of the results may not carry all of the channels you selected, but they are shown if they give significant cost savings.
This tool is a great starting point to help you choose the cheapest streaming service that offers the channels you want. Two lower-cost streaming services that I recommend are Sling TV and Philo TV, the latter being great if you don't need sports.
Disclosure: Some of the links on this page are affiliate links. This means if you click on the link and purchase the item, I will receive an affiliate commission at no extra cost to you. I test or research each product or service before endorsing. This site is not owned by any retailer or manufacturer. I own this site and the opinions expressed here are mine. As an Amazon Associate, I earn from qualifying purchases.
2. Use an antenna for live network channels
If you use the Streaming TV Service Finder tool above, you might notice that streaming services start to get really expensive when you add live TV channels like ABC, NBC, CBS, and so forth.
But, if you live in or near a big city, you might be able to get those channels for free using an antenna!
Enter your zip code into the Station Finder to see how many channels are in your area.
While an outdoor antenna will you should be able to get the green channels using an indoor antenna. Here are some I recommend:
If you use a broadcast TV DVR like the Tablo to record live TV, it really turns live TV into more of a streaming TV experience, allowing you to watch shows on your phone as well as your TV (using a Roku).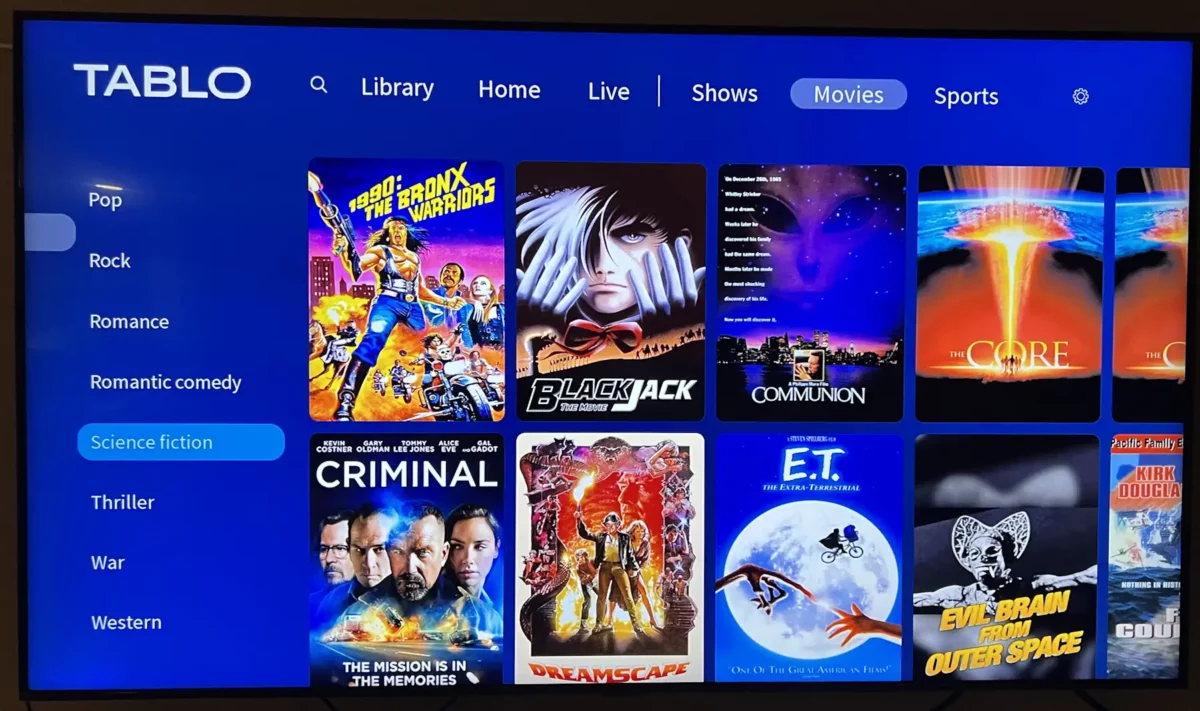 3. Watch, then cancel!
Recurring bills are really insidious. $9.95 per month might not sound like much, but after ten years that is almost $1200! I do everything I can to eliminate recurring subscription charges.
One of the great benefits of modern streaming services is that they are easy to cancel: no equipment to return and no phone call with a pushy cable or satellite TV salesman! Just log in and click a few links!
So, I never stay subscribed to any streaming service longer than a few months. After we had watched all of the Marvel movies on Disney+, for example, we canceled. That took just two months. Same with Hulu.
If you use streaming TV services in this way, they are actually a great bargain!
4. Use free subscriptions
As of this writing, you can get HBO Max with some AT&T phone plans, or Netflix with some T-Mobile plans. Check with your cellular provider to make sure you're not missing out!
If you buy an Apple phone or computer, you get three months of Apple TV+ for free. I used this deal to watch two seasons of Ted Lasso.
5. Check out free streaming services
There are free streaming services out there like Pluto TV, Sony Crackle, and The Roku Channel. Sure, you're not going to find the latest movies on these services, but you'll find some great classics.
Most of the shows I personally watch are on plain old free YouTube. For more free options, see my Streaming TV Service page.
Samsung offers their excellent free Samsung TV+ streaming service, which has the network news shows, CNN Replay, The Walking Dead, Court TV, and many other shows. It's actually a good reason to get a Samsung TV, if you're looking for a new one. It's also available on Samsung Galaxy phones.
Conclusion
I hope these tips will help you save money on streaming TV services. Sometimes if you can live without one or two of the channels you're looking for, you can get a much cheaper streaming TV service and save a chunk of money. And watching less TV might not be such a bad thing! – Brian