If you have an old tube TV or a flat-screen that does not have a digital TV tuner, then the only way you can watch free broadcast channels on that TV is to get a digital converter box, or tuner box, as it is sometimes called.
You plug your TV antenna into the box, then you connect your box to your TV. It converts the signal either to an analog signal that your old TV can use, or to a digital HDMI signal that you can plug into a more modern HDTV.
Many of these boxes today have a USB port where you can plug in a USB drive or stick. You can then record broadcast TV shows for viewing later.
My Recommended Converter Box: The Mediasonic HOMEWORX HW130STB
There are many converter boxes on the market today with almost the same feature set. At just $30, the Mediasonic HOMEWORX HW130STB is one of the lower-cost units out there, but it has pretty much the same features as more expensive boxes.
Setup and Channel Search
I found the setup for the Mediasonic HOMEWORX box to be very easy. I never consulted the manual. I plugged in an antenna, plugged in power, then plugged it into my flat-screen Sony TV using an HDMI cable. Note that if you're using it with an old tube TV, you'd use the included analog cables instead.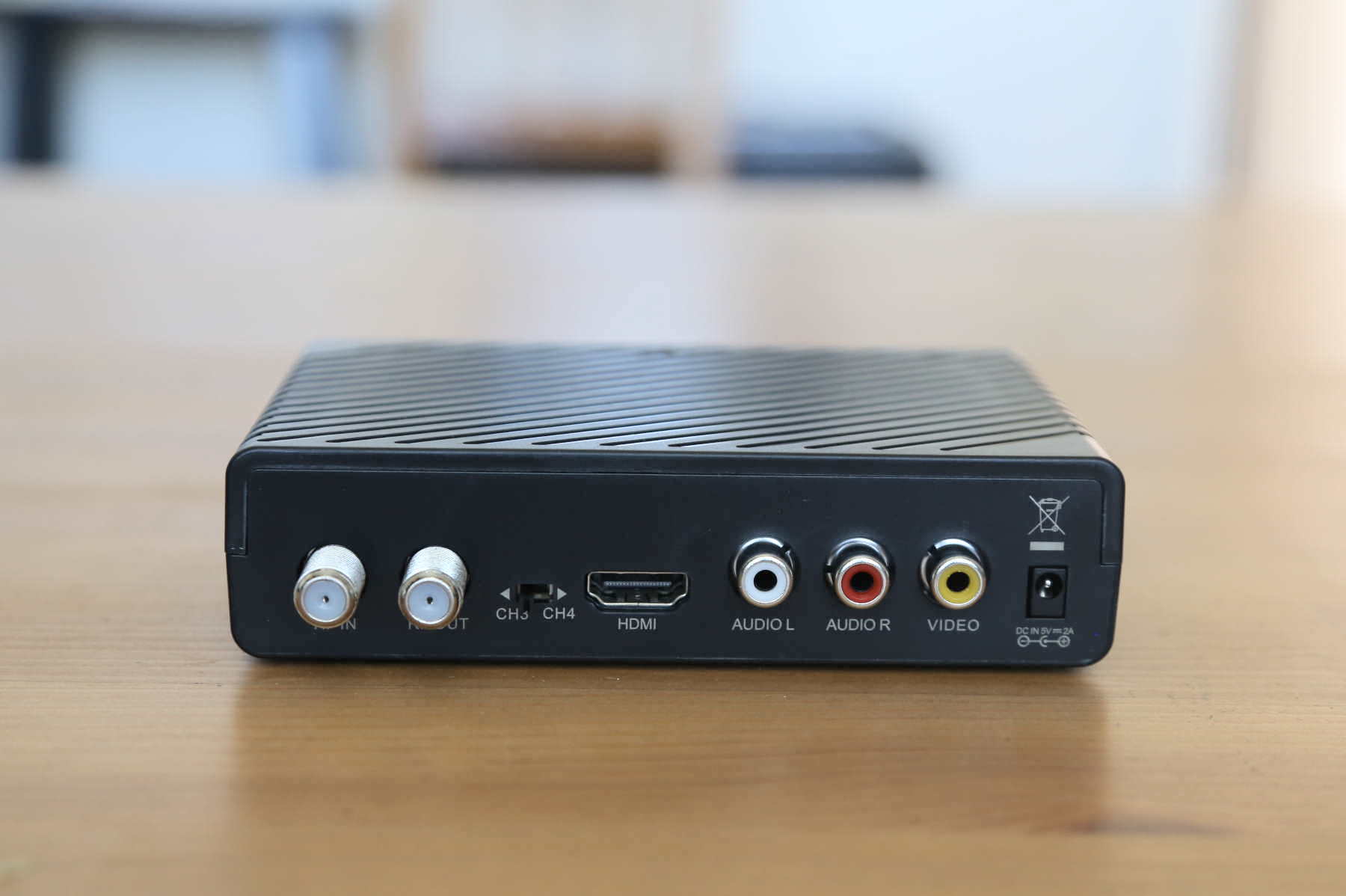 After turning on my TV and selecting the appropriate HDMI input, I got the setup screen prompting me to do a channel search: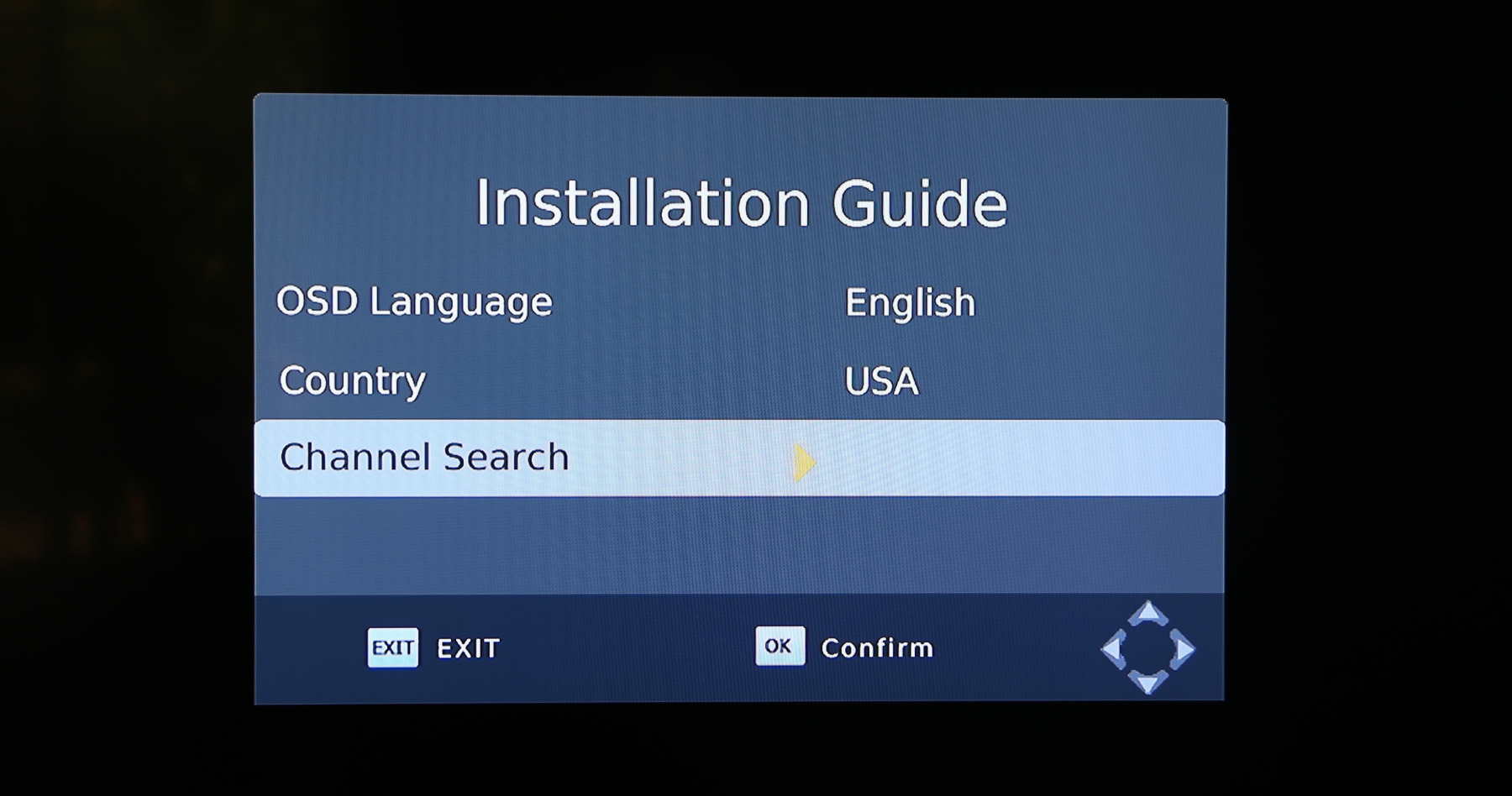 I kicked off the channel search by pressing the big OK button on the remote and it only took the unit a few minutes to do a complete channel scan: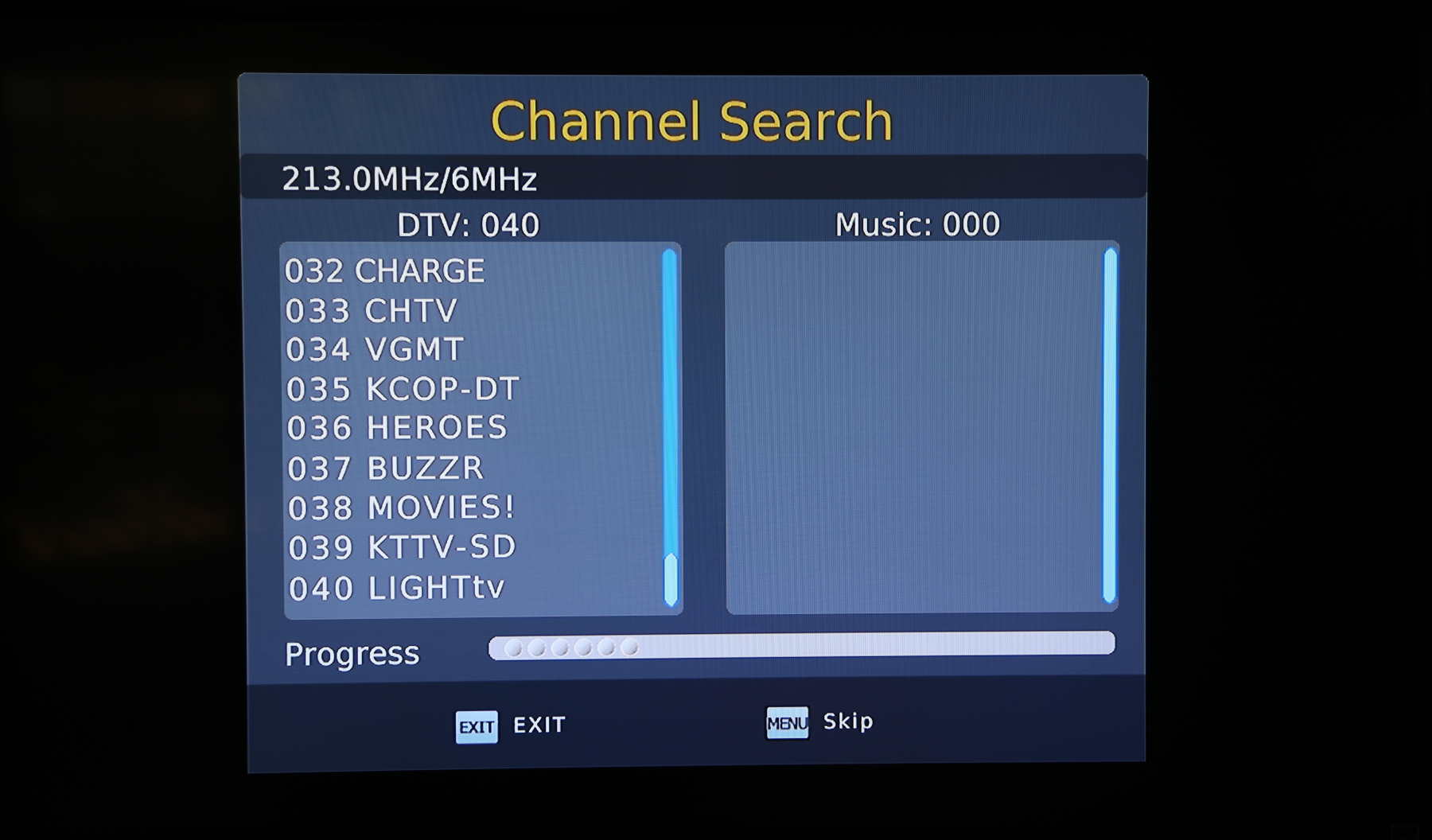 After that, I could start watching live broadcast TV. Pretty simple!
Tuner Quality
The unit found 140 channels in its scan. For comparison, my excellent Sony HDTV found 154 channels.
So, the tuner is not quite as good as my Sony, but the vast majority of the channels it didn't find were ones I wouldn't watch anyway, i.e., foreign language, etc. It found all of the major networks and major local channels in my area (Los Angeles).
So, the tuner quality was more than sufficient for me.
Picture Quality and Channel Surfing
I was surprised that such a cheap unit could have such good picture quality. It was basically indistinguishable from my Sony TV's picture quality! HD channels looked crisp and colorful.
The unit was also pretty quick when changing channels. Time to change channels was about the same as my Sony.
The Weak Link: The Remote Control
The one annoying thing I noticed was that you have to point the remote control right at the unit. If you're off by a bit, it won't register. It's not the end of the world, but it would take some getting used to.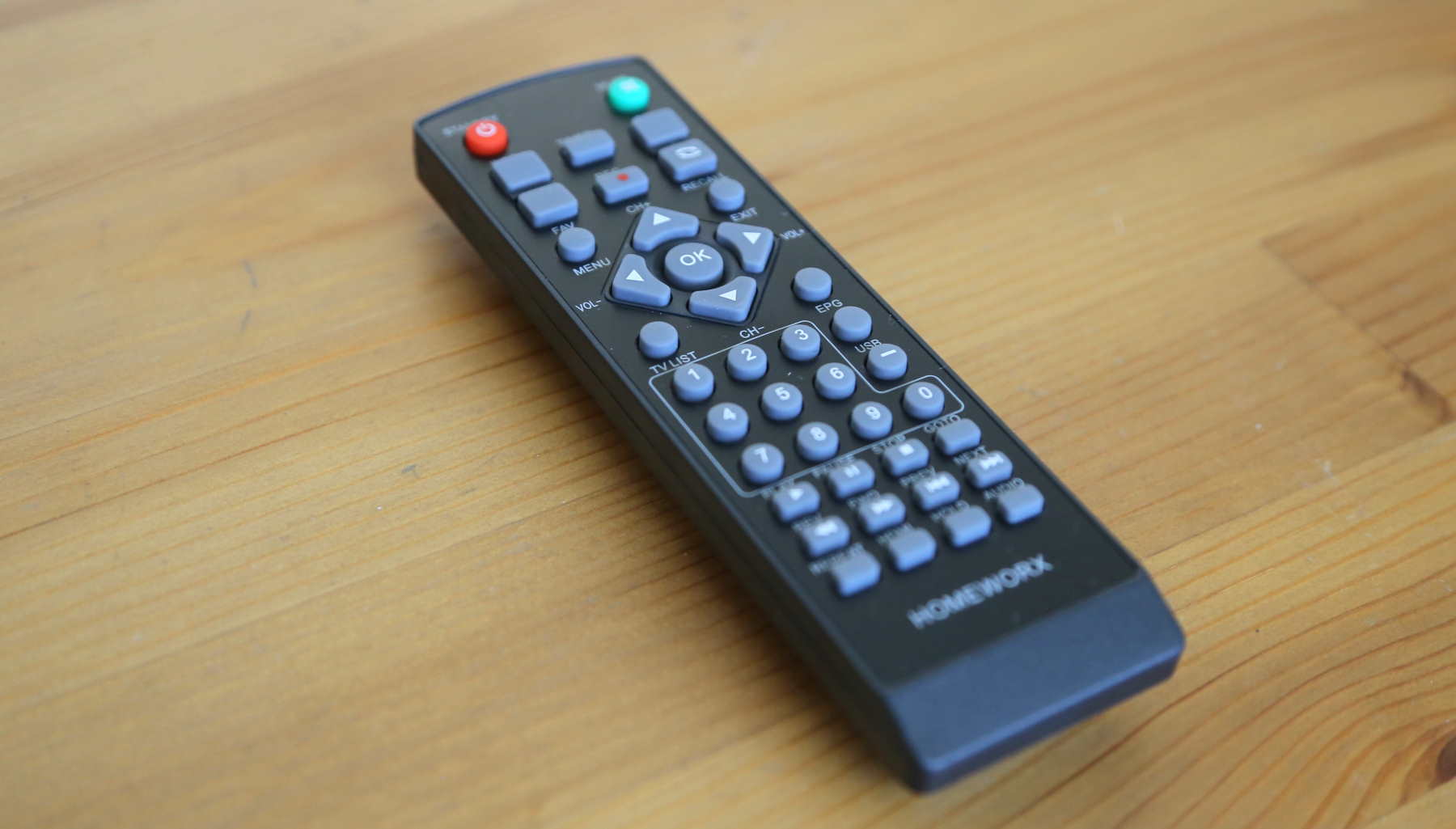 If you read the reviews for other low-cost converter boxes, the remote control seems to be the weak link in most of them. Other units have problems with buttons triggering adjacent buttons, cheap feel, or like this one, the need to aim precisely.
If (or when) your remote breaks or gets lost, the good news is that the remote for this model is available separately on Amazon for only ten bucks. If you have the HW-150PVR, this is the remote on Amazon.
Mediasonic also told me that their unit works with the Logitec Harmony remote control (now discontinued, but you may be able to find them on eBay).
Setting Up a USB Drive or Stick
There's a USB port right on the front of the box where you can plug in a USB drive or flash stick. I chose the latter since I had a bunch laying around.
I plugged it in, and the unit immediately recognized it, but I couldn't get it to work at first. I went into the menus and realized that I had to initialize it first. After I did that, it worked fine.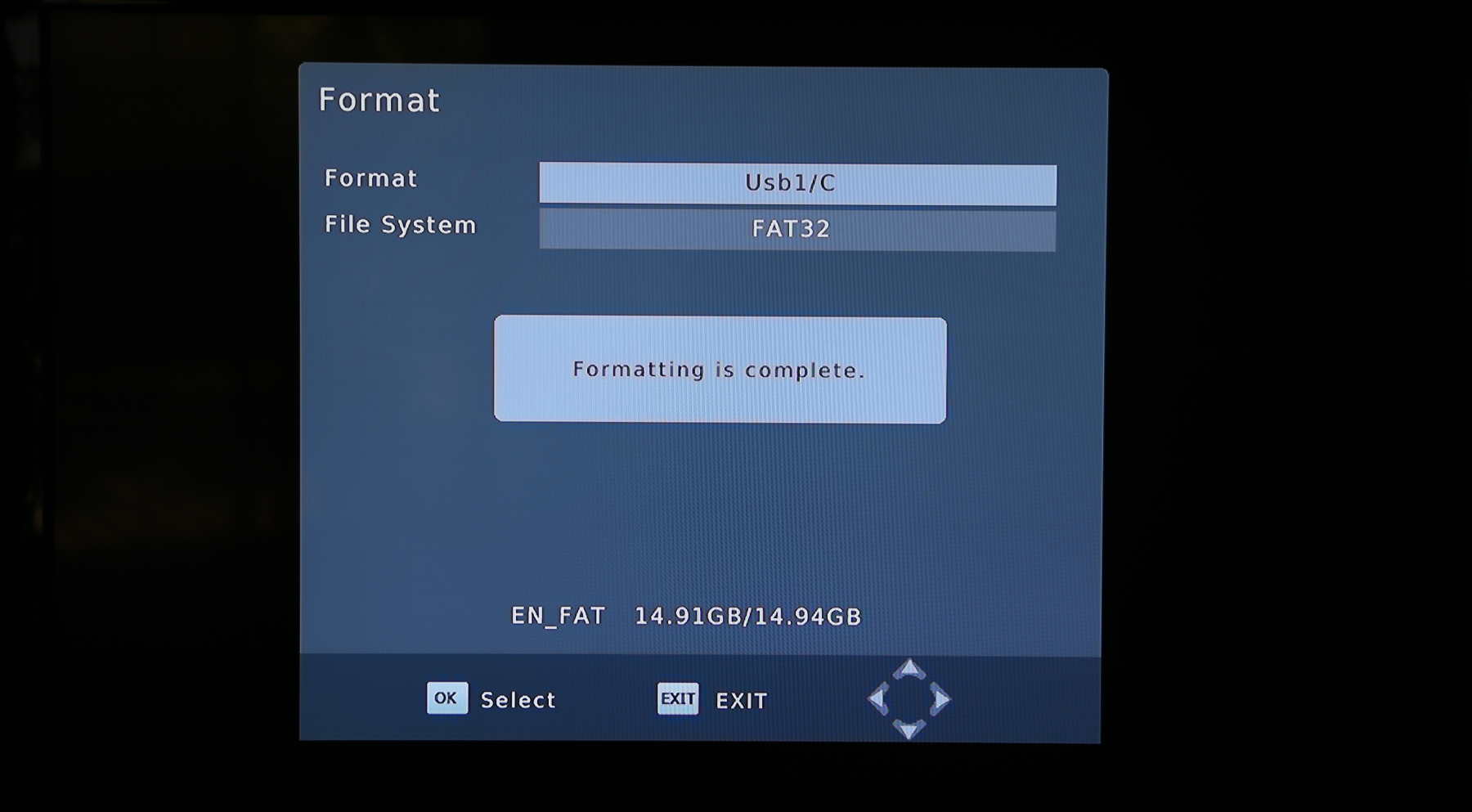 Pausing and Recording Live TV
Even if you don't plan to use your converter box as a DVR, it might be nice to plug in a USB drive anyway so that you can pause live TV.
After I formatted the drive, I tried searching backward while watching live TV, but it wouldn't let me. I had to first pause to enter recording mode, then resume play. Then, it would let me rewind to the point at which I hit the pause button, or forward to the current time. Not the end of the world.
You can also just hit the record button to start a recording that you want to save. Super easy!
If you go into the menu system, you can find a page with your recordings. They are stored with somewhat cryptic file names but at least they contain the station call letters.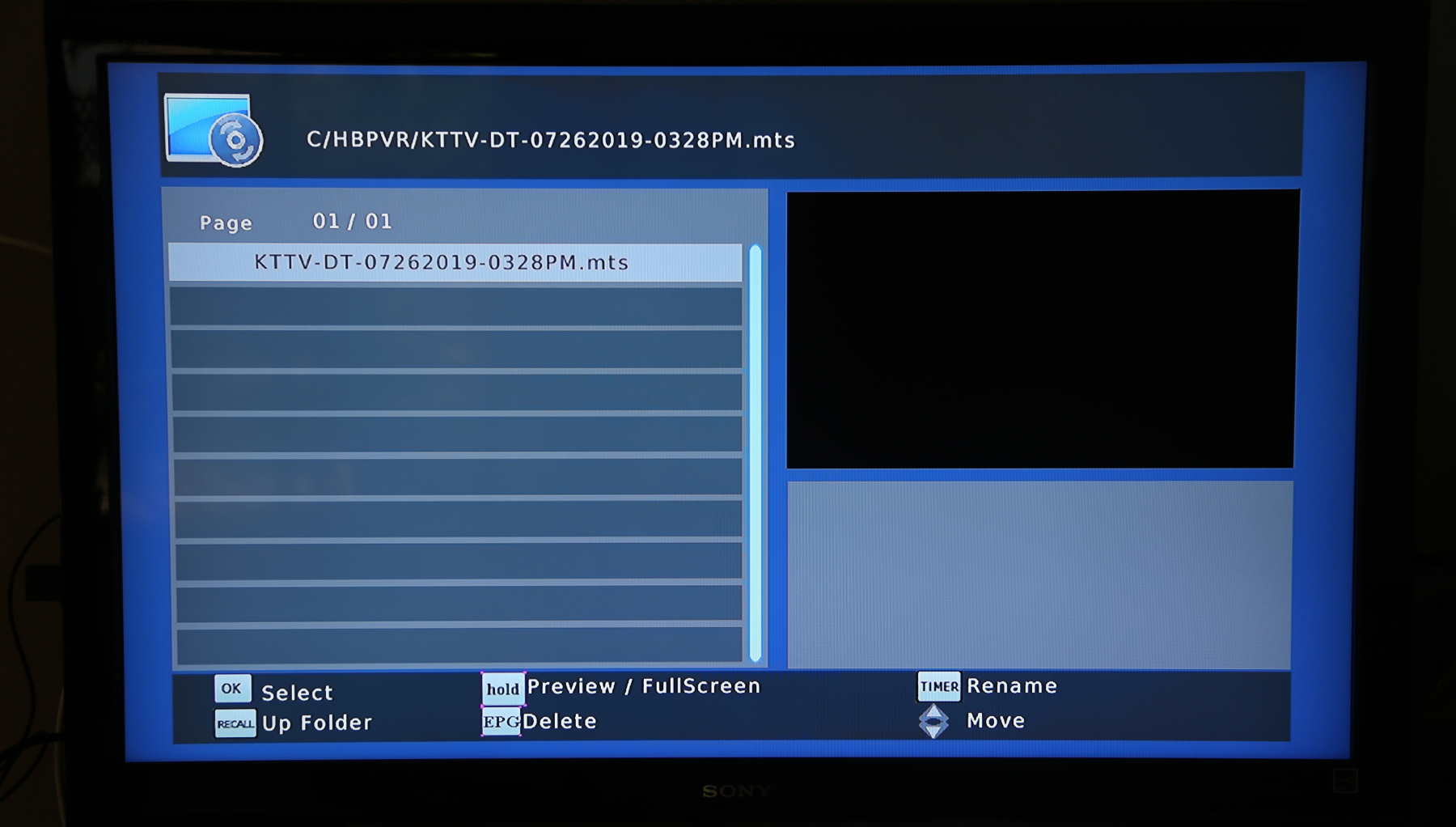 It took me a while to figure out how to replay my recording. The key is to look at the hints at the bottom of the screen which tell you which buttons to use on this page. I was able to select my recording and play it using this "legend".
File Format
The unit stores your recordings in .mts file format. You don't see this format a lot on computers, but it is used to store HD video on AVCHD and Blu-ray discs.
In spite of that, I was able to plug the USB stick into my Windows PC and play the .mts file recordings using Windows Media Player! Nice!!
If you Google around, you'll find plenty of software that can convert this format to more common computer formats like MOV, MP4, AVI, MPG, etc.
Scheduled Recordings (DVR Functionality)
The fact that is box can do any kind of recording at all is pretty amazing at this price point. There is also the capability to do scheduled recordings. You set up these recordings on this page:
This is very reminiscent of how we used to set up recordings on old-school VCRs. But to my surprise, there is actually also a channel guide available if you press the EPG button! It only goes 24 hours or less into the future, but it's something. Press "OK" to record any show.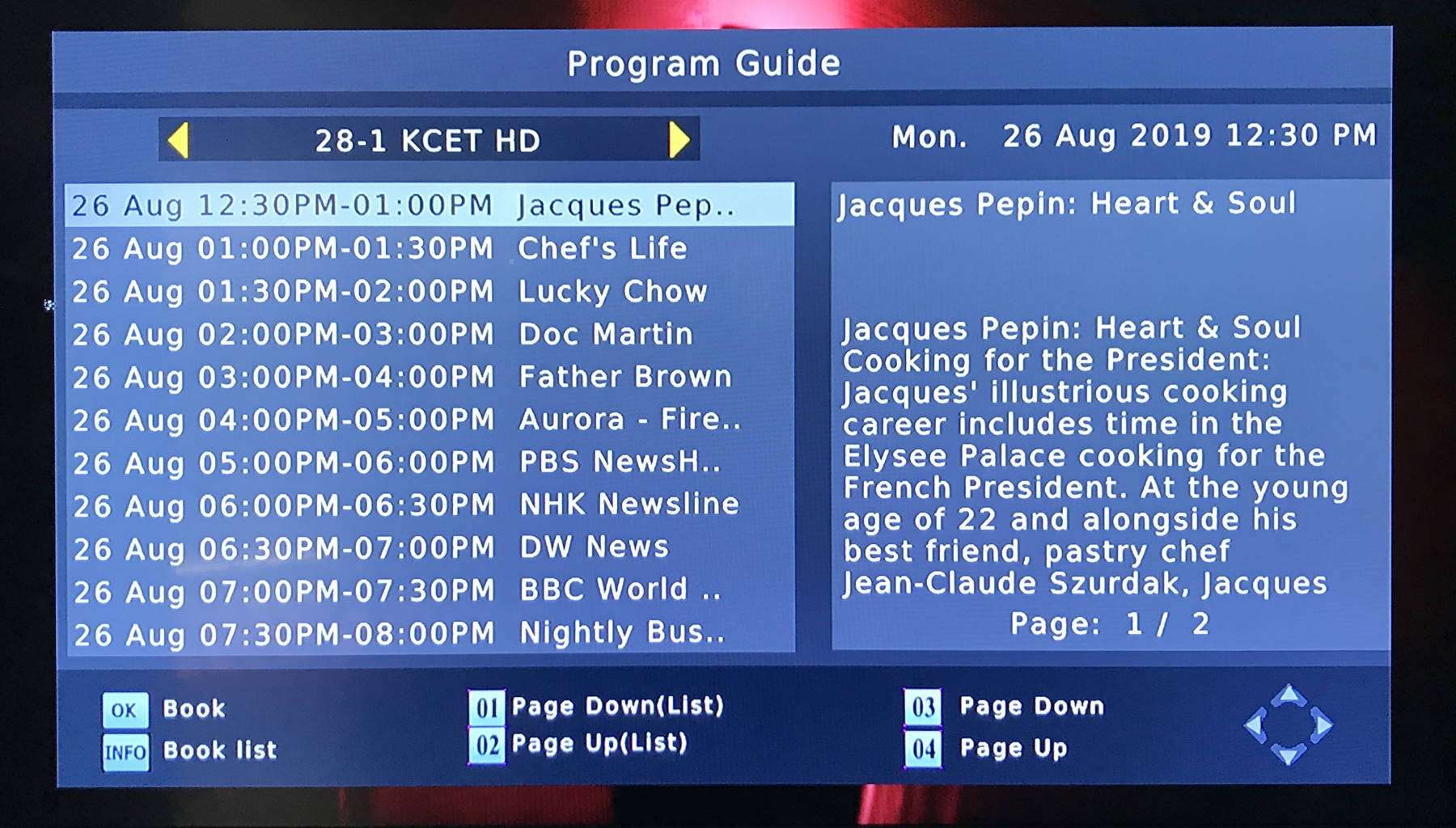 And, it's not as flashy as the channel guides on some of the more refined DVRs out there like the Tablo or AirTV. Those are much easier to set up recordings on, or even record whole seasons (however they require Internet access to display the guide). The Homeworx unit only shows one channel's shows at a time.
And note, you can't record one show while watching another since the unit only has one tuner.
But, as I mentioned, at this low price, this box is worth it just for the converter functionality. I see the DVR as a bonus that you may or may not use.
Signal Strength Meter
One thing this box does that my Sony TV doesn't do is provide a signal strength meter. This can be VERY useful if you're trying to fine-tune your antenna placement.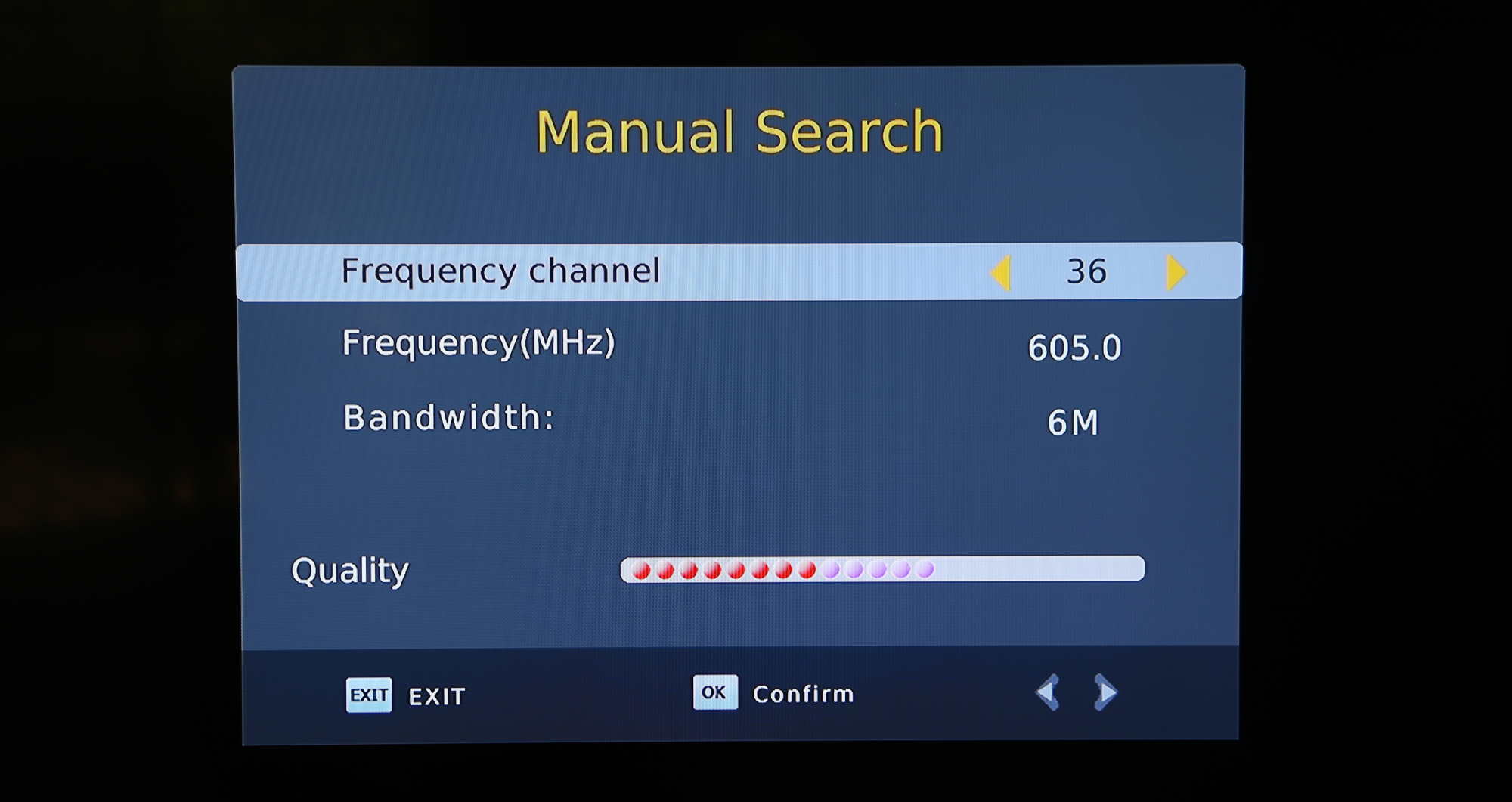 To get to this signal strength meter, tune to the desired channel, then press MENU on the remote and cursor over to Channel Search, then select Manual Search. You should see the screen above with signal strength meter (Quality) on the bottom.
Summary
Since I reviewed this unit, Homeworx came out with a new and improved version in 2022. It has generally the same feature set, but the software is more stable and the remote control feel is improved. I'm linking to that new version below.
This is an amazingly low-cost box that lets you use a broadcast TV antenna with your older TV with a basic but functional DVR as a bonus!
My only beef is that the remote control is pretty cheap and you have to aim the remote precisely at the unit in order for it to trigger. This was annoying but not a show-stopper for me.
The picture quality and functionality of this one are great. If you need to find a converter box for your tube TV or older flat screen, check this one out! You can find it on Amazon:
Disclosure: Some of the links on this page are affiliate links. This means if you click on the link and purchase the item, I will receive an affiliate commission at no extra cost to you. I test or research each product or service before endorsing. This site is not owned by any retailer or manufacturer. I own this site and the opinions expressed here are mine. As an Amazon Associate, I earn from qualifying purchases.
Hope this review was helpful to you. Let me know what you think of the Mediasonic HOMEWORX HW130STB in the comments below, or send me a question!
If you want a DVR that is easier to use and has more features, check out the Tablo! – Brian