Since 2006, the Federal government has mandated that all TVs include a digital tuner to allow you to receive free broadcast TV using a cheap antenna. This is one of the main ways that I promote on DisableMyCable.com to save money!
But recently, I've been getting messages from readers who claimed that their TVs did not come with a built-in tuner! So, I looked up the specs of one of these: the Vizio E55u-D2 SmartCast E-Series 55″ Class Ultra HD Home Theater Display. Sure enough – this TV had no coax antenna input, nor did it have a tuner!!
"TV" vs. "Display"
How could this be??? The answer is that the manufacturer is not calling it a TV, but rather a "Display".  I have no problem with companies selling "displays", as long as they are clearly marked as such. The problem I have is that it's not clear on the packaging for these products what the consumer is missing out on.
The Problems with Not Having a Tuner
Here are three problems with not having a tuner on your TV:
1. You Can't Watch Free Broadcast TV
Not having a tuner on your TV means that you can't hook an antenna up to your TV directly. You would have to purchase a tuner separately, which means you have two remote controls to mess with. All of that so that the manufacturer can save a few bucks on your TV!!!!
2. Watching Cable TV Could Be a Problem Too
One reader pointed out that her apartment complex offered complimentary cable distributed via coax cable. Unfortunately, she had a Vizio TV with no coax input, so she would have to buy a cable TV box with HDMI output!! That bites!!!
3. Lower Resale Value
Reader Genf113 commented that not having a tuner could also make it harder to sell later. Let's face it, TV technology is changing so fast that you just might not want to keep it forever. Not having a tuner could make it that much harder to unload, especially given the rate that people are cutting cable TV. This alone is a valid reason to get a TV with a tuner, even if you don't use it.
Vizio's Explanation
Here's what Vizio's website says about this:
The VIZIO SmartCast™ E-Series Ultra HD Home Theater Display is now tuner-free. Most households commonly stream or watch live TV from cable and satellite boxes – neither of which requires a tuner, so you shouldn't notice any differences in setup.
Now if you use an external antenna to watch free local channels, you will need to get a separate tuner adapter to connect your antenna to your display.
Everything they say here is true, but this statement is buried way down on their site. If you look on Amazon, it's really hard to tell that this "TV" has no tuner!
Plus, few people will know to look for this. Ever since TVs first came out, they included a tuner that allowed you to connect antennas to them.  Now suddenly, some don't!
Heck, I bet most people don't even know what "tuner-free" means! They mention it like it's an added feature instead of a missing feature!
Bottom line, I think Vizio should make it more clear on their packaging and online description that these "displays" have no tuner and that you can't watch free broadcast TV without buying more equipment.
Another Example: Samsung's "Smart Monitor Streaming TV"
I recently noticed these Samsung "TVs" on Amazon: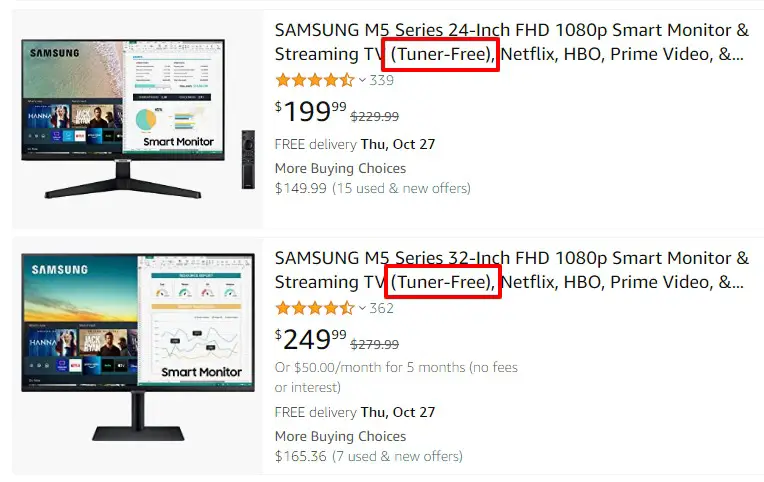 Depending on how you look at it, this marketing might be a tad more clear. The titles do say "Tuner-Free", but again, I wonder how many people know what that means. And in this case, they actually use the word "TV" in the title, which could mislead some. Beware!
How to Avoid This Pitfall
Here are some tips to help you be sure you're getting a TV with a tuner included:
Make sure the "TV" is in the product title, as opposed to "Streaming TV", "Display", "Home Theater Display", or "Monitor". TVs must contain a broadcast TV tuner, by Federal law!
If the packaging or description says "tuner-free", that means it has no tuner (i.e., avoid).
In the TV specs, make sure it has an antenna, "RF", coax, or cable TV input. Note, not all TVs with this input will list it. So, if you see this input, you're good. If you don't see it, you may or may not be good.
Be extra careful when purchasing a Vizio or Samsung TV.
Find a photo of the TV's rear panel (Amazon sometimes has these) and make sure it has the coax round connector like the one shown here: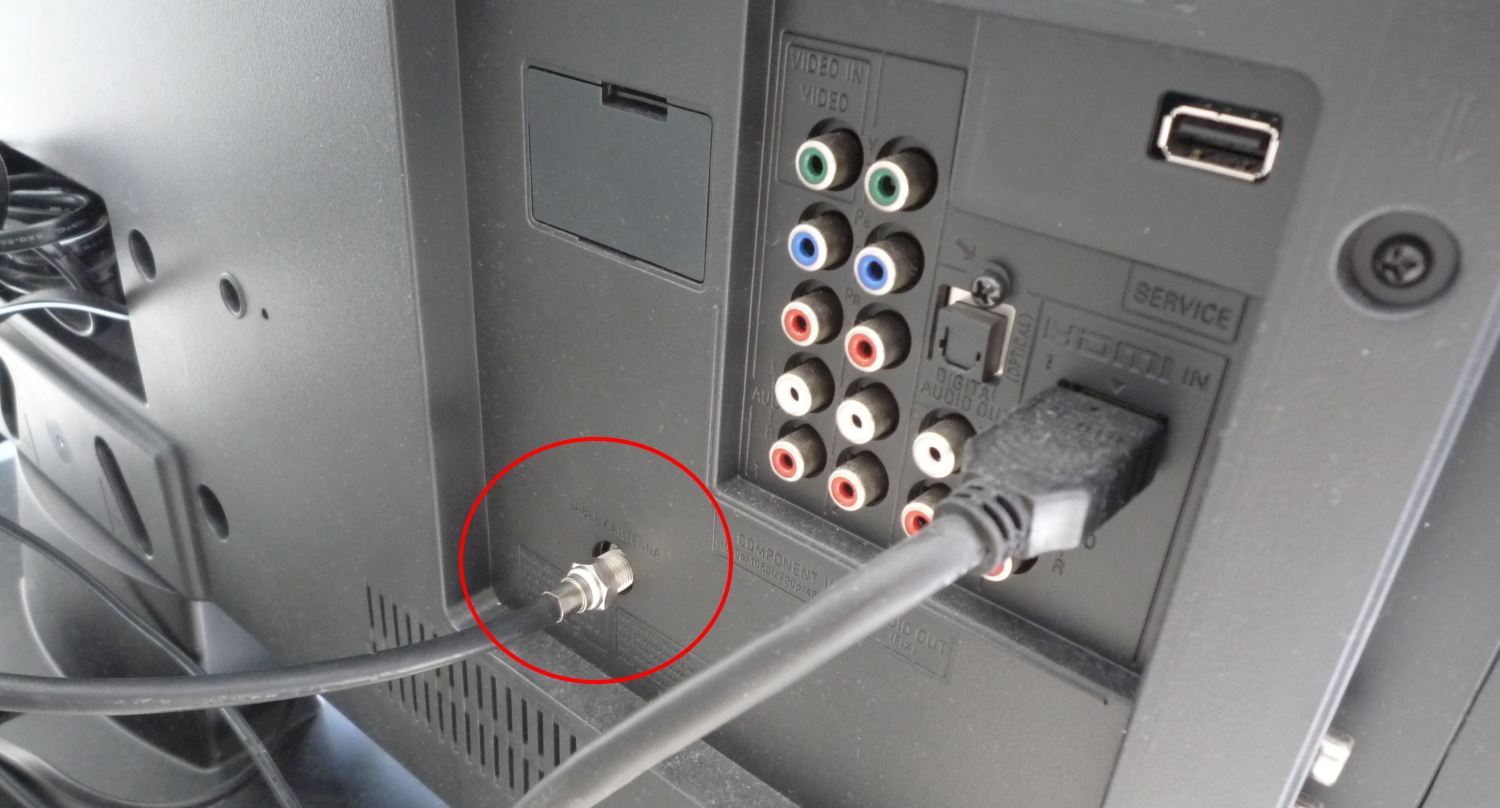 What to Do If You Already Have a TV with No Tuner
As I've mentioned, if you already own one of these "displays", you can buy a TV tuner separately. Here's my full review of the Homeworx Digital Converter Box, one that I recommend.
The other bummer is that now you'll have yet another remote control in your pile of remotes on your coffee table. That's why having the tuner integrated into the TV is so much better.
But if you want broadcast TV DVR capabilities and are willing to spend more money, then you can go with a Tablo. It has the tuner built-in, so no need for a separate tuner box.
What If You Don't Need a Tuner?
Some commenters have said that they don't need a tuner in their TV because they use all HDMI sources.  If that's the case for you, these "displays" are fine. My beef is that the manufacturers are making it so hard to tell the difference between TVs with and without tuners that many less-tech-savvy consumers don't understand what they are missing!
To Sum Up
I really hope other manufacturers don't expand the practice of selling TVs without tuners unless that fact is clearly indicated on the packaging and all marketing materials.
Also,  isn't it good to have the option of using an antenna?
If you see any other brands doing this, please let us know in the comments below! Thanks! – Brian