The Apple TV streaming player is a small box that connects to your TV via its HDMI port. It gives you the ability to watch streaming services from the Internet on your TV, and it allows you to "mirror" the screen from your iPhone, iPad, or Mac to your TV.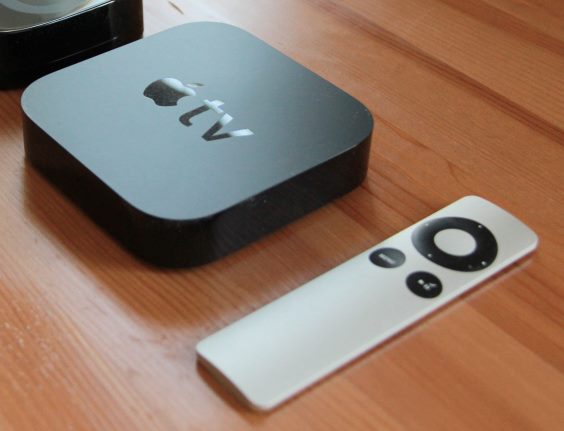 To use Apple TV, you need to have Internet access, and you'll have to connect your Apple TV to your home Wi-Fi network or router via Ethernet cable.  Connection to Wi-Fi is pretty easy as long as you know your Wi-Fi password.
Why I Now Recommend Roku Instead
For a long time, I used my Apple TV for two exclusive features: the ability to play iTunes-purchased movies, and for AirPlay, the ability to mirror an iOS device's screen to the TV.
Well, with the Apple TV Roku App for the Roku and Amazon Fire TV, you can watch your iTunes content on those devices (which have many more apps than Apple TV does).
And now, with Roku's 2020 software release, select 4K Roku devices like the Roku Ultra have AirPlay capability! I've tested it and it works great! Many new smart TVs also have AirPlay built-in.
With these two features available elsewhere, I don't really see a reason to purchase an Apple TV when you can get more apps with a Roku.
If you're still interested in Apple TV, see my original article below.
---
The Original Article
I've owned an Apple TV for some time now. My conclusion is that it doesn't replace cable TV, but it does have good content. It's the only streaming device that natively plays video from the iTunes store (2020 UPDATE: not anymore; Roku and Amazon Fire TV can do that also).  It has apps for many other services like Netflix, Hulu, and so on. If you want to rent videos, especially video on iTunes, and you have other Apple devices and iTunes content, Apple TV might be right for you. If you don't have iTunes content, then check out the Roku or Amazon Fire TV.
The Apps
The first question you might have is, "what programming can I watch right out of the box without paying for anything?" Well, there is some stuff.  My favorite free video service on there is YouTube. There's another service called Vimeo that is similar to YouTube. You can also watch movie trailers for free and there is a Wall Street Week app with videos as well. Apple TV launched with just a handful of channels, but now they have almost four pages filled with apps for you to explore: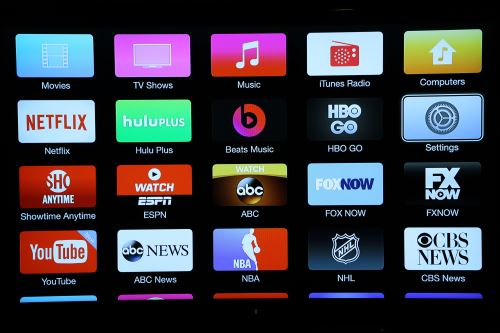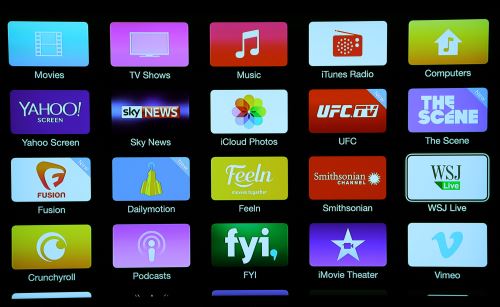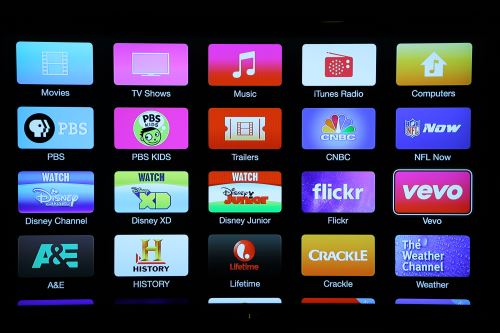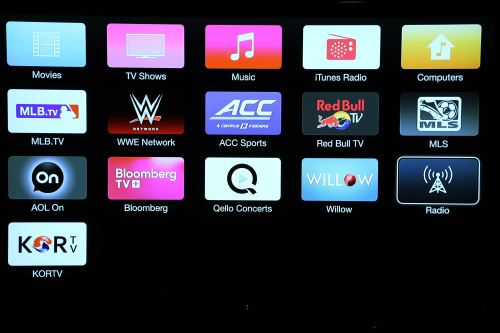 If you want a selection of top movies and TV to watch, you'll have to either subscribe to Netflix or purchase shows and movies from the iTunes store (top-release moves are around $4.99, compared to $3.99 on Amazon). If you don't already have purchased movies on iTunes, then Amazon with Roku is a better choice, since the movies are cheaper.
The new Apple TV also offers Sling TV, a $20-per-month service that offers ESPN, AMC, and other cable channels. This is not available on older Apple TV's though.
Apple AirPlay – Mirror Your Device to Your TV
Through the use of a wireless technology called Airplay, Apple TV can display whatever is on your iPhone, iPad, or Mac screen onto your TV.  So basically, you have the ability to view any iPad app on your TV!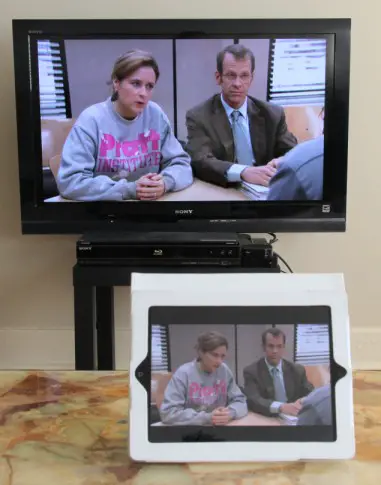 Above is my 42″ flatscreen TV mirroring my iPad screen while using the NBC iPad App. Note that I had to use my TV's zoom feature to make the picture fill the whole screen, but the picture quality was still good.
So, while the Apple TV itself doesn't have the hundreds of channels that Roku does, it basically allows you to view any app that will run on your iPad, which kind of makes up for the lack of native Apple TV channels.
Note that really old iPhones, iPads first-gen, and Macs made before 2011 don't support Airplay. But all recent Apple devices do.
Overall, Airplay is a killer feature, and it's the one reason that I still use my Apple TV, even though I usually use a Roku.
The Verdict
I recommend Apple TV if you are a big fan of Apple's ecosystem.
Otherwise, Roku has more apps, is cheaper, and has Airplay!  Amazon Fire TV Stick is a good option as well. 
A lot of folks (including me) have an Apple TV for Airplay and a Roku (or Amazon Fire TV) for the apps.
I hope this has been helpful. What do you think of Apple TV? Please comment below. – Brian