After seeing a lot of positive reviews on Facebook of the SiliconDust HDHomeRun tuners being used as DVRs, I had to get my hands on one to check it out for myself (and review for y'all).
To be clear, these devices will record broadcast TV shows, not cable TV or streaming TV. You need to attach your own TV antenna. Some models require external USB storage while others have internal storage. You can watch and record shows using their app, which is available for Mac, PC, and the most popular streaming boxes and mobile devices. But the apps won't work outside of your home network. These devices do not have HDMI output; you do not connect them directly to your TV.
The DVR functionality requires a $35/year fee, however, you can use third-party recording software like PLEX and NextPVR some of which are free or have lifetime deals. However, you won't get any help setting these up from SiliconDust.
The Product Line – Confusing
SiliconDust historically has had a large and somewhat confusing line of tuner products, some of which required network-attached storage, or a running PC, to make recordings. Thankfully, these devices don't.
Stated very simply, the FLEX DUO and 4K have two and four tuners respectively, and a USB port to connect your own DVR storage. The SCRIBE 4K has four tuners and includes 1TB ("150 Hours") of internal storage and one year of DVR service included (a $35 value).
I chose the cheapest model, the FLEX DUO because I have lots of USB hard drives lying around, so why pay for internal storage? The downside of this model is that it does not come with the first year of DVR service free, a $35 value. Kind of a bummer, but there it is.
No Wi-Fi
None of these HDHomeRun models have Wi-Fi. They require connection using an Ethernet cable. Some folks actually prefer the higher bandwidth and reliability that a direct connection offers.
If you want a wireless connection, you could purchase a wirelss-to-wired Wi-Fi extender with Ethernet.
I personally like putting my DVR close to my antenna, which is far from my router, so requiring wired Ethernet is not ideal for me because I don't want to run cables throughout my home. The Tablo and AirTV are two DVRs that have Wi-Fi if you don't want to run Ethernet to your DVR.
Next Gen TV ATSC3.0
The Flex Duo (which I reviewed) does not support ATSC 1.0. The Flex Scribe 4K and Flex Quattro (AKA Flex 4K) do support ATSC 3.0 (Next Generation TV) on two tuners.
However, I've heard of problems with viewing ATSC 3.0 on third-party software (i.e., no sound). I've also heard that there could be DRM issues, since ATSC 3.0 isn't "fully baked".
I'd say, do further research if you're planning to use your Flex DVR with ATSC 3.0.
Tuner Setup: Almost Effortless
Setting up the tuner part of the product was wonderfully easy. It was very much plug-and-play!
Following the instructions in their quick-start guide, I hooked up my antenna, then connected my router via Ethernet cable, then connected power.
On my Windows PC, I downloaded the HDHomeRun app from the Windows App store. I launched the app, and before long I had a live TV show playing on my screen! Wow!
Of course, there are HDHomeRun apps for all of the major streaming TV boxes such as Roku, Fire TV, Nvidia Shield, and Xbox.
I was very surprised that, unlike every other DVR I've used, I didn't have to run a channel scan. It must have run in the background during the startup process.
If you want to do a manual channel scan, you can do it through their basic web interface (not the app). But this means that you do need a browser to access all of the settings of this product.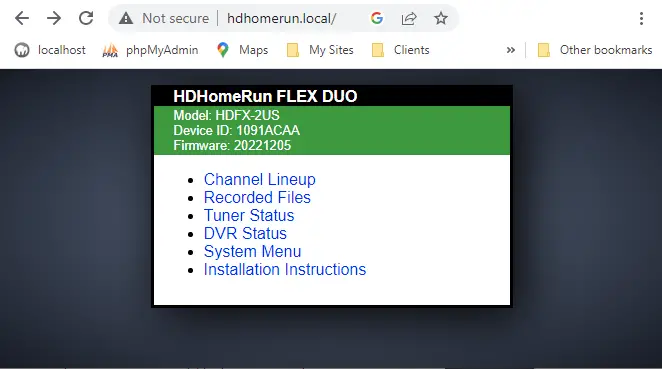 Tuner Quality
Judging by the channels my unit found, the HDHomeRun tuner quality is excellent. It found all of the channels that I watch normally, including some that my other DVRs failed to find. Other reviewers online have also praised the HDHomeRun tuner.
Picture quality was great: as good as or better than the other network-attached DVRs that I've tested. Of course, a DVR that you plug directly into your TV via HDMI (like the TiVo Edge for Antenna) will have better picture quality though.
Watching Live TV: Elegant and Simple
The HDHomeRun app is great for watching live TV. In its default mode, the picture fills the whole screen with no controls visible. If you click anywhere, you see the player controls and a feed on the right showing other channels, which they call the "Live TV Slice Guide". I personally really like this innovative interface!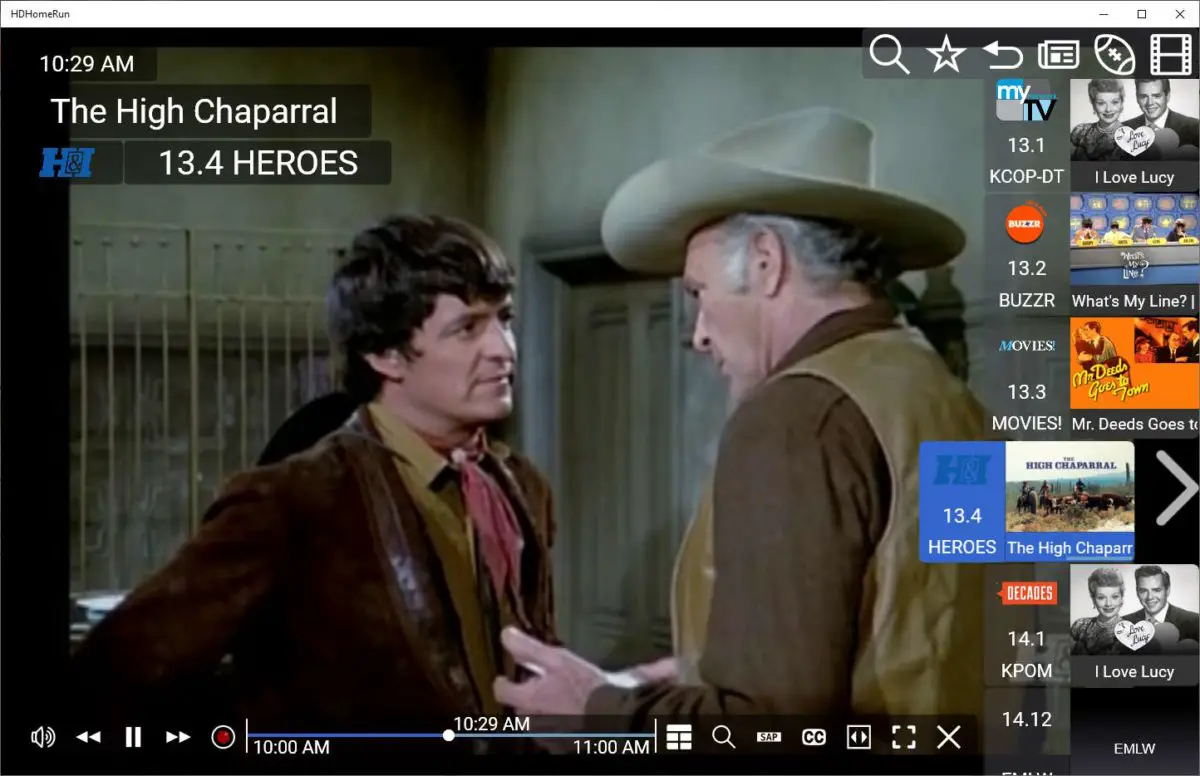 A great feature of the Live TV Slice Guide is that you can filter it to show only sports or movies by clicking the icons in the upper right. Very cool!
There is also a channel guide view similar to what other DVRs offer: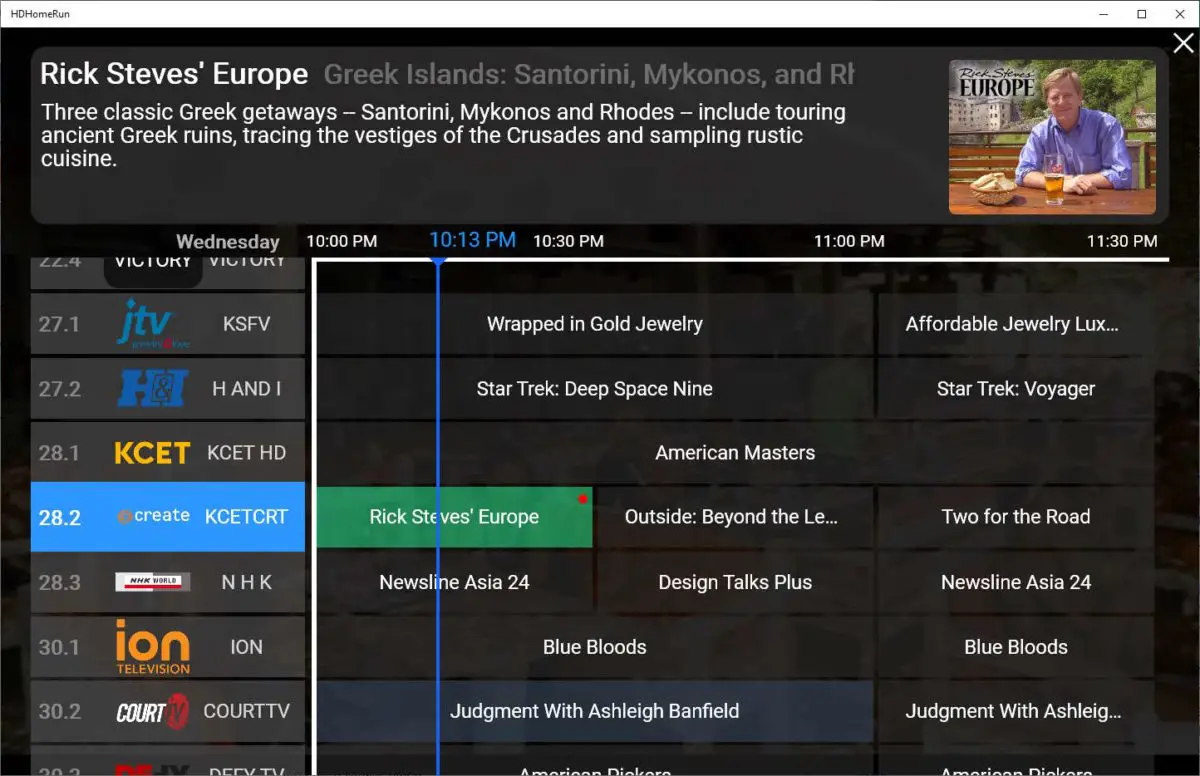 It's simple and gets the job done. I like how it displays the channel number, and not just the station logo like some other DVRs do.
At this point, I was super impressed! Setting up the tuner and watching live TV were almost effortless, not even requiring me to initiate a channel scan! Unfortunately, the same can't be said about the DVR functionality.
DVR Setup: No Included Documentation!
First of all, there was no mention of DVR functionality in the included quickstart guide of my FLEX DUO (perhaps something is included with the SCRIBE model?). The web portal does have a link for installation instructions. There, I clicked the button for instructions for recording live TV and got to this page: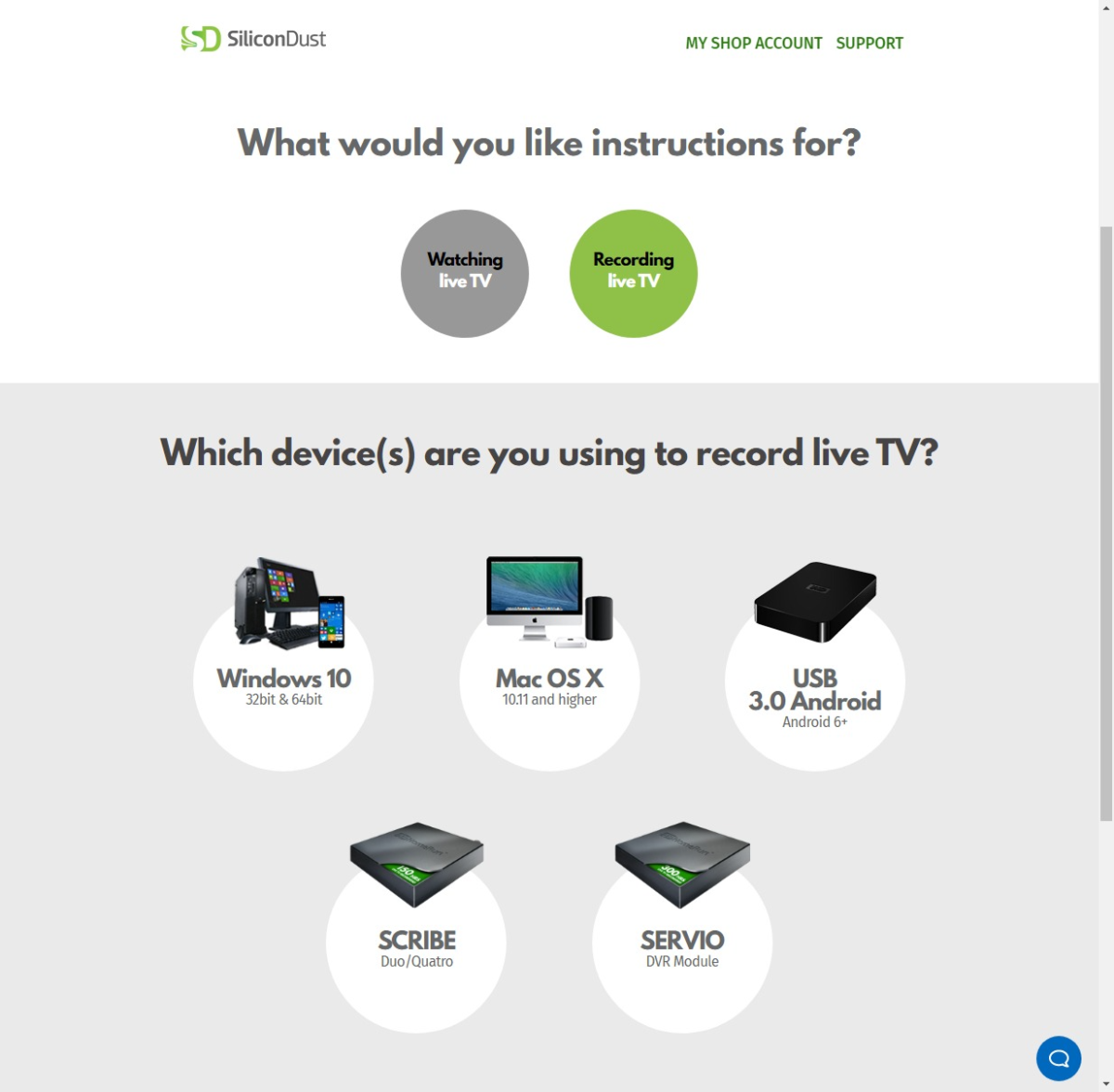 As you can see, my product, the FLEX DUO is not shown! Hmmm…. From here, I decided to just jump in and try recording without instructions.
I plugged in a USB solid-state hard drive that was previously formatted for my AirTV DVR. After formatting it in the web interface, it was recognized by the system. So far so good.
The app let me easily set up shows to record. When I checked the Tasks tab, it showed them as queued up to record. But, when the time came to actually start recording, nothing was recorded!
This was probably because I had not yet purchased a DVR subscription from SiliconDust. But, there was no indication in the app that this was the problem. It let me set everything up and just didn't work. Some sort of error message would have been nice here.
Had I not known about the DVR subscription requirement, I would have been tempted to return the product as defective at this point!
Instead, opened a ticket with SiliconDust to confirm that I really did need a subscription to use the DVR feature, and they sent me a link to their DVR page which led me to where I could buy the subscription. Again, it would have been nice if the app had told me that or if there had been a sheet of paper in the box with that link!
DVR Functionality: Great After It's Set Up!
Once I purchased their DVR subscription and entered the first 8 characters of the Domain Key into their app, I noticed a red Record button in the controls for the first time. But, there was no other confirmation message, so I wasn't really sure that it "took" until I tried to do a recording.
Sure enough, it worked! You can record by simply pressing the record button, but most often you'll probably want to schedule a recording. You can do that by clicking a show in the channel guide, of course.
But, the HDHomeRun app also has the killer feature that I love in the Tablo app that shows all upcoming broadcast TV shows, movies, and sporting events! Unlike AirTV and TiVo, it's not mixed with paid streaming content. On the HDHomeRun app, it's in the Discover tab:
I LOVE this feature! In the Tablo, it allowed me to discover so many great old movies that I would have missed otherwise. It makes broadcast TV feel like a paid streaming service!
Mobile App: Can't Watch Away from Home
The iPhone app has the exact same interface as the Windows app, which is great. I was able to easily view live TV and recordings on my phone at home.
Unfortunately, and this is a biggie, you cannot watch live TV or your recordings when you are away from home. You have to be on your home network!
Now, there are some third-party apps that might solve this in your situation, but I'm sticking to the HDHomeRun app in this review.
Using Your Own Software
You can get around some of the limitations of the HD HomeRun by using third-party software such as Plex, which has a lifetime deal, or NextPVR, which is free. Not only can you save money, but some let you view your recordings remotely.
But, you'll have to do some research and Googling to set up one of these services. If you enjoy tinkering with software, it could be well worth the effort!
If you want a "plug-and-play" solution, on the other hand, it might be better to go with a Tablo or AirTV.
Conclusion and Recommendations
SiliconDust offers great hardware and a great viewing experience with their HDHomeRun app. However, their app does not work when you are away from home. Some third-party apps have this feature though.
The product (at least the FLEX DUO that I bought) is also hampered by a lack of documentation on how to set up the DVR functionality, whether in the box, online, or in their app. This problem could be fixed by including an extra sheet of paper with the product!
If you don't need to watch your recordings away from home, and you don't mind running an Ethernet cable to your DVR, the HDHomeRun DVRs might be a great solution for you. It's got a great tuner. I especially love the Discover tab in the app that lets you find broadcast content that you otherwise might have missed!
Disclosure: Some of the links on this page are affiliate links. This means if you click on the link and purchase the item, I will receive an affiliate commission at no extra cost to you. I test or research each product or service before endorsing. This site is not owned by any retailer or manufacturer. I own this site and the opinions expressed here are mine. As an Amazon Associate, I earn from qualifying purchases.
HD HomeRun Pros
Tuner picks up a lot of channels.
HDHomeRun app is intuitive and easy to use once set up.
The "Discover" tab in the app shows upcoming shows, movies, and sporting events without paid content; great for discovering things to record.
Compatible with third-party DVR software for the video geeks out there.
Some models support ATSC 3.0 on two of four tuners.
Very small size.
HD HomeRun Cons
No Wi-Fi is a show-stopper for those who don't want to run cable from their router.
$35 annual fee is required for DVR functionality and two-week channel guide, although you can use free third-party apps to do this.
The HDHomeRun app does not work when you are away from your home network; can't view live TV or recordings when you travel, though there are third-party apps that can do this.
No documentation on how to set up the DVR is included.