TiVo is known for its excellent cable TV DVRs, but they've also made a few models for recording broadcast TV from an antenna. The Edge for Antenna is their latest broadcast TV DVR, featuring two tuners and 500GB of internal storage (about 75 hours of HD video). It's designed to be connected to a TV via HDMI, but you can also view recordings on the TiVo app or in a non-Chrome browser like Firefox (more on this later).
A fee is required for the channel guide and certain other features. There is a lifetime purchase option called their "All-In Service", which lists for $249 on their website, but I was able to get it for just $100 when I purchased from Channel Master. In my review, I will assume that you purchase this lifetime deal since the channel guide is nearly a "must" with these recorders, and purchasing an annual subscription for $70 per year doesn't make much financial sense.
The TiVo App and Edge HDMI user interface include access to streaming services like Netflix, Amazon Prime Video, Pluto TV, and YouTube, but I won't be covering that aspect of the device, since a dedicated streaming device like a Roku would be better for this.
The Tivo Edge for Antenna only works in the United States and Canada.
Setup
To set up the TiVo Edge for Antenna, you must connect it to a TV via HDMI. You cannot set it up by using an app like you can with Tablo or AirTV. The other necessary connections are power and antenna. You can connect it to your home network via wired Ethernet, or wirelessly through Wi-Fi, which is great if you don't want to run cable from your router to your DVR.
Once connected, you'll be guided through a pretty standard set of pages where you enter your Wi-Fi network password using a letter picker (unless you're connecting directly via Ethernet cable) and scan for channels.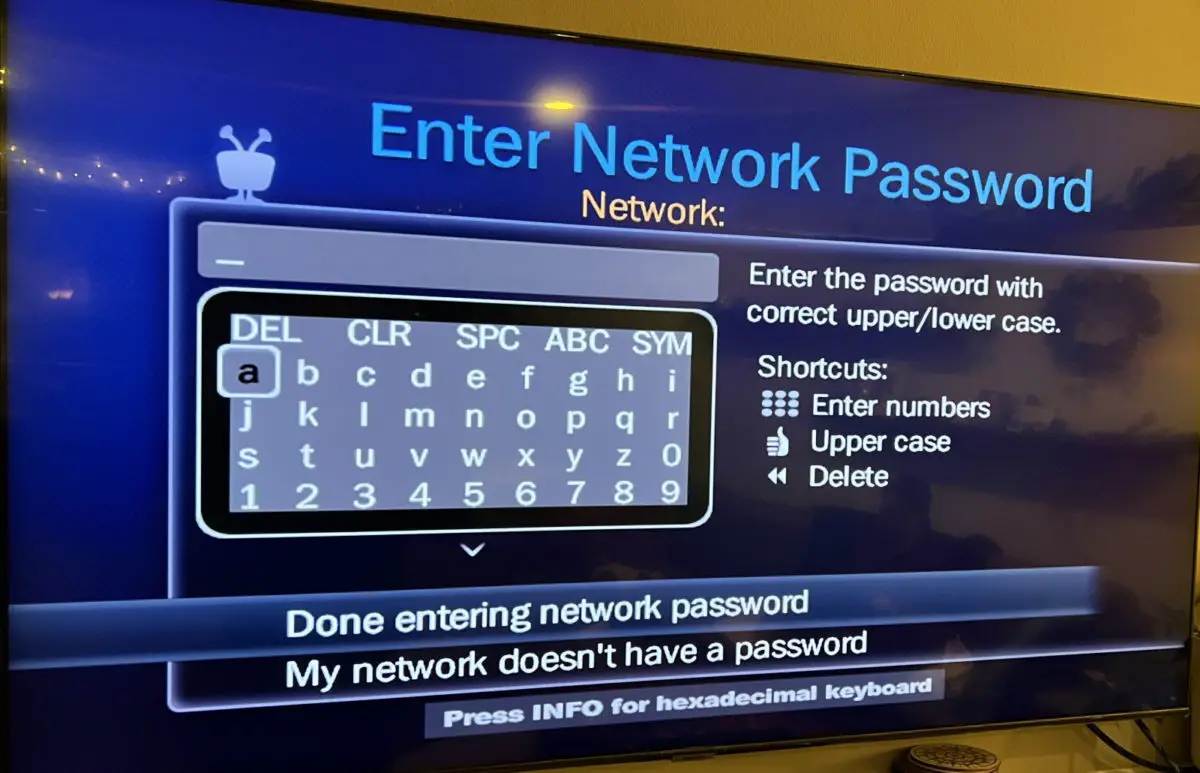 On my unit, a software upgrade was required, causing me to have to go through the setup process twice. Minor beef, but it would have been better if the unit checked for software updates before making me go through the setup process. Other than that, setup was straightforward with no complications.
Channel Scan and Tuner Quality
After scanning for channels, Edge for Antenna found 119 channels using my downstairs antenna, which is fewer than my new Samsung TV, which found 127 channels, but the same as my old Sony. Most importantly though, it found all of the major networks and local channels that most people are likely to watch. It was able to find my troublesome Heroes and Icons channel, which my Tablo had trouble locking on to.
After scanning, the channel list showed duplicate stations for many of the channels. When I tried to view these, they didn't show anything, so I had to manually delete them. Not sure why this DVR shows these excess channels, as it's a bit of a nuisance to go through and delete them.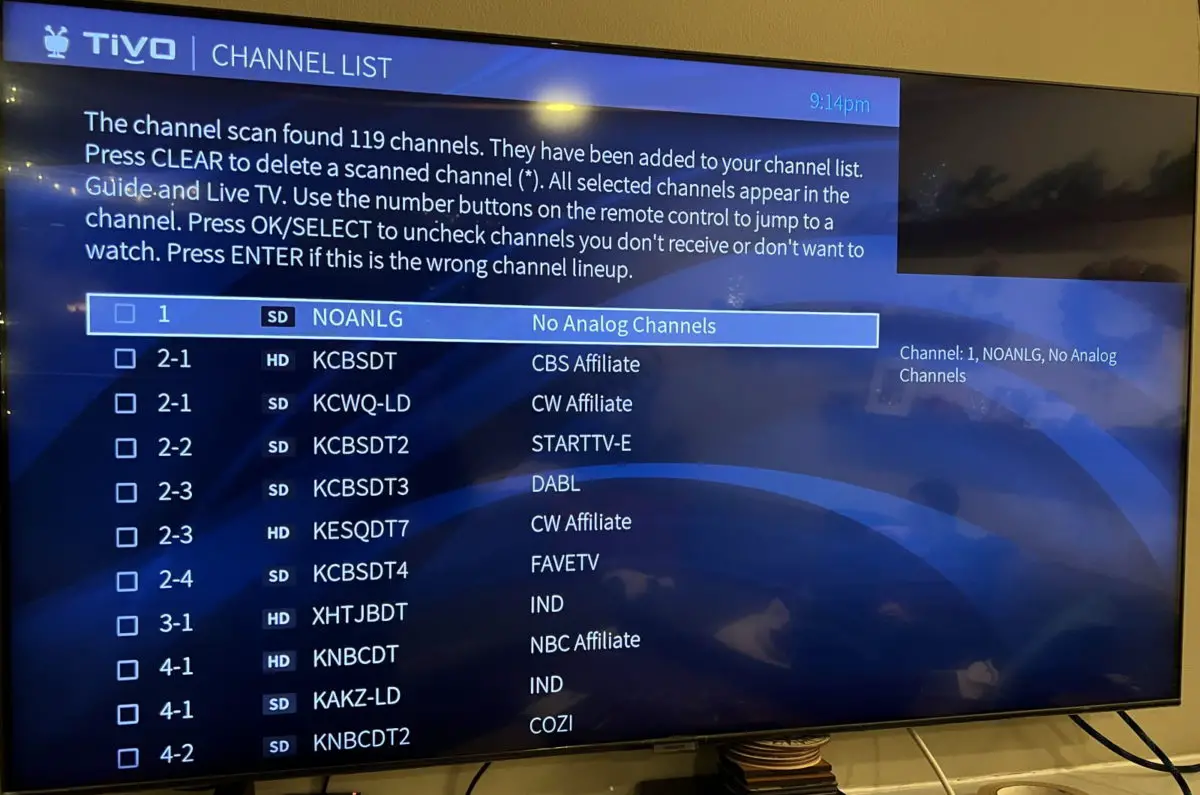 Watching Live TV from HDMI
After getting everything set up, I found the Edge user interface pretty easy to navigate using the remote. The first thing I did was check out the channel guide and watch live TV using the TV connected via HDMI.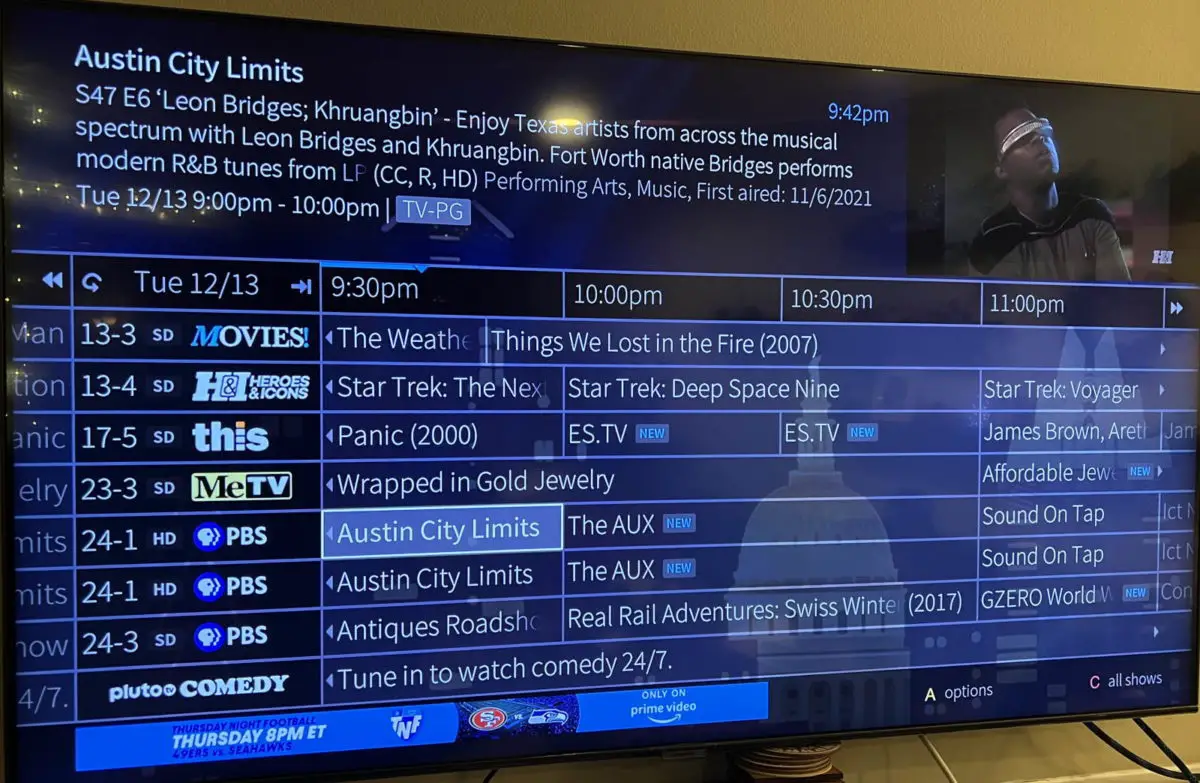 A pet peeve of mine with many broadcast TV DVRs is how long it takes to tune a new channel. Hands down, the TiVo was the fastest DVR that I've tested, taking only 2-3 seconds to tune a new channel after selecting it in the channel guide. Nice!
I was able to pause live TV, then fast forward to the current time with no problems.
I also love the remote control. It's pretty chunky, but that's not necessarily a bad thing. The buttons feel great, with a tactile click when you press them, as opposed to most other remotes that have buttons that feel like mush.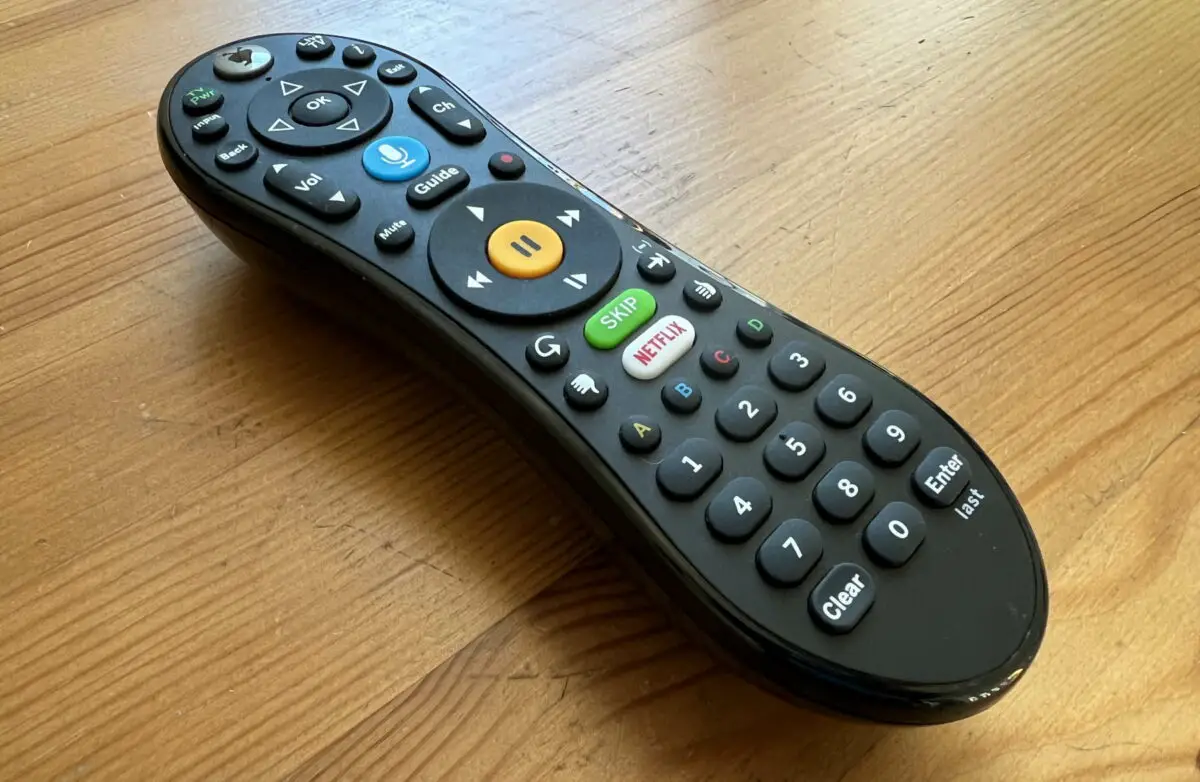 Most other DVRs do not come with a remote; they rely on the set-top box's remote. So, if you want a great dedicated remote, then consider TiVo.
Recording and Discovering Content
If you're watching a show and want to record it, you can simply press the Record button (actually all live TV that you watch is being recorded, but pressing Record will keep the recording). A popup menu will give you the option to record just that one episode or the whole series (which they call creating a "OnePass" for the series). Very straightforward.
Of course, you can scroll through the future in the channel guide to find and mark future shows for recording, but that's pretty inefficient. TiVo provides a voice search which makes it much easier to find shows you want to record. Just hold down the button with the microphone icon and say the name of the show. It worked well in my testing.
Finally, there is a screen called "What to Watch" that provides trending suggestions of shows to watch. This is great except that streaming content is mixed in; and much of it is on paid platforms like Amazon Prime Video, Netflix, and other services. Unfortunately, I couldn't find a way to filter the results and ONLY show broadcast TV content like Tablo does. I see this as a pretty big bummer if you love to discover free content to record and NOT spend money on paid streaming services.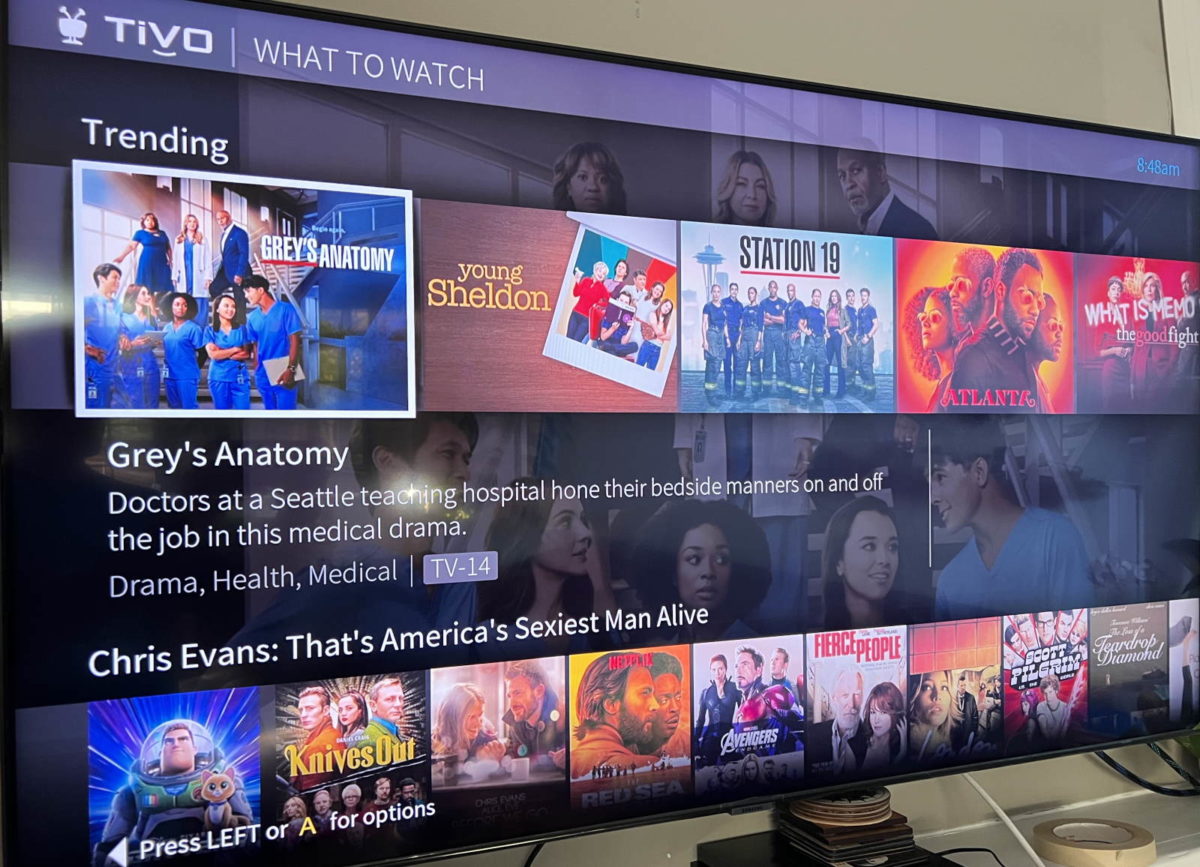 Watching Recordings and Skipping Commercials
To watch recorded shows, you go to the My Shows page to see a list of recordings. TiVo is known for its great user interface when it comes to watching recorded video, and it shows with the Edge. You can fast-forward recordings at various speeds and see the video speed up (not just jump around as in other DVRs). Same with rewinding.
If you have paid for the channel guide, you also get the commercial skip feature, however, not all shows have this feature. The TV broadcast must have SkipMode enabled. Those that do have a skip icon next to them when recorded. It's possible that older shows don't have commercial skip, as my Star Trek recordings didn't have it, but my recording of ABC's "20/20" did. When it's available, it works very well.
Watching on Other TVs?
In 2019, TiVo announced apps for Roku, Fire TV and Apple TV. Yet, they are not in those stores as I write this article. Perhaps they will come out in the future?
TiVo does sell a box called the Mini-Lux that allows you to watch content from your TiVo Edge on other TVs in your home, but it costs $199 (as of this writing).
You can watch TiVo in a browser, but I haven't tested that on the Fire TV browser yet.
Pre-Paid All-In Service Plan from Channel Master
The first thing I saw when I opened the Edge box was a sheet of paper that said that because I purchased my unit from Channel Master with a pre-paid All-In Service Plan, I had to call TiVo support to transfer my plan to a Tivo service account. This seemed like it would be pain, but luckily TiVo support answered quickly and they were able to get me set up.
The TiVo iPhone App
Next, I installed the TiVo app on my iPhone. When I tried to log in, I would get either a Sign In Error or a spinner that would go on forever.? Inexplicably, when I tried logging in the next day I was able to get in with no problem. Perhaps the phone needed rebooting?
The channel guide on the app is very similar to the TV version. However, when you click on a show to watch it, the app makes you "record and watch" it (as if you had pressed the record button for this show). I'm baffled as to why it does that, because I found myself having to delete a bunch of partially recorded shows afterward. The TiVo website does not have that problem; you can simply watch a show and not have to record it as well.
Watching recorded shows on the app works pretty well. You can jump forward by 30 seconds at a time or scrub by using your finger on the timeline. However, I wasn't able to figure out how to do channel skip on the app.
Streaming Away from Home – Inconsistent!
As a test, I tried watching a recording on the TiVo app while on 5G walking my dog in my neighborhood. I got this message: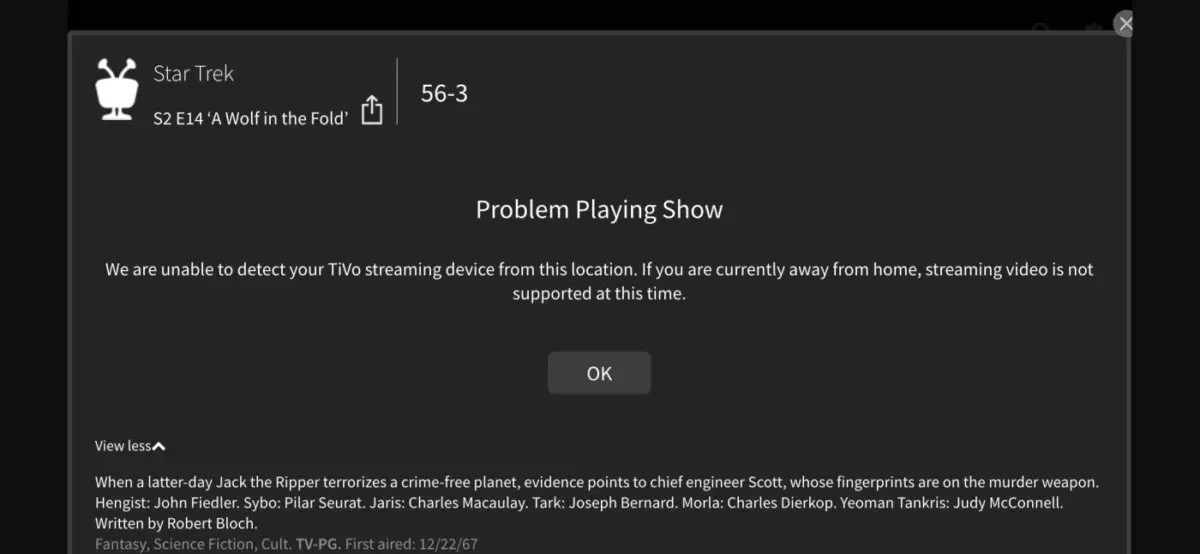 But, when I tried watching a different show on a Wi-Fi network away from home, I was able to watch it! I was perplexed until I found this note in the fine print on TiVo's website:
Some recorded content can only be streamed/downloaded to your laptop, tablet or mobile device while you are on the same network as your TiVo EDGE for antenna.

https://www.tivo.com/products/edge-antenna
So, you can't rely on using TiVo to watch your favorite recordings while you travel which could be a huge bummer. I haven't encountered this limitation on other DVRs I've tested like AirTV and Tablo.
Watching TiVo in a Browser
I had to Google around to find the website for viewing my Tivo recordings. It is online.tivo.com. Once I found that, I brought up the site in my Chrome browser only to be presented with this message: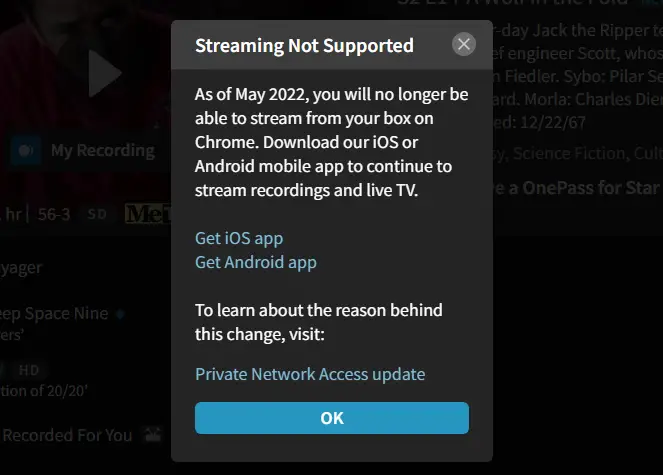 Apparently, there is some security issue preventing the app from working in Chrome (somehow other DVRs don't have this limitation). Luckily, there's an easy fix: just use Firefox.
Once you get it working in a non-Chrome browser, it looks great. But unfortunately, the What to Watch grid has the same problem as the TV interface, that is, it shows mostly paid streaming content mixed in with free broadcast TV content. It makes it hard for cheapskates like me to find free broadcast TV shows to record. Again, Tablo excels in this area.
The browser experience is better than the app because you can watch live TV without also setting them to record at the same time. It also seemed a bit more robust and less buggy. However, fast forwarding and rewinding is pretty laggy – it takes about eight seconds (sometimes more) for playback to resume after jumping forward or backward.
Neither the browser nor the app gives you complete control over your unit's settings (for example, doing a channel scan). For that, you need to use the TV that the TiVo is connected to.
Customer Support
Unlike some DVR companies out there, TiVo has excellent customer support. You can call their phone number and usually talk to a human being within five minutes! (At least, that's how long it took the times when I called). Customer support should not be overlooked when you make your purchase.
Transferring Your All-In Service Plan
Note that if you ever want to sell your TiVo and transfer your lifetime All-In Service Plan to the new owner, you will need to call TiVo customer support and get a transfer number, then give this number to the new owner of your TiVo. It's actually very easy due to how fast their customer support picks up the phone.
Conclusion and Recommendations
The TiVo Edge for Antenna has a great user interface and other great features if you are watching on a single TV.
There are no Roku, Fire TV, or Apple TV apps (at least as of this writing; let me know if that has changed), so the TiVo Edge is not a good solution for watching on multiple TVs.
I found TiVo's mobile app cumbersome when viewing live TV, and some recordings can't be watched away from your home network, which could be a bummer when you travel.
The TiVo user interface doesn't give you a great way to discover new broadcast TV content to record. Their "What to Watch" grid is filled mostly with content from paid streaming services. I wish TiVo would provide a way to filter out paid streaming services so I could just see upcoming free broadcast TV content only. The Tablo DVR has a great grid of free upcoming content that is great for discovering new stuff to record. If you know what you are looking for, though, TiVo's voice search works well.
Overall, the core functionality when using the TiVo connected to a single TV in your home is decent, whereas the app leaves much to be desired. I would recommend the Tablo Gen 4 as an alternative because it has no channel guide fees (either one-time or recurring). If you want to watch recordings away from home, check out AirTV.
TiVo Edge Pros
Great tuner (brings in the most channels).
Once set up, user interface is easy to use.
Greate remote control.
Commercial skip works well, when available.
Voice search works well.
Has Wi-Fi.
Superior picture quality.
Good customer support. I was easily able to reach a human being on their phone line.
Tivo Edge Cons
Must be connected directly to your TV via HDMI.
Can't watch on other TVs without purchasing an additional box for $199.
Can't watch some recordings outside of your home.
Only offered with two tuners.
No Roku or Fire TV apps. Not good for watching on multiple TVs (can watch through non-Chrome browser).
There is a fee for the channel guide (lifetime deal is offered though).
Paid streaming services are mixed in with broadcast TV shows in "What to Watch" section.
Big and bulky size.
Expensive compared to other DVRs.
No ATSC3.0.
Was this article helpful to you? Please leave a question or comment below! – Brian