If you're using cable internet and paying more than you'd like, you may be able to drastically reduce your internet bill by switching to newer technologies like fiber or 5G wireless home Internet.
In this article, I'll talk about my experience with Verizon 5G Home Internet, a wireless solution for home Internet access. Note, this is NOT the same as Verizon FIOS, which is a fiber optic cable solution.
I want to stress that THIS IS NOT A SPONSORED POST! I paid for Verizon's 5G Home Internet service myself because I wanted to find a cheaper, more reliable alternative to cable Internet and share the experience with y'all!
What Is Verizon 5G Home Internet?
With Verizon 5G Home Internet, you get your Internet access through an Internet gateway box that communicates with the nearest Verizon cell tower wirelessly. It's very much like using a cell phone as an Internet hotspot. The Verizon Internet Gateway box even has a phone number assigned to it! If this sounds disconcerting to you, it did to me also. Could this even have half as much bandwidth as a direct cable connection? Keep reading.
Cost
Regular cost is $60 a month, but if you set up automatic billing, you get a $10 per month discount. They also offer a price freeze for varying numbers of years, usually two.
If you have a Verizon phone, the monthly cost can be as low as $25/month!
I was paying $80/month for my cable Internet access in the Los Angeles area, so this will save me $360 per year! Not bad!
Setup and Installation
A few days after I ordered the service, I received the Verizon Home Internet Gateway, a clean white cube with a power jack and two Ethernet ports… and no cable going to Verizon!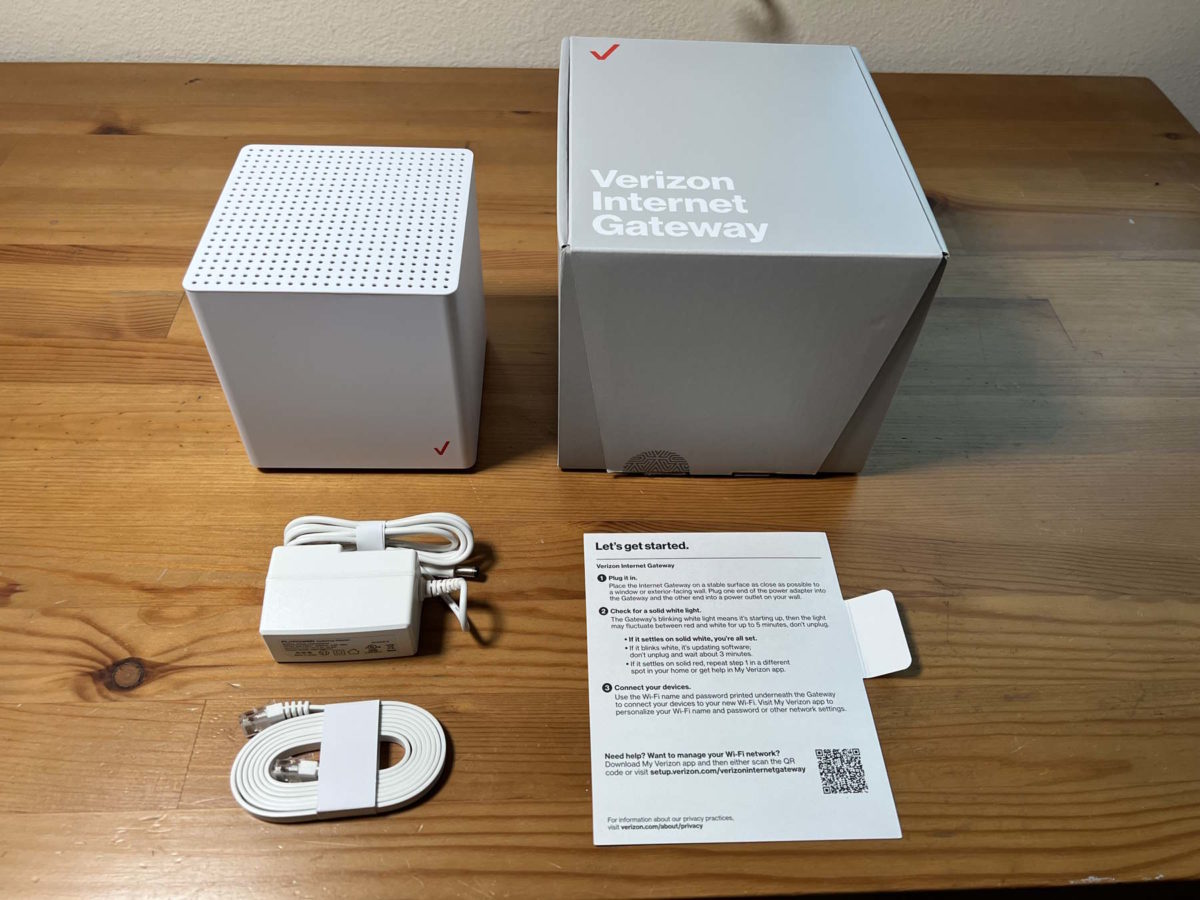 I wasn't even aware of this when I ordered the service, but the unit includes a built-in Wi-Fi router! I also love the fact that the box has two Ethernet ports. That should make it unnecessary for a good number of people to have to buy an additional router.
Setup was stupidly easy. I plugged in power and waited for it to boot up and configure. When it was done, I connected an Ethernet cable from the gateway to my computer and used the web app to set up my Wi-Fi network name and password. Voila! I was up and running in minutes! Wow!
You can also set up the box via Wi-Fi using the settings printed at the bottom of the unit.
Aside from the quick start card, no manual was included with the unit. But, you can download it here.
My Download Speed
I immediately measured download speeds of 300mbps! I was amazed to be getting this from basically a cell phone signal!
I've been using the service for over a month now and the download speed has stabilized to 220 to 240mbps. Still much better than cable for me.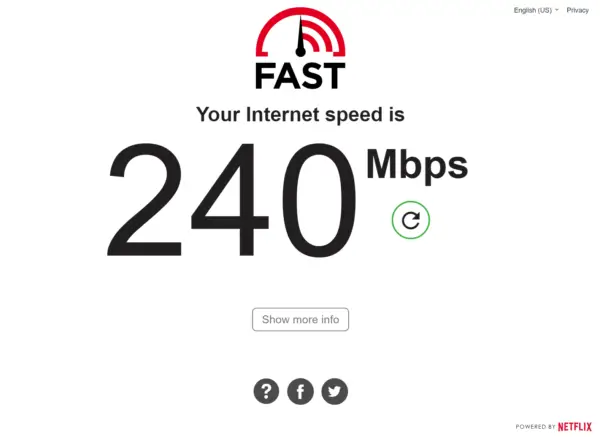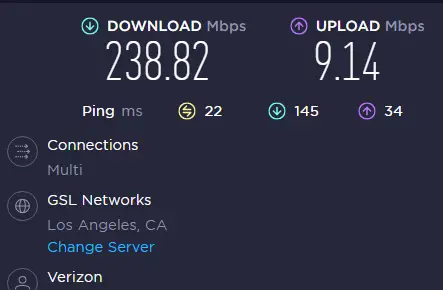 Over the past year, my cable download speed had been around 90mbps, probably due to deteriorating coax cabling in my home. That was one of the things that made a wireless Internet solution appealing to me.
I must stress though that your mileage may vary depending on how far away you live from your closest cell phone towers and how many other people are using that tower at that time.
And, not everyone can get 5G Home Internet. Check the Verizon website to see if you're in range.
The Built-In Wi-Fi Router: Understanding Its Limits
Because the Verizon Home Internet Gateway box includes a built-in Wi-Fi router, I went ahead and tried it out. For the first month, it worked great, with good signal strength that reached throughout my two-story home and even into my garage below that. After a month though, my signal strength inexplicably fell off a cliff. I noticed it when my outdoor Ring cameras went dead due to low Wi-Fi signal. Inside my home the signal strength was fine.
I can't explain the sudden dropoff. Perhaps there was some new signal interference from a neighbor?
In any case, I'm not really counting this against Verizon, because I wouldn't expect a built-in Wi-Fi router with no external antennas to have as good a range in a two-story home as a dedicated Netgear router with three external antennas!
If you live in a one-bedroom apartment or a single-story home, the built-in Wi-Fi router probably will be just fine for you. It will probably work in a lot of two-story homes as well.
But, a lot of the low online ratings for Verizon Home Internet stem from complaints about the Wi-Fi range. Well, the built-in gateway router is not intended to be as good as a dedicated Wi-Fi router with external antennas that you can get at Best Buy. If you live in a large multi-level home you'll probably want to use a dedicated router made by Netgear, Asus, or other reputable manufacturers.
In addition, I've read that the onboard Wi-Fi router is limited to 10 devices at 2.4GHz and 30 devices at 5.0GHz. Again, the solution is to hook up your own Wi-Fi router as described next.
Using an External Wi-Fi Router
Connecting an external Wi-Fi router to your Verizon Home Internet gateway is pretty easy.
You'll want to do this using a device with an Ethernet port (i.e., don't rely on Wi-Fi to do these settings). The reason is that you'll be shutting off Wi-Fi on your gateway, and if anything goes wrong and you need to turn it back on, the only way to do that is to use Ethernet.
On the Verizon Gateway web portal, go to Network -> LAN -> IP Passthrough and turn it on. Once you do that, Wi-Fi will be turned off and Internet access will be routed out of the LAN2 port of the gateway. Plug in your router into that port and you should be good to go! Read my full instructions here.
The Bad: Creating My Account
As soon as I submitted my order for the service, I got an email prompting me to create a Verizon account online. When I tried to do so, the website didn't recognize my device phone number or my account number. I called Verizon customer service and they advised me to wait for the gateway to arrive and set that up first before setting up an account.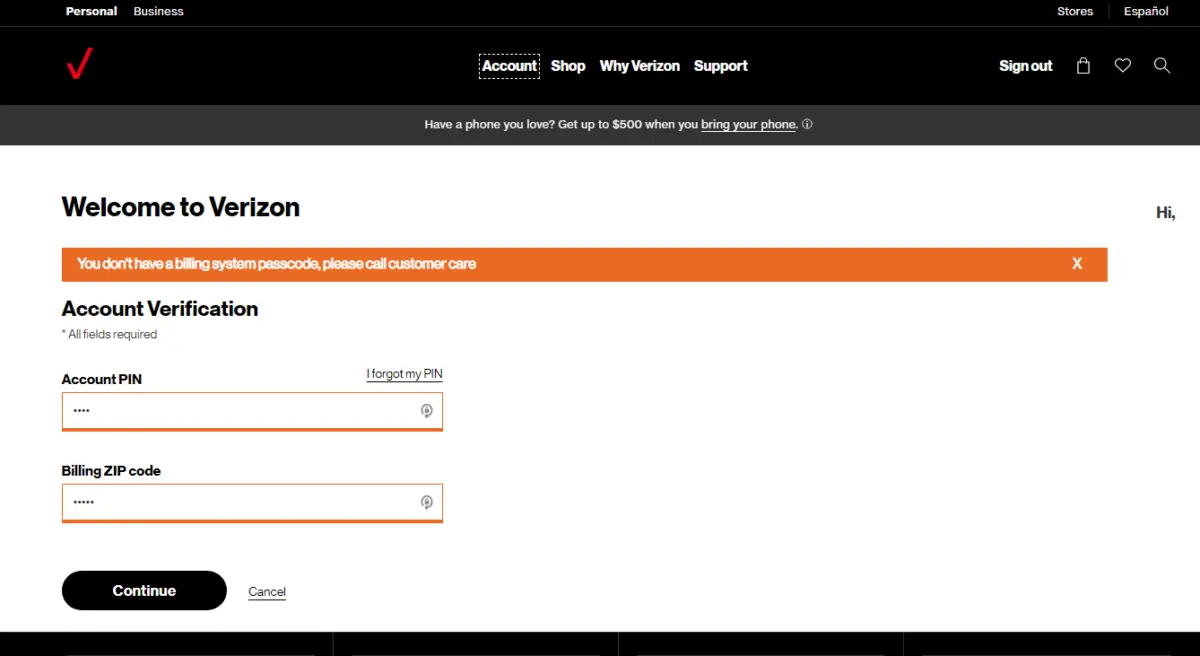 So, I did that but got the same error. I tried logging in so many times that my account got locked, so I called again and they reset my account. Unfortunately, the reset code had to be sent by regular U.S. Mail because the phone number on file was that of my gateway, which of course is unable to receive text messages. Agh!
After that, I could finally log into the website and set up automatic billing (which you need to do to get the $10 monthly discount on the service). But, I still couldn't log into the iPhone app. I called again, and they reset my account yet again, which meant waiting for another code in the mail.
That didn't solve the problem either. At this point, I resigned to just using the website. There are also some settings that just time out when I try to change them, like the contact phone number. I was only able to change this by calling customer service yet again.
This was just my experience; I know others have had a seamless account creation experience. My issues might be due to the fact that I used to have a Verizon wireless cell phone account a long time ago because I saw this message on the site: "This email is linked to another line on this account. You'll need to login to that line to manage preferences." I'm guessing it's getting confused with my old account.
To their credit, it was always pretty easy to get a Verizon customer service agent on the phone, something that can't be said for all Internet providers.
Reliability vs. Coax Cable Internet
Despite the account creation headaches, I still like Verizon's actual 5G Internet service overall. So far, it's been fast, reliable, and trouble-free.
I believe that using CATV coax cable to send high-speed data is going to go obsolete, kind of like DSL. With DSL, data was being sent over analog phone lines, something not intended for that purpose. Similarly, with cable, high-speed data is being sent over coax originally intended for analog TV signals. I believe the current ideal methods for sending high-speed data are either fiber or 5G wireless.
We'll see what happens, but I'm hoping that 5G will be more reliable than cable Internet. My cable Internet would go down at least a few times a year, for a few hours at a time. I don't actually blame the cable company for that though; it's just the nature of physical cables that they are prone to breakage if a tree knocks down a telephone pole, or whatever. And It takes time for the cable company to find the fault, and send a truck out to fix it. A few hours of downtime is actually pretty good.
I'm hoping that cell towers will be more resistant to interruptions due to high winds, Earthquakes, and so on. Only time will tell.
Perks?
Finally, Verizon offers various perks for signing up. When I signed up, they offered a $50 food delivery service gift card and a $50 Verizon gift card. Note that you have to sign up to get these perks after you create your account, or else you won't get these. It's unfortunate that they don't come automatically.
My Door Dash gift card (actually, it is an email with a discount code) arrived very quickly, within a few days if I remember correctly.
The Verizon "gift card" took over thirty days to arrive by email, but there is a portal where you can check status. I was hoping I could use this "gift card" on anything, like a debit card, but it really is just a $50 discount code for the Verizon store. I used it to buy a phone charger and cable since I'm always using those. But again, the Verizon store website was terrible, and it was hard to find where to enter the code, and even after I did, the site eventually "lost" my gift card balance. I got on chat and completed the order manually through them, but it was a hassle.
Verizon 5G Home Internet – Should You Get It?
In spite of these website issues, the bottom line is that Verizon 5G was still a good deal for me. If you're sick of the rising cost of Internet access, and you're getting your Internet from a cable TV provider, I would recommend checking to see if you can get 5G Internet access from Verizon or T-Mobile, or fiber from companies like Frontier. If one of these services is available in your area, you could save a bundle. These companies are eager to roll out these new services and are offering good prices. It's still early, but so far, Verizon 5G Home Internet has been working well for me. I'll keep this article updated with any new developments!
Pros
Cheaper than cable Internet (in my area of Los Angeles at least).
No cost increases for 2 years (depending on current promotions).
Faster download speed than my cable Internet service (your speeds may vary).
Easy to set up Internet gateway.
Built-in Wi-Fi and Ethernet router are sufficient for small homes.
Cons
Not available in all locations; speed may vary according to your cell reception.
Verizon's account creation process didn't work well for me. Website and app are terrible.
Built-in Wi-Fi router is not intended for larger homes or crowded network environments. Use a stand-alone router for that.
Advertising is deceptive. $25 cost is only if you have a Verizon cell phone plan. Real cost is more like $50/month with auto pay.
$50 "gift card" signup bonus is only usable at the Verizon store. Not super useful.
How much are you paying for Internet access? Any questions or comments? Leave a comment below! – Brian
If You're Really Crazy About Speed (ADVANCED)
A commenter on my YouTube video turned me on to this company that sells products that get you the fastest cellular speeds, including on home 5G gateways.
If you have the ARC-XCI55AX gateway, it turns out that you can hack it to add an external antenna! That would really maximize your data rates.
If, like me, you have the ASK-NCQ1338/FA/E gateway, you can't attach an external antenna. However, you can put your SIM card into a different router that can handle an external antenna.
Needless to say, do these at your own risk! I'm sure these would invalidate any kind of warranty on the device. I'm way too scared to try these because I work from home and can't afford to have my Internet go down. But, these are some pretty cool ideas!
Oh, and here's an article from that same company on how to tell where your 4G and 5G cell towers are.
Verizon 5G Home Internet 90 Days Later
Wondering how Verizon 5G Internet is holding up after 90 days? Watch the video below: